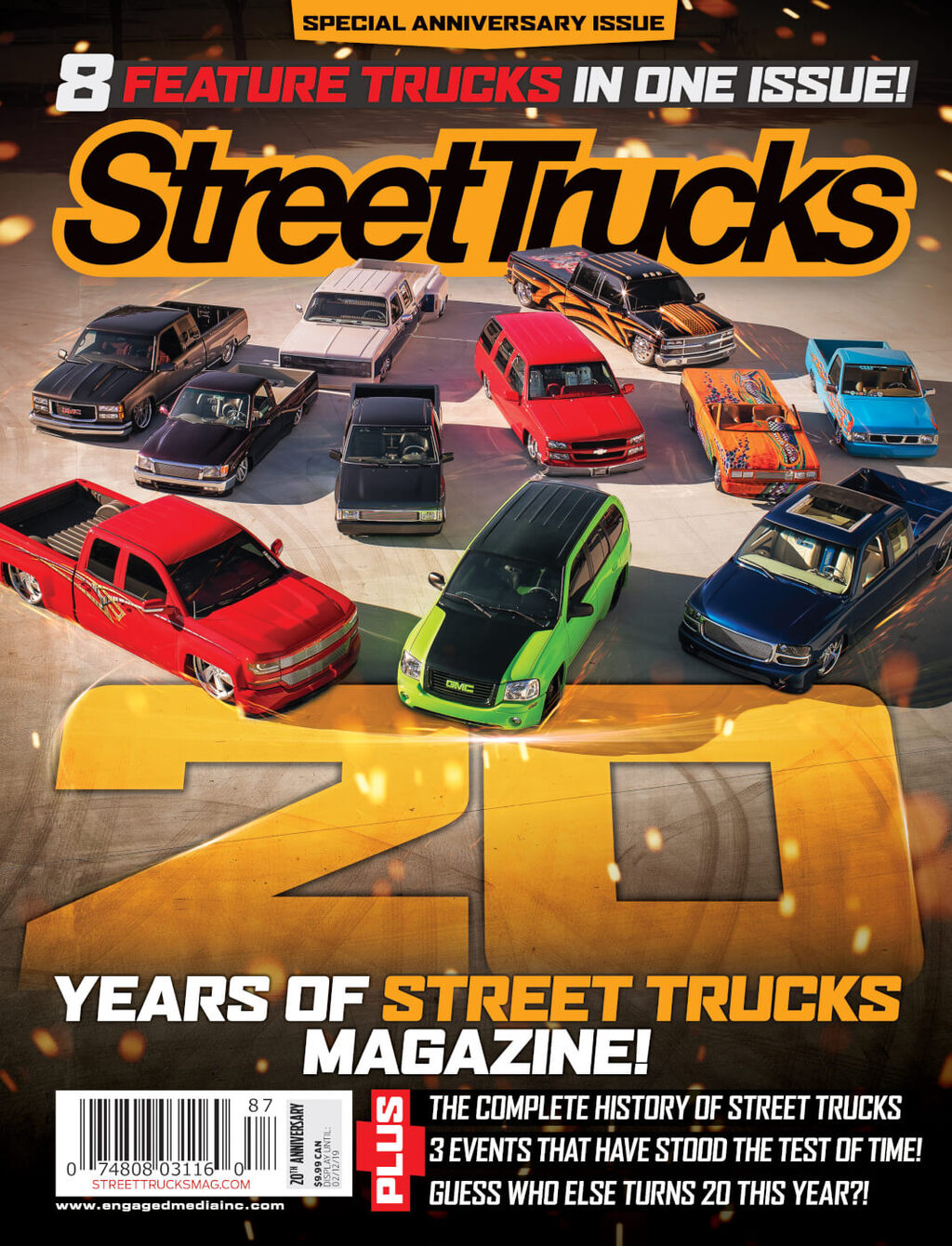 ON STANDS NATIONWIDE 12/18! We Made It! 20 Years in print is something most companies said couldn't be done. Other magazine gave up and threw in the towel. Not Street Trucks. We have the strongest fanbase of any automotive publication and we are proud of the last 20 years. Here's to the next 20!
ON THE COVER We can't thank these 11 truck owners enough for showing up for this amazing shot. Nicole Hamilton was the brain behind the scenes that made it all happen. Teamwork!
FEATURES
Instigator – January 2006 Gets Down and Dirty
Committed – New Owner, New Tricks
RedRocket – Three Shops, Big Money and Road Blocks Galore Made Building This Ford an Adventure
Recovery – Trading One Addiction for Another
Tire Peeler to Trophy Stealer -2000 Ford Excursion Goes Custom
One Fine '49 – Once Worn Out—but Not Forgotten
Fair Trade – This Dually Was Kept in the Severed Family
Bodied H2 – February 2006 An Ekstensive Look at This H2 on 26s
SPECIAL FEATURES
Street Trucks' Hits Double Decades – 20 Years of the All-Encompassing Custom Truck Publication
A Look at the Past – A Collage of 'Street Trucks' Covers
West Side with Mike Alexander! – A Brief History Lesson on the West Coast Custom Truck Scene
Stafford's Garage – My Last 20 Years in the Scene…and What's Next?
Long Time Reader, First Time Contributor – Mike Self's time with 'Street Trucks' Mag
Back at Home – Freelancer and Former Staff Editor John Mata Shares His 'Street Trucks' Experience
Shop Talk with Viair's Sammy Chu – Sharing the 20-Year Mark
Pics from the Past – Reader Rides, Road Trips and Riff Raff
Manufacturer Spotlight – Art Morrison Enterprises
SHOWS
Goodguys Rod & Custom Association – Jamming the Gears for Over 30 Years
SLAMFEST!!! – 27 Years and Still Running Strong
Texas Heat Wave's – 30th Anniversary The Fire That Won't Go Out
DEPARTMENTS
Message From the Editor – Chris Hamilton give his thoughts on the past 20 Years
Past to the Present – Products from the Past, Present and Future that have Reshaped Trucks
Enter To Win A One Now!
Enter To Win A One Now!s