Nikola Unveils Badger Pickup
Nikola Corporation is excited to announce the product launch of the Nikola Badger electric pickup truck, with an estimated range of 600 miles.
The advanced electric pickup is designed to target and exceed every electric or petrol pickup in its class. The Badger is engineered to deliver 980 lb-ft of torque, 906 peak horsepower and 455 continuous horsepower. The Badger will be built in conjunction with another OEM utilizing their certified parts and manufacturing facilities.
The electric pickup is designed to handle what a construction company could throw at it and is engineered to outperform all electric pickup trucks on the market in both continuous towing, horsepower and range. The Badger will be outfitted with a 15-kilowatt power outlet for tools, lights and compressors, which is enough power to assist a construction site for approximately 12 hours without a generator.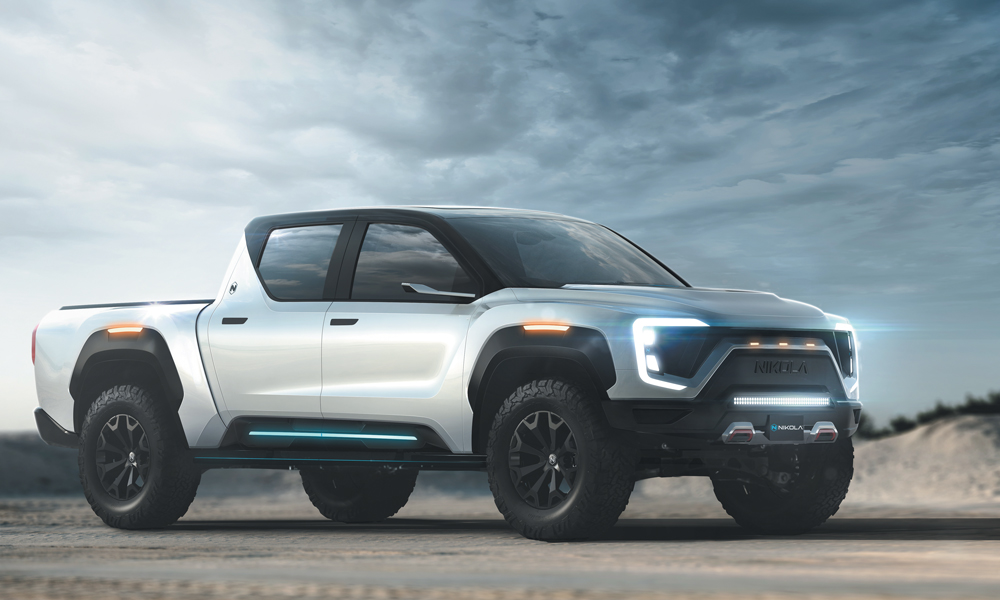 The Badger was designed to handle 0-100 mph launches with minimal loss of performance and to operate on grades up to 40% through advanced software blending of batteries and fuel cell. With a fully loaded trailer and combined vehicle weight of 18,000 pounds, the Badger will be able to launch from a standstill on a 30% grade without motor stall.
"Nikola has billions worth of technology in our semitruck program, so why not build it into a pickup truck?" said Trevor Milton, CEO, Nikola Corporation. "I have been working on this pickup program for years and believe the market is now ready for something that can handle a full day's worth of work without running out of energy. This electric truck can be used for work, weekend getaways, towing, off-roading or to hit the ski slopes without performance loss. No other electric pickup can operate in these temperatures and conditions."
Heavy D, a reality TV star from the "Diesel Brothers," has partnered with Nikola to design, build and test the Badger in real world environments, which is anticipated to attract millions of viewers and followers through the process. The partnership will follow the Badger build from concept through production.
"My audience, hard-core truck enthusiasts, has expected me to push the limits of truck power and capabilities since my beginnings," said Heavy D, aka Dave Sparks. "Being able to pull back the curtain of a production truck build is a rare opportunity where we can include the everyday truck owner to participate in the final outcome of design, exterior choices and performance specs. I wanted to be part of that story and now I have the opportunity with Nikola."
"The Nikola Badger is a game changer. The program will help drive down the cost of the fuel-cell components on our semitruck while accelerating the hydrogen station rollout. Giving customers the option to order a fuel cell or battery electric version will ensure we drive the cost down for everyone across our lineup," said Mark Russell, president of Nikola Corporation.
The Nikola Badger will make its first appearance at Nikola World 2020 in Phoenix. Prototypes will be available for select customers and media to ride in at Nikola World. You can see more details at www.nikolamotor.com/badger.
ROUSH Performance Launches Two Performance Trucks for the 2020 Model Year
ROUSH Performance announced that its 2020 Nitemare and F-150 SC pickup trucks are now available to order at all ROUSH Authorized Ford Dealers in North America. The Nitemare and F-150 SC represent the most powerful street and off-road trucks in ROUSH's lineup.
The street-focused 2020 ROUSH Nitemare is equipped with the ROUSH TVS R2650 Supercharger System which produces 650 horsepower and 610 lb-ft of torque from the truck's 5.0L V-8 engine allowing a Regular Cab 4×4 truck to sprint from 0-60 mph in just 3.9 seconds. Other standard features of the 2020 Nitemare include satin black 22-inch, 7-spoke ROUSH wheels; Continental CrossContact tires; and Nitemare-exclusive graphics. Underneath, the standard sport lowering kit helps stabilize the truck and reduce body roll, optimizing the Nitemare's performance on the street.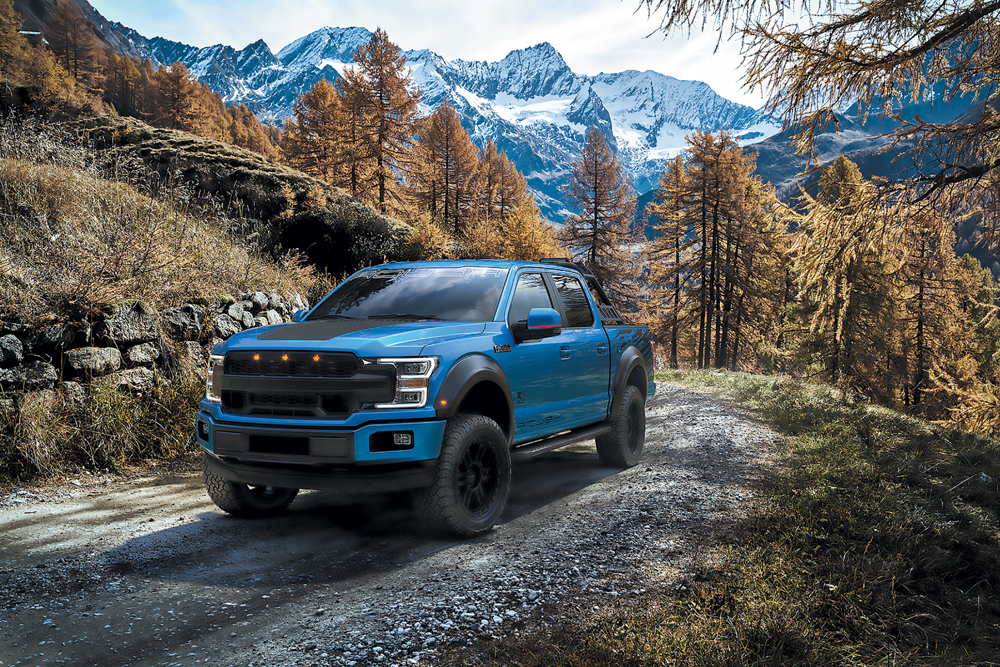 The 2020 ROUSH F-150 SC is an all-purpose off-road truck equipped with a 5.0L V-8 and the ROUSH TVS R2650 Supercharger System, good for 650 horsepower and 610 lb-ft of torque. The 2020 F-150 SC comes standard with a ROUSH-tuned Fox 2.0 Off-Road Suspension System, ROUSH Dual Tip Cat-back Performance Exhaust and custom 20-inch Satin Black split six-spoke wheels wrapped in General Tire Grabber ATX 33-inch tires. New optional upgrades for 2020 include a premium leather interior package and a Baja-inspired Chase Rack with dual 10-inch Rigid SR-Pro Series 7,920-lumen light bars.
"Our truck customers want serious horsepower and serious capability," said Jack Roush Jr. "Both the Nitemare and the F-150 SC are a thrill to drive whether you're on the street, towing your boat, or enjoying the trails off-road, ROUSH trucks deliver."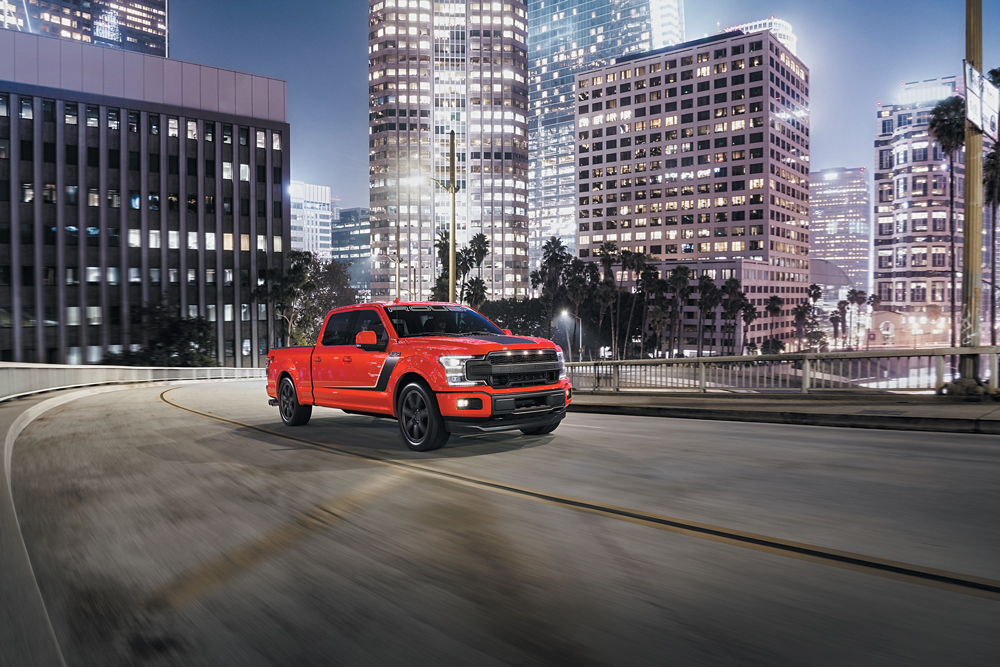 The 2020 ROUSH Nitemare starts at $19,150 above the price of the base vehicle and the 2020 ROUSH F-150 SC starts at $24,000 above the price of the base vehicle. Both trucks come with a three-year/36,000-mile limited warranty. Each truck includes a unique serialized certificate of authenticity and is hand-built in the ROUSH Performance facility in Plymouth Township, Michigan.
For more information on the 2020 ROUSH Nitemare, the 2020 ROUSH F-150 SC or other ROUSH Performance vehicles, visit www.roushperformance.com.