Building Much More Than Just a Show Truck
There's nothing more exciting for a young man than his first vehicle especially if it looks anywhere near as cool as this Dime. Most kids only dream of owning a truck like this, but very few have the opportunity to make it happen at such a young age. Jacob Rodriquez of Visalia, California, was cruising to local shows in this truck before he even had his driver's license a permit in hand and his pops riding shotgun were all he needed to enjoy life on the road as a teenager.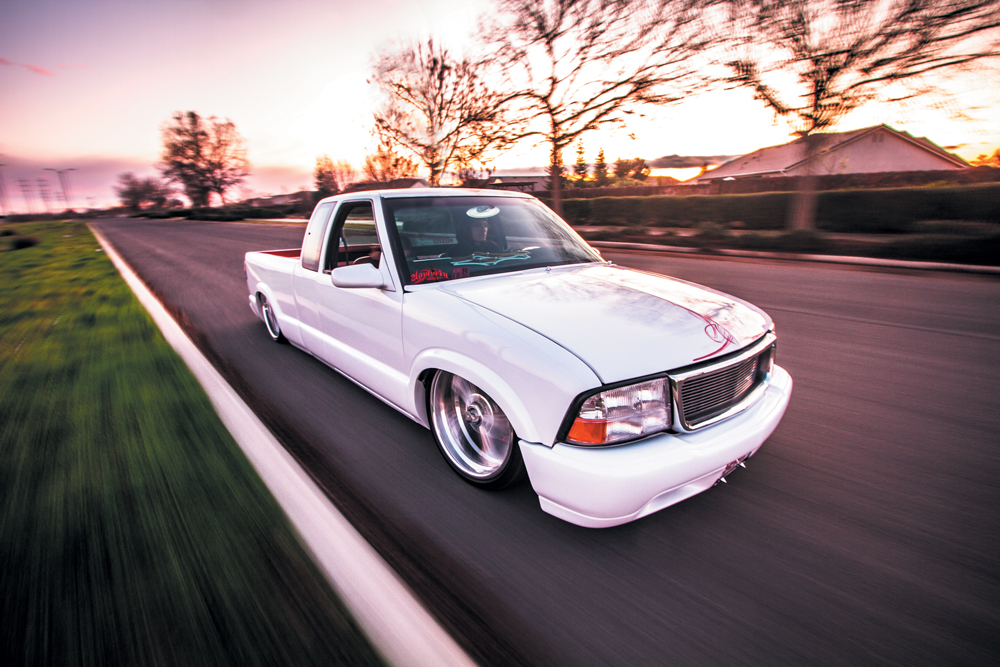 Since Jacob was 15, he has been in the garage with his dad, Robert, wrenching and trying to build a truck they could both be proud of. They didn't have a chance to finish the first project they started. Unfortunately, life got in the way, and they had to sell the truck they were making progress on, but they were given another opportunity at completing a drivable show truck just a couple years later.
"This S-10 here is my second chance at building something special with my son," Robert says. "Actually, this truck originally belonged to Matt Banta, who was planning on finishing the truck with his son, so really the truck had its own second chance to be completed by another father/son team."
Just like any team, there were just as many times of struggle and defeat as there were victories, but Jacob and
Robert worked right through them all to take the S-10 to the finish line.
"The countless hours spent cooped up in the garage with my dad were some of the best times I've ever spent with him," Jacob says. "At the same time, we reached levels of frustration that would cause us to butt heads and disagree, but that made the breakthroughs we made with the truck that much more rewarding for us."
When Jacob and Robert picked up this S-10, some work had been previously done to it. The suspension system and powdercoating were already taken care of, which was a great place to start.
"The body was rougher than expected," Robert admits. "After a few body mods and fixing some dents, we sprayed the bedliner and primered the truck for the last time."
Within a year and a half, the guys were able to get the interior done and cleaned up. They added some style to the engine bay and worked up some subtle mods here and there before they reached the point they had been waiting for the painting process.
Luckily for Jacob, his dad is pretty handy in the garage, and he was looking forward to spraying the truck while adding some additional flairs of style to the S-10's exterior.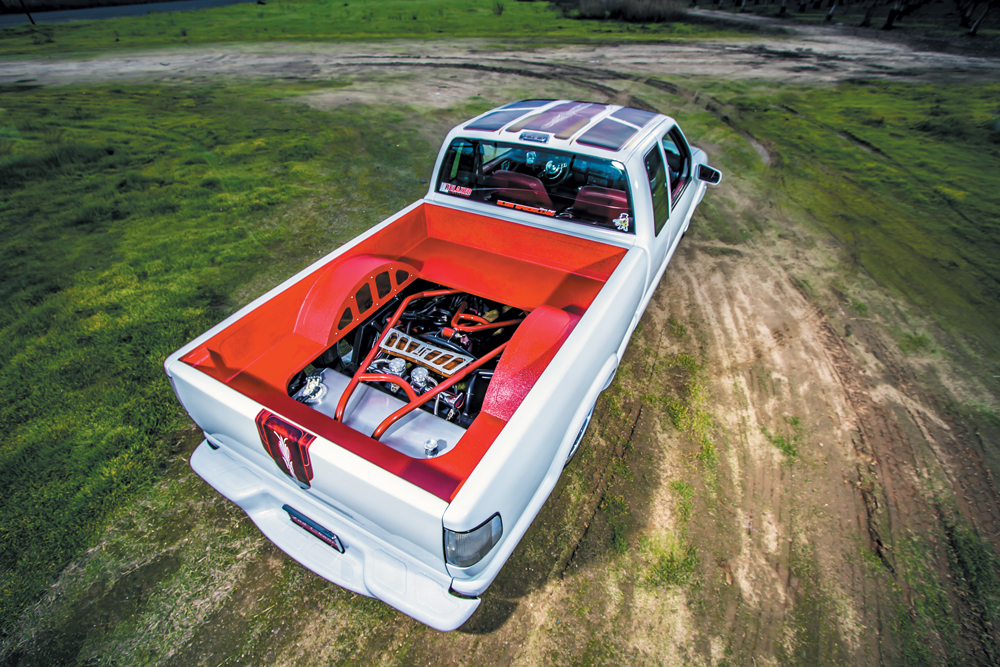 "I wanted to pattern out the roof, but had never sprayed candy paint before," Robert says. "I must have bought a dozen skateboard decks and began patterning and painting them for practice. Once I was confident enough, I gave it a shot and patterned the roof and painted the entire truck in the garage while the neighbors were at work."
Robert was happy with the outcome of his paintwork, and so was Jacob, who was quick to respond to the completed paintwork.
"For my dad's first-time painting patterns, I think it turned out great," he says. "The number of practice skateboards was closer to 20 though."
Now, if completing the truck wasn't a big enough accomplishment for this father/son duo, the truck ended up securing a spot to be showcased at SEMA '19. Their hard work and determination really did pay off big time a lot more than they thought was possible when they first started.
"Roel Garza at Slam Specialties was great at helping us dial in the existing suspension system, as well securing us a spot in their booth to park the truck in for SEMA week," says Jacob.
A grand unveiling of this magnitude wasn't in the original plan, but the guys took it in stride and were humbled to have the opportunity to fully appreciate the experience.
While the buzz from the big show hasn't completely worn off yet, Jacob and Robert are already looking into the future of the truck while still fondly looking back to the past. A possible body drop might be on the slate, and a complete repaint is surely going to happen at some point.
"This is the third S-10 that has been in our family," Robert says. "The first two definitely inspired the look of this one. We tried to keep the styling in the "90s to the early "00s but with a few modern touches to bring the truck up to what is current and relevant in the scene. While it wasn't common for an S-10 to be rolling on 22s in the "90s, the patterned roof added an old-school vibe to take it back a few notches."
What may have seemed like a trying experience that could've potentially taken much longer to finish at times, the completion of this truck has presented much more to the Rodriguez men than simply having a nice truck to drive and show.
'I would like to thank my dad for doing all he did for my truck and for sharing his knowledge of vehicles with me,' Jacob says. "He also showed me how to do things the right way despite my persistence to do things the way I thought they went."
Robert also gained a lot from the time spent on the project with his son and was very happy to share what he took away from the experience.
"Jacob and I fought, we laughed, we quit on the truck and restarted 100 times, but we kept pushing," Robert says. "My reward has been sitting back and watching him smile when his truck gets this type of attention. I've always hoped I would pass this passion down to him, and I did. Hopefully, he now passes it down to his younger brother, Madden, and then on to his own children."
Aside from strengthening their family ties, Jacob and Robert have also made a great deal of friends along with way. They have both joined the Relaxed Atmosphere club, where they have received a lot of encouragement over the last couple of years.
"Thanks to Joe Bernardo from RA for constantly supporting my dad and me,' Jacob says. "It means a lot to us to be recognized by such a prestigious club. We both appreciate the guidance and motivation along the way."
At this point, Jacob is dead set on simply enjoying the truck, which was the main intention in the first place. While it is not the daily driver he and his dad had in mind at the start, it is the perfect vehicle to take for cruises and shine up to show at local events. While Jacob and his dad are appreciative of all the help they have received, they were quick to offer some pointers to others looking to start a similar project.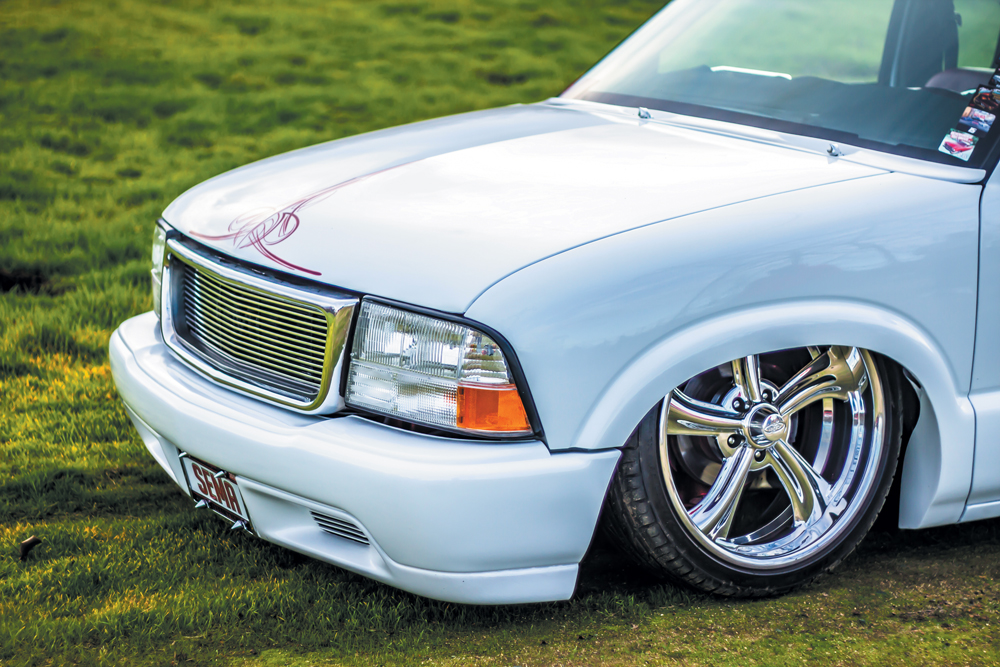 "First, have a game plan," Jacob offers. "Don't let minor setbacks discourage you or rely on shortcuts to save you they will always require you to go back to fix it the right way, so you might as well do it right the first time. Also, my dad and I realized that no project will ever be perfect, and you will never get back what you invested into a mini-truck, so make sure to enjoy the memories you make with those around you, and try not to get hung up on anything more than that."
Owner
Jacob Rodriguez
1998 Chevy S-10
Visalia, California
Club: Relaxed Atmosphere
Engine/Transmission
Shop: Modifications by Jack Frith at Fiction Fabrication, Bakersfield, California
'98 factory 2.2L four-banger
Airaid intake
Custom exhaust system, Flowmaster mufflers
Kandy Apple Red powdercoated pulleys, valve cover, brackets, heat shield, core support
Custom blower box to clear wheels
ECU and clutch reservoir relocated/repositioned
Suspension
Shop: Jack Frith and Matt Banta at Fiction Fab
Modified factory frame
Slam Specialties SS7 'bags
Two Viair 480C compressors
Belltech rear shocks
Rear frame notch and powdercoated tubular three-link
Little Shop steering box
Aluminum fuel cell relocated
Wheels, Tires & Brakes
20×8.5 and 22×10 Intro Gallup wheels
245/35/20 and 285/25/22 Delinte tires
Powdercoated brake calipers, smaller than stock brake booster, steel braided lines
Body & Paint
Shop: Body and paint work by Robert Rodriguez
Tamco B/C OEM white, House of Kolor Pagan Gold/Apple Red
Lace/thumbprint/razor blade pattern graphics on roof
Polished aluminum grille
Modified/bead rolled rear bumper
Custom front tubs, rear CNC bead rolled rear tubs
LED undercarriage lighting
Shaved antenna, hood squirters, door handles, gas door, tailgate handle, capped fender wells
Interior
Shop: Upholstery by Servando Lopez, Audio by Shep Designs
Chevy Cavalier bucket seats covered in Allante vinyl
AVS billet/vinyl wrapped steering wheel
Sony head unit
Rockford Fosgate components, 4×6 in dash, four 12-inch P2 subwoofers, 1000.2 and 400.4 Punch amps
Custom interior pieces and skateboard deck console by Jacob and Robert