Living the Life and Printing the Passion
AS THE END OF 2018 APPROACHES, THE WHOLE TEAM HERE AT STREETTRUCKS IS MORE EXCITED THAN EVER TO BE PART OF SUCH A GREAT COMMUNITY THAT SUPPORTS US AS MUCH AS WE SUPPORT THEM. Thanks to a few upcoming events and special editions we have planned, our excitement is at a whole new level. Of course, we all know that our yearly trip to SEMA is coming up fast, which means lots of planning, coordinating and scheduling will be in our immediate future.
Aside from all of the great content we collect at this one-of-a-kind aftermarket showcase, StreetTrucks is proud to announce that we will be producing a special 20-year anniversary edition, available later this year. If you have been involved with the magazine or have had your ride featured at any point, reach out to us and let's get you in the story. This is going to be an exciting one for the fans, so be sure to stay tuned to our social media or our website for the "on stands" date. These two projects, along with our upcoming 100 Years of Chevy Trucks issue, has kept our team busy, but we love every minute of it. You will be able to read all about those stories and many more in upcoming issues, but for now, let's get to the issue in hand, literally.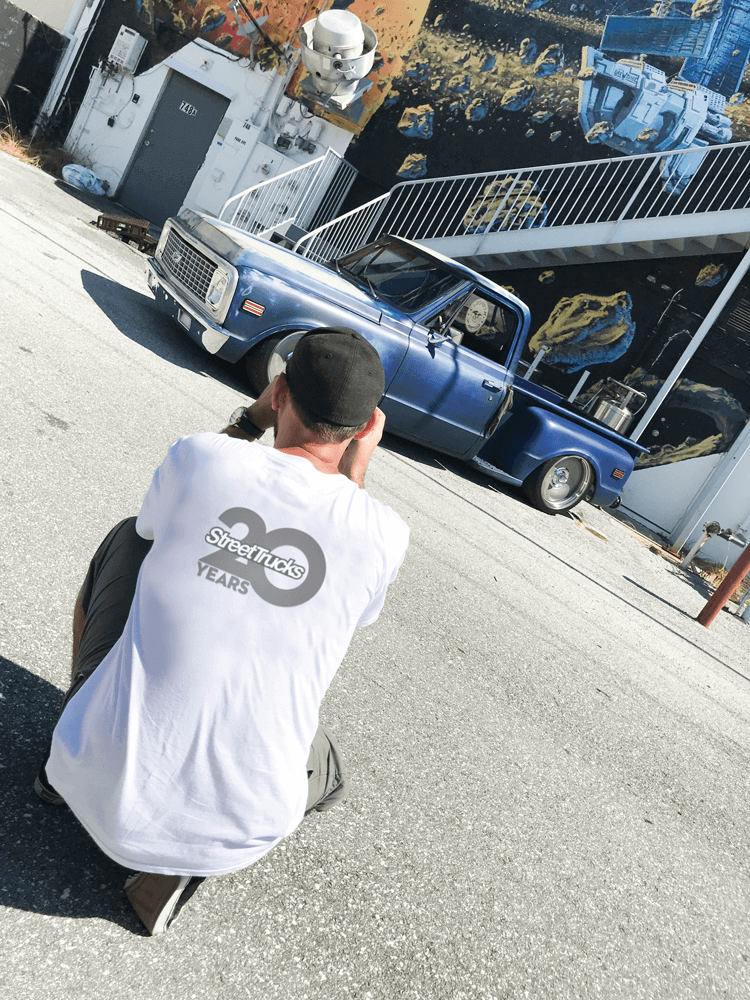 StreetTrucks is a product of passion, and as we've said before, this industry is more passionate about its product than any we've seen in the past. This October issue is designed to bring you hours of great reading content, including feature truck stories like our Chevy Apache cover truck built in Ohio and coated in what looks to be a smooth layer of fine red wine (pg. 30). We also brought in a few other trucks from around the country, like a tire-ripping Ford from Texas (pg. 46), a father-and-son Chevy build straight out of south Florida (pg. 90), and also a '65 GMC known worldwide as Blue Nightmare (pg. 68).
STREETTRUCKS IS A PRODUCT OF PASSION, AND AS WE'VE SAID BEFORE, THIS INDUSTRY IS MORE PASSIONATE ABOUT ITS PRODUCT THAN ANY WE'VE SEEN IN THE PAST."
We tried to hit all four corners of the country in this issue as well as attending Scrapin' the Coast, a yearly truck show along the gulf coast of Mississippi (pg. 80), before enjoying some fun old-school vibes at the Back to the '50s event in Minnesota (pg. 22). Do you have an exciting and unique event coming up that we should attend? PM us on social media or shoot us an email, maybe we can work something out.
Wrapping up this issue included some great new products from manufacturers that support the industry and a complete step-by-step tech article on installing a custom front clip on a Chevy C-10, thanks to the guys over at Tre 5 Customs (pg. 56). We have also ramped up our efforts on our event coverage page so be sure to keep an eye on that for upcoming shows in your area. Next stop is SEMA, Slamfest and a few others in between. Hope to see you out there!