A Crash eCourse to Classic Truck Building
The Internet, if used correctly, can help you achieve some really great things. Sure, there are countless pitfalls lurking in the dark corners of the Web, and many meaningless time sucks that you willingly subject yourself to on a daily basis. You just need to display some serious self-control at times, man, and just say no to click bait. C'mon, don't get too excited now, but do you really think there are local women just waiting to meet you…at 3 in the morning?! Well, there might be a couple actually, but none that you should be getting mixed up. You should know better by now.
Anyway, getting back to the initial public service announcement about the Internet being a positive place—it totally can be. Just ask Chuck Velazco (@chucksee), a Miami native who has developed a rather strong connection with his keyboard. Now, he hasn't started up his own religion or anything wild like that, but he has taught himself how to work on his own vehicle projects in the privacy of his own two-car garage.
"After graduating from the University of YouTube, I decided I was capable of enough to dive headfirst into air suspension, and give it a real shot," Chuck says about his newfound knowledge.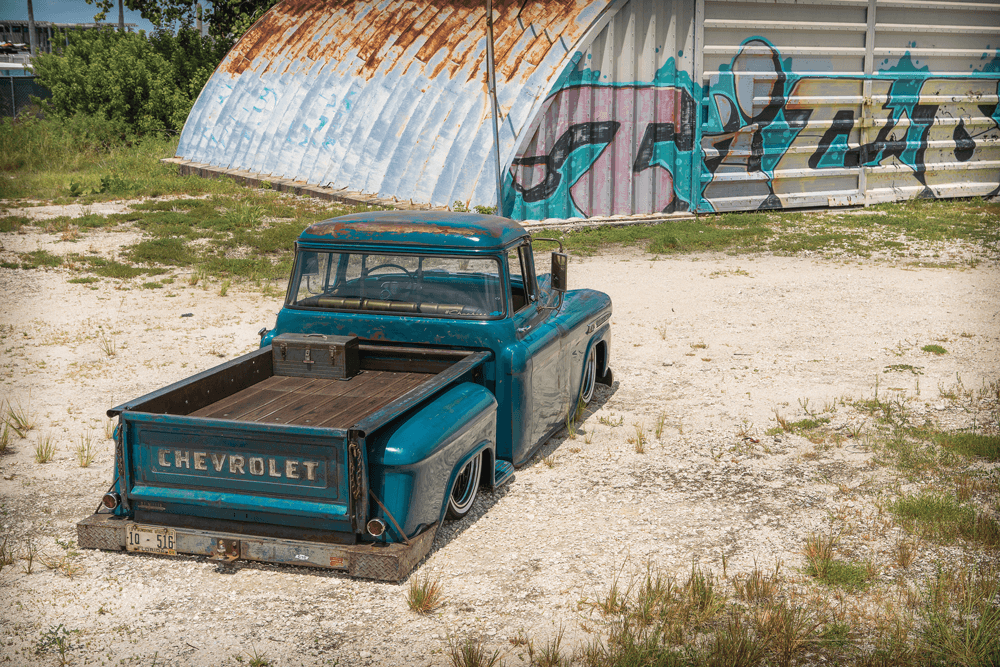 After watching endless tutorial videos and quick how-to clips, he was able to figure out what equipment and tools he would need, and how to sharpen his skills before going too far out on his own.
"I learned and researched everything that I could, and even learned how to weld by watching hundreds of hours worth of instructional videos", Chuck admits. "In the age of technology and limitless accessibility for information, we are our own greatest hurdle."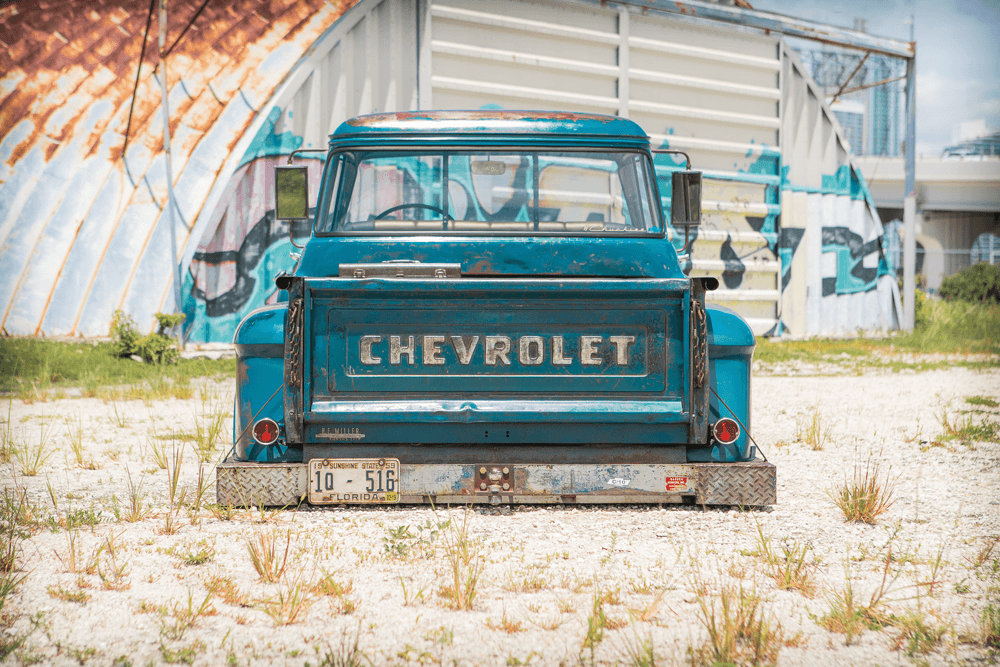 If you didn't get goosebumps from reading that last line, go back and read it again. That's some inspiring stuff. Even after spending that much time in front of the computer screen and even more hours spent applying what he had learned, Chuck doesn't have any type of formal certification or documentation to show for his attendance at YouTube U—unless you count the existence of this '59 Chevy Apache. If it isn't certified physical proof that Chuck benefitted heavily from his time spent studying under his many online tutors, then we don't know what is.
This Apache isn't Chuck's first ride around the carousel, but it was his first experience working with this particular model. He's built six previous trucks in the past seven years he's been applying the skills he has learned. All of the trucks have been Chevy trucks spanning across three eras from '59-'72, including a '68 short bed C-10 for his mom.
"I've always had a strong passion for classic Chevy trucks—they run in my blood", Chuck says. "My late grandfather always said to buy Chevrolet because it's the best out there."
The story behind how Chuck first came across the Apache really is all about being in the right place at the right time, keeping your eyes open and not being afraid to ask if something is for sale—because you just never know.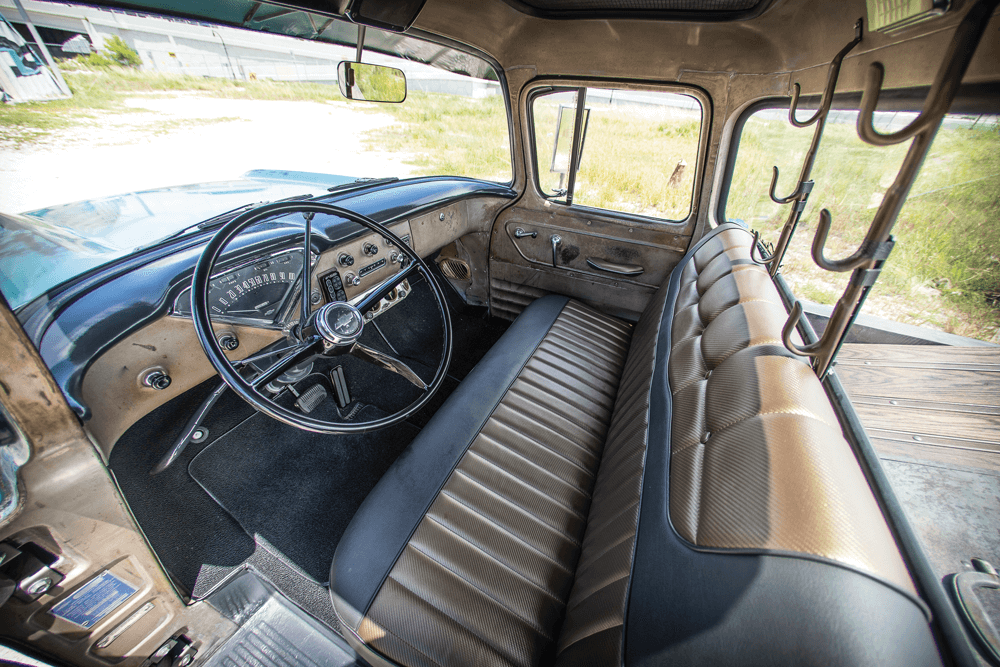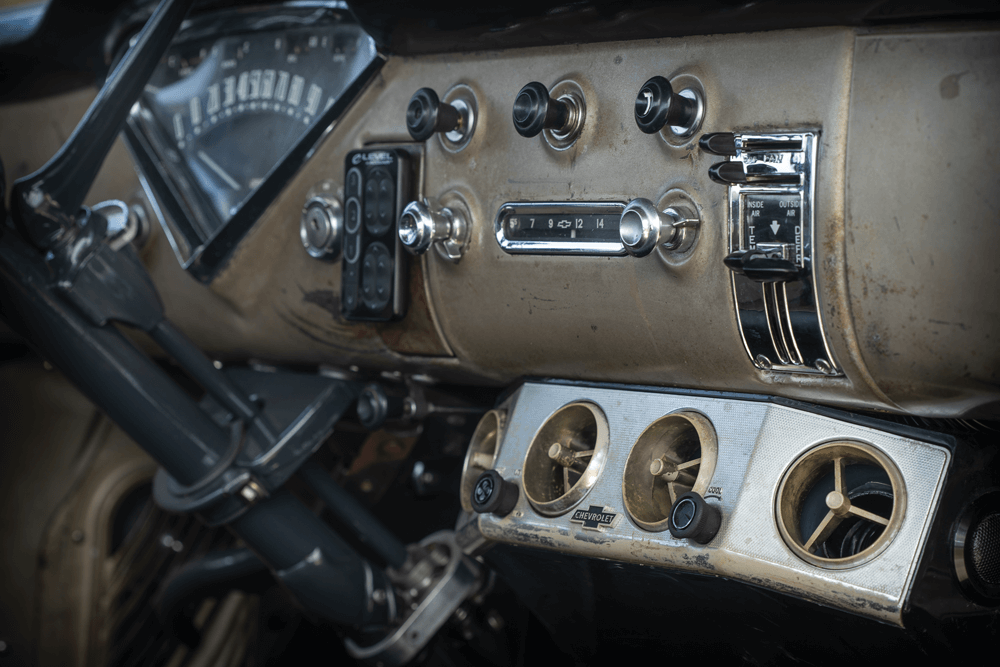 "I was on a business trip in New York and decided to take the bridge over to the New Jersey warehouse district," Chuck says. "As I was driving through poking my head in every bay that was open, I thought I had spotted a truck deep in the back of one of them. I got down to inquire about the old green truck, and an hour later I had made a deal to buy it."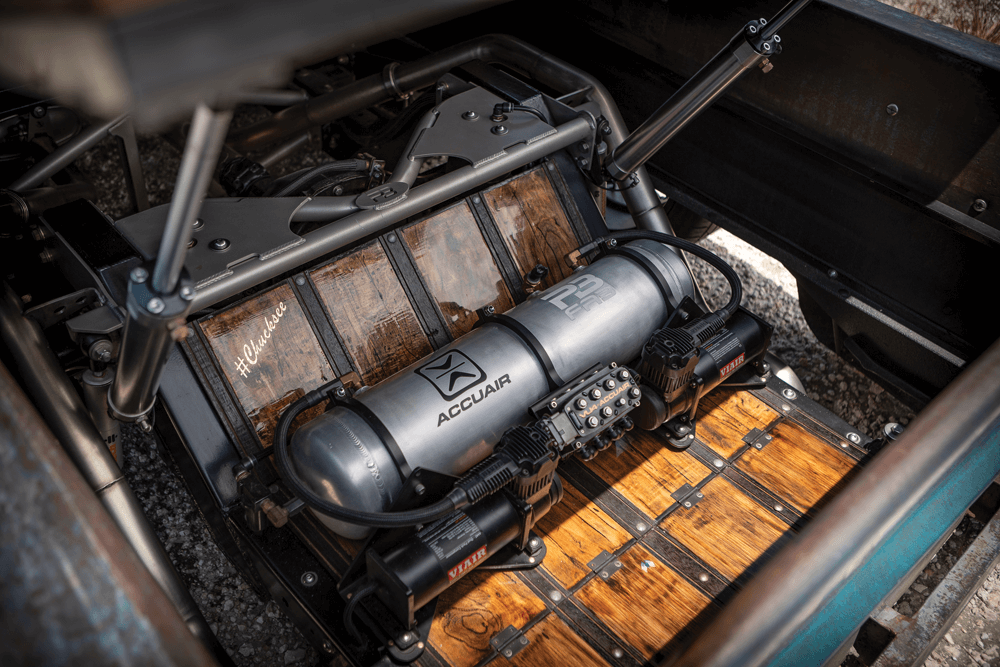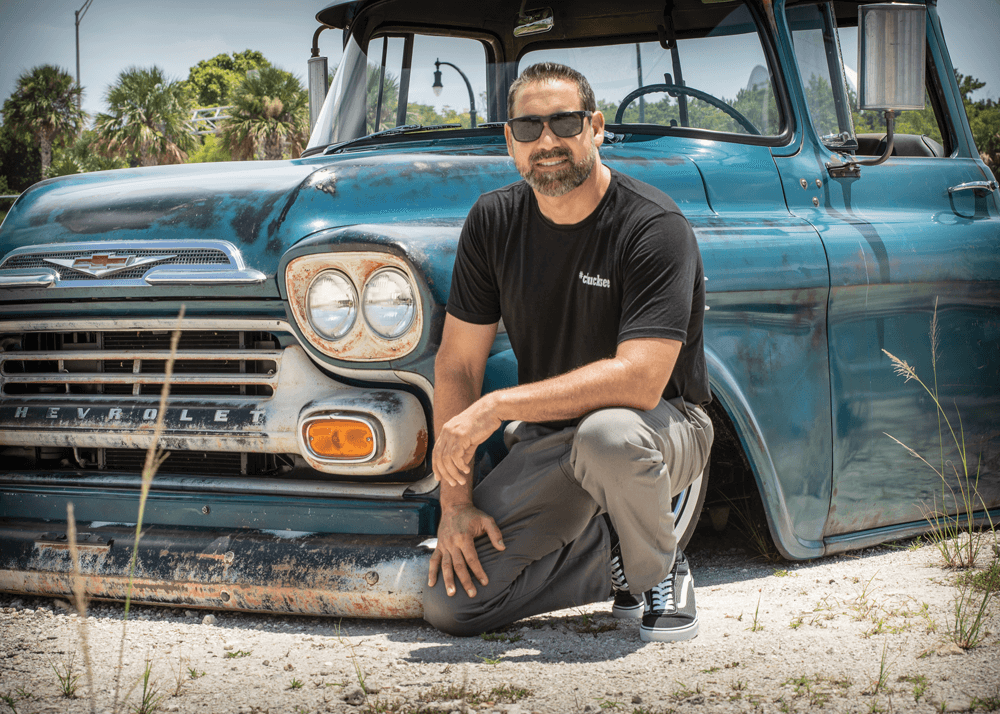 Chuck got real lucky when he found the truck because it had been kept indoors for quite some time. Even though the original paint did show patina, the amount of rust on this thing was very minimal. The rest of the truck seemed to be unmolested as well, with everything being original how it was in 1959 except with the natural weathering of father time and Mother Nature. This is the stuff truck builders dream of.
At this point, Chuck was just about finished with his mom's truck build. As soon as he handed her the keys, he started ripping into the Apache. Since he was more than OK with leaving the exterior just the way nature left it, he began sizing up the suspension and engine. He knew right away that he wanted to plant a brand new crate engine in the truck to take any guesswork out of a potential rebuild. He chose a GM 350 HO because it wasn't anything too crazy, but something that was a workhorse that would be ultra reliable and capable of being built up if he wanted to go that route later on. When it came time to start prepping the chassis, he ordered a few parts from PorterBuilt Fab and ended up with a fresh frame that he then upgraded with an AccuAir e-Level system and goods from RideTech. Chuck even took the time to trick out the bed with Tricky Air bed shocks, which are pneumatic driven shocks that open and close the bed floor, and are controlled through a wireless remote—a first in the truck industry. It would seem that Chuck had a flawless attendance record during his days of studying.
Aside from the Apache's suspension and motor work, the interior is really the only other area that received any updating, but even that was kept at a minimum as to allow the truck's genuine character to shine through. The original factory seat frame was utilized for reupholstering, and some new black carpet was laid down on top of a layer Dynamat sound deadening material to keep road noise down to whisper. There is still plenty of patina left to remind Chuck and his lucky passengers of the rare breed of vehicle they are lucky enough to be riding in.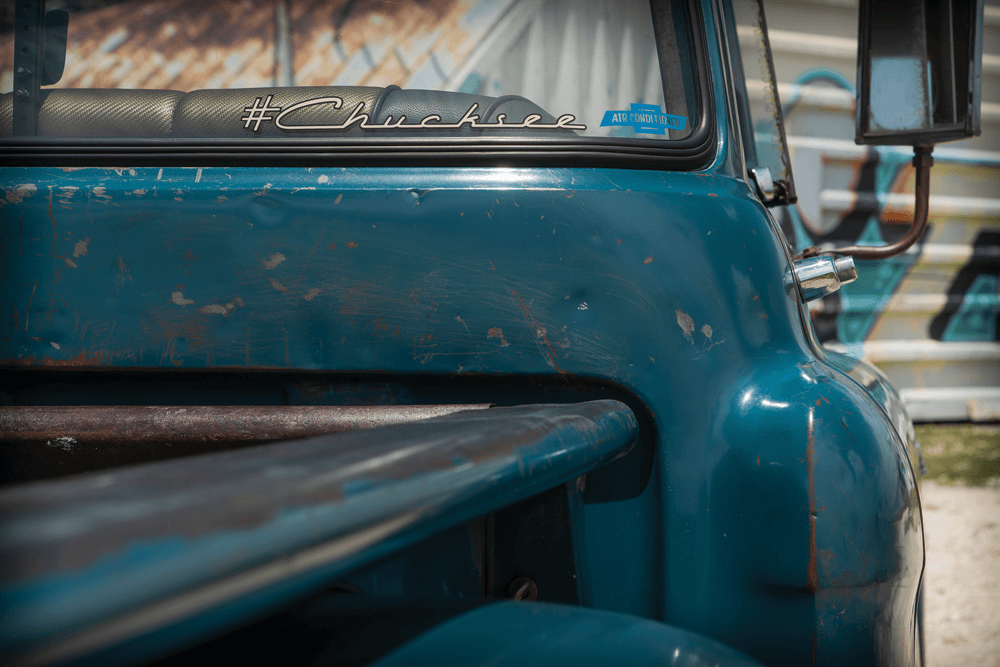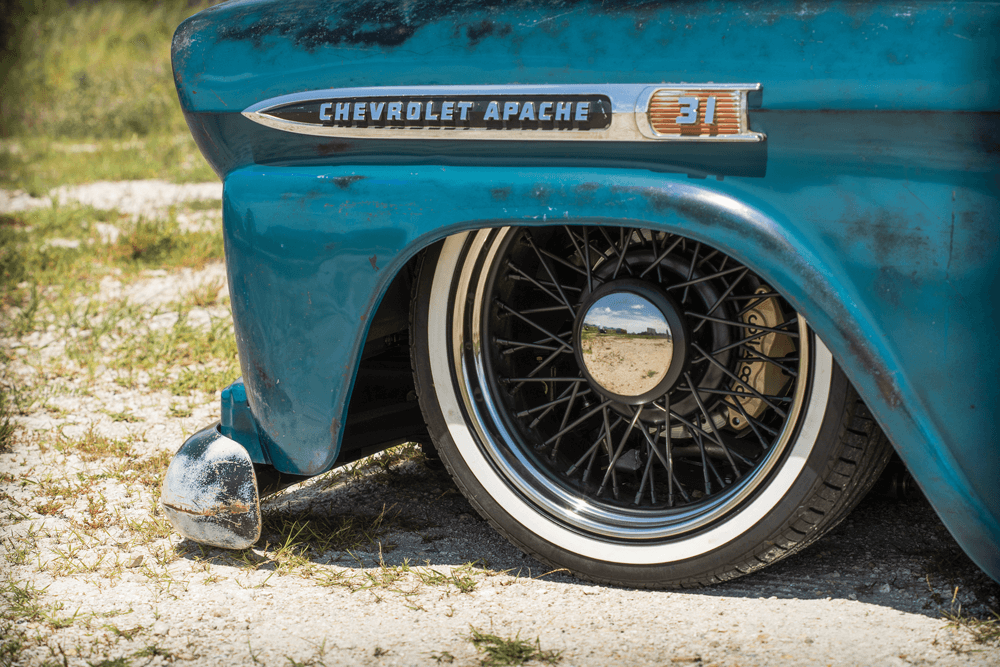 "The truck has just the right amount of creature comforts of a modern vehicle, and gets a lot more thumbs up than my late-model Silverado," he says.
In only 368 days (yep, he kept count), Chuck had himself a truck that he can see himself wanting to cruise into the future in.
"This truck will stick with me for the long haul—it's my dream vehicle," he says. "It's not every day that you come across a vehicle with the particulars this one has in its current rust free state. I do, however, foresee an LS swap in the near future though."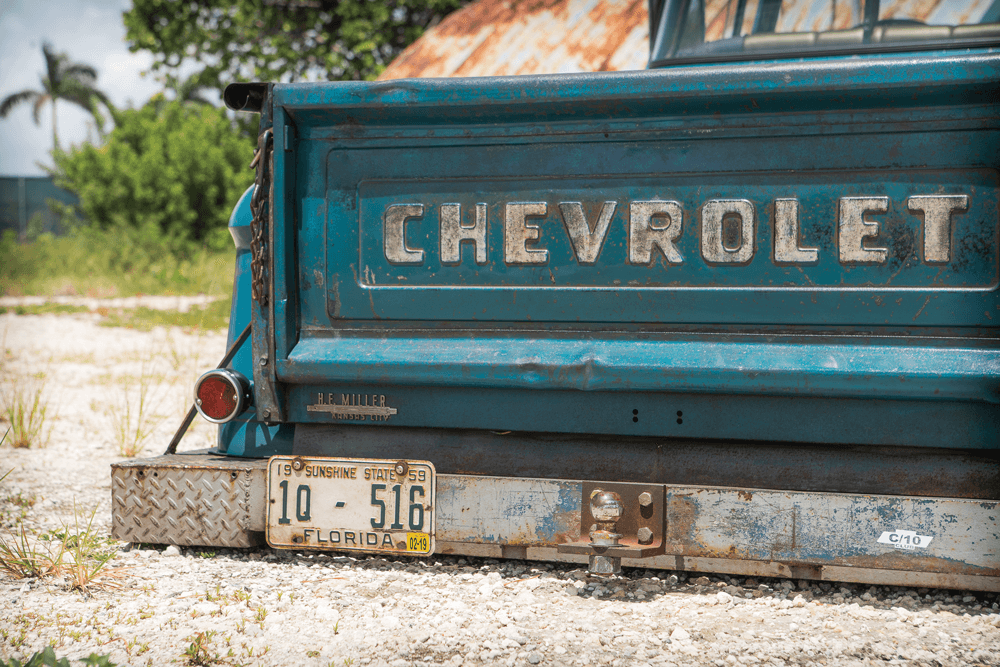 Chuck would agree that he learns something new with every single truck he finishes. At the end of this project, he's come away with a real gem of knowledge that he'd like to leave with our readers. Chuck, we'll let you close this story bud: "I learned that it's not about how your truck ultimately looks, but how it makes you feel when it's done," he says.
TRUCK SPECS
OWNER
Chuck Velazco  
1959 Chevrolet Apache 3100
Miami  
ENGINE
Chevy Turnkey Crate 350 HO V-8
Edelbrock 4-barrell carb
Full stainless steel 2.5-inch exhaust system
K&N filter
Intake headers
2016 700r transmission by Monster Transmission
Single 1-piece driveshaft
1980 Camaro rear drive axle
 CHASSIS & SUSPENSION
Shop: @Chucksee (owner)
Porterbuilt Fabrication frame
Frame powdercoated after assembly
AccuAir e-Level
Ridetech front and rear shocks
Mustang II rack and pinion
Tricky air bed shocks
Bed floor modified with deployable pneumatic shocks
Wilwood master cylinder and drilled-slotted rotors
WHEELS & TIRES
Custom 20-inch Wheel Smith wheels
245/35/20 Nitto whitewall tires
BODY & PAINT
Original, natural patina GM factory paint
GM grilles
Barden farm bumpers
T3 headlights
INTERIOR & STEREO
George's Upholstery, Miami
Factory seat frame
Custom upholstery
Original GM gauges, steering wheel, stereo, and patina finish
Lizard skin ceramic thermal protection
Dynamat acoustic barrier
80/20 black loop carpet