Work Hard, Play Harder
The appeal of old American work trucks is constantly reaching new levels of popularity, and builders are digging far deeper than C10 and F-100 models when choosing what to restore next. When it comes to old workhorses, the International Harvester brand was synonymous with tractors and trucks that were used day in and day out within the agriculture industry. Designed to work in parallel with IH's impressive lineup of heavy machinery, a selection of lighter-duty pickups was also available up until the mid 1970s and has proved to have a made a lasting impact on today's truck fanatics.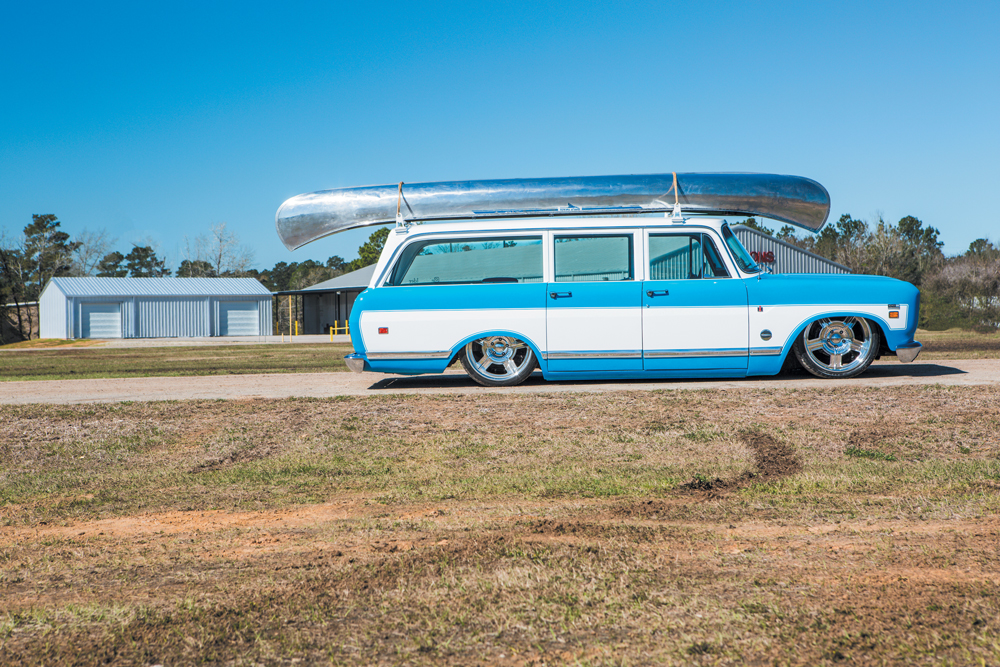 John Pena of Spring, Texas, is just one of the big IH truck fans who we have come in contact with throughout the years. He has been an active seeker and builder of International trucks for years now, and through his years of restoring these not often seen pickup and utility models, he has come to be somewhat of a reliable resource when it comes to the historical significance behind the brand.
"I have been into International Harvester trucks for roughly 12 years now," John says. "Over the years I have put together a '66 IH and was really hoping to add to the collection with a '60s Travelall model, but locating one with a solid enough foundation to build upon was proving to be difficult to track down. I did know of a family member who wanted to part with a '70s model, which I ended up going with after searching high and low for years for the older version I was holding my breath for."
MAYBE THIS IS THE BEGINNING OF A INTERNATIONAL HARVESTER RESURGENCE, OR JUST A FEW DIEHARD FANS SEIZING THE OPPORTUNITY TO FEED OFF ONE ANOTHER DURING THEIR BUILDS, BUT WE DO HOPE TO SEE A TREND OF MORE OF THEM TO COME IN THE FUTURE.
While there is something to be said for waiting for the exact thing you want to pop up, finding these old IH trucks is getting harder with each passing year. Knowing that, John happily took ownership of the '73 and began putting a plan of restoration into action. At first, the goal was to be content with a very mild build, which of course changed as the phases of the restoration progressed. As it sat, the Travelall was 99% original when John purchased it minus some general maintenance parts that had been replaced over the years. Even though the majority of the truck was original, it was no means in fantastic condition.
"For the last 10 years, the previous owner had mainly used the truck to check cows on his property," John says. "It was just another typical ranch vehicle with layers of cow manure that would need to be scraped off during the excavation process."
It didn't take long for John to lower the Travelall, and he was happy with the altered ride height for a while, but after he had the paintwork done to the truck, it sat in the garage for about a year or so. The paint came out way better than expected thanks to Patrick Reid at Madd Concepts and Jonathan Barron. The custom mixed PPG blue and white vinyl graphics done by Darryl Tracy really put a classic touch on the truck's exterior. Now, at any height, the truck would have that timeless vintage charm, but what was ultimately inevitable finally began taking shape just a couple years ago.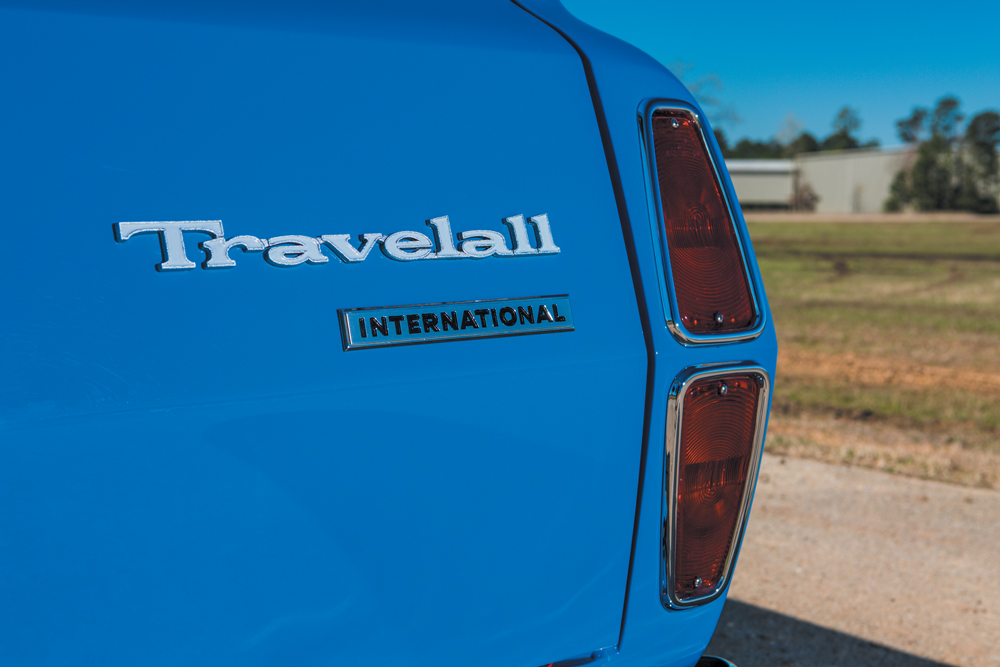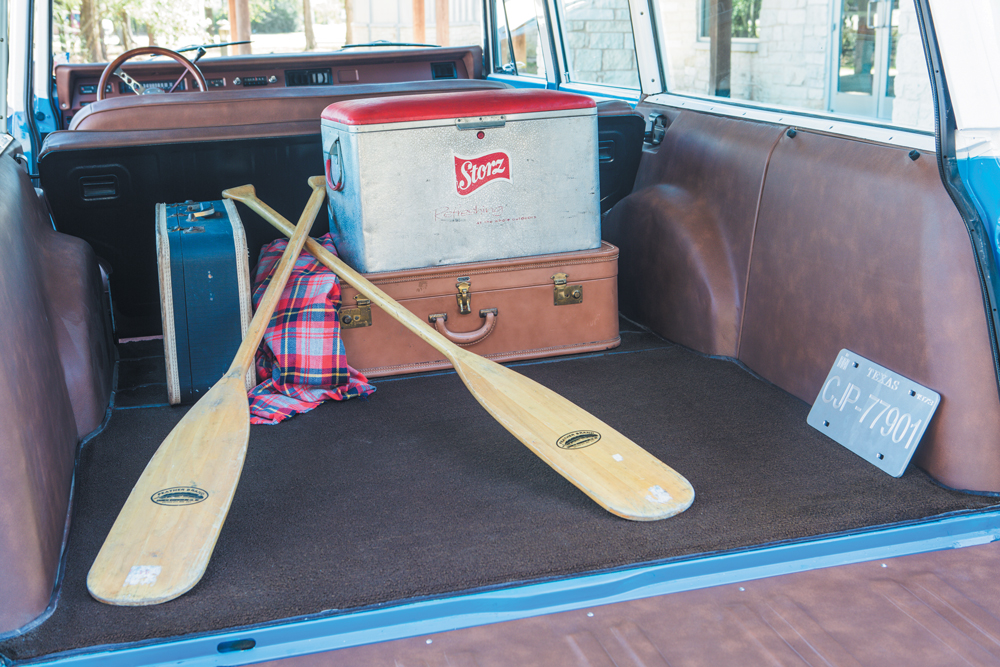 Once John met a guy by the name of Chris Stahl, the two began throwing around the idea of devising an entirely different suspension setup for the Travelall. Utilizing the factory '73 IH chassis, the two designed a rear step notch to make room for a full air-ride system that Chris would orchestrate from scratch since readymade drop parts for these trucks don't exist. All factory suspension components were removed, leaving bare frame rails. The frame itself was then built back up again with custom upper and lower control arms, CPP spindles and other modifications that would allow the truck to lay frame over a set of 22-inch Raceline wheels. Obviously, the Travelall's stance has been a huge draw when it's out on the road or parked at a show or anywhere else for that matter.
Not one to overlook an important aspect of a respectable truck build, John then sent his truck to 5 Star Upholstery for a complete interior restyling. The factory bench seats were recovered with leather and houndstooth upholstery, and matching door panels and color-matched dash and other trim pieces give the interior a much deserved, complete overhaul to match the pampered exterior. If you look closely (really closely), you'll be able to find that the air compressors and other vital air-ride components have been neatly stashed inside a piece of vintage luggage. Most onlookers don't see that surprise coming.
While John has been in the process of getting some finishing details in line, he is gunning to unveil the updated version of this truck at Lone Star Throwdown 2020. The road to completion from start to finish has only been five years, but when you're dealing with a truck that isn't exactly supported by the automotive aftermarket, tracking down necessary parts and pieces for these things ends up being a challenging factor.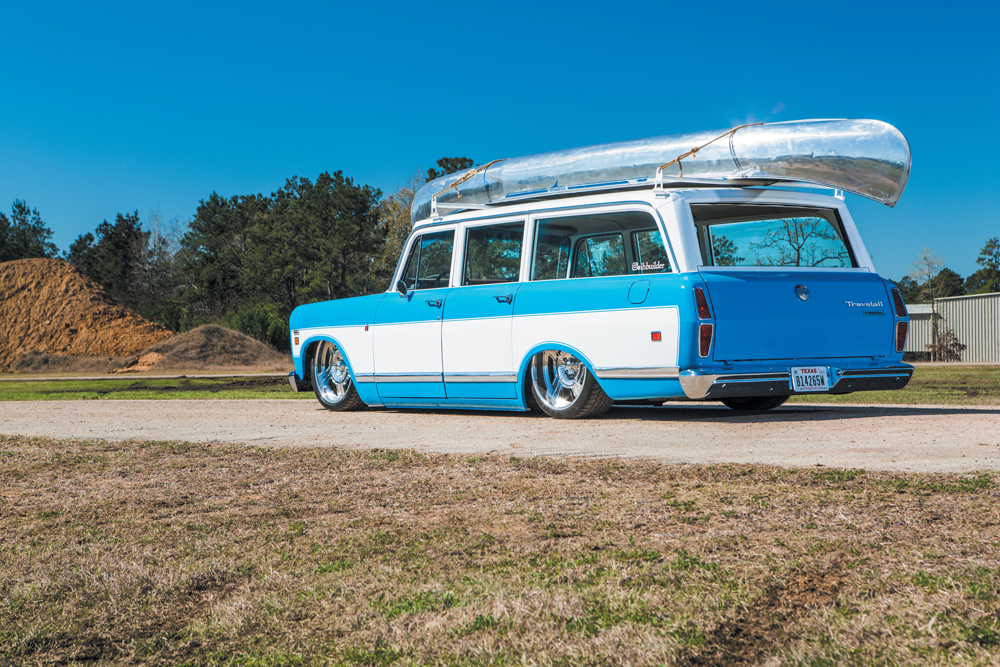 "After not being able to track down the parts you need for these trucks, you tend to become an expert at making various other parts fit or just building your own," John says. "While there is no real shortcut ever when it comes to building a custom truck, I would highly suggest saving more money than expected to finish the job it'll save you loads of time and heartache in the long run."
While in the process of building this particular truck, John has started to notice a few other Travelall trucks popping up as well.
THESE TRUCKS WERE ORIGINALLY CONSTRUCTED TO POWER AMERICA'S WORKFORCE, AND ARE NOW BEING REDESIGNED TO LEAD LIVES OF LEISURE—THEY'VE DEFINITELY EARNED THEIR TIME TO CRUISE."
"I would have never thought I'd see another Travelall, especially at a custom truck show, but they seem to be coming out everywhere now," he says. "Coincidence or not, I'm excited to see what other people come up with."
Maybe this is the beginning of a International Harvester resurgence, or just a few diehard fans seizing the opportunity to feed off one another during their builds, but we do hope to see a trend of more of them to come in the future.
John was eager to offer a parting pro tip he has gained from his years of experience with his own IH projects with builders who may be interested in reading up on the truck they are wrenching on.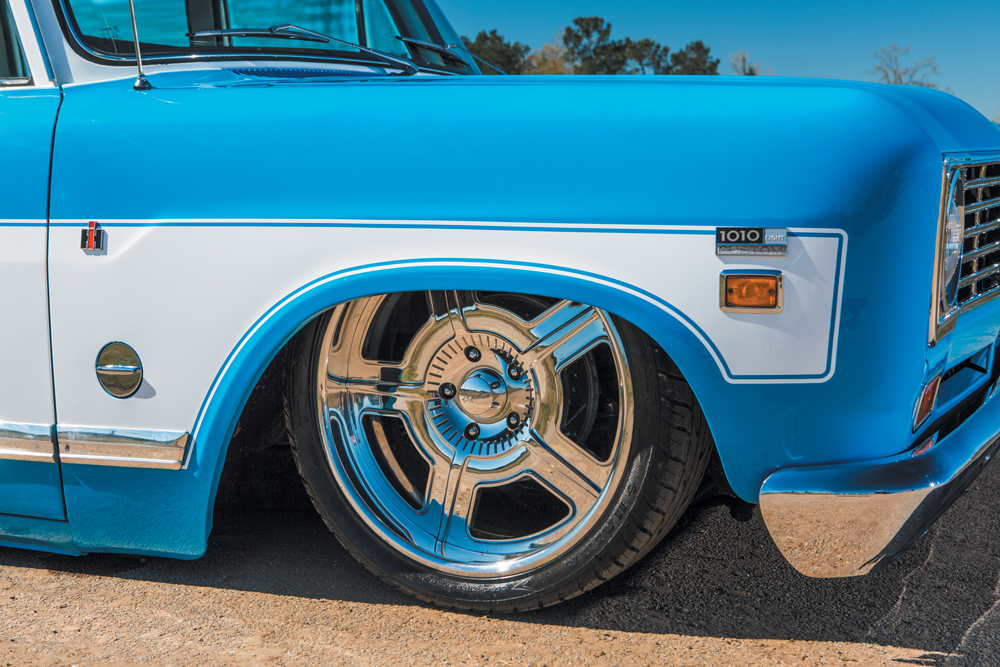 "For anyone new to IH vehicles who is interested in investing the time to build one, please invest as much time in learning about the rich history of this manufacturer," he says.
With the International Harvester brand dates back to the 1830s, so there is wealth of knowledge just waiting to be discovered by a new audience. These trucks were originally constructed to power America's workforce, and are now being redesigned to lead lives of leisure they've definitely earned their time to cruise.
Owner
John Pena
1973 International Harvester Travelall 1010
Spring, Texas
Engine/Transmission
Shop: Engine buildup and modifications by Chris Stahl, Magnolia, Texas
Factory 1973 International Harvester V-8 345ci engine
Custom exhaust system
Electronic ignition and choke were added to the original engine
1973 IH 3-speed automatic transmission
Engine bay painted by Cory Scott & KustomWerx, Jeff Gaddy and team
Suspension
Shop: Chris Stahl
1973 factory IH frame with built-in step notch
Stock suspension removed down to the frame rails
Custom-built upper and lower control arms
CPP spindles
Full air ride suspension system
Wheels, Tires & Brakes
22×8 and 22×10 Raceline "Scoundrel" wheels
CPP cross-drilled and slotted rotors and calipers
Body & Paint
Shop: Patrick Reid with Madd Concepts, Jonathan Barron
Custom mixed PPG Blue paint
Vinyl graphics by Darryl Tracy at Deluxe Garage 281
Re-chromed factory grille and bumpers
Interior
Shop: 5 Star Upholstery, League City, Texas
Factory IH bench seats covered in leather upholstery with houndstooth inserts
Forever Sharp "Sebring" steering wheel
Factory IH stereo left in place
Suitcase in cargo area houses the step notch and air management components