One Photographer's Dream Cover Truck 
You've seen Brandon Burrell's photos at some point in your auto magazine reading experience during the last 20 years. His work has appeared in Street Trucks, Truckin' and Mini Truckin' magazines on a regular basis throughout the last two decades. This man shoots it all—show coverage, tech pieces, feature stories and cover shots. In fact, this particular Street Trucks issue marks Brandon's 34th cover since he started out as a magazine photographer around 2001.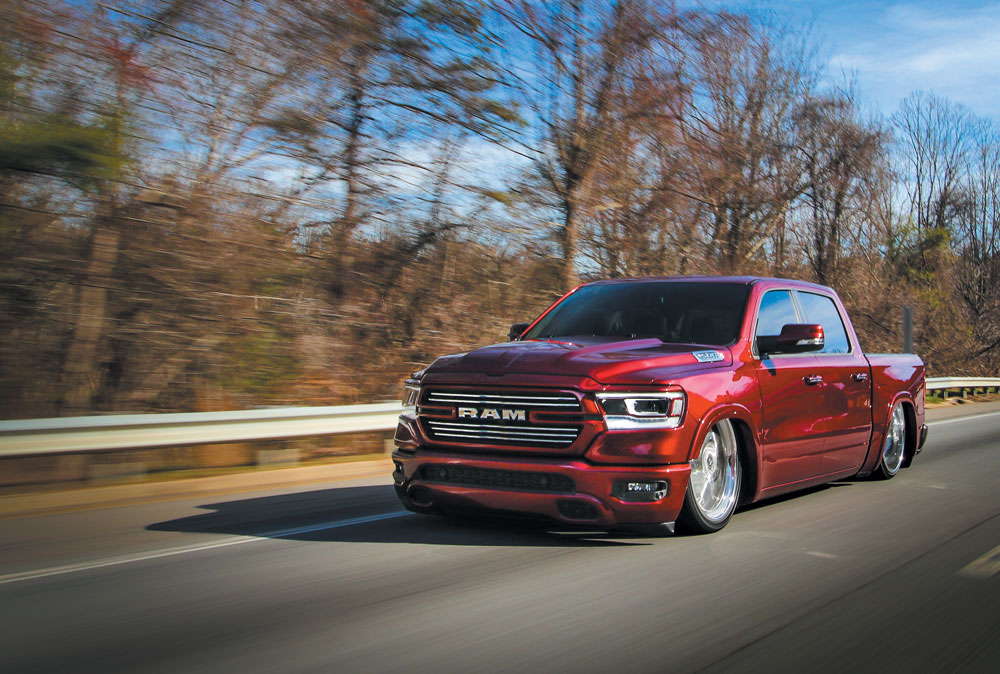 Brandon has built his career on capturing still and action photos of the accomplishments of truck builders from all over the country. A lot of work goes into creating a magazine-worthy pickup, and it takes a skilled eye to properly photograph that work for print. While Brandon has helped make the dreams of so many truck fanatics' dreams come true throughout his time behind the camera, he has recently had the rare privilege of shooting a very familiar truck for this month's cover—his own.
This accomplishment is not one that every guy gets to enjoy, but Brandon is most definitely deserving of finding himself in this position.
"I don't hunt, fish, golf or partake in any other sports," he admits. "Enjoying custom vehicles is my only hobby. Cruising the local strip with friends in high school led to tinkering on friends' rides, which then led to going to as many car/truck shows as possible. I've been going to shows since '94, I got my first magazine feature back in '98, started shooting photos for magazines in '01, and had my very first magazine cover shoot his the stands in '05—that's really the timeline of how my passion for this scene was fueled."
Fast forward to present day and to Brandon's latest endeavors. A steady workflow has kept him busy and deep within the custom scene, but he has made sure to take the time to build custom vehicles of his own.
"I've always wanted a 'bagged truck after taking photos of them for 20 years," he says. "I wanted a full-size pickup that all my friends could ride in but I could still tow with. I also wanted something that would drive as good as stock that had all the modern safety and convenience features."
There are a lot of truck options that could satisfy Brandon's criteria, but after hours of research, he landed on the '19 Dodge Ram 1500 to serve as the nucleus of his latest creation.
"It was the interior of the truck that sold me, actually," he says. "After ordering and receiving my new truck, I immediately took it to Phat Phabz to have it put on the ground."
Now, Brandon has built a handful of show vehicles in the past, and even has four SEMA vehicle builds under his belt, so he's no stranger to cutting up and hammering on a perfectly good car or truck. The chassis was treated to a Phat Phabz front 'bag kit with new crossmembers, upper and lower control arms, and flipped ball joints. At the rear, a parallel four-link system was cooked up to bring the Ram down to the ground with utmost ease.
The '19 Ram doesn't need much in the way of exterior upgrades to make it better, but Brandon wanted to put a few finishing touches to the surface to get the look he envisioned. The Delmonico Red Pearl paint was another one of the selling points of going Dodge, so to capitalize on the color, he contracted Dustin Maybin at Maybin's Concepts to match the bumpers, grille and mirror caps for a more monochromatic appearance. The stock headlights were also color matched to add those finishing touches that make all the difference.
"I took note of aspects of a lot of high-end trucks over the years that I liked and wanted to put into action on this build," Brandon says.
It's always the details that makes a truck that much more photogenic and memorable at shows and on a magazine page.
The Ram's 5.7 HEMI engine is already a more than capable powerplant straight from the factory, but Brandon wanted to improve upon its natural prowess with a hearty helping of aftermarket goods to coax even more power from it. A custom header crossover pipe, custom intake and a Borla S-Type muffler were brought in to assist in the engine's breathing abilities. An Edge Pulsar tuner then made it possible to maximize its overall performance gains on all levels.
While the timeline for the build didn't fall into place exactly how Brandon had planned, he was able to pull it together with the help of a tight circle of friends to get it ready during crunch time for the SEMA 2019 show.
"My wife, Kristin, played the largest role in making the project possible," he says respectably. "She has believed in me from day one and has helped lay out the plans to ensure the budget would work out to make this truck what it is today. Kristin is just as into car shows as I am, and I couldn't have done this without her support."
While any show vehicle is an intricate orchestration of many moving parts, Brandon's Ram is one that has benefitted from the support of an impressive grouping of parts manufacturers and talented fabricators.
"I'd like to thank Jake and the Phat Phabz crew for laying the truck down on the ground and making the big 26-inch wheels fit," Brandon says. "Shawn and the Ultimate Audio crew were able to handle the interior upgrades in record time, and Dustin Maybin helped a great deal with his paintwork. Eddie Gordy at Big Black Fabrication did a great job with the engine bay, making it unlike any other brand new full-size currently in the scene. Also, thanks to Myles Kovacs and John Ramos with Dropstar Wheels for stepping up and letting me help design a brand new two-piece welded billet wheel for them that worked perfect for my latest and greatest project to date."
TRUCK SPECS
 Owner/BUILDERS 
Brandon Burrell
'19 Dodge Ram 1500 Laramie 2WD
Asheville, North Carolina 
Engine & Transmission 
Factory 2019 5.7L HEMI
Edge Pulsar tuner
Custom intake
Matte bronze billet fluid caps and catch can from Billet Technologies
Custom header crossover pipe by Maybin's Concepts
Borla S-Type muffler with modified piping to clear suspension
Custom metal panels built by Eddie Gordy at Big Black Fabrication
Panels painted factory color and satin clear by Paul Ashby
Body & Paint
Dustin Maybin at Maybin's Concepts in Hendersonville, NC
Bumpers, grille and mirror caps painted to match factory Delmonico Red Pearl paint
Front bumper tag holes shaved
Custom front tubs with welded in stone guards, full rear tubs built into bed floor by Phat Phabz
Ultimate Liners spray-in bed liner
Undercover Bedcovers Ultra Flex folding bed cover, Custom Bedrug bed mat
Soulless Innovations 23-gallon fuel cell under bed, filler in bed floor
Stock headlights color matched and built by Retro Shop in St. Charles, MO
Klearz Manufacturing clear corner lenses
Diode Dynamics RGBW LED boards
Chassis & Suspension 
Shop: Phat Phabz in Choctaw, OK
Phat Phabz front 'bag kit with new crossmember, upper and lower control arms and flipped ball joints
Rear parallel four-link with diagonal track bar, anti-sway bar, C-notch and bridge
Front Air Lift 2600 'bags, rear Firestone 9100 sleeve 'bags
Dual Viair 485 Stealth compressors
Fox internal reservoir shocks
Air Lift 3H system with height leveling arms
Specialty Suspension 5-gallon seamless aluminum air tank
Stock rearend narrowed 6.375 inches on each side
Moser Engineering cut and resplined the stock axle shafts
Factory battery relocated to behind front bumper, XS Power Battery added beside it
Wheels, Tires & Brakes 
26×9 and 26×12 Dropstars DS22 wheels
295/30/26 and 315/40/26 Lionhart LH-TEN tires
Color matched MGP brake caliper covers
Interior & Stereo 
Ultimate Audio & The Paint Shack in Lexington, SC
Custom leather seats in brown and tan leather with tan stitching
Tan suede headliner and visors with factory panoramic sunroof
Factory 12-inch screen and speakers
Several interior pieces painted to match body color
Hornblasters Shocker XL train horns
Husky Liner floor liners
Locker Down console safe