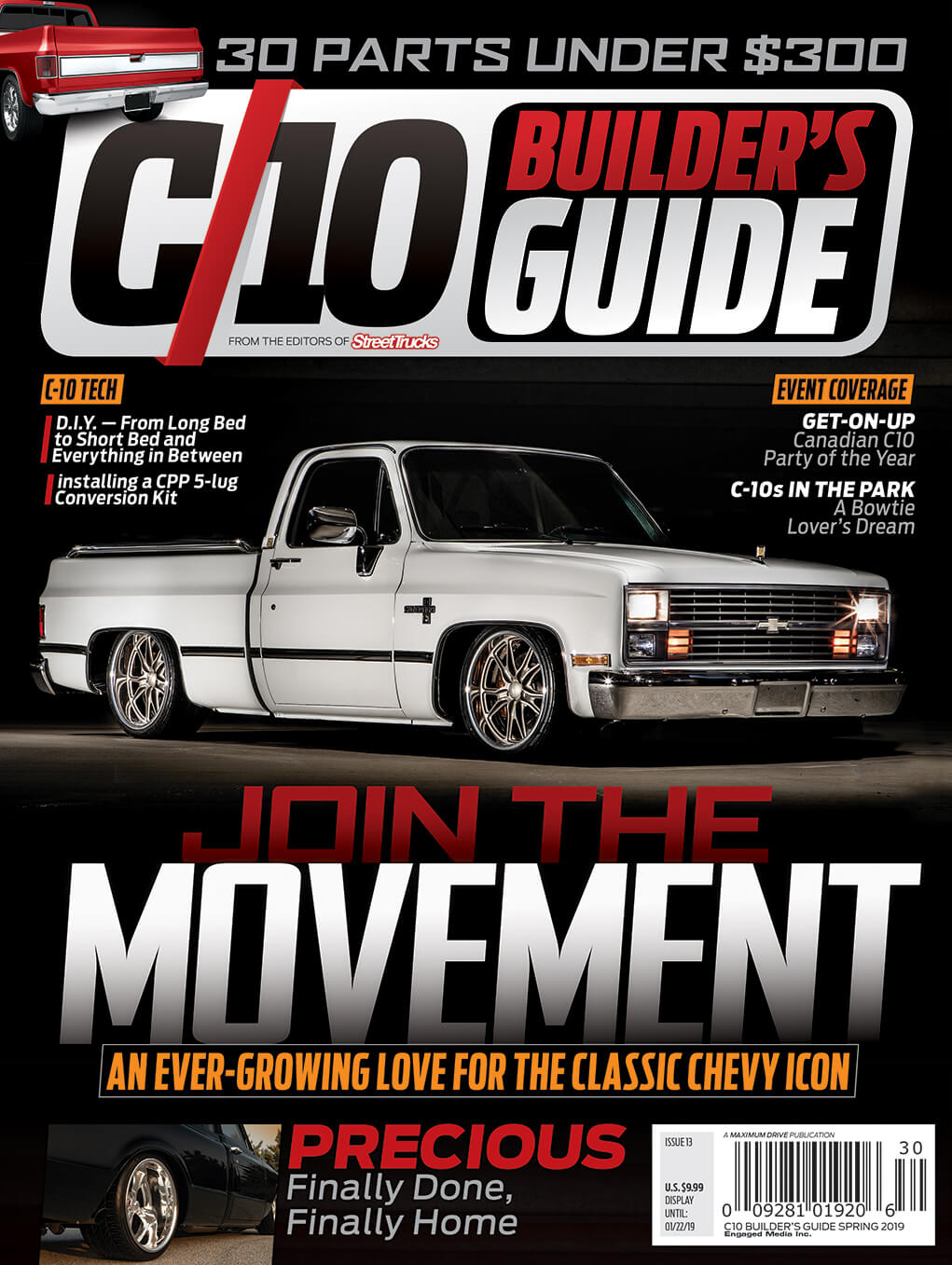 C-10 Builder's Guide | Number 13 – Spring 2019
The incredible shot on our cover came courtesy of Jordan Vilonna. His natural lighting along with some digital light painting gave this immaculate white squarebody the pop it needed to snag the cover.
Pg. 104 WHITEOUT – Kyle Martin's simple, smooth and sinister square
Pg. 34 SHORT BED DREAMING – Cutting down a '67-'72 the right way
Pg. 94 I GOT 5 ON IT – Converting '67-'71 Chevy to five-lug
Pg. 66 C-10S IN THE PARK – The Largest C-10 Gathering in the South gets even bigger
PG. 112 NORTHERN EXPOSURE – The Canadian C-10 party of the year!
Pg. 22 LADY LOW – This ain't her boyfriend's truck
Pg. 42 WATCH FOR THE CHANGE UP – A K5 Blazer straight outta left field
Pg. 48 PRECIOUS – Finally done, finally home
Pg 84 THE CL1 C-10 – When Camaro meets pickup
Pg 58 WHEELS TO WATCH FOR 2019 – Six wheel designs that will help your C-10 stand out in the crowd
Pg 74 $300 AND UNDER – High quality C-10 parts at low, budget prices
Pg 120 AVERAGE JOE – With an above average addiction to C-10 trucks
Pg 10 MESSAGE FROM THE EDITOR – A fresh, new, exciting outlook for the C-10 culture
Pg 14 PARTS COUNTER
Pg 130 BUILDERS, BUYERS AND BARGAIN HUNTERS – Where do you fit in?
---
EDITORIAL STAFF
Chris Hamilton – Editor in Chief – Letters to Editor, New Products, or to Contribute a Story or Photo chamilton@engagedmediainc.com
Kelly Nomura – Executive Managing Editor
Wendy Wilson – Managing Editor
Eugene Pineda – Art Director
CONTRIBUTORS
Grant Cox, Des Gower, Jon Hansen, Tucker Harris, John Mata, Travis Noack, Mike Self,
Bobby Stewart, Ronnie Welch, Kevin Whipps
ADVERTISING
Gabe Frimmel – Ad Sales Director (714) 200-1930 gfrimmel@engagedmediainc.com
Chris Crispell – Senior Account Executive (714) 200-1935
AJ Demiar – Account Executive (714) 200-1903
Becky Maas – Account Executive (714) 200-1959
John Bartulin – Account Executive (866) 866-5146 ext. 2746
Sebastian Tirkey – Advertising Traffic Coordinator
Eric Gomez – Advertising Traffic Coordinator
MARKETING
Michael Chadwick – Digital Marketing & Media Coordinator
OPERATIONS
Manish Kumar Mishra – Operations Specialist
Devender Hasija – Newsstand and Circulation Analyst
Shailesh Khandelwal – Subscriptions Manager
Surajpal Singh Bisht – Prepress Manager
Alex Mendoza – Administrative Assistant
Victoria Van Vlear – Intern Program Manager
EDITORIAL, PRODUCTION & SALES OFFICE
17890 Sky Park Circle #250, Irvine, CA 92614
(714) 939-9991 • Fax: (800) 249-7761
www.facebook.com/eembybeckett
CUSTOMER SERVICE
Engaged Media, Inc.
17890 Sky Park Circle #250, Irvine, CA 92614
Subscriptions, Address Changes, Renewals,
Missing or Damaged Copies
(800) 764-6278
(239) 653-0225 Foreign Inquiries
subscriptions@engagedmediainc.com
customerservice@engagedmediainc.com
Back Issues: www.engagedmediamags.com
Books, Merchandise, Reprints
(800) 764-6278 • Foreign (239) 653-0225
SUBSCRIPTION RATES
$14.95/1 year, $24.95/2 years;
outside the U.S. $23.95/1 year, $42.95/2 years
payable in U.S. funds. Single copy price is $9.99.
Please allow 6 to 8 weeks for new subscriptions to begin.
ENGAGED MEDIA INC.
Pinaki Bhattacharya – CEO
Jason Mulroney – Director of Content
Nathaniel Phillips – HR and Office Manager
Philip Trinkle – Newsstand Sales Director
This magazine is purchased by the buyer with the understanding that information presented is from various sources from which there can be no warranty or responsibility by Engaged Media Inc., as to the legality, completeness or technical accuracy.