For those of us who have built multiple projects or just owned multiple vehicles, we sometimes get an overwhelming sense of redundancy. To combat this, we usually go out of our comfort zone a bit and maybe choose a different generation or model. Those of us who really want to shake things up swap makes or go from cars to trucks. There's nothing like reinventing yourself or your own tastes in something you thought you had figured out.
What you're staring at here in these pages is just that: a couple of guys, father and son no less, who got tired of the super sleek and shiny hot rods and decided to deviate off the traveled road to create a rod that would redefine one's taste. It's hard to pin a style or definition on this 1935 Chevy truck, but the owners tell me it's what happens when a street rodder wants to dabble in rat rods. Step into the minds of Rick Brand Jr. and Sr., the mental creators of this bare metal and bare minimum rod. Follow me as we define what both Jr. and Sr. were trying to achieve when they approached an experienced custom shop with their ideas.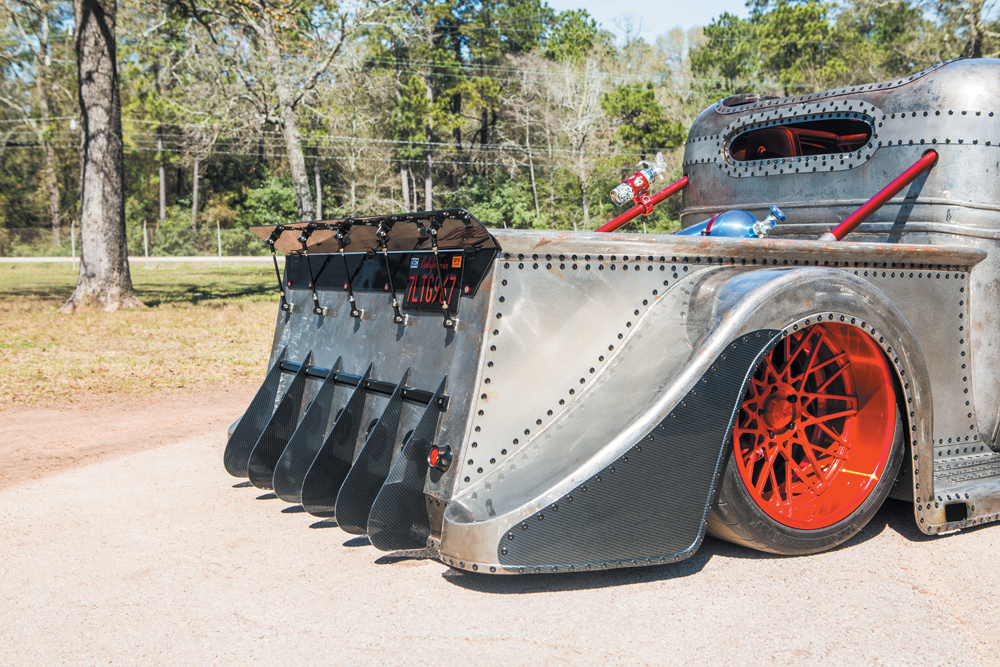 Being in commercial construction, the Brands knew that a project like this takes a team of talent, so the first thing they did was reach out to Nickells Customs in Lodi, California, to help bring their ideas to light. Jeff Nickells had helped them on past projects, so the trust to build a unique rod was already established. The father and son team started with a '35 Chevy Truck as its base, but much like the original hot rodders, that's also where it ended. To obtain a rigid frame, Jeff Nickells started by building a complete custom chassis for the truck by using 2×4-inch rectangular tubing and then adding cross member and frame stiffeners where needed. To ensure a straight track and reliable geometry, Nickells installed a Mustang II-style independent front end utilizing a pair of Air Lift airbags and double adjustable shocks from QA1. Outback, the same attention was given so that the truck would perform in all conditions. A custom triangulated four-link was welded up and again maintained by Air Lift bags and a pair of adjustable QA1 dampeners.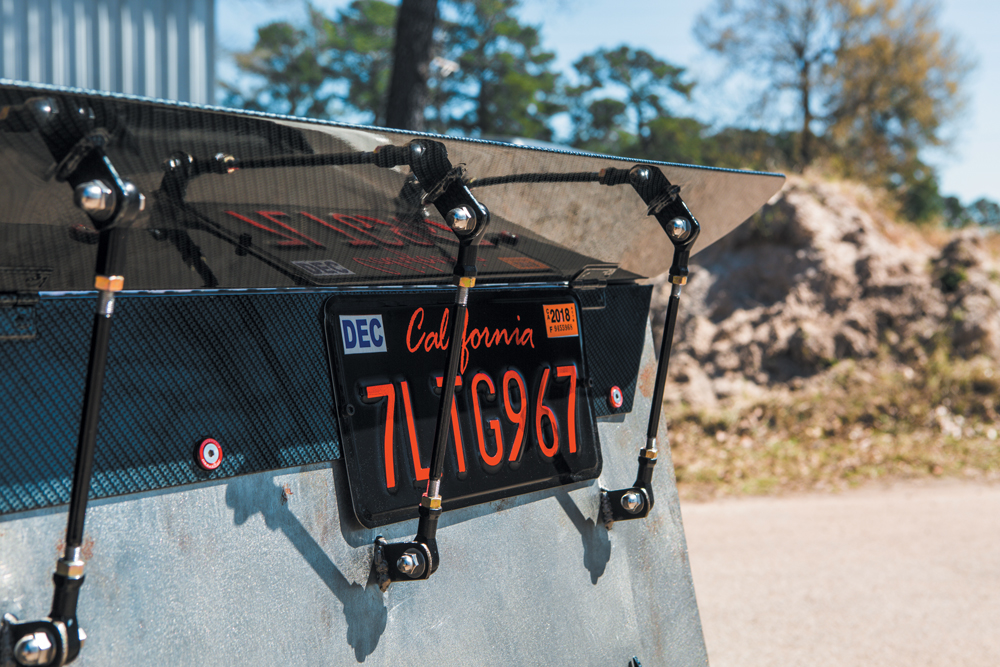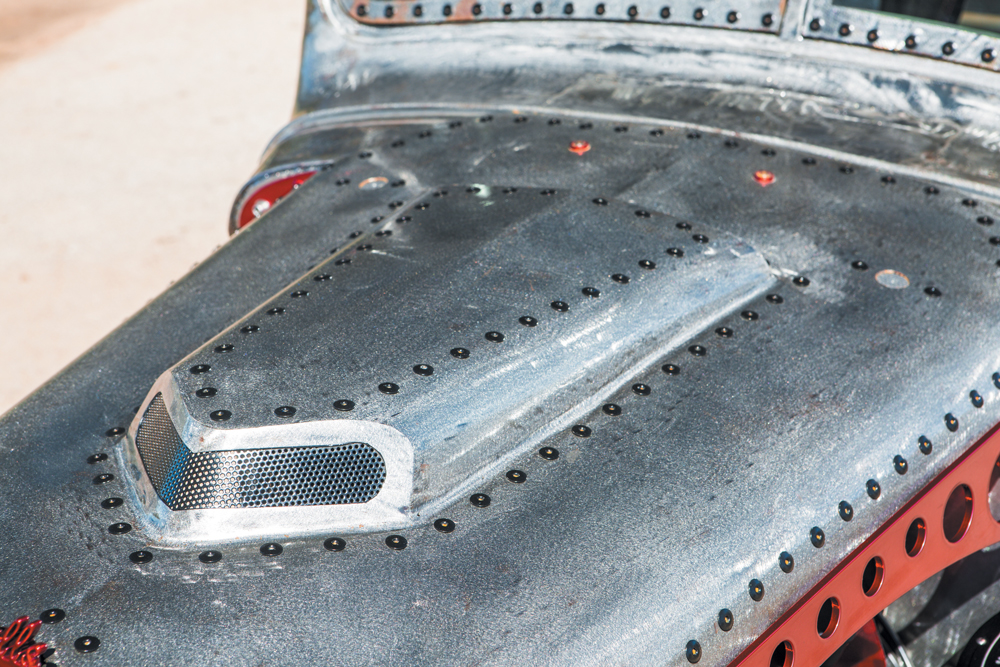 Now that a foundation was built, the body could start to take its shape. Even though the body you see here is predominantly '35 Chevy, there is so much more that makes this form unforgettable. The Brands were looking for more than just another old iron truck body. They wanted style and function. Starting with its facade, you notice a bit of change with the nose of the truck. A traditional early '30s Ford grille is wrapped in a '29 Dodge shell, and then a custom hood (sans sides) was built to connect the grille to the body. The hood also sports a small scoop to allow airflow and clearance to the engine. The next big style que to hit your eyes has to be the front fenders.
Starting off with '36 Ford fenders on a Chevy cab is probably not what you would guess, but they fit so well it looks natural. And the additional tire clearance with the added-on sheet metal gives the front end a sort of wide-body look and extra turning radius. Adding a bit of race style is the custom carbon fiber lower spoiler with sturdy adjustable rod ends. Moving from the front fenders and helping the eye connect to the rear are the custom shaped running boards with the dual exhaust exiting near the rear.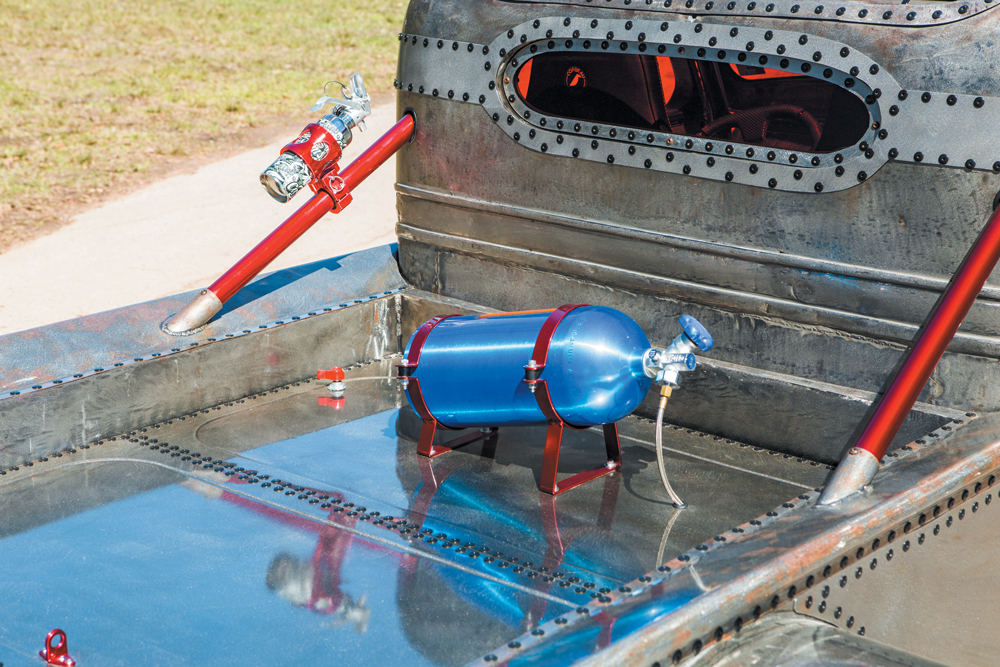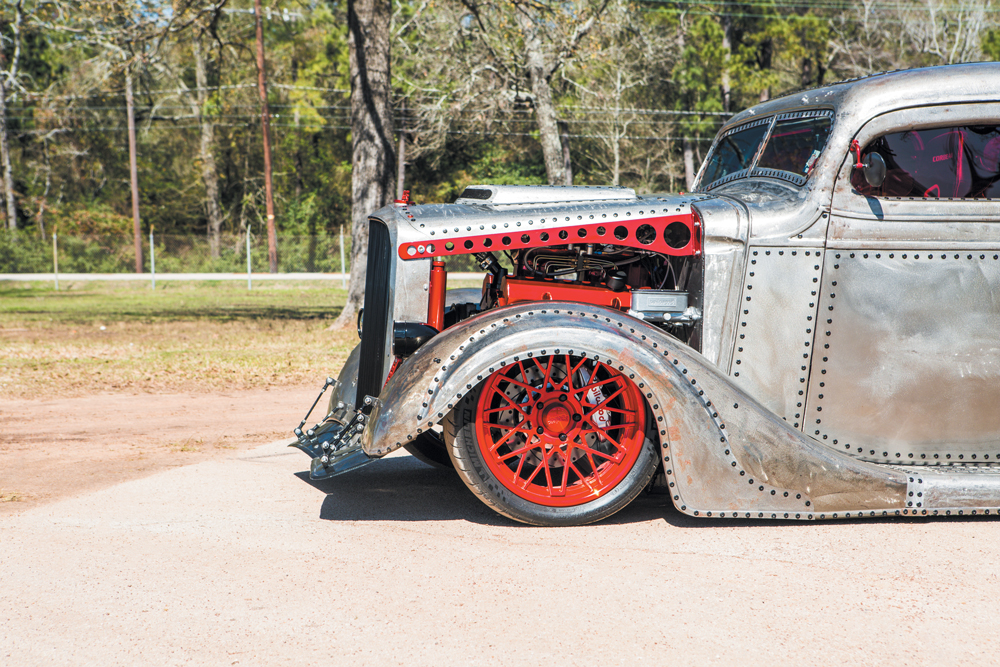 Refocusing rearward, you notice that the entire sheetmetal bed has been fabricated from scratch, including the rear widened fenders. Upon closer inspection, you begin to notice that the bed is quite utilitarian. It holds the nitrous bottle, accommodates the rear roll bars and gives access to the chassis all while aesthetically looking like a modified mid-1930s bed. Once again, the decision to add some race car style was made and Nickells Custom built some one-off pieces, this time for the rear of the bed. A rear carbon fiber wing mounts atop of the tailgate with adjustable rod ends, and a lower diffuser was built from carbon fiber to finish off the rear of the truck. These added pieces really create some length to the truck and give its already attractive body some more aggressive features.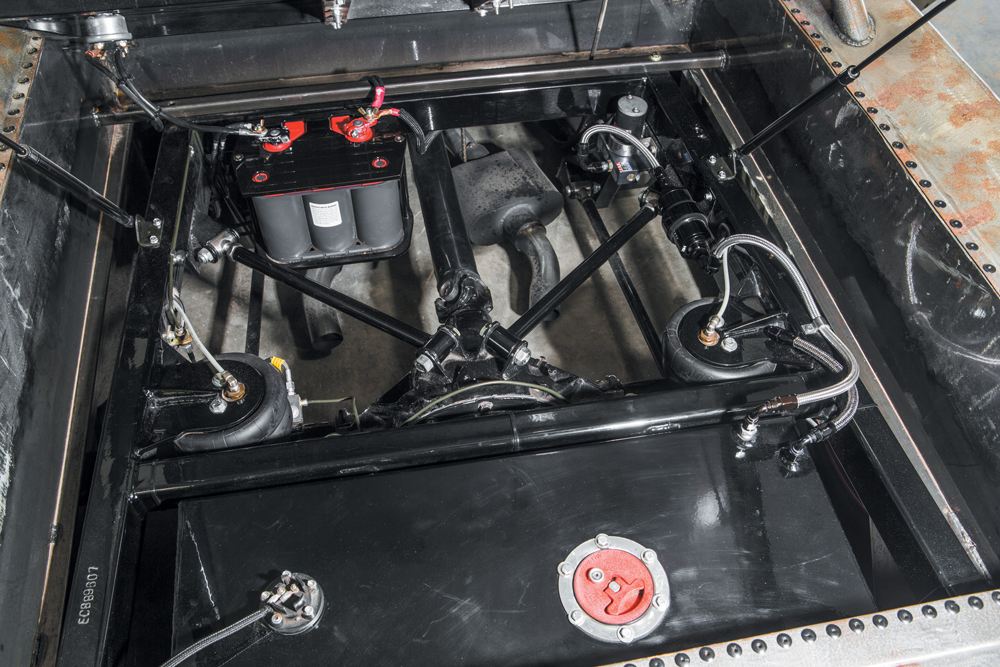 The cab of the truck is where you can really tell its Chevy heritage; following the double-beaded belt line around the cab to the front cowl makes certain of this. However, the rest of the cab has been slightly modified. The most notable is the 3-inch chop given to the roof. This really lends to its aggressive stance. Added custom touches such as shaved door handles, suicide doors, custom window frames holding in that red Lexan and, of course, the large hole framed out in the roof, all give this cab a unique nostalgic hot rod style.
The overall look of this truck is diverse and unique. Where most people would have hired a paint and body guy, the father and son team decided to just add detail to the already great looking form. Details adorn this truck at all angles, such as the custom-built aluminum brackets holding up the hood and headlights. Stored away headlights come from a custom motorcycle no less, with matching moto taillights popped into the tailgate to match.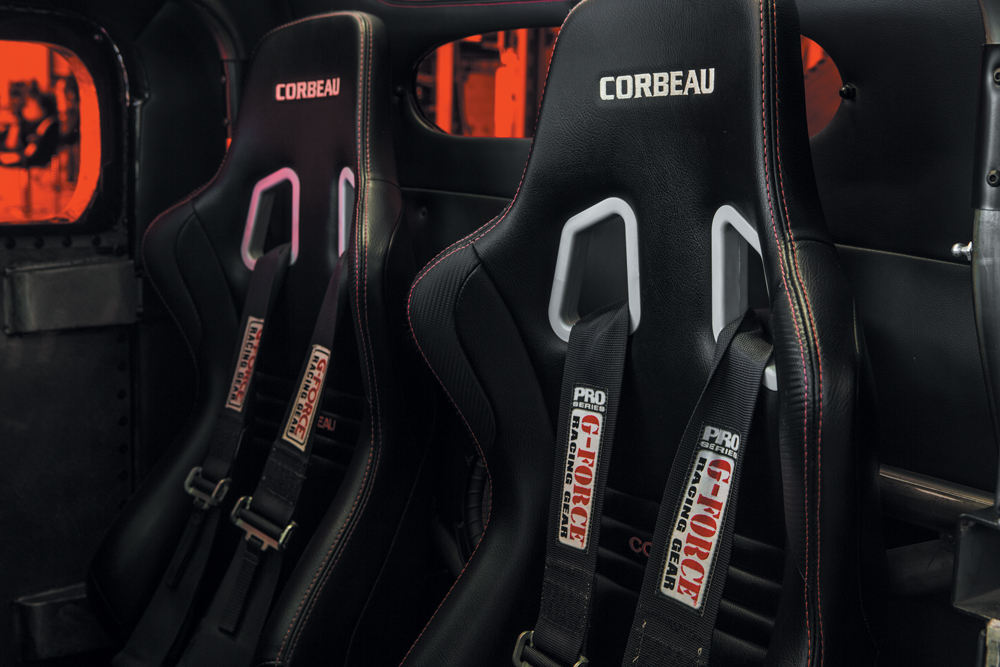 Additional sleek body features are things like the peep mirrors and custom radiator cap. One of the most notable features to the exterior of this truck is the color combination or lack thereof. The entire truck features a bare metal finish that was preserved by a clear powder coat applied by Applied Coatings in Lodi, California.
Additionally, they accented the body with red anodized parts to give the truck a subtle two-tone. But perhaps the most eye-catching mod to this truck is the more than 1,000 black aluminum rivets across the entire sheet metal body. When speaking with Rick, he says those rivets are both form and function. He adds that they intentionally flow with the body's form to keep your eye going around the truck and maybe distract you from the imperfections left from the bare sheet metal.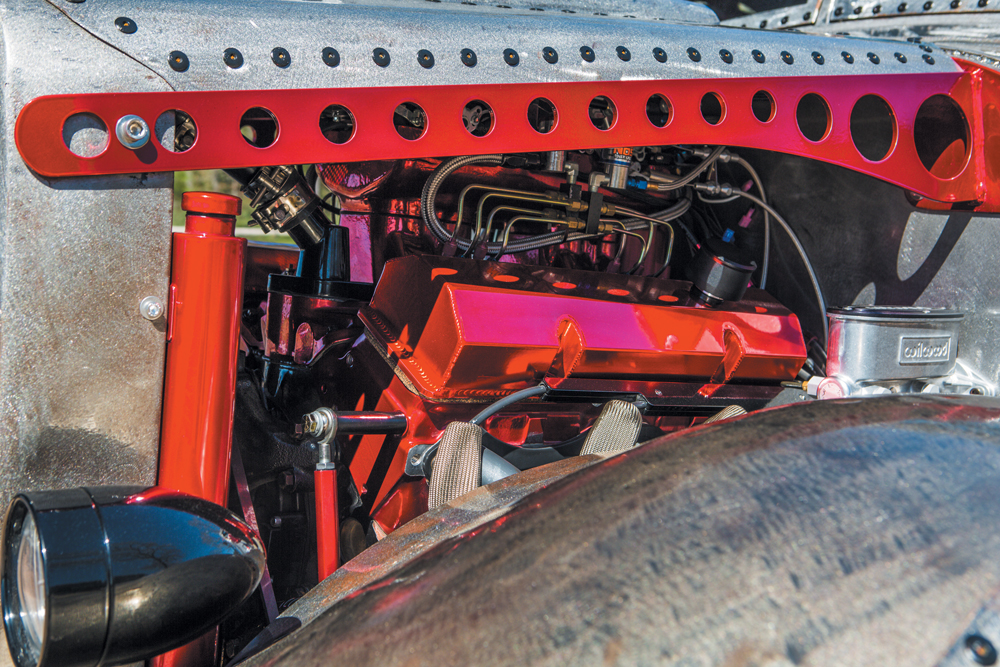 To move all this custom sheetmetal, the Brands opted for a dependable and powerful small block Chevy with 383 cubic inches. With forged internals by Eagle, and a complete roller assembly by Lunati, this stroker can produce in excess of 450 hp É and that's before the 300 hp shot of nitrous via direct port injection by Nitrous Oxide Solutions. Grabbing air for all that potential power is a dual quad setup utilizing a Weiand intake and a pair of FST Carburetors in billet form. To efficiently transfer that power, a Th400 transmission is used to distribute the load to a Chevy 12-bolt rear axle. With upgraded internals and a Posi Trac third member carrying a 4.56:1 ratio, the bare metal truck has no problem getting out of the way.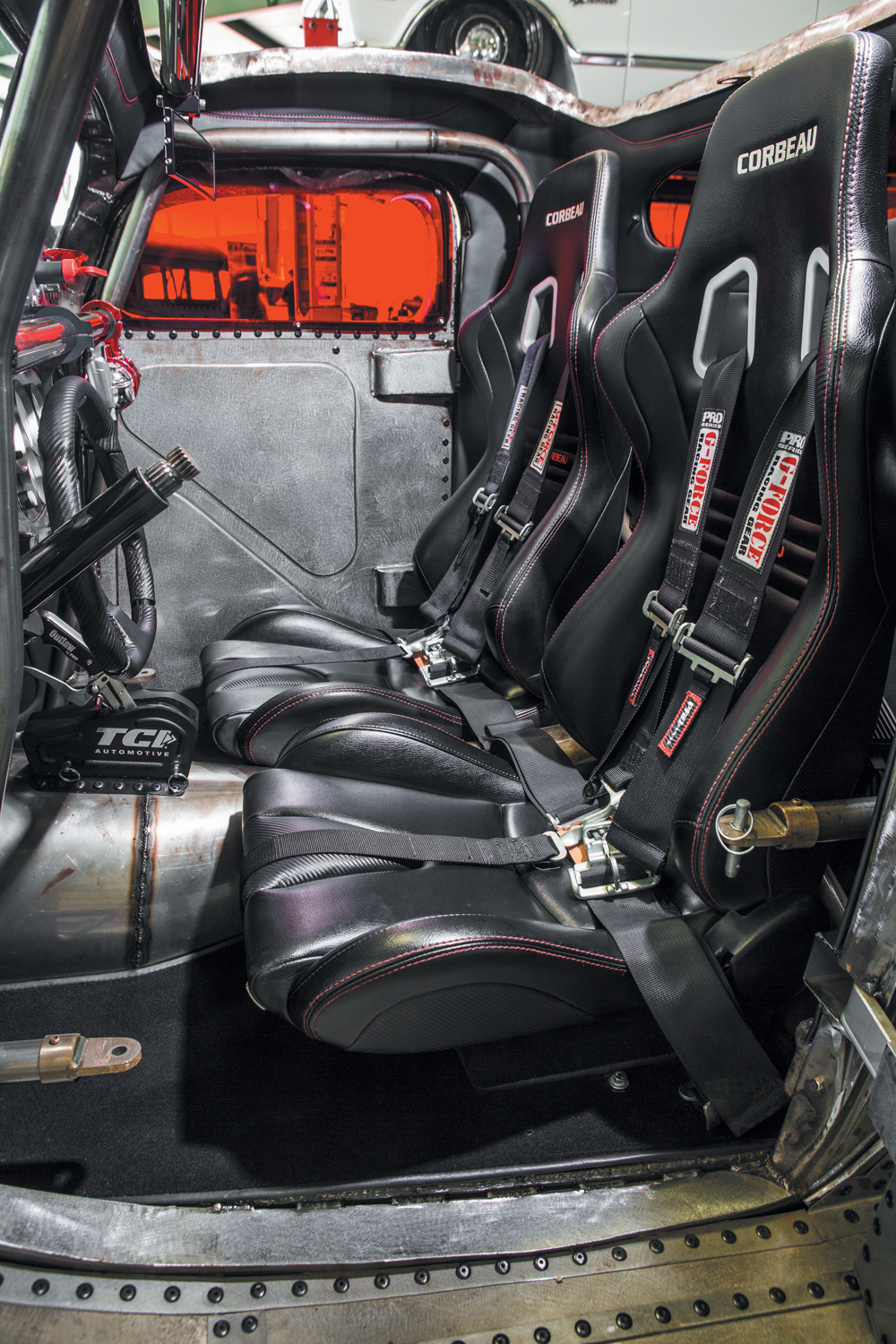 Helping keep the truck in control are a set of Michelin Pilot Sports in 225/40-18s and 325/30-20s respectively. These rubbers are trimming out a beautiful set of red anodized American Racing billets, sized at 18×8 and 20×12. Keeping the truck in check and out of harm's way are a set of Wilwood Engineering brakes, coupled with their aluminum tandem master cylinder. The front system is a large 13-inch rotor with a 6-piston caliper and a slightly smaller rotor and 4-piston caliper out back.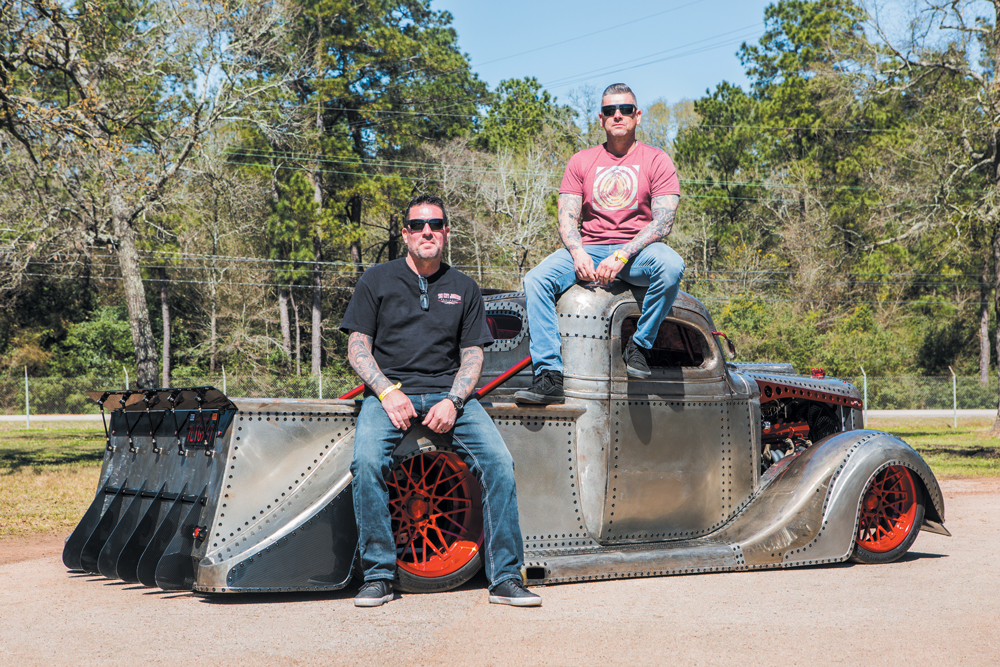 To wrap up this unique project, the father and son team decided to keep the interior minimal but essential. They used Vince's Customs out of Sacramento to wrap the Corbeau racing buckets and matched the interior panels with black vinyl and red stitching. Instrumentation is provided by a set of Auto Meter gauges and a full race-style wiring harness with switch panel. Staying somewhat in a "rat rod" builder mentality, Rick sourced a bare-bones steering column and borrowed a steering wheel from a UTV they had around their shop. Perhaps the most indispensable part of the interior is the safety equipment. Not only were 5-point harnesses used, but Nickells Customs fabricated a roll cage for the truck, strategically placing the bars out of the way for the 6-foot, 2-inch driver and logically using swing out bars for easy access into the cabin.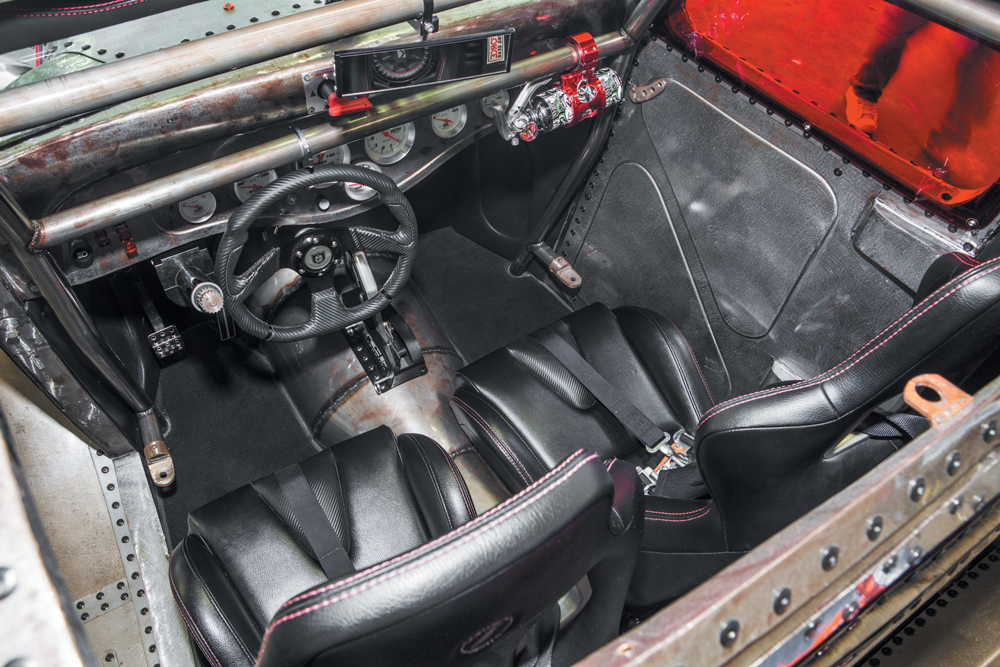 Nothing about this truck says stock; rather, it exudes originality. Rick Brand Jr. mentioned to me that they started off wanting to build some type of rat rod. When I stated that this was no ratty project he said, "No one ever put a value cap on building a rat rod." I laughed and agreed. I believe your project is what you want it to be and can be achieved no matter the budget, size of your shop or team.
Borrowing a bit from Harriet Tubman, I think the next great project begins at the end of your comfort zone. You can't limit yourself with one brand, be it domestic or foreign; nor can you bound your creativity by choosing one make to master. In a world of C10s, be the guy that builds an eclectic '35 Chevy with abandoned parts and a few new ones. Be a builder in the true sense of the word. Keep on truckin'!