This Ain't no Pavement Queen
People sometimes poke fun at custom-lifted trucks because they're not always the most useful trucks on the road. Minimal suspension travel, under- or over-sized tires, and missing front driveshafts are often called out, but turn about is fair play since the lowered crowd gets its share of guff, too.
None of these traits applies to Chris Stafford's '15 Chevy Silverado 2500HD High Country, though. His truck was built to work, and can handle on- and off-road duties easily, although admittedly he mainly uses his truck to tow. In fact, Chris used his Silverado to tow his C-10, known as Silverfox, from Louisiana to Las Vegas for the 2016 SEMA Show. Once he unhitched it, he pulled the Silverado into its own spot at SEMA, where it represented Iron Cross Automotive and its line of truck accessories.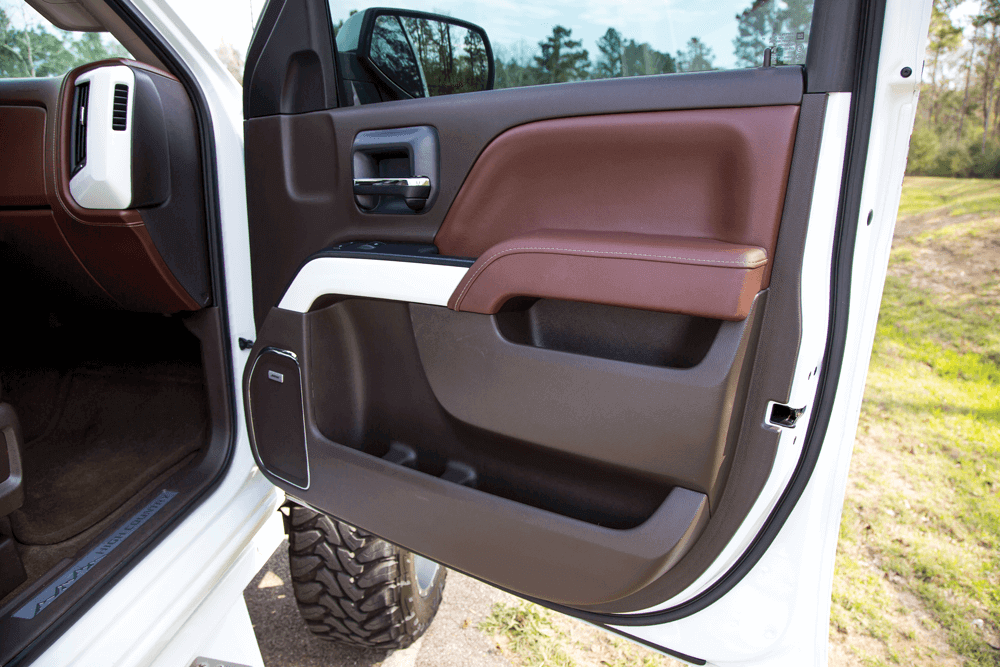 To get the truck to this level, Chris enlisted the help of Backwoods 4×4 & Offroad Accessories. The shop's crew worked tirelessly to prepare the truck, tearing off a bunch of its stock components in the process. The rearend was deemed stout enough, so it was left alone with the exception of an ATS extra capacity diff cover, which we're sure came in plenty handy on the long drive to Vegas, as did the Transfer Flow 60-gallon replacement fuel tank.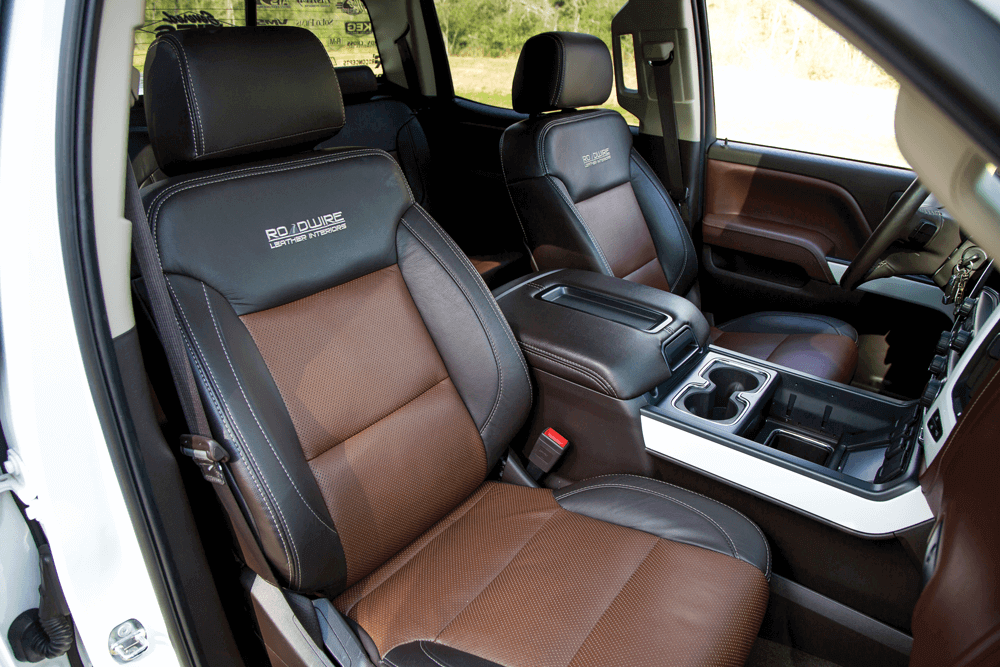 You likely already know that stock suspensions simply don't cut it around these parts, so a tough-yet-comfortable McGaughy's suspension lift was powder-coated to match the 22×12 Raceline Flowform Magnitude wheels, then installed to bring the truck 9 inches over stock. Hellwig sway bars front and rear, along with a Hellwig helper 'bag kit, keep things nice and steady as the truck heads down the road.
Since the truck would be hauling Chris' other pride and joy, he wanted to make sure it had enough stopping power, so he upgraded the rotors to R1 Concepts' latest. This was an especially smart move since the Chevy's Duramax was upgraded with an MBRP downpipe and exhaust, an Injen Technology air intake, a PPEI on-the-fly tuner, and a FASS lift pump, which helped bring horsepower up to about 500 and torque to about the 900 ft-lb mark.
Now that the truck's mechanicals were in order and ready to tackle anything, Chris could focus on the rest of truck. Iron Cross Automotive came through with its low-profile bumpers, which were tricked out with Avec LED lights and Monster Hooks, Inc. Reaper shackles, which were hand-painted by Joe Vincent. Other Iron Cross gear includes the company's side steps and bed step, which were painted to match, just like the bumpers, by Kirkfield's Autobody. The guys at Kirkfield actually did their fair share of color-matching on the truck, including the door handles and any trim that was previously chrome, but they also smoked the lighting for a nice contrast to the Diamond Summit White paint. Graphics were designed and applied by Deluxe Garage 281 using vinyl, and they're quite a bit nicer than what usually comes out of the average vinyl shop.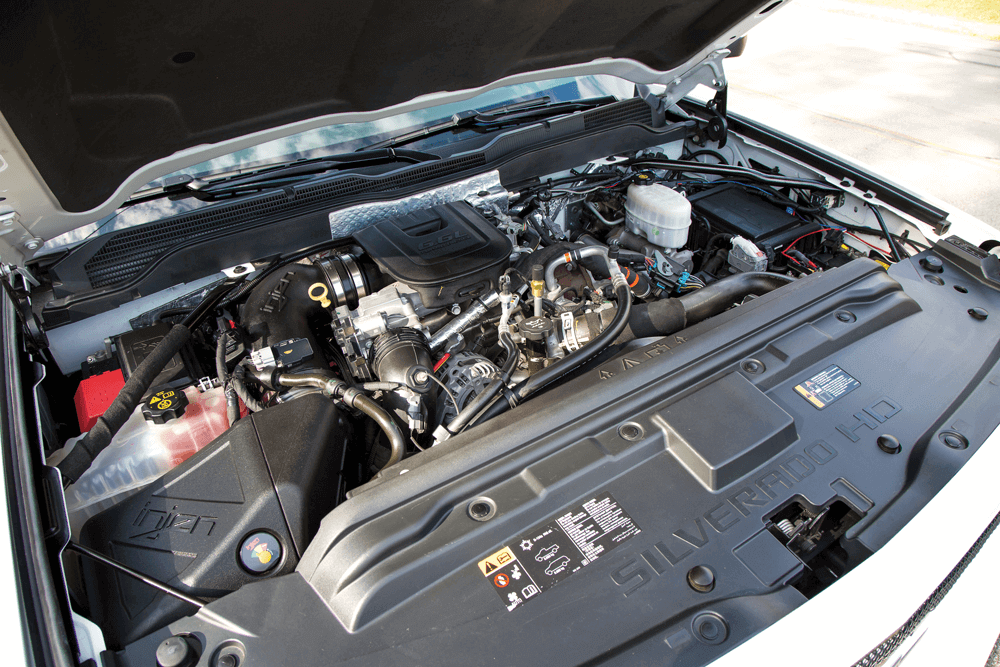 While the rest of the truck was getting overhauled, Chris delivered the Roadwire Leather Interiors upholstery kit, which he designed, over to LB Upholstery so that the crew there could work their trim magic. Chris retained the factory steering wheel, but had it color-matched along with most of the rest of the plastic inside. An Edge Products CTS 2 Insight monitor, molded into the center console, finishes up the interior.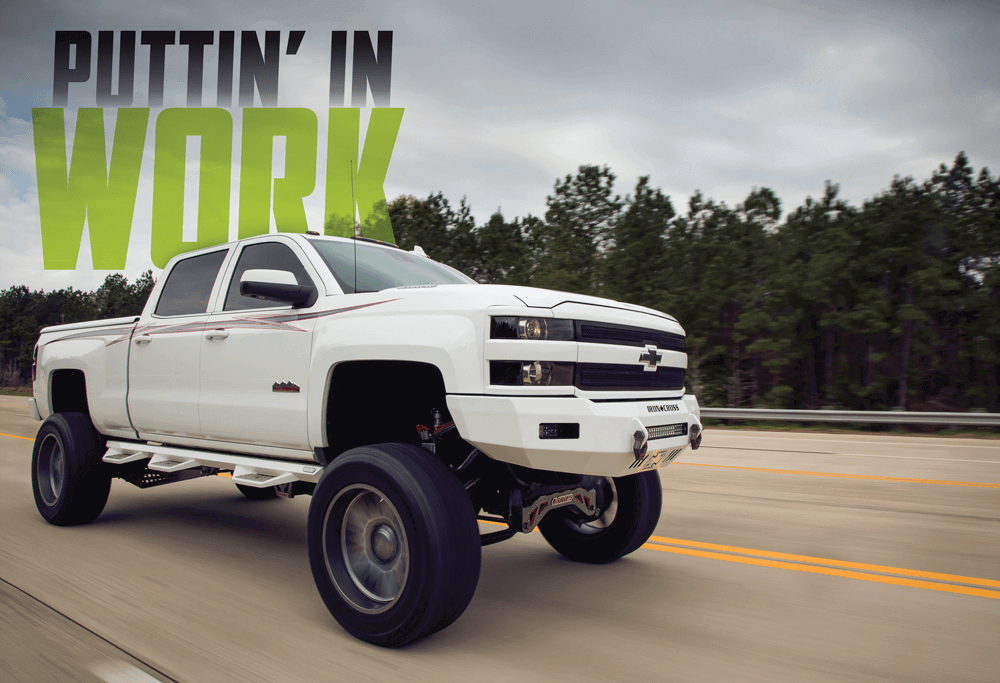 Now that the truck is ready to boogie, Chris barely had time to get in a couple of shakedown runs before loading up the C-10 and hitting the road for Nevada to debut the truck for Iron Cross Automotive. Chris wanted to prove that a lifted truck could put in work, and we think he definitely drove that point home.
Owner
Chris Stafford 
Bogalusa, LA
2015 Chevy Silverado 2500HD High Country
Severed Ties
Engine
Duramax 6.6L diesel
3-inch MBRP downpipe
MBRP 4-inch polished stainless steel exhaust
Injen Technology cold air intake kit
PPEI custom shift on-the-fly programmer
FASS Fuel Systems lift pump
Allison automatic transmission
ATS extra capacity finned transmission pan
Chassis & Suspension
Work performed by Backwoods 4×4 & Offroad Accessories
ATS extra capacity differential cover
Transfer Flow 60-gallon midship replacement fuel tank
McGaughy's 9-inch lift kit, powder- coated and painted by Joe Vincent
Fox 2.0 shocks
Hellwig sway bars
Hellwig helper 'bag kit
R1 Concepts brake rotors
MGP caliper covers
Wheels & Tires
22×12 Raceline Flowform Magnitude wheels, powder-coated matte gray
37×13.50×22 Toyo Open Country M/T tires
Body & Paint
Work performed by Kirkfield's Autobody
Iron Cross Automotive low-profile bumpers with Avec LED lights and Monster Hooks, Inc. shackles, painted by Joe Vincent
Iron Cross Automotive HD steps and bed step
BedRug carpet kit
UnderCover SwingCases
UnderCover Elite LX tonneau cover
All chrome painted to match truck
T-Rex Upper Class grille insert
Anzo USA LED taillights
Smoked headlights and blacked out signals
Custom vinyl graphics by Deluxe Garage 281
Red and gray pinstriping by Joe Vincent
Interior & Stereo 
Work performed by LB Upholstery and Kirkfield's Autobody
Custom-designed Roadwire Leather Interiors upholstery kit
Color-matched steering wheel inserts and interior plastic
Edge Products CTS 2 Insight monitor molded into center console
Special Thanks From the Owner: "My wife Mandy Stafford, Alan Kirkfield, Alan Kirkfield III, Darryl Tracy, Brian Fields, Eric Long, James Rachel, Shane Craft, Joe Vincent, Kody and James Barber, Lawrence Bergeron, Fatty Loyd, Jeremy Pounds, Julian Thomas, Rory Griffith, Paul Sheridan, Gerald Cosse, Stephen Corkern, Anthony Marange, Taylor Marange, Cody Stoute and all of my Severed Ties family."