This '79 C-10 has Done Nothing but Pay it Forward
If you've spent any time in the truck scene at all, you're probably familiar with Jeremy Rice. In addition to building some of the raddest rides around, he does a ton of tech work for print media.
Our story begins with Jeremy's friend, Cody, who was storing a '79 C-10 square-body on his property for another friend. Jeremy got antsy seeing the truck languish in storage every time he stopped by for a visit. It wasn't long before Jeremy started bugging Cody about getting his hands on the truck. It took more than five years, but Cody finally relented.
"Now that Jeremy had the truck, and some history,  he decided to give it a second life,  which is when the truck started to give back."
Jeremy tracked down the titled owner, who explained that originally he had given the truck to his son, but unfortunately he'd moved on to pursue other interests. He also told Jeremy that he bought the truck from Bobby Unser Chevrolet (Avondale, Arizona) back in 1979. The truck originally had a six-cylinder in it with a turbo 350. The six-cylinder was swapped out for a meaner 350 from a 1974 El Camino around 1995. The truck also received new paint way back in 1997.
Now that Jeremy had the truck, and some history, he decided to give it a second life, which is when the truck started to give back. While Jeremy was working to rejuvenate the '79, he gave all of us some great tech articles, which were featured here in C-10 Builder's Guide and in our sister publication, Street Trucks.
Jeremy started with the suspension, swapping out the worn stock control arms for CPP tubular upper and lower control arms, CPP modular spindles with a 2-inch drop and springs with a 2-inch drop. Out back, he installed a CPP rear flip kit, shackles, lowering springs, C-notch and shocks, giving the truck the stance that makes it a head-turner. For rolling attire, American Racing's 20×9 and 20×10 Torq Thrust II wheels were installed. Jeremy had John over at Total Auto Pros wrap a set of Nitto NT555 tires in 255/40R20 and 285/35R20 around the new wheels.
Jeremy took advantage of the suspension disassembly to upgrade the brakes to a full big brake kit from CPP. The front received the CPP 13-inch big brake kit, drilled and slotted rotors, and twin 52mm piston calipers. The rear received the CPP 12-inch cross-drilled and slotted rotors with CPP rear calipers. Jeremy also upgraded the steering and added a CPP steering box, CPP billet tie rod adjusters and a new power steering pump.
Now that the truck rode and stopped the way Jeremy wanted it to, it was time to give the small-block 350 some love. Summit Racing supplied a new Edelbrock water pump, intake manifold and Performer 600-cfm carburetor. Spectre provided an aluminum air cleaner housing, polished valve covers, engine pulley set, oil pan, polished aluminum timing cover and alternator to dress it all up. The motor looked good, but it needed to sound that way too, so Jeremy and the crew installed a Black Widow Venom 250 series muffler.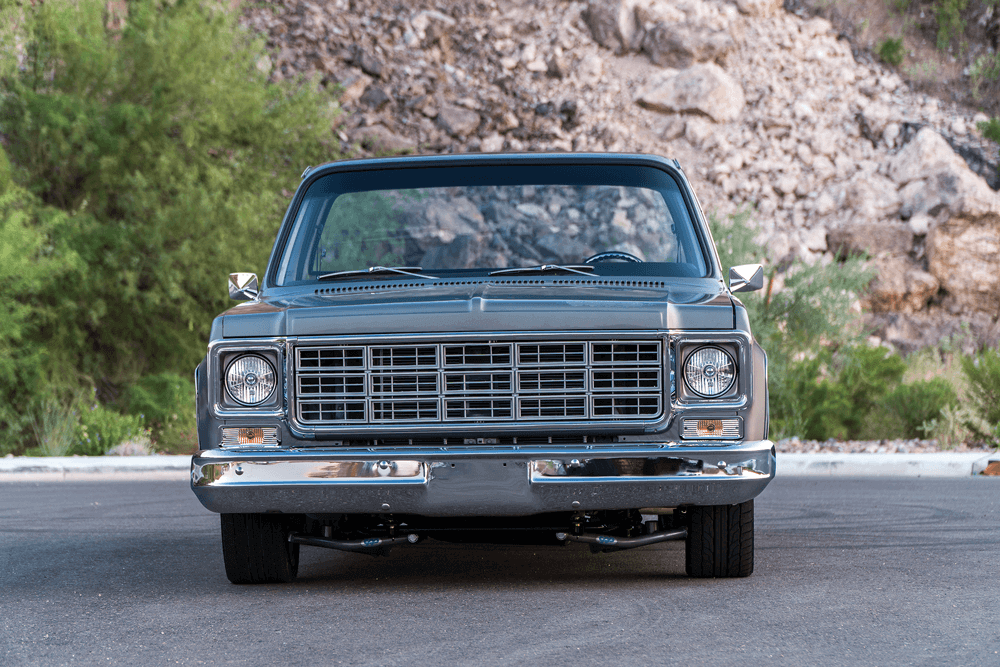 The interior was next (see the full story on page 86, "Superior Interior"). Jeremy and his crew installed TMI Sport X bucket seats, console, steering wheel, dash pad and door panels. A Brothers Truck carpet kit, seat belts, sun visors and headliner were also added to clean up the interior. A set of Auto Meter American Muscle series gauges polished the truck's cockpit and finished off that portion of the build.
Jeremy and his crew shifted focus to the exterior to give the truck the final "wow" update it needed. He reached out to Brothers Truck for all new parts. New bumpers, grille, headlights, turn signals, taillights, mirrors, side moldings and tailgate moldings all found their way onto the truck once everything was said and done.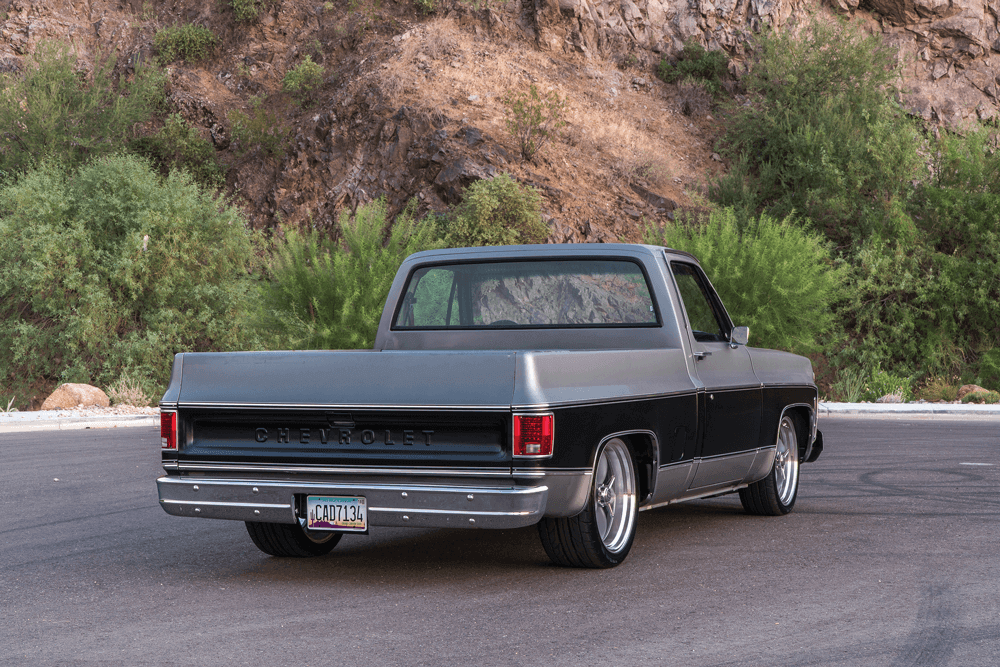 Sealing up the truck was the final step for the crew. It had been baking in the Arizona sun for the last five years, which hadn't done it any favors. Jeremy asked his friends at Select Glass for help installing a complete set of items from Precision Replacement Parts. A new front windshield and gasket, new back glass and gasket, new vent windows, and new roll-up windows with all new rubber and wipers sealed up the truck.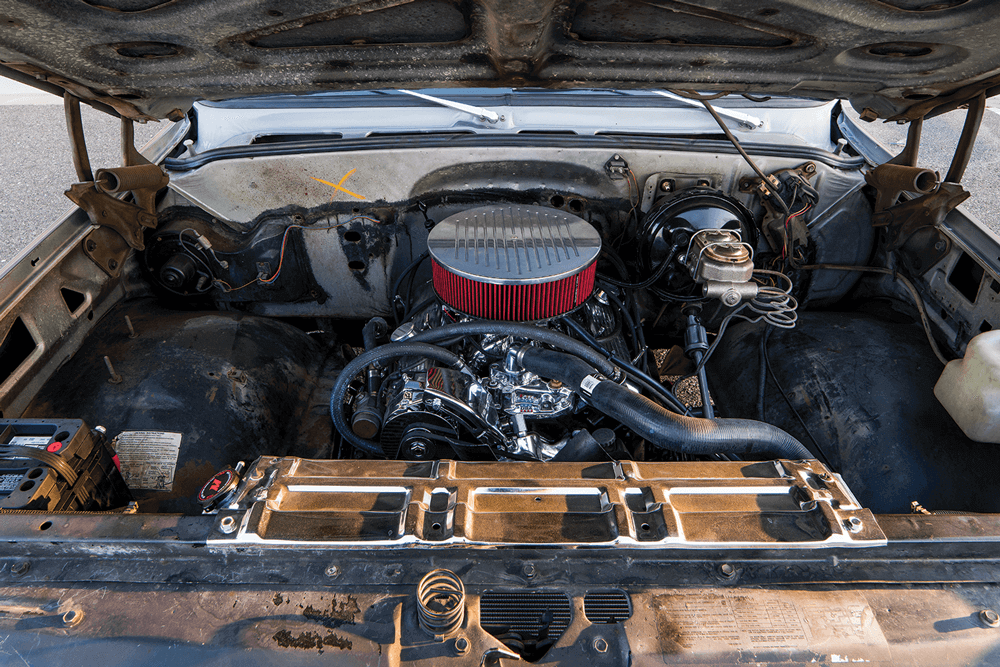 Once they finished the truck, the crew knew they wanted to do something special with it, so they decided to raffle it off via social media. Jeremy sold 250 tickets for a chance to win the rad '79 Chevy C-10. The best part was that Jeremy donated part of the proceeds to his friend, Ralston Cash's, charity. (Ralston is a professional baseball player whom Jeremy has worked for in the past.) Ralston's charity, Ralston Cash Foundation, provides gifts for children who have lost parents to cancer. This is where the truck gave its biggest gift of all. After all 250 tickets were sold (in fewer than five days) and a lucky winner was selected, Jeremy donated $4,500 to the Ralston Cash Foundation.
From start to finish, Jeremy and the '79 Chevy have given back to their community, helping everyone from struggling driveway mechanics to kids in need. Job well done!
 BUILD SPECS
OWNER
Jeremy Rice
1979 Chevy C-10
Peoria, AZ
ENGINE & TRANSMISSION
Shop: Jeremy Rice and Hector Garcia
350-ci engine salvaged from 1974 El Camino
Edelbrock water pump
Edelbrock Performer Air Gap aluminum intake manifold
Edelbrock Performer series 600-cfm carburetor
DUI distributor and plug wires
Spectre 14×3-inch ball-milled aluminum air cleaner housing
Spectre polished aluminum valve covers
Spectre engine pulley set for SBC
Spectre polished aluminum timing cover and alternator bracket
Mishimoto aluminum radiator
Cadillac fan with fan clutch
Custom exhaust with single Black Widow Venom 250
Turbo 350 transmission
CHASSIS & SUSPENSION
Shop: Jeremy Rice and Hector Garcia
Rear frame C-notch
CPP 13-inch front and 12-inch rear disc brake conversion kit
CPP brake booster and master cylinder
CPP upper and lower control arms
CPP drop spindles
CPP 2-inch drop coil springs
CPP steering box and steering linkage
CPP rear flip kit
CPP lowered shocks
WHEELS & TIRES
20×8 and 20×10 American Racing VN215 Torq Thrust II
245/40R20 and 285/40R20 Nitto NT555
PAINT & BODY
Shop: Jeremy Rice and Hector Garcia/Select Glass
Brothers Truck bumpers
Brothers Truck door handles
Brothers Truck trim
Brothers Truck grille
Brothers Truck sequential LED taillights
Brothers Truck headlights
Vinyl Wrap by Cameron at AZ Auto Works
Painted years back in charcoal gray
Precision Replacement Parts glass and seals
INTERIOR & STEREO
Shop: Jeremy Rice and Hector Garcia at Elevated Design
TMI Products Sport X bucket seats
TMI Products dash pad
TMI Products steering wheel
TMI Products center console
Brothers Truck seat belts
Brothers Truck headliner
Auto Meter American Muscle series gauges and trim
SPECIAL THANKS
FROM THE OWNER:
"I want to give a huge thanks to all the companies that helped out with parts on this build. Summit Racing, Spectre Performance, Classic Performance Parts (CPP), American Racing Wheels, TMI Products, Auto Meter, Brothers Truck Parts, Precision Replacement Parts and Street Trucks Magazine for running all the tech articles that we did on this truck. I also want to thank Hector Garcia (a.k.a. Pall0) for helping me out on the build, Steve at Elevated Design for the help on the interior, the guys (and Miss Terri) at Select Glass and Cameron for doing the vinyl on the sides of the truck. I also can't thank my wife and kids enough for enjoying my obsession with working on the vehicle with me."