Back in 1962, Jackie Moore originally purchased this '58 Apache pickup to use on the family farm. It served its purpose well as transportation and farm hauler for many years, and after decades of service, it was finally retired. Moore left it to languish under the shade of a tree near the chicken coop, as many farmers do with their used tools of the trade.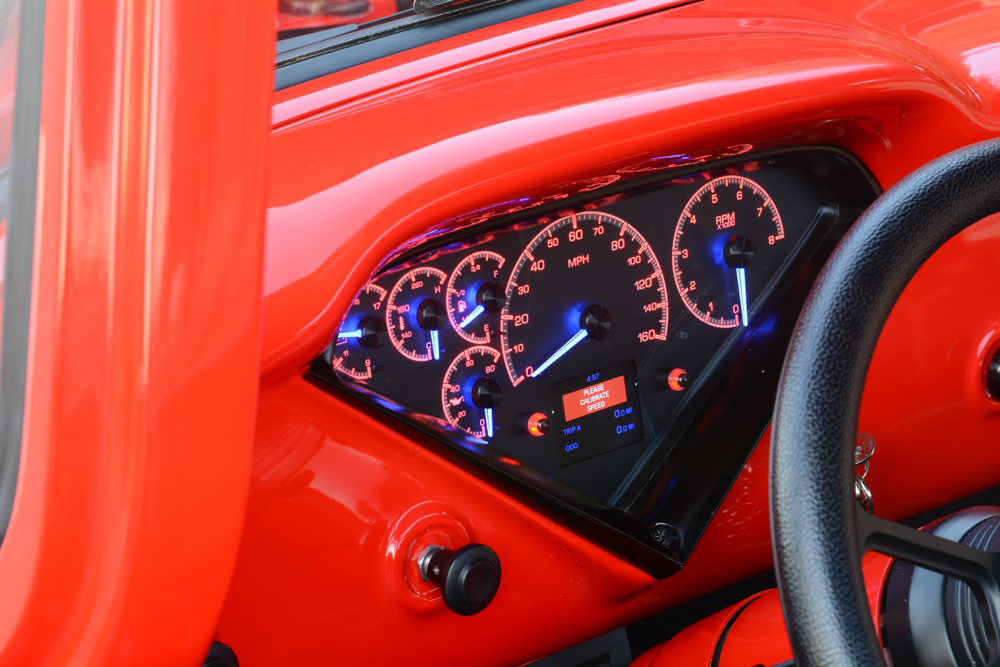 At an early age Jared Pharr discovered an attraction to Grandpa Moore's "Task Force" era truck. The curved lines of the fenders and dual headlights sparked a flame in the young man's heart. He shared his vision with his grandfather in hopes that it would someday be a reality. Before his passing, Grandpa Moore gave the truck to Jared. It would sit for years before its light would shine again.
It wasn't until Jared's brother-in-law Alex Huggins opened Hub City Fab, a restoration and fabrication shop in Idalou, Texas, that the potential for a boy's dream might come true. The two worked together to formulate a plan that included a tribute to the GM designers" styling that had intrigued the young man so many years ago. The build would also incorporate contemporary components from the top suppliers in the classic truck industry.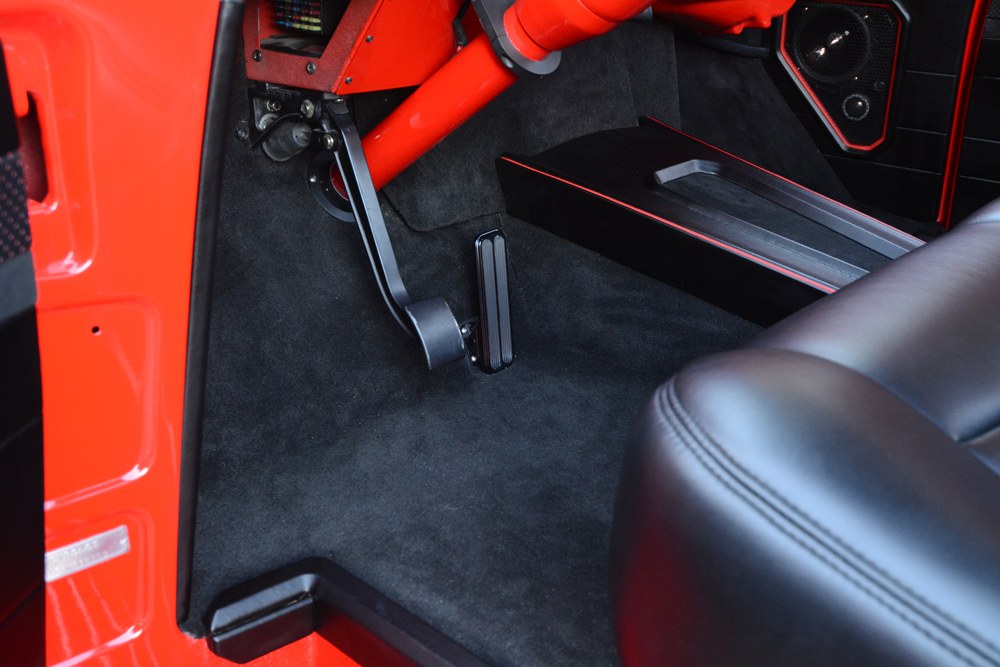 The original frame was retained on "Pharr Out 58," but nothing was left untouched. The front suspension was updated with a Porterbuilt Fabrication Level 3 kit, along with a pair of Ridetech coilovers. Wilwood 14-inch rotors were mounted on Classic Performance Parts spindles and topped off with Wilwood 6-piston calipers.
After a call to Currie Enterprises, a Currie Crate 9-inch rearend was built to order. To ensure adequate suspension travel with its low stance, Hub City Fab built a raised back half. They hung the housing in place using a custom four-link with Ridetech adjustable coilovers. A pair of Wilwood 14-inch rotors were outfitted with 4-piston calipers to complete the big brake package.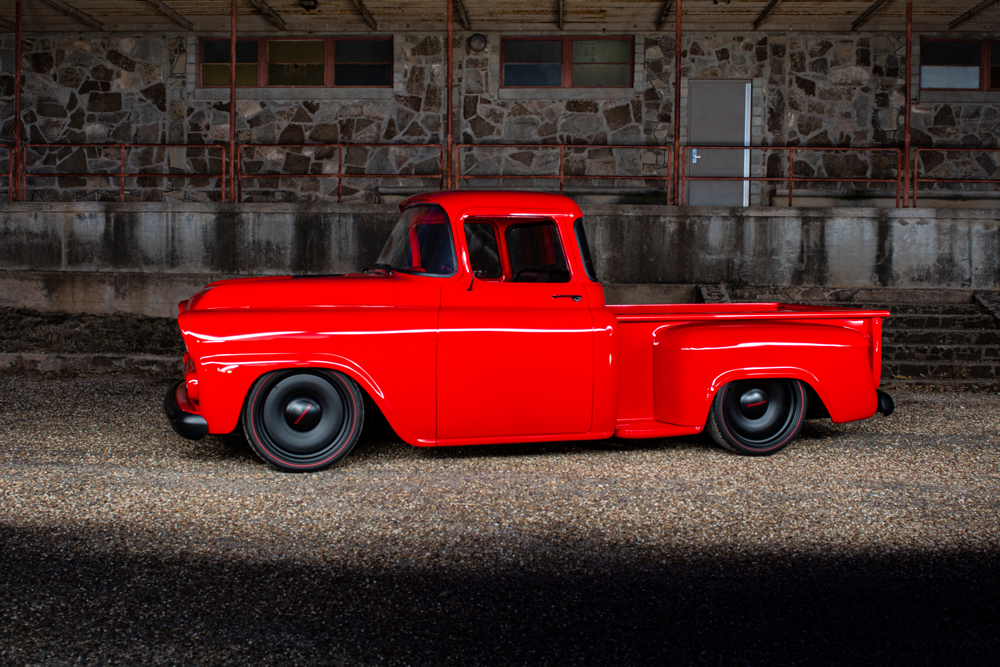 With both ends of the chassis refined, Alex boxed the frame rails and then installed new body and motor mounts. A round tube crossmember was designed to reduce frame flex and provide mounting points for the transmission and exhaust.
An advantage of the Hub City Fab rural location is it's just down the road from Floydada, Texas, the home of Don Hardy Race Engines. DH1 was the choice for power, providing a blueprinted GM 6.2 LS motor. The 376 cubic inch RS is filled with a combination of performance parts that include 11:01 compression pistons. A Don Hardy custom grind cam combines with a Holley midrise intake to create a conservative 550 horsepower.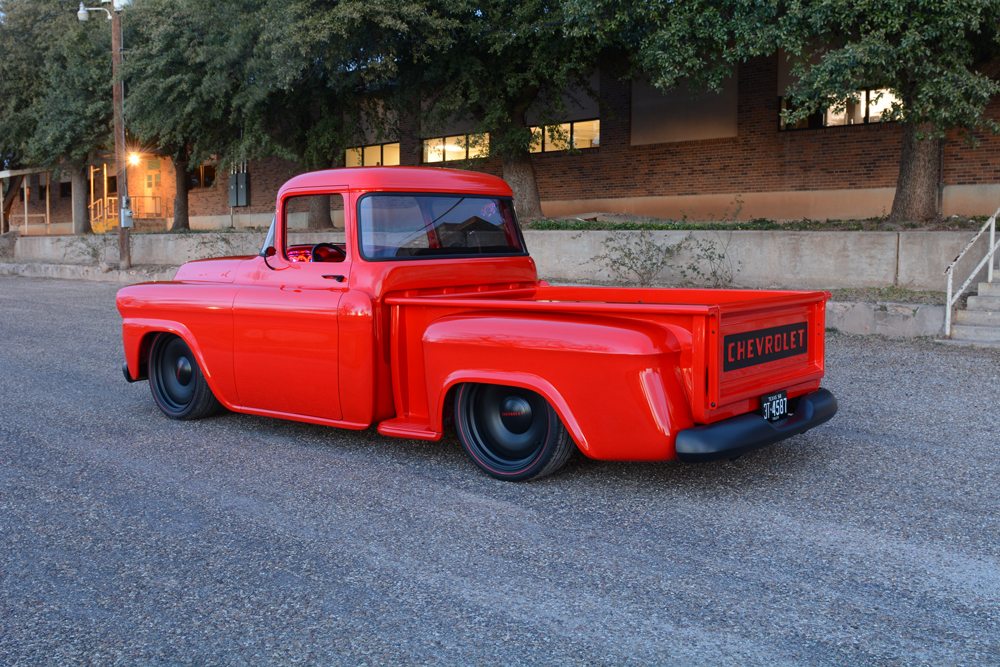 Fuel is fed to the 376 by a Holley Dominator EFI system drawing through Aeromotive lines. High octane fuel is supplied from an aluminum tank mounted at the rear of the frame. The 1,000 cfm EFI breathes in via an HCF modified vintage Cadillac style air cleaner. LS3 heads are topped with Swiftek billet valve covers. Exhaust travels through fabricated headers leading to an H pipe to ensure equal pressure. A pair of 3-inch Magnaflow mufflers quiet it down to a mild rumble.
To complete the rolling package, a set of satin black of Detroit Steel wheels were installed. Jared chose 20-inch wheels, running 20×8 in front with 20×9 in back. They were wrapped with 255/35/20 Diamondback Redline tires all around. Semigloss "Chevrolet" caps compliment the package.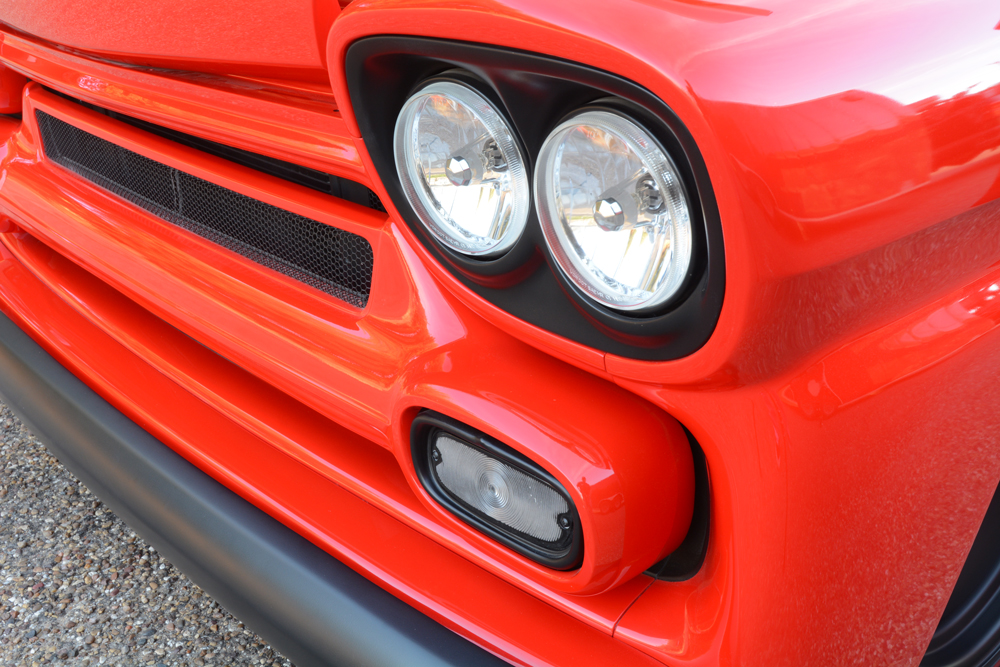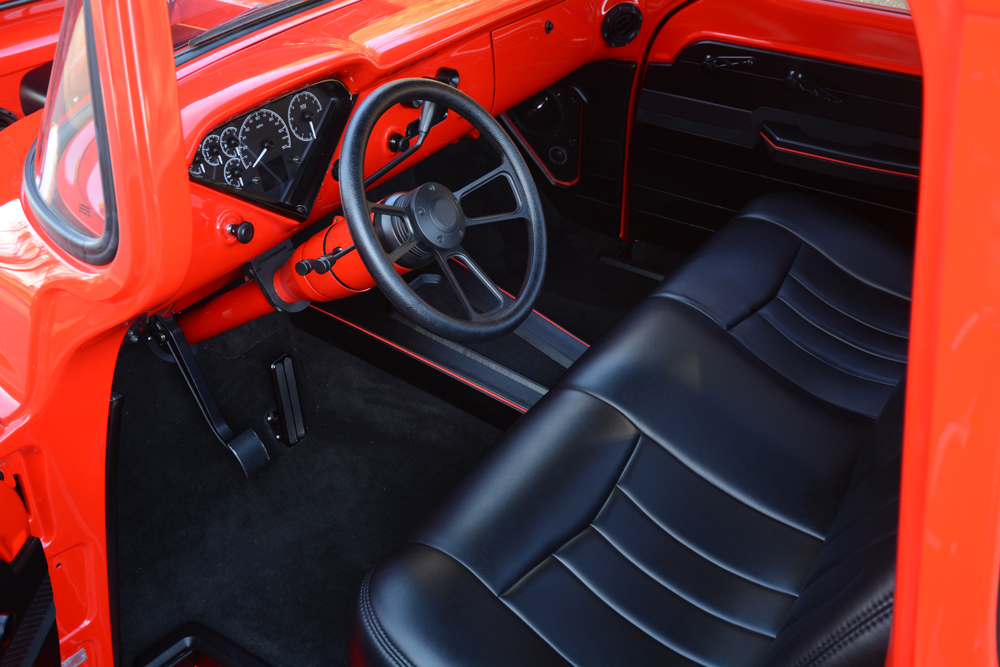 With the frame finished, it was time to turn attention to the Apache's body. From front to back, body modifications are extensive but not noticeably excessive. The body was stripped clean and any rusted or damaged metal was replaced. All of the exterior trim, badges and gas filler were shaved smooth for a fresh clean look.
Up front, the bumper was flipped and then tucked tightly against a modified and recessed grille.  The hood folds forward on Hub City-fabbed hinges to expose the satin black motor surrounded by a sea of smooth red metal. A pair of billet intake vents were added to the hood for improved airflow.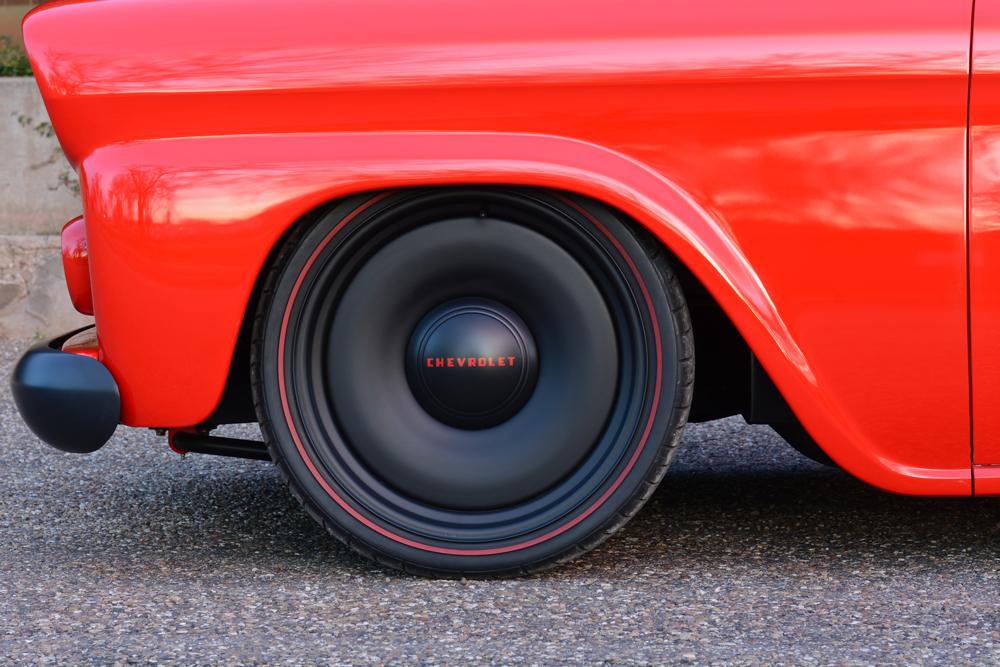 Outback, the bed rail features radiused corners with flush-mounted LED taillights. A filled tailgate with hidden latches sits above a narrowed rear bumper that's tucked in tight. Inside the bed is a raised wood floor with smooth satin black strips.
Moving back to the cab, factory seams were eliminated. A pair of early Nova door handles allow entry through the new doors sourced from Brothers Truck Parts. The locks were removed and corner radiused to complement the curved body lines.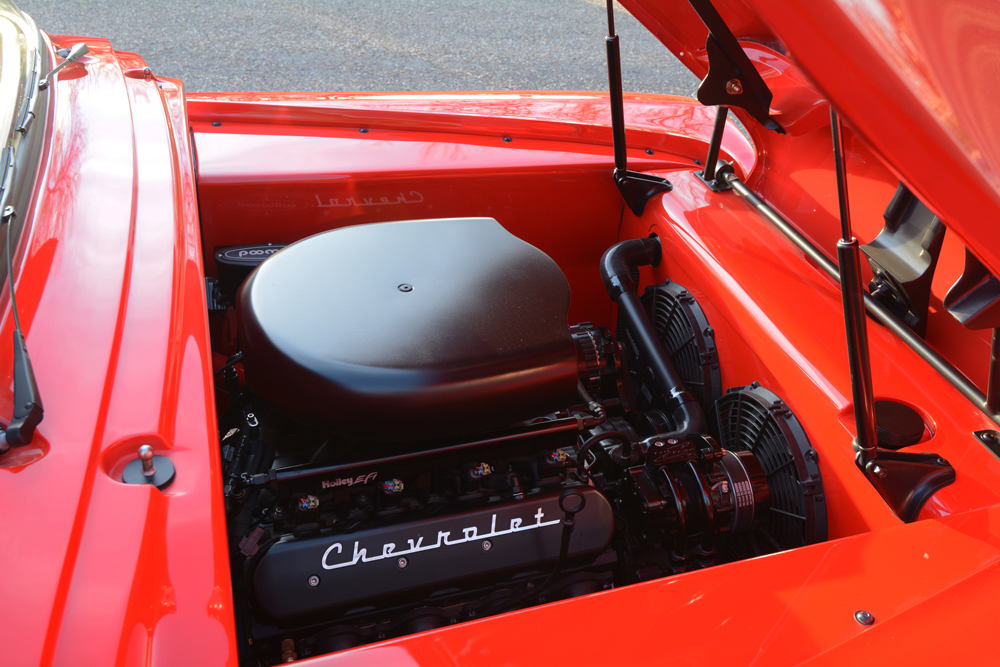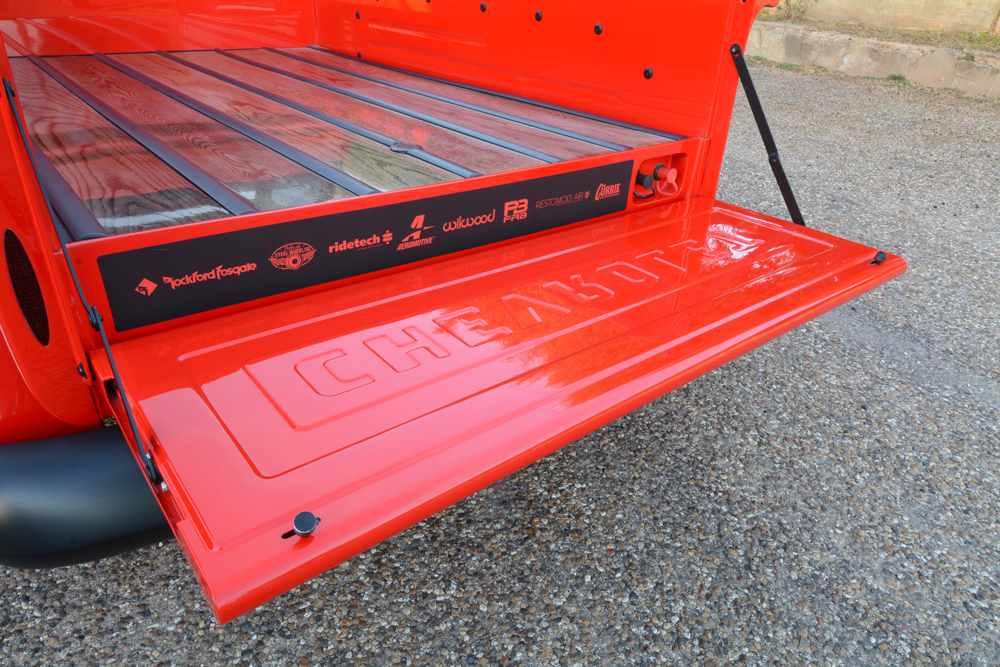 Alex teamed with the Aastrup brothers, Kris and Ryan, from Minneapolis. This talented trio would spend hundreds of hours ensuring the old farm truck body was ultra-smooth before laying down multiple coats of Sherwin Williams Viper Red.
Inside the cab, the dash was shaved clean and extended to meet the new door panels. A Dakota Digital VHX gauge cluster is accented by RestoMod Air controls above a Retro Sound receiver. "Moonie" from Audio EFX designed custom enclosures to house a pair of Rockford Fosgate Punch 8-inch subs. A set of RF Power series amps drive the bass along with Punch mids and tweeters in EFX built kick panels.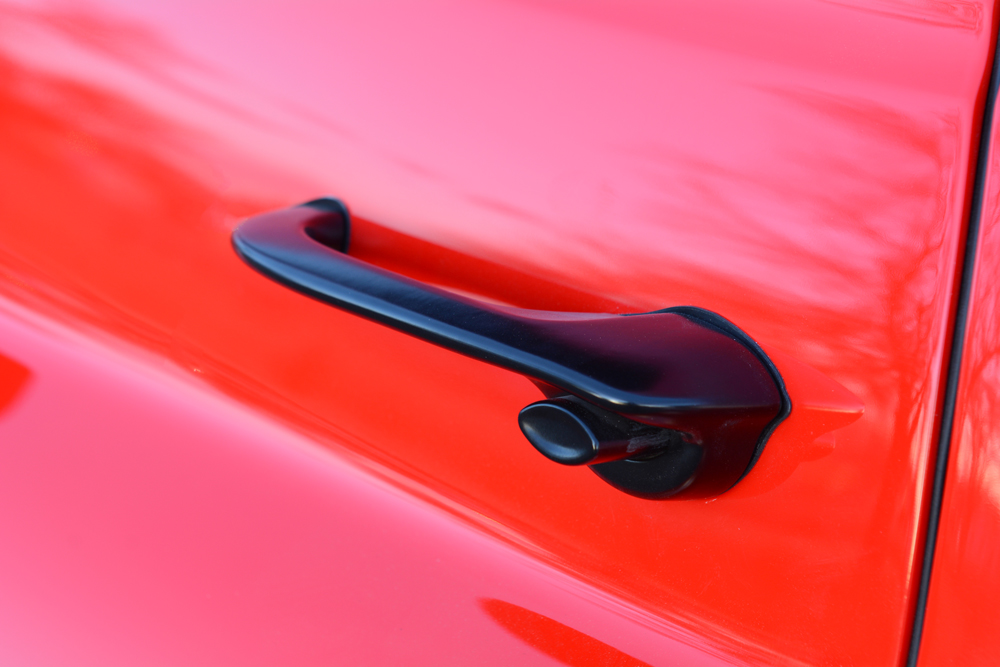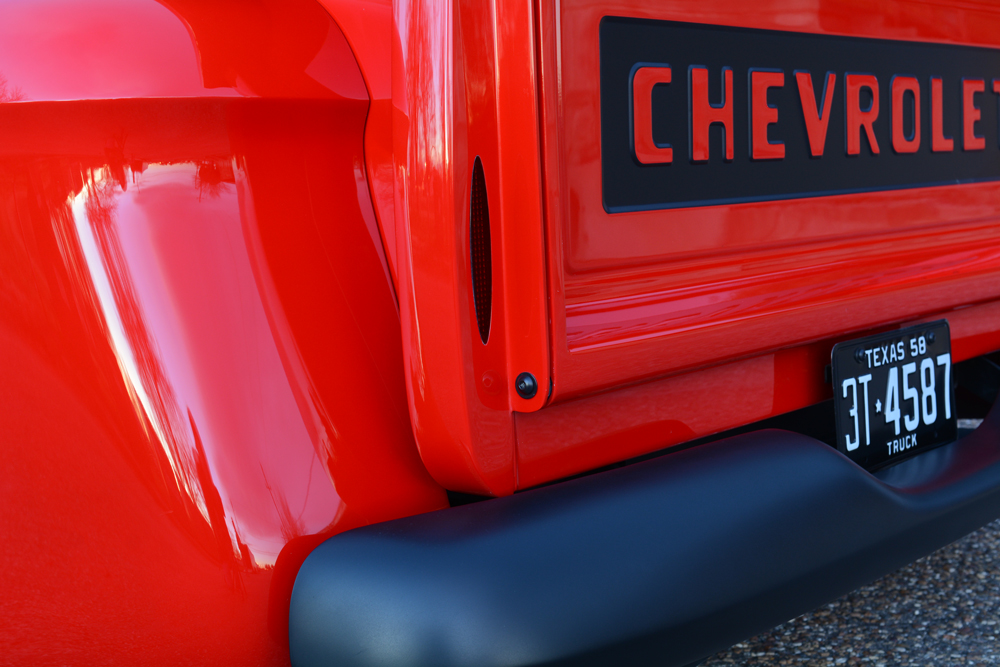 To finish the interior package Moonie added a headliner to compliment the door panels. Down low is a custom console that rests on black Bentley carpet. Tracy Weaver of the Recovery Room Hot Rod Interiors in Plattsmouth, Nebraska, sculpted the bench seat and then covered it with a combination of black ultra-leather and suede.
"Pharr Out 58" made its debut at the Houston Autorama where it picked up a class award along with a Relaxed Atmosphere "Club Choice." It's been making stops around the country and bringing home the hardware. Grandpa Moore wouldn't recognize his old farm truck, but you can bet he sure would be pleased to know Jared and Alex teamed up to build a young man's dream.
Owner
Jared and Kami Pharr
1958 Viper Red Chevrolet Apache
Lubbock, Texas
Shop: Alex Huggins, Hub City Fab, Idalou, Texas
Engine:  
Don Hardy Race DH1 LS3 6.2
Swiftek billet valve covers
Don Hardy Race 4032 pistons
Estimated horsepower is 550 4L65 Transmission from GM Performance
Hub City Fab adapted a Cadillac style air cleaner
3-inch Magnaflow mufflers Wilwood master cylinder
Aeromotive fuel tank
Holley EFI carb style intake
AFCO transmission cooler
Chassis and Suspension:
Factory 1958 frame
Porterbuilt front clip
Hub City created the custom four-link
CPP drop spindles
9-inch inch Currie Enterprise rearend
Ridetech HQ series coilovers
Wilwood 6-piston 14-inch calipers (front)
Wilwood 4-piston 14-inch calipers (rear)
Wildwood master cylinder
E-Stopp electronic brake
Wheels and Tires
20×8 (front) 20×9 (rear) Detroit Steel Wheels – Steelies
255/35/20 Diamond Back Redline tires
Body and Paint:
Sherwin Williams Dodge Viper Red was applied by Kris and Ryan Aastrup
Chevrolet early Nova door handles
Interior/Stereo: 
Forever Sharp 14-inch Black Muscle Wrap steering wheel
Ididit Universal Column steering column
RetroSound Apache head unit
Moonie from Audio EFX Rockford created the enclosures which house the 8-inch Fosgate speakers
Dakota Digital VHX gauge cluster
Resto Mod A/C unit
Tracy Weaver (of Recovery Room Hot Rod Interiors) created the bench seat