Get an Inside Look at CarTech's Informative New Book
We've all got hopes and dreams. Throughout the years, I've made quite a few of mine come true, both professionally and otherwise, but one of them eluded me: I wanted to write a book. The idea alone was super intimidating, and even though I started on a few projects throughout the years, nothing ever came to fruition. Until one day, a connection over social media turned into an assignment to write a book about restoring Chevy trucks. Eventually, that became the book I have in my hands right now.
But before we talk about my first book, How to Restore Your Chevy Truck 1973-1987, I feel like I should give you a little bit of backstory. A behind-the-scenes look at how this thing happened, from the very first contact to the last copy edit. Let's dive right in.
In the Beginning
The day after my 38th birthday, I received this message on LinkedIn:
"Hi, you have an impressive list of writing accomplishments. I have many book projects available on various subjects. Would you be interested in writing a manuscript?"
Spam. Had to be. There was no way some random guy would be interested in having me write a book for him. Sure, I had been writing for magazines since 1999, and I had a pretty large body of work at that point. But a book? No way. Impossible.
Nevertheless, I decided to hear the guy out, and after months of talking back and forth, I decided it was worth the risk. A contract was worked up, and I had to deliver 400 photos and 90,000 words to CarTech Books by the next year.
Expanding my Contact Base
Ever meet someone who seems to know everyone? Dino Battilana, Mr. 60-66 himself, is one of those guys, for sure; but so is Joe Yezzi, founder of Squarebody Syndicate. I interviewed him for issue No. 3 of C/10 Builder's Guide right around the time I signed the contract. Once I told him about the book, he was in.
Joe was already working on a project, so I was able to get started right away. He and his cousin, Rob, were tearing apart the suspension and brakes on his '73 green truck, and I was there to document the process. It got me 5,000 words or so closer to my goal, but Joe was just getting started.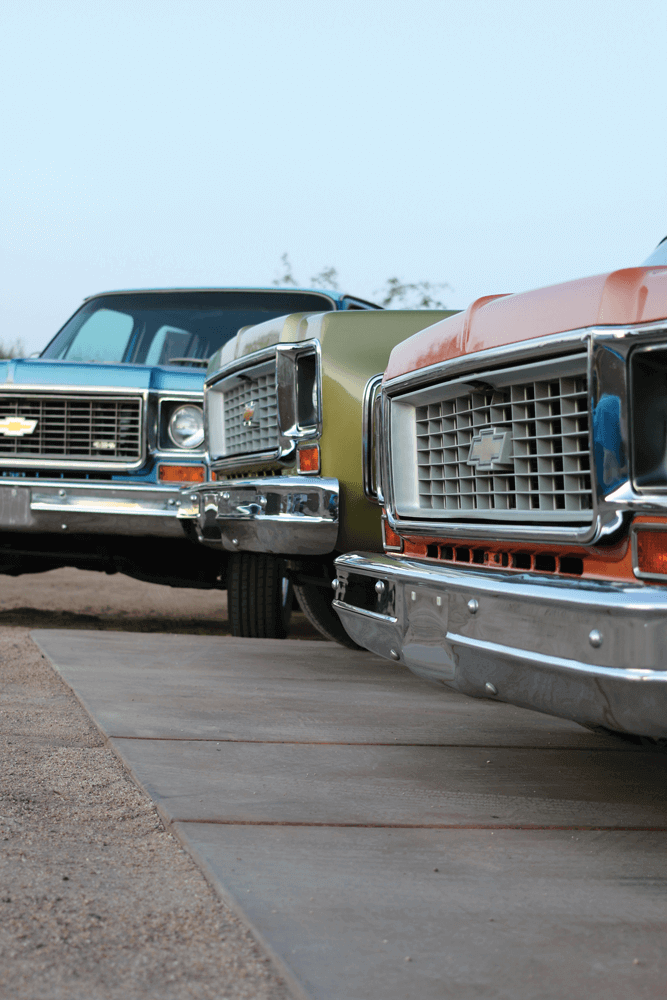 As the months went by, Joe continued building trucks, and I followed along. Soon the chapters on suspension, brakes and interior were well on their way to being finished, but I couldn't build the entire book on Joe's back. It's about restoring trucks, not customizing them, and Joe was in the middle of getting SS01 done. I needed some more options—and paint.
Local Color
CarTech made its name publishing detailed restoration books on a variety of cars. Showing readers what they're getting into and detailing specific projects step by step, puts them ahead of the competition. But my book would be the company's first foray into the truck market, and my editor told me that the biggest chapters should be those on bodywork and paint. I needed to find a painter and quick.
I wasn't sure what to do, but I found myself in downtown Phoenix one summer morning and decided to swing by Dino's shop to talk about it. As it turns out, he had just bought a square Blazer and it was at a body shop in Tempe, Arizona, getting fixed up and resprayed. The owner of the shop was cool; Dino was positive he'd work with me. I hopped in my car, gave the owner a call, and sure enough, he was down for me to take some photos. I parked at Borne Customs, and that's when I met Troy, the shop's owner and a huge part of the book.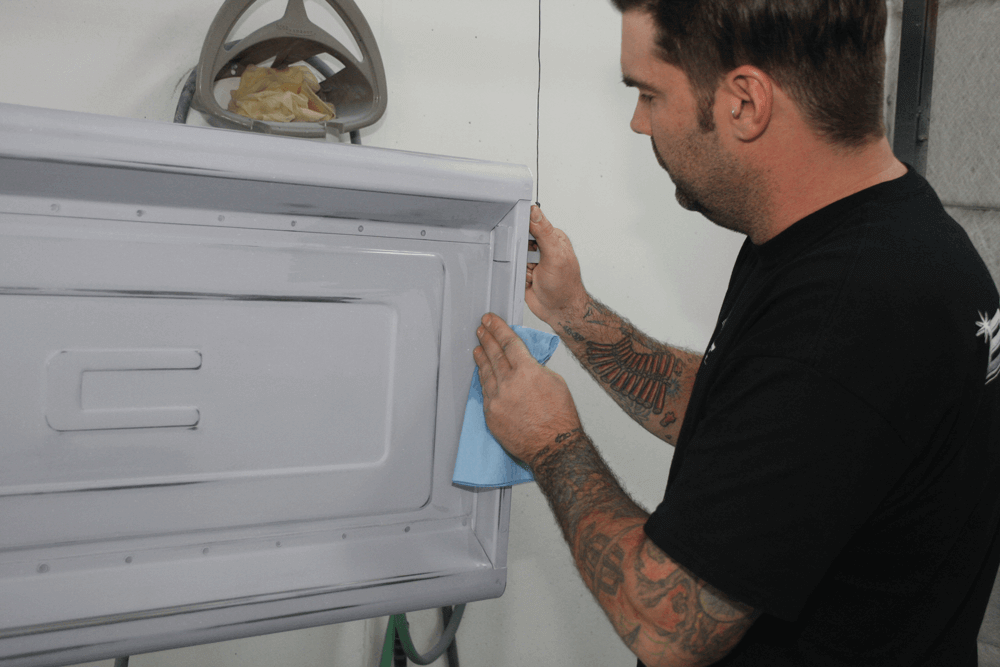 Troy had three 1973-87 Chevys at his shop. The first was a step-side '76 GMC long-bed in for a full restoration, including wiring and paint. Then there was Dino's Blazer, of course, and they also had another Blazer that was just leaving the property. Throughout the next few months, I spent hours with Troy and his buddy, Jimbo, to the point that I was positive I was annoying them. To their credit, they never complained. Instead, they helped me out with a critical part of the project, and for that I was (and am) immensely grateful.
Friends in Rusty Places
Now I had a different set of problems. I'm based in Arizona, and around these parts, we don't get a lot of rust. That's usually a good thing, but since most of the book's potential readers live in areas with at least some rusty trucks, I needed to do something on rust repair. Where could I find someone that not only worked on those kinds of square-bodies, but also would let me take photos of the process?
Around the same time my wife and I were considering taking a vacation. We always wanted to see more of Portland, Oregon, so I did some digging and cold-called Lonnie Thompson from Carolina Kustoms. Would he be OK with me taking some photos? Sure. But that wasn't all.
After meeting Lonnie at his palatial shop, I shot two trucks for him, one went to Street Trucks and the other to C/10 Builder's Guide. But they weren't actively working on any squares, so I thought I might be out of luck. As it turns out, I was very, very wrong. Throughout the next few months, Lonnie sent me more than 100 photos of various square-body projects that he had built throughout the years. There were pics of him and his son going through a junkyard and looking at rust on a cab, door skin repairs on a crew cab, primer and blocking. It filled in almost every gap that I needed in the paint and body section—almost.
My editor was looking for some very specific projects for those chapters, and I hadn't yet hit that mark. After talking to him about it, he put me in touch with another CarTech author, Jefferson Bryant. He had his own square project, and he was willing to help me out with photos as well. He also went above and beyond. I now had additional interior shots, panel repairs and some other cool stuff, and that wrapped up the chapter nicely.
There were others, like Cliff Ruggles, who helped me out considerably with the transmission chapter. It was one of the parts of the book that I wasn't sure where I would go to get it done, and he covered my butt. Todd Ryden is another person who kicked in for the engine chapter. He had a full 350 rebuild documented and let me pull what I needed for the book, no questions asked.
Honestly, without the help of people like them, this book would still be a work in progress.
When in Doubt, Craigslist
There were more fun people who helped me out along the way. I met Ronnie from C10 Talk/C10 Nation at one point, and we spent more than a few afternoons taking apart his crew cab. Nick from Hubcaps Hotrods also became a friend in the process, and he was always eager to lend a hand, as were Seth and Jason at Switch Suspension. Eventually, the well ran dry, and I had two chapters left: drivetrain and electrical. So, I did what any rational person would do in that situation. I bought a truck.
Before I started, my editor made one thing clear to me: Don't buy a truck with the intent of restoring it for the book; it never works out. But, I didn't need to do a whole resto job. I just needed a few odds and ends. Plus, I wanted a project of my own anyway, so I did some digging on Craigslist, and sure enough, I found a beauty of an '81 Silverado out in Stockton, California. I loaded up the family in my truck, borrowed a trailer from Dino (thanks again, man) and three days later came home with a square-body.
Now I had a truck, but I also knew that there might be some other odds and ends that I'd have to pull from. Even though my truck was a great deal, the chassis wasn't in fantastic shape. At the time, Sam Castronova—another guy I met through this book project—was working on his '79 GMC, and I asked him what he was going to do with the original chassis. He said, "Nothing," so I asked him what he wanted for it. "Nothing," he said, and I wasn't sure if I was having a stroke. Sam gave me the chassis and made sure I promised to do something cool with it. Sam, I'm going to hold true to that one real soon.
Shortly after, things fell into place. I had the rearend on Sam's chassis rebuilt and that covered the drivetrain. Painless Performance gave me a wiring kit for my '81, so I photographed that process as well. In just a few days, I had finished up all of the little things with the book, and now it was ready to go to the editor. It was almost done.
The Finishing Touches
I'm going to go out on a limb here and say that you've probably never published a book before. It's OK, it's all new to me too. Once a book is done, it's not really "done done." It still had to go to my editor, who doesn't actually proofread the book, but goes through and gives me edits on missing or overdone content. Then once I finish that work, it goes to a copy editor, and they do the proofreading. After that it's off to design and layout.
When the book was all laid out, I got a call from my editor saying that I should expect the galleys. In this case, it's a printed version of the book, but literally on printer paper. I had to go through it all with a red pen and make any edits and send it back in a few days. By Christmas it was in the publisher's hands, and it was time for me to wait.
Today, as I finish up this article, I've had a physical copy of the book in my hands for about five hours. It's the only copy I've seen—an advance version—and I won't get any additional copies for another few weeks. By the time you read this, you'll be able to buy the book at your local bookstore, and even today you can pre-order it on Amazon. It's a real thing. After years of working on the book, I can finally hold it in my hands. It's an amazing feeling.
I couldn't have made this book without the help of a ton of people, but now, it's out there for everyone to see, including you. I'm not going to hit you with a heavy sales pitch or anything, but I will say this: If you're working on a square-body Chevy truck and you want some restoration tips from some of the best people in the biz, then my book will help you out.
As for me, is this my last book? I hope not. I've got a few little projects that I'd like to get done, and if this book sells well, maybe CarTech will ask me to do another. If not, no biggie. After all, I just checked a big life goal off my list and made a bunch of friends in the process. I couldn't have dreamed anything better.