Cruising Into Another Dimension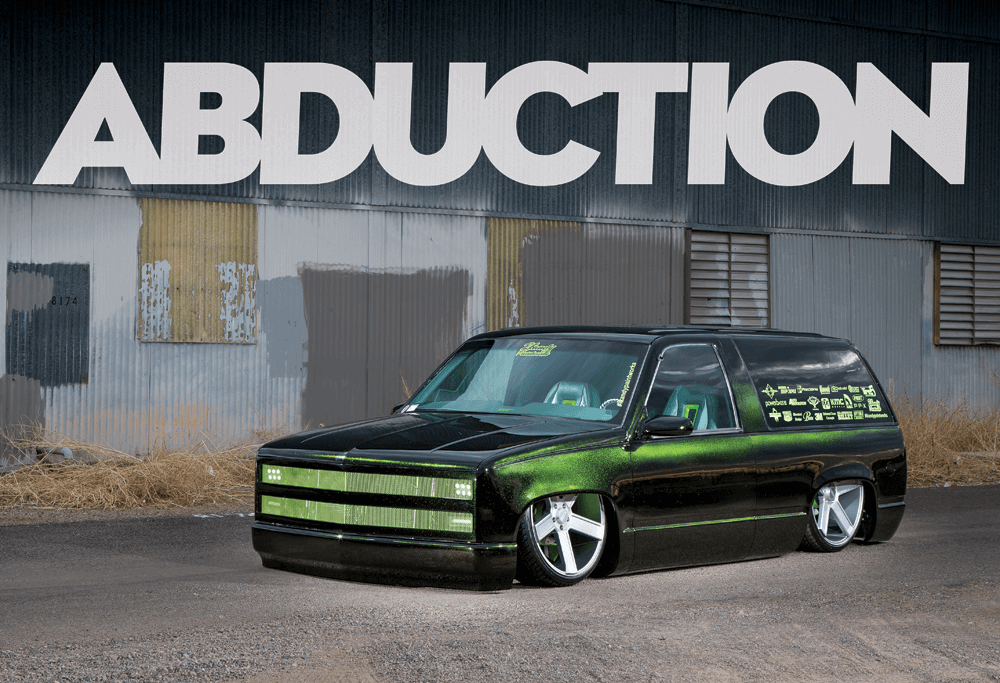 EVER HEARD THAT OLD SAYING ABOUT PAINTERS NEVER HAVING THE TIME TO PAINT THE HOUSE THEY LIVE IN? They work all day on other people's places and never have the time to tend to the peeling, fading paint covering their own pad. Most professionals tend to slack when it comes to maintaining their own environment, but when you're busy with everyone else, there doesn't always seem to be a lot of time to take care of your own situation. The guy we have in mind is a painter, but he doesn't work on houses. Maybe you're familiar with the name Frank Rechlin, and if you aren't, then his business, IKandy Paintworks Inc. might ring a louder bell. Yeah, that's right, Frank has been painting high-end, high-profile vehicles for years but has yet to carry out a build for himself past the beginning stages. "This project has been 26 years in the making," Frank tells us. "It's sort of a bucket list thing for me because I've never done any of my rides up to this level before." Frank couldn't have picked a better ride to work with. The '90s Chevy Tahoe two-door is about as clean as full-size SUVs get when slammed on the ground. "The truck started o in the hands of my friend, Cameron Kotowski, as a 4-wheel-drive," Frank says. "After many hours of hard work, he called it quits on the truck. Luckily for me, I was able to get my hands on it." Frank never intended on going too deep with the truck. He envisioned throwing on some nicer wheels, maybe spraying a quickie paint job and reassembling the truck to get it back to scraping the Arizona pavement again.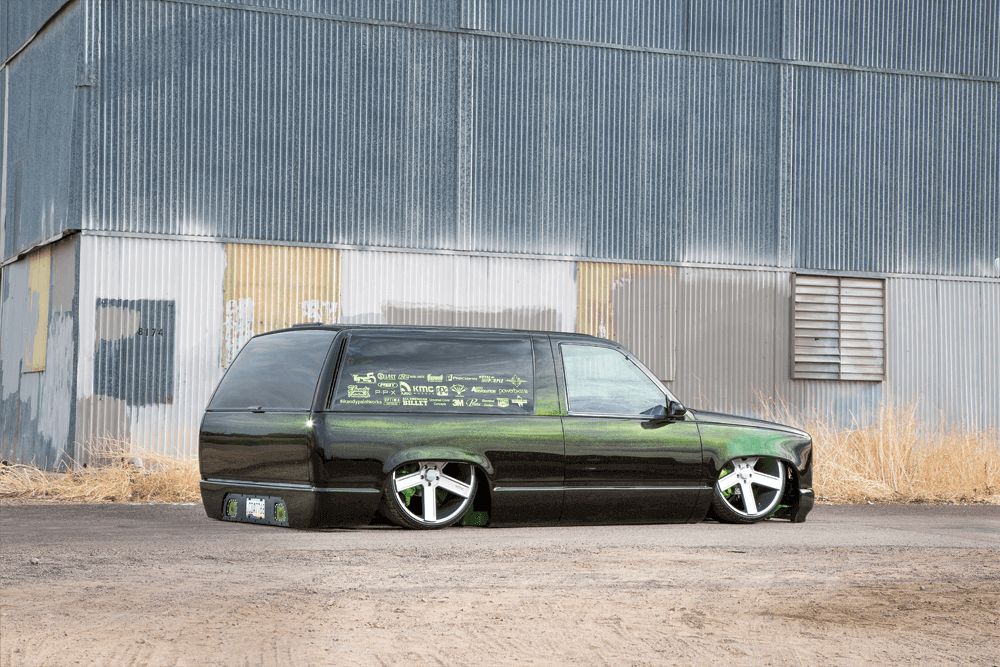 A decent source of weekend entertainment was all he was after, but he underestimated just how many weekends he would sink into his new project once things got rolling.
Maybe that's how the Tahoe's name, Abducted, was coined. Once Frank found himself further into the build than he thought he would be, he must've been MIA from his usual routine with family and friends. "All of this talk about a quickie build ended once we opened IKandy Paintworks' doors just two doors down from Tre 5 Customs," Frank admits. "Jeremy Rice is involved heavily in projects that end up debuting at SEMA, and having the opportunity to paint a few of his builds over the years, I understood the level of craftsmanship that could potentially be poured into the Tahoe if I just let it happen." Frank could say that he caved by letting Jeremy step in and help with the planning, but the time was right to put a serious build into motion that would be his at the end of the process. Frank has been painting vehicles for other people for 26 years now, and it was finally his turn to create a vehicle based on his standards and personal taste.
There was no question that the Tahoe would sit on the ground, but the how was quickly addressed in the form of hydraulic setups front and rear. The back end was completely fabricated by Jeremy and Hector Garcia of Tre 5 Customs. The front features AIM spindles and modified aftermarket upper and lower control arms. There are a total of five Optima batteries to power the complete hydro system, as well as a full-range audio suite inside the truck. To get the Tahoe as low as it is now, a body drop was in order. To tuck those 24-inch KMC wheels, some careful measuring and test fitting had to be done, but it's all in a day's work for these guys. Jeremy lives for this stuff, making the difficult look way too easy.
As for the body, these two-door Tahoes look slick when they're taken down to the bare minimum. This line of work is Frank's department, and he took his time to get just the look he was after. He modified the front bumper and cooked up a metal valance that would give the overall profile a smooth, understated, yet customized appearance. Same goes with the rear roll pan and the dual exhaust ports. To keep up with the streamlining process, Frank shaved a good number of non-essentials from the exterior surface, most notably the corner lights, rear lights, door handles and gas-filler door.
With a much smoother canvas to work with, Frank decided on a contrasting color scheme. Gold candy over black paint covers the majority of the metal, with lime green detailing here and there on the exterior. The lime green is much more present inside the cab and the chassis, covering the entire frame and components. Lime is a bold choice against a darker backdrop, but the gold candy and flake soften the contrast, and the colors play well together when exposed to direct sunlight.
Inside the cab, things remain equally bold. Frank employed Steve Yiu of Elevated Designs to create a custom dashboard, center console, a rear rack and enclosures to house three Powerbass amps, two 15-inch subs and everything else that completes a truly custom interior space. There are lots of backlit green LED lights in the door panels and amp rack that give off a spaceship vibe. Just check out the engraved billet steering wheel—along with the IKandy Paintworks name—there are some hieroglyphics etched into the metal. The whole Abducted concept is starting to make sense. There's definitely a lot to take in when climbing inside this Tahoe. Most onlookers would never guess there would be this much going on inside the truck. There aren't many clues on the understated exterior.
When the space dust settled, Frank found himself and his completely custom Tahoe under the bright Las Vegas lights for the 2017 SEMA Show. He has been a part of other people's projects that ended up in Vegas in the past, but this was his first trip showing a truck with his name on the title. It happened so fast and was pulled off with such a sense of ease that it seemed eerie. But once you reexamine the list of credits, all doubts are destroyed; Frank had some of the best builders in the industry on his side. There's currently no comment on whether or not this will be his last build. For now, Frank plans to lay low and relax with his out-of-this world ride. ST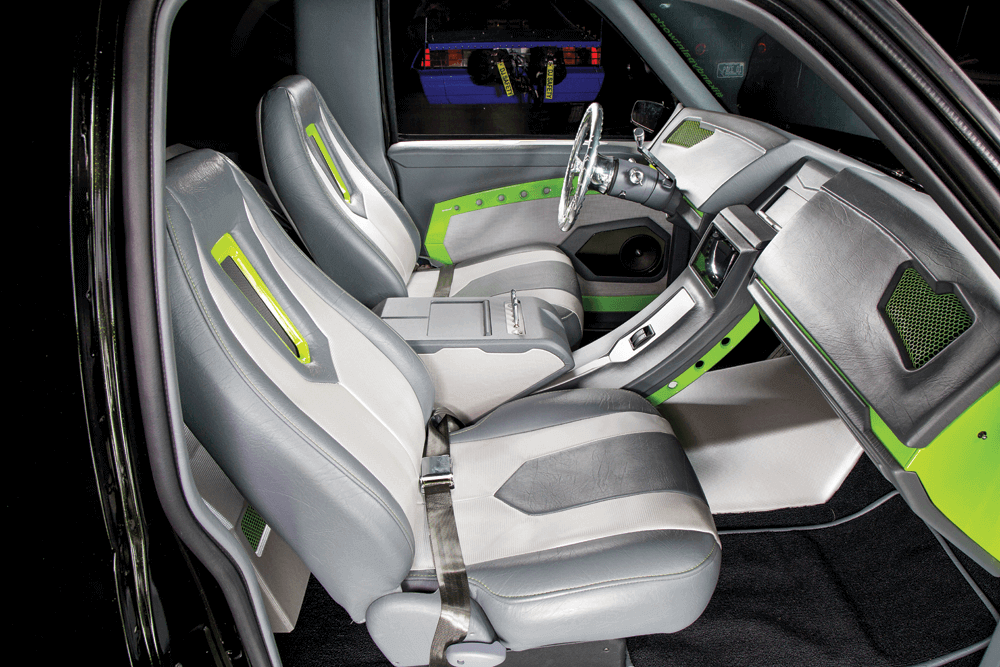 OWNER
Frank Rechlin
IKandy Paintworks Inc.
1994 Chevy Tahoe
Peoria,AZ
ENGINE 
Shop: Trend Auto
1994 350-ci engine
Factory transmission
New OEM water pump, radiator, motor mounts, intake manifold, alternator and air cleaner
Ceramic-coated OEM headers, exhaust and Black Widow muffler
Electric cooling fan in OEM location with factory fan shroud
Motor and drive accessory painted lime green
Chrome valve covers, oil and trans pans, timing cover and accents
CHASSIS & SUSPENSION 
Shop: Jeremy Rice and Hector Garcia of Tre 5 Customs
Modified aftermarket upper and lower control arms
AIM spindles
Full-custom rear suspension by Tre 5 Customs
Hydraulic components front and rear
Disc brakes all around
New OEM master cylinder
Aluminum fuel cell customized to fit
WHEELS & TIRES 
24×9.5-inch KMC Wheels with satin finish
255/30/zr24 Lionhart tires
BODY & PAINT 
Shop: IKandy Paintworks Inc.
PPG Flamboyance Green with Gold candy paint over Black with Lime Green and Green pearl accents
Body-dropped
Smoothed front bumper has been cut, shortened and tucked
Metal front lower valence
Roll pan cut, modified and stretched with dual exhaust port
Shaved door handles, corner lights, cowl, rear lights, antenna, roof rack and gas filler Tubbed underside of hood to clear custom fender tubs
Smooth and shaved firewall
Molded inside fenders
LED lighting up front and in rear pillars
Rear wiper delete with new back glass