Dylan Dirickson's 2014 GMC Sierra
NOT EVERY BUILD TODAY IS DONE WITH THE INTENTION OF BREAKING THE INTERNET OR BEING THE FIRST TO ACHIEVE "THE NEXT BIG THING." There's certainly nothing wrong with those plans, but they aren't everyone's priority. Dylan Dirickson of Elk City, Oklahoma, had more practical goals in mind when he set out on his first full build. He wanted something reliable to comfortably transport himself and his growing family to the many long distance shows they attend each year. With that in mind, as well as his lady's approval of the project, he set out to find his ideal starting point.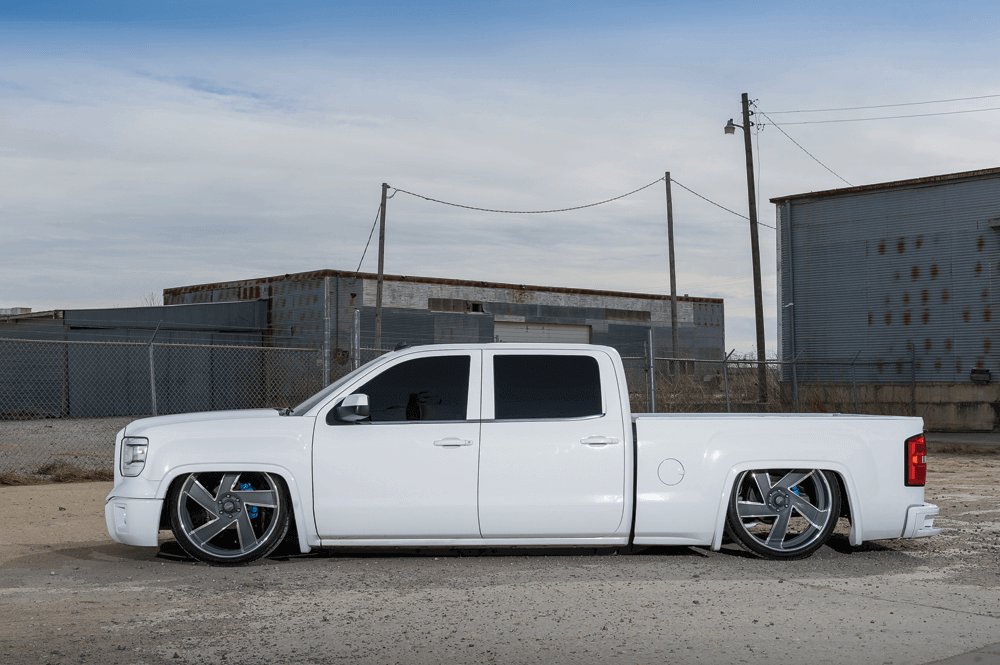 He spotted a '14 GMC Sierra on a local car lot and noticed that it had the longer 6.5-foot bed. Dylan had seen a few of these Chevrolets with the longer bed option 'bagged but never the GMC. So he decided then and there to be the fi rst to lay out the Sierra 6.5-foot bed.
Not only is Dylan an Oklahoma resident and truck enthusiast, he's also a Severed Ties petitioner. Dylan was already friends with the crew, so it was a no-brainer. The plan was to 'bag the Sierra on Raceline billet wheels to keep it simple and reliable. He left it with Jake and headed off to Biloxi for his wedding the following weekend.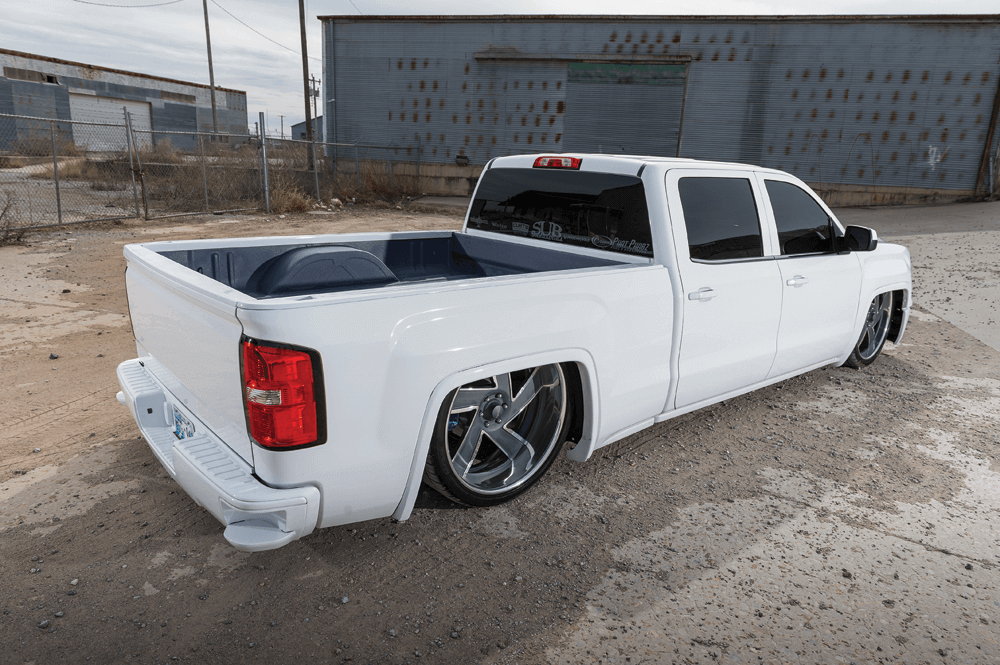 A few months down the road, Jake called Dylan up and asked if he was interested in turning the GMC into a SEMA build. The opportunity came about when a spot opened up in the Truck Heroes booth for Undercover Bed Covers. "I had the opportunity to attend my first SEMA, build my first SEMA truck and visit Las Vegas all for the first time, so I accepted the challenge," Dylan told us. Since his truck was now a SEMA build, Dylan decided to step it up a bit. He laid the truck out with custom ½-inch plate control arms up front and a triangulated 4-link in the rear. Using AccuAir eLevel management, the truck rides ideally on perfect presets for long trips, including the drive to Vegas. Set up on Airlift 2600 'bags in the front and sleeve 'bags in the back, the truck was definitely a driver and could take a beating. In addition to the stout suspension setup, Dylan wanted to make sure his truck looked the part of a SEMA build and began to think of additions to his GMC blueprint.
He took the truck to Curt Enochs of Curt's Creations, not only to shave the headrests off the seats, but to do a full diamond-stitched Katzkin kit as well. Then he removed all of the interior trim and had Michael LaPlante add blue metal-flake accents for a pop of color in the cab. If that wasn't enough, Phoenix Gold audio was added to the mix. On the exterior, a custom front bumper, custom headlights and a billet grille were added to make the truck unique. Dylan has put well over 25,000 miles on the truck since SEMA 2016. it's easy to see how this Sierra is exactly what he wanted it to be. ST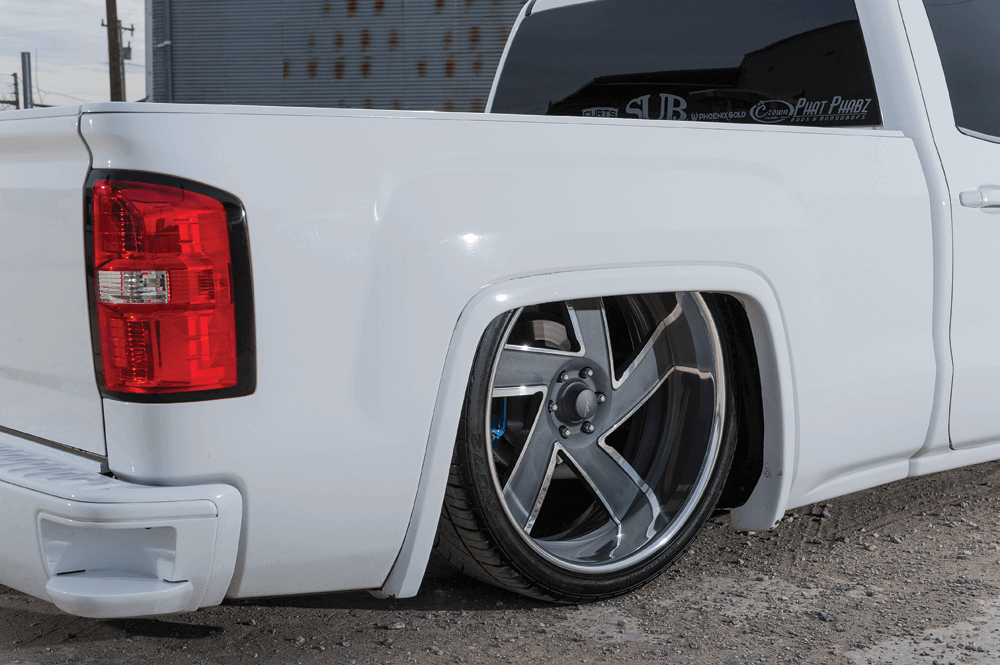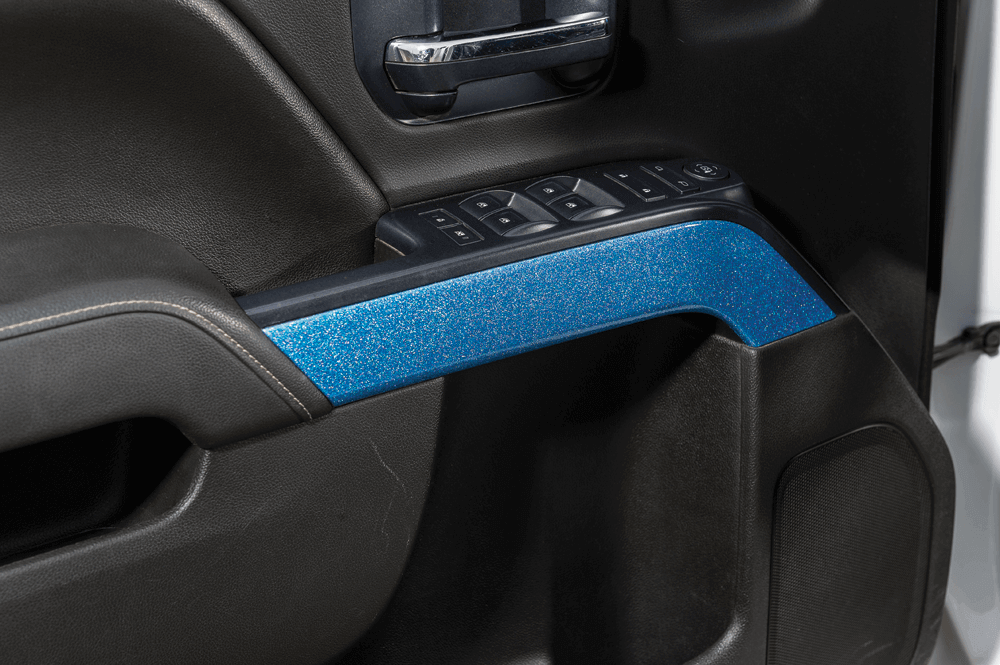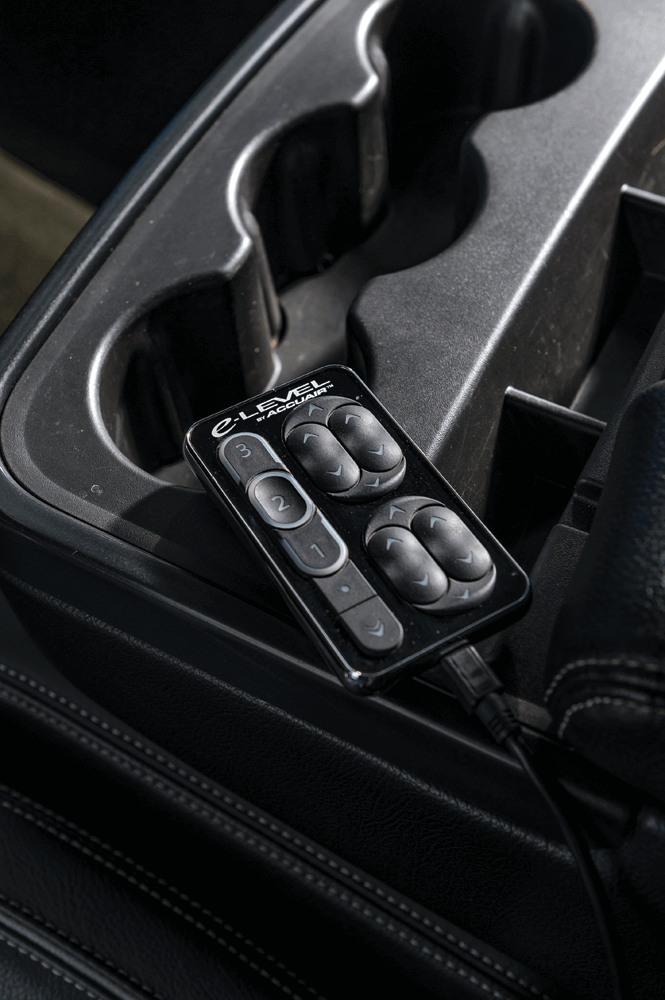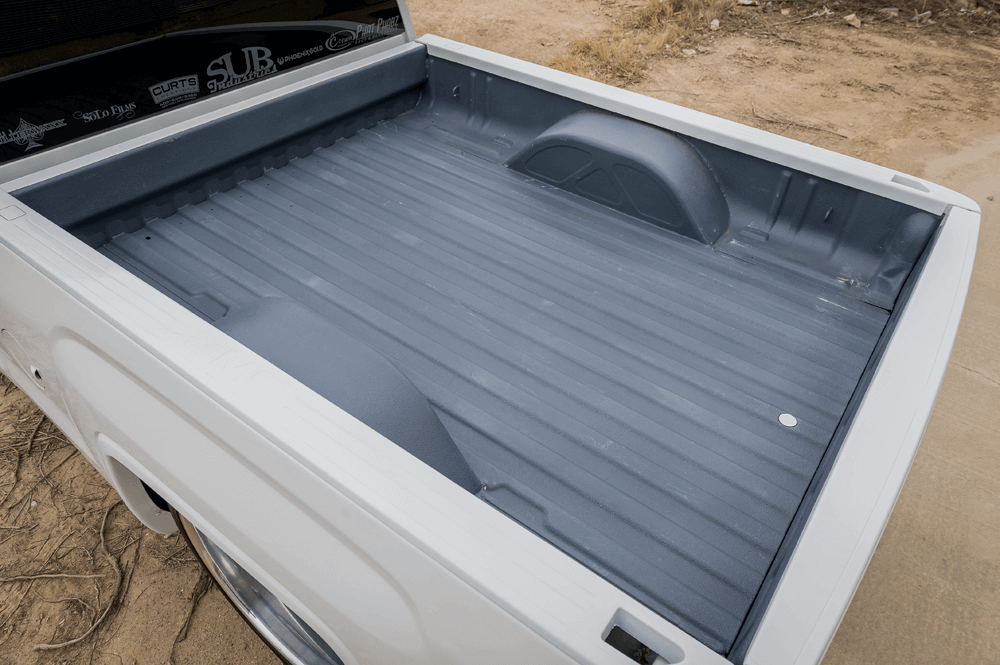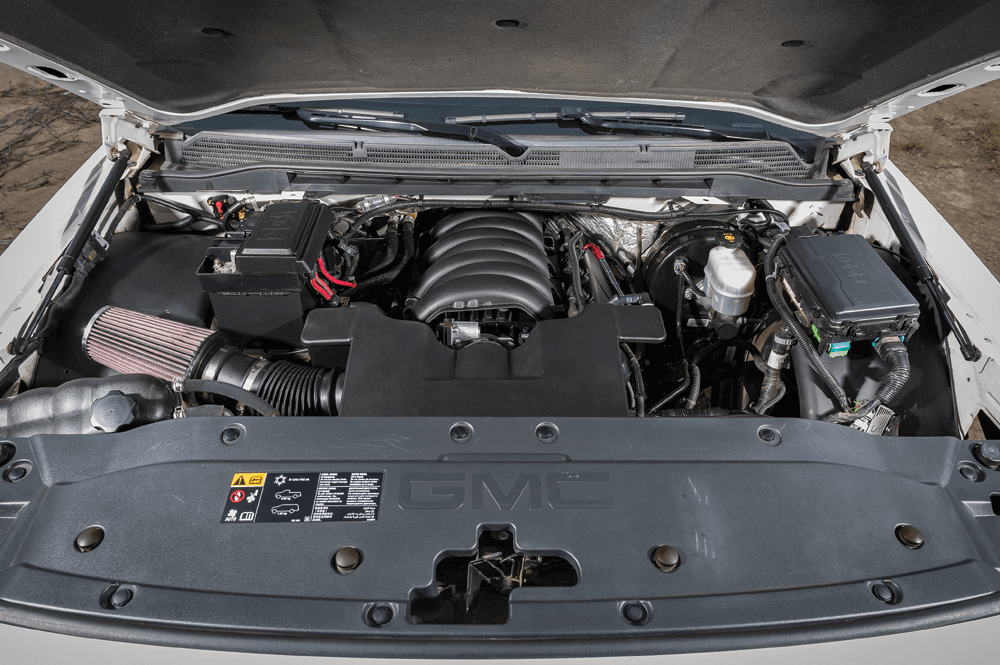 OWNER
Dylan Dirickson
2014 GMC Sierra (MOBYDIK)
Elk City, OK
Severed Ties
ENGINE
355 hp 383 torque
GMC V-8
K&N cold air intake
Magnaflow mufflers
Stock GMC automatic transmission
Narrowed rearend
CHASSIS & SUSPENSION
Notched frame
AccuAir eLevel air management
5-gallon air tank
Dual chrome VIAIR 480 compressors
3/8 stainless air line throughout the full truck
½-inch plate control arms
Air Lift 2600 'bags
Triangulated 4-link
Air Lift sleeve 'bags over rear axle
Monroe shocks
WHEELS & TIRES
26×10 Raceline Commanders with powder-coated faces
305/30R26 Deruibo
BODY & PAINT
Shop: Walker's Paint and Body Works, SUB Industries
Custom HD opening grafted onto 2014 1500 bumper
Smoothed and color-matched rear bumper
Shaved tailgate
Smoothed and color-matched bed rails
Custom SUB Industries honeycomb grille/bumper grille
Flush-mount filler in bed floor
Color-matched Raptor bedliner done by Michael LaPlante of Infinite Panel Repair
Trim smoothed and color matched
Raised bed floor
DeArmond custom tubs
Flush-mount fuel filler
Clear corner lenses and colormatched headlights
INTERIOR & STEREO
Shop: Curt Enochs and Dusty's Total Audio
Katzkin leather seats, customstitched and shaved head rests
Blue metal-flake accent trim pieces
Blue LED lighting in floors
Black fabric headliner
Factory GMC touch-screen head unit
300.1W Phoenix Gold amplifier
12-inch Phoenix Gold subwoofer