There was a time when Chuck Velazco was almost strictly known as an up-and-coming builder of unique, custom motorcycles. For the past few years, however, Chuck has been on a classic truck kick and has been turning out old slammed GMs as often as possible. So, of course, now he's known as an up-and-coming builder of unique, custom trucks! 
His latest is this '55 Chevy 3100, which spent most of its life doing railroad work in North Dakota before Chuck got a hold of it. Amazingly, the truck had just recently been retired from service, and so it was up for grabs. Now, living in Florida, Chuck had to take a leap of faith to buy it sight-unseen, but his gamble paid off with a worn but clean classic Chevy that ran great! Truthfully, though, it didn't matter too much that the truck was a runner, as he already had some big plans that far surpassed what the respectable-yet-anemic 235-cubic-inch inline-six was capable of. But first, the truck needed some ground-level reengineering.
Chuck is a firm believer that in order to build a stellar truck, you have to start with a solid foundation that is made to last. As a GSI Machine & Fabrication dealer under his Chucksee brand, it was a no-brainer to use one of the company's latest offerings-a complete, custom, laser-cut air ride-equipped chassis made specifically for '55-59 GM trucks! With that one move, Chuck set himself up with a proper ride and proper handling, while being able to instantly flatten the truck on the ground at the tap of a button on the AccuAir e-Level controller. The trick 22-inch wheels on the '55 were built by Greening Auto Company to Chuck's specs and were dubbed Chucksee 88s due to the eight spoke/eight window design.
To further show off the chassis' unique aesthetic, Chuck had it and its crossmembers powdercoated in contrasting Wimbledon White and black pigments. This was a bold decision that paid off, and the colors showcase the frame's and suspension's high-tech attributes in a slick and classy way. And to make sure that everything is visible and easily accessible, Chuck hinged the bed floor so that it could be raised by remote using a pair of Tricky Air Bed Shocks.
IN TOTAL, IT TOOK CHUCK JUST OVER 11 MONTHS TO FINISH THE TRUCK, AND WHEN ASKED HOW MUCH IT COST TO BUILD THE TRUCK, HE SIMPLY REPLIED, "EIGHT QUARTS OF SWEAT!"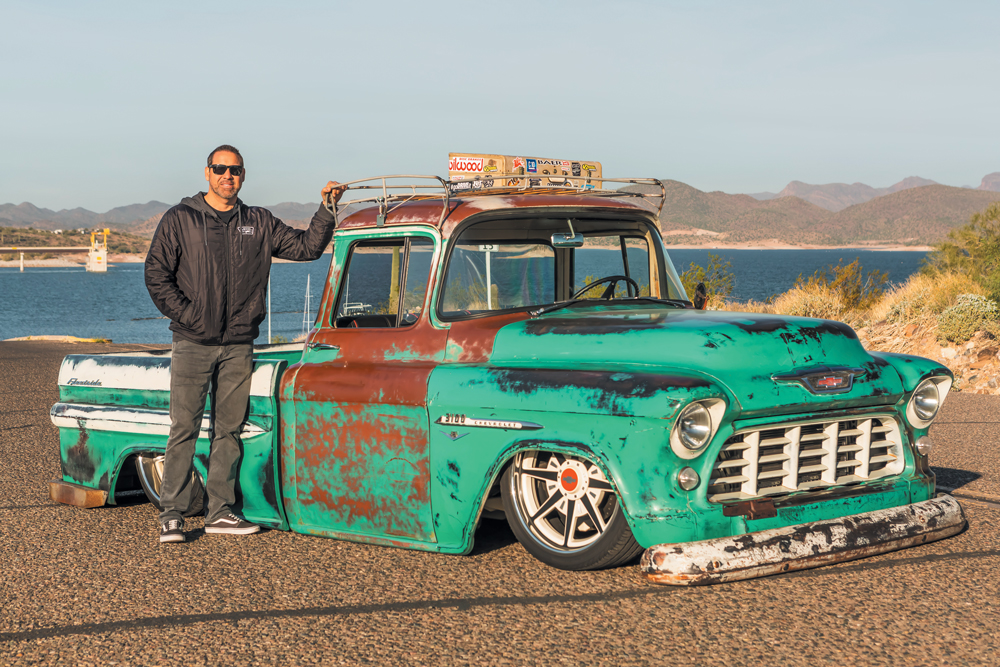 While we're on the topic of beds, this would be a good time to mention that Chuck actually swapped out the original stepside bed for a later '58-59 Fleetside unit. Yeah, the bed looks like it's been teamed up with the '55 cab since Day 1, but Fleetsides weren't a thing until '58. The swap was convincingly pulled off by carefully matching the patina finish with single-stage Sea Mist Green and India Ivory paint, and some careful faux weathering.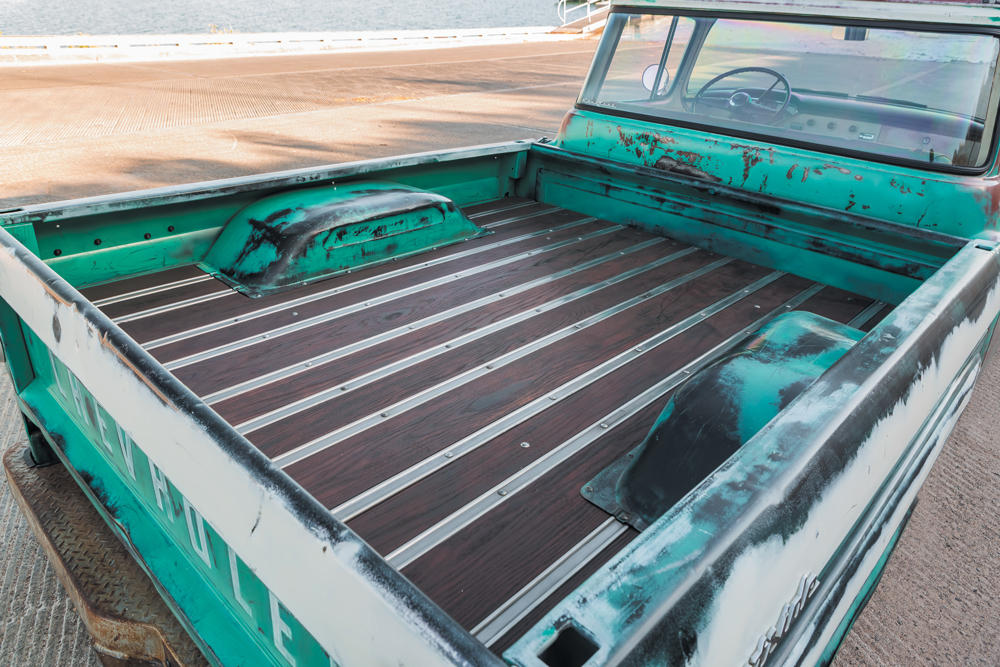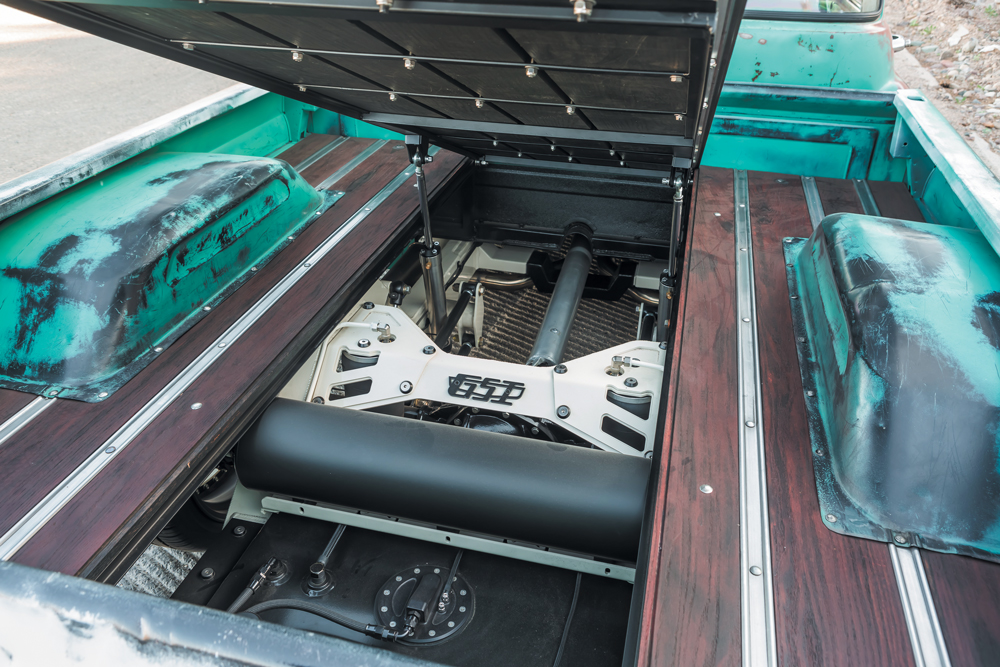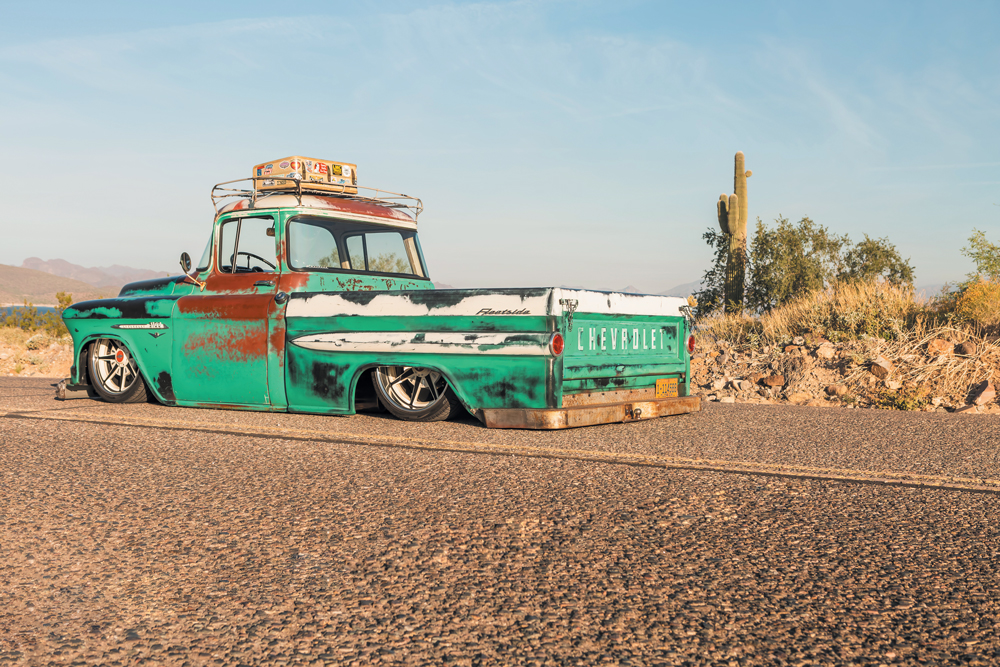 As "vintage" as the exterior of the truck looks, Chuck wanted the engine compartment to be just as clean as the spotless chassis. A 2018 GM LS3 was bolted in with GSI mounts and "retro-fied" with some '55-era Chevrolet script valve covers using Billet Specialties adapters. The 4L65E transmission was treated to a 2,000-rpm stall converter at Poppy's Transmission, which allows the engine to wind up a bit more before shifting into a higher gear.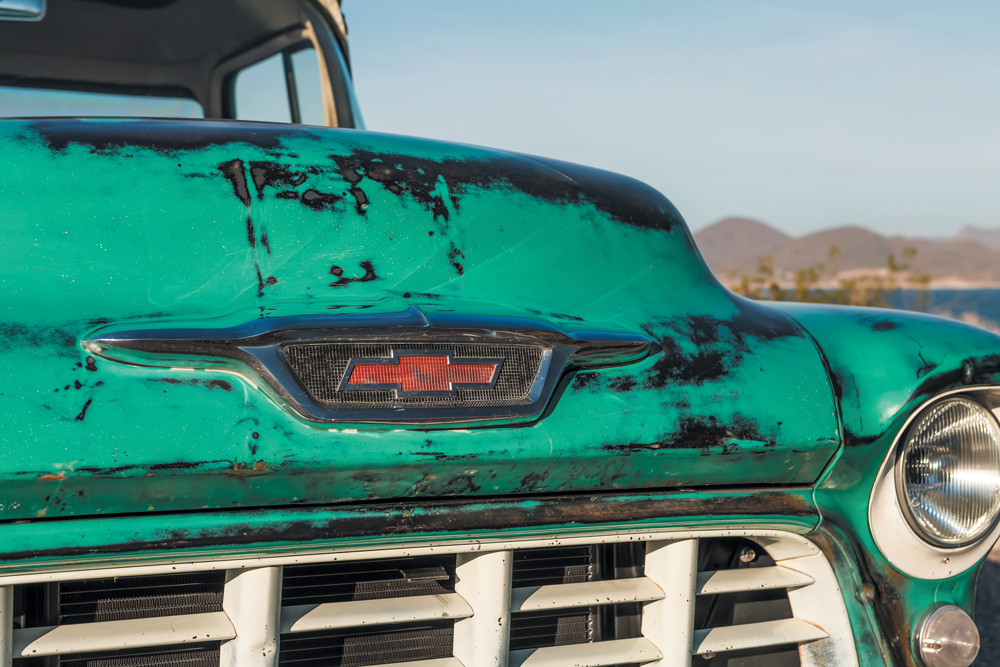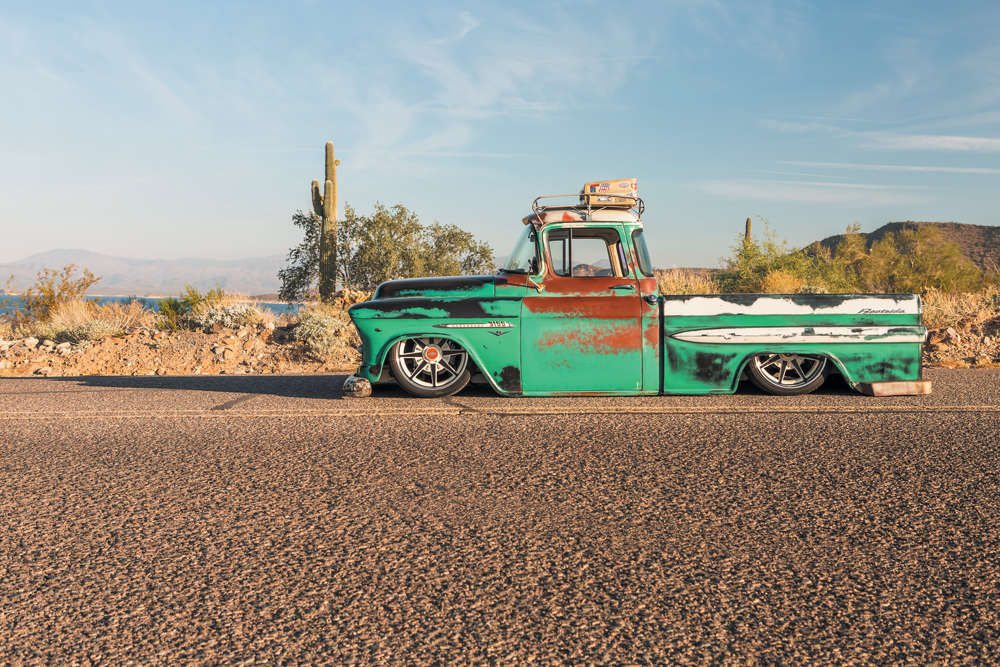 The interior, on the other hand, is a methodical mix of old and new, using a custom-upholstered bench from Jorge's Upholstery in Miami, along with fresh carpet and a Vintage Air system, and even a Bluetooth stereo. The most trick part in our opinion, though is the Dakota Digital RTX gauge cluster, which looks almost stock at first glance but offers high-tech monitoring of the truck's vitals.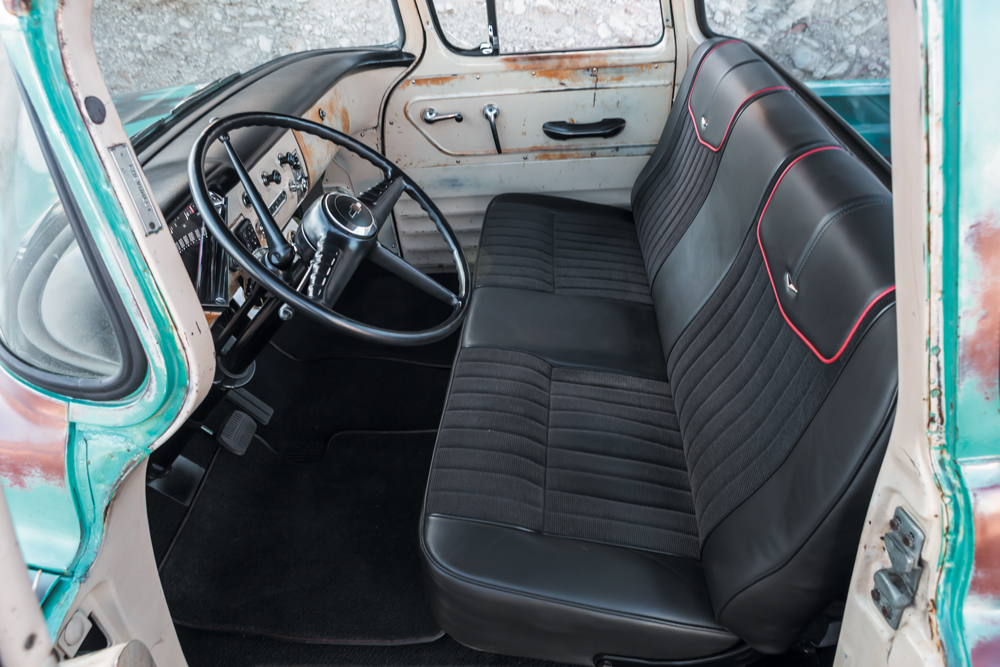 In total, it took Chuck just over 11 months to finish the truck, and when asked how much it cost to build the truck, he simply replied, "Eight quarts of sweat!" While that wasn't the answer we were necessarily looking for, isn't it the perfect representation of the love we all have for our old trucks?