Have you ever been in a relationship that ended before you even had a chance to do all of the things you really wanted to do? It's safe to say that we've all been there, but this isn't some mushy love story about your short-lived fling with the high school prom queen (even though losing her kinda sucked, too). No, this tale has a bit more substance because it concerns a truck. Okay, so maybe comparing a chick to a truck might seem like a bit of a stretch, but it's true if you're honest.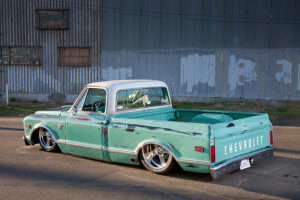 Travis Frazier gets what we're saying. He knows just what it's like to invest time and cash into a project only to have regrets about what was left undone. Even though it might sound corny, things get intimate, because these projects are fueled by passion. How better to explain the sleepless nights, the long, tiring days and the drained bank account. You see, Travis' ex-truck (a '70 GMC known as "the Lumberjack" and featured in Street Trucks October 2014) was nice and all, but there were lots of things he would've loved to do that didn't quite make it. Even though Travis had long ago sold his previous work-in-progress, he was feeling the need to seek out another truck and really make the best of a sweet opportunity.
After searching high and low in and outside of town, Travis finally came across an ad that showed some promise. "I was going through Craigslist one day and found a listing for a truck I wanted right there and then. The ad was pretty vague, though, and only had two poor quality pictures. It was tough to make out just what I was looking at, but it was worth putting some more effort in to find out," he says.
After consulting with his buddy, George, about the ideas that were racing though his brain, the two talked about possibilities and what it would really take to make them reality. With a solid plan in mind, Travis made the trek to see what the truck in the ad was all about. "The seller had sent me a couple better photos, and they were good enough to get me out there to see it. Once I was standing in front of it, there was no other option but to buy it and get my plan in motion."
Once Travis had his hands on the truck all restraint was blown. The '68 Chevy was at his place for two whole days before it was completely stripped; slow by the standards of any respectable illegal chop shop, but pretty quick for a guy like Travis who had been waiting for that moment since he sold his last truck.
The teardown process wasn't the only thing that went down at that time; Travis also began the metal work as soon as he had a more inviting canvas to work with. "I wanted to do a lot of subtle mods to make it look a little different. The firewall was smoothed of every hole, and when I had the chance, I started to fabricate some cool interior stuff…" "Subtle" is the ideal word to describe the interior pieces that he customized. Travis took the time to build custom kick panels and got rid of the fresh air vent to make the cab sleeker. He also wanted to clean up the dash, so he cut off the top and filled it with a smooth panel with dimple dies incorporated as a defrost vent. Travis definitely took full advantage of the opportunity to spend quality time with his desirable pickup. There would be little to no chance that anything on his wish list would be passed over; he'd learned never to compromise when it comes to matters of serious truck building.
With the metal work complete, Travis started chopping the truck down to a lower altitude. Again, he wanted to make sure he took his time to do things right, so he stripped the existing chassis of the frame rails because brand-new Porterbuilt front and rear Dropmember kits were already on their way to his doorstep.
Truck Specs:
Owner
Travis Frazier
1968 Chevy C-10
El Cajon, CA
Engine
2007 370-ci LS2
Texas Speed & Performance 224r camshaft, pushrods and beehive springs
Ported LS6 oil pump
LS7 lifters
Edelbrock water pump
Powermaster alternator
Champion radiator
SPAL cooling fans
Porterbuilt motor mounts
Ported LS2 intake manifold
Hand-built aluminum air intake
LS2 90mm throttle body
Stainless mid-length headers
2.5-inch Magnaflow exhaust and mufflers
Holley Performance valve covers
PSI wiring
Drive Junky mid-mount drive accessory and pulleys
4L70E built by Phoenix transmission
Transtech shift kit
12-bolt Chevy rearend narrowed ¾-inch on each side
3.73:1 gears and posi
Boyd welding gas tank
Suspension
Shop: Valley Rod Design
Porterbuilt front Stage 3 Dropmember
Narrowed A-arms
Early Classics spindles
Porterbuilt rear Stage 3 Dropmember
Pro Performance front/rear Revelator 14-inch brake kit
KYB shocks
Wilwood tandem master cylinder
AccuAir E-Level air management system
Wheels & Tires
22×8.5 and 22×10.5 Raceline Executive
265/35R22 and 305/40R22 Westlake SV308 tires
Body & Paint
Shop: Valley Rod Designs/Marco Paint Works
PPG Factory 503 Light Green
Pinstriping by Cisneros Color Studio
Custom CNC flush-mount gas filler
Flush-mount curly maple bed floor
LED taillights
Replacement windows
Porterbuilt hood hinges
Interior
Shop: Lindy's Upholstery
Black NOS 1964 Nova vinyl on seats
Stock 1968 Chevy C-10 seat frame
ACC carpet
Billet Specialties Outlaw steering wheel
Dakota Digital VHX gauges
Vintage Air AC
Smoothed and customized dash, custom kick panels
Dynamat sound deadening
Optima Red Top cell
This time was critical in the build-up phase because a big brake kit was high on the list of things Travis never got around to installing on his last truck, and now was the perfect opportunity to get it done. "I knew exactly which kit I was going to use, the Pro Performance 14-inch kit for the front and rear. I got a solid rolling chassis mocked up, something that I was far beyond happy with. I knew I wanted to preserve it as long as possible, so I tore it all down and sent the components out for powder-coating." Things looked promising for Travis and his new ride, and there wasn't much downtime because each phase was well planned and executed on time.
As he steamrolled ahead, Travis stayed true to accomplishing what he regretted not doing to his last truck. He covered the interior and fulfilled his desire for more custom metal work and bigger brakes, but there was something else that had been nagging at him for the longest time. "I felt that I kind of cheated myself on the engine I really wanted with my last build, and this time around I knew exactly what I needed … I was after something reliable yet powerful enough to have a good time with. The LS platform was a no-brainer for me." Travis found a rebuilt 2007 LS2 with a TSP cam along with a matching 4L70E transmission— problem instantly solved. From there, the rest of the build fell into place quickly.
Travis gave himself another chance to redeem the blown opportunities of his past. Because he rushed his previous build, he bypassed a lot of the mods that he wanted. Luckily, this time he relaxed and focused on the importance of seizing moments as they are presented. That's really all you can ask of yourself when trying to one-up a previous build. From here on out, Travis' future projects will no doubt continue to speak louder of his personal taste and vision. ST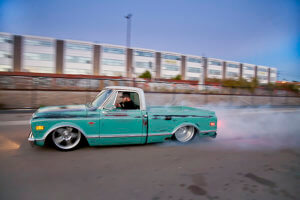 Special thanks from the owner: "Thanks first and foremost to my beautiful wife, TJ, and my daughters, Rylei and Lydia; George Lindemann; Ty Wilson; Dustin Reynolds; Travis at Pro Performance; Tony Tyrell; Abe Mena; Tim Klopson and Black Bear Performance."
Editor's Note: A version of this article first appeared in the July 2016 print issue of Street Trucks.