A Titan With a Twist
BUILDING A NISSAN TITAN DEFINITELY HAS ITS UPS AND DOWNS. On the plus side, they're still a rare sight even after 14 years of production. Conversely, they're a pain to modify, which might be why it's uncommon to see them on the ground. Did Jimmy Chollett know what he was getting into when he decided to build a Nissan full-size? Maybe. But as the previous owner of a 'bagged '02 Dodge Ram, he was no stranger to a challenge.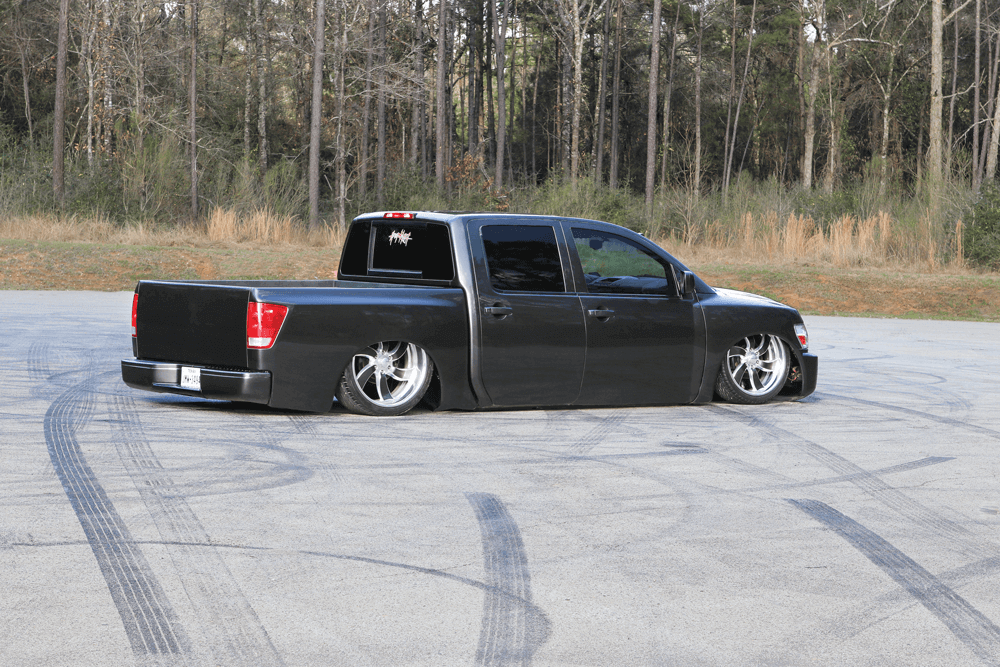 Although there are a few lift kits available for the Titan, if you want to go in the other direction, you're pretty much on your own. Going down requires a lot of ingenuity, a ton of one-off parts and slew of patience. After all, you can't just bolt on a kit and roll out like you can with other makes.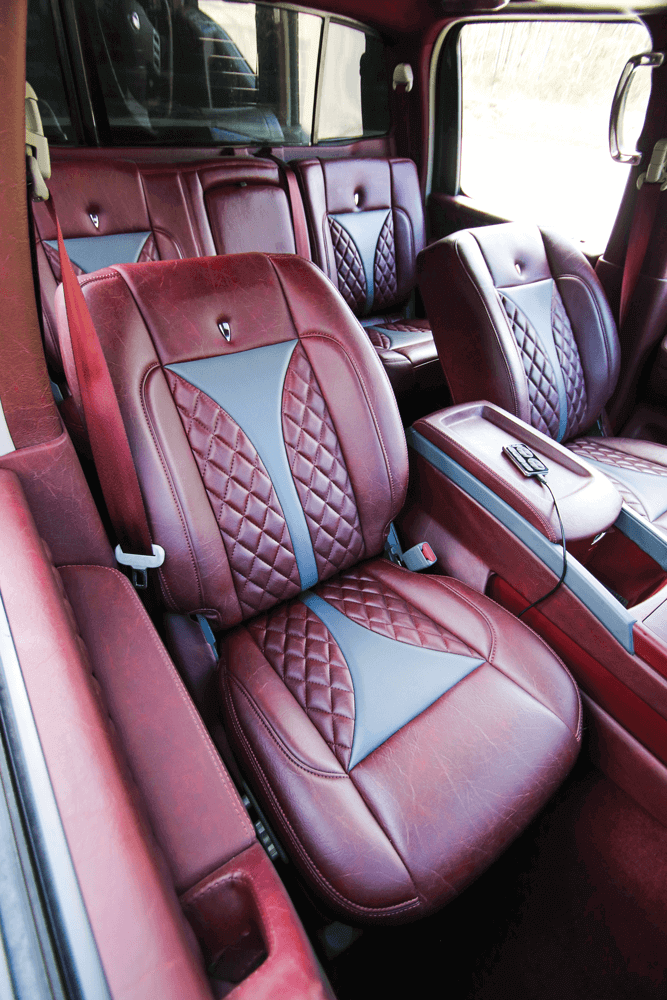 Jimmy's first experience with 'bagging his Titan didn't go as planned—at all. In fact, it was a pretty harsh lesson in choosing the right shop, as the rear suspension decided to remove itself from the truck on its maiden voyage home. Luckily, he soon found Rutherford's Rods & Customs, which fixed the whole air setup and made Jimmy's truck as reliable as could be, which encouraged him to hit shows with it as often as possible.
Around this time, a buddy of his, who also had a Titan, mentioned that he knew of an Infiniti QX56 front clip for sale. The deal was too good to pass up, and it didn't hurt that Jimmy's wife agreed to buy it for him for his birthday.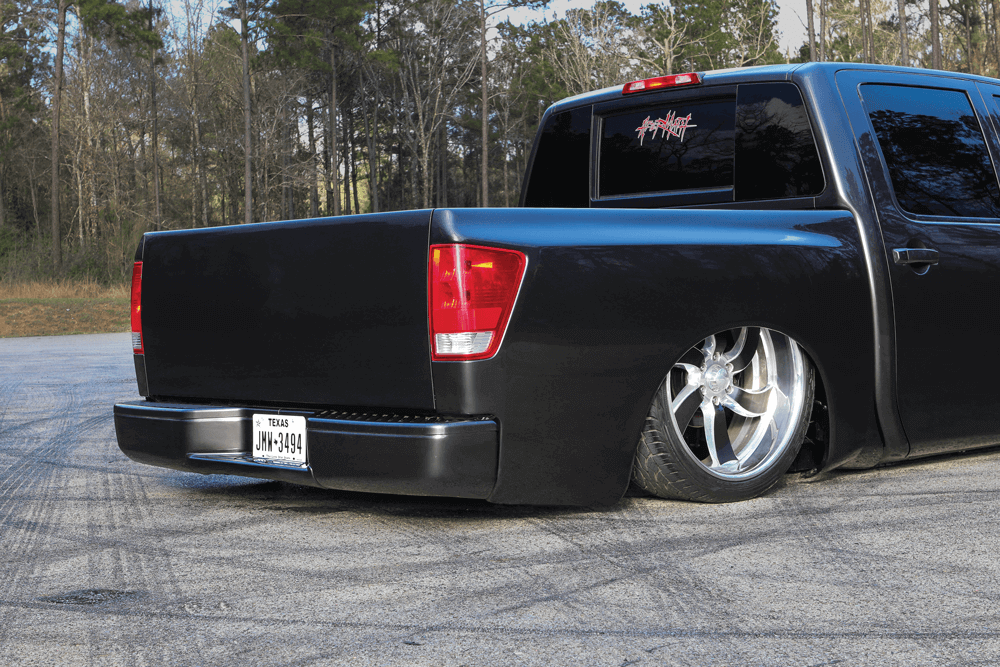 But after a few cruises with his club, Aftermath, he soon felt like the odd man out since his was the only truck that wasn't body-dropped. Yeah, the guy with the 'bagged Titan with a QX56 clip didn't feel like his ride was turning enough heads—go figure. The peer pressure was strong, so when he eventually discovered Jake McKidde and Kyle Dimetroff, he knew what to do. Jake and Kyle are just about the body-droppingest guys around these days (that's a new term as of right now). Jake and Kyle fabricated a new frame from the firewall back from 2×4 boxed steel, which allowed the cab and bed to come down a total of 4 inches. And since everything else was now new and the rearend was getting narrowed anyway, the crew built a new 3-link wishbone rear suspension and updated the front with custom drop spindles from Michigan Metal Works. For wheels, Jimmy wanted to go the big 'n' billet route (can you blame him?), so a custom set of 22- and 24-inch Raceline Deceptive wheels, with 265mm wide Falken tires, were installed all around.
Now, we would probably be tempted to call it quits for a while and cruise, but Jimmy knew that if he slowed his pace, he might not stay motivated to finish the truck. In all honesty, it was the smartest move he could have made. According to Jimmy, things moved pretty quickly from that point. "It went to Twizted Mindz Metalworx for bodywork and paint. I didn't much care for the big fender flares that came with the front clip, so the [Titan] fenders were grafted in and rolled into the bumper." But the list of body modifications didn't stop there. Stephen Bramlett and Ryan Alford from Ryan's Sheetmetal Designs put in some work in the bed, adding bead-rolled metal with dimple-die holes." Once the body was blocked smooth, the truck was painted with Chrysler Granite Crystal Metallic to keep things classy.
Approaching the finish line, while no doubt showing plenty of updates online, Jimmy's cohorts in the Aftermath California chapter, Stanley Butler and Elias (who goes by "Weezy"), convinced him to ship the Titan off to SoCal to hook up the interior at California Upholstery. Without a fully formed plan, Jimmy just told them to surprise him. "I have no imagination, so I couldn't figure out a color scheme. Ten days later, the truck arrived back in Texas, and wow!" That last part pretty well describes Jimmy's truck in a nutshell.
OWNER
Jimmy Chollett
2005 Nissan Titan Caldwell, TX
Aftermath Texas
CHASSIS & SUSPENSION 
Stock-fl oor body drop (3/4 chassis)
Rearend narrowed 4 inches
3-link wishbone rear suspension
Michigan-Metal-Worksfabricated drop spindles
Airbags all around
20-gallon fuel cell mounted at rear of truck
WHEELS & TIRES
22- and 24-inch Raceline Deceptive billet aluminum wheels
265/35ZR22 and 265/35ZR24 Falken tires
ENGINE & DRIVETRAIN
Stock 5.6L VK56DE V-8
Custom air intake piping and filter BODY & PAINT
Work performed by Twizted Mindz Metal Worx and Ryan's Sheetmetal Designs
Infiniti QX56 front end
Fenders modified and reshaped to eliminate factory fl ares
Shaved bed rails
Shaved gas filler door
Custom wheel tubs
Bead-rolled sheet-metal bed fl oor with dimple-die holes
PPG Granite Crystal Metallic paint
INTERIOR & STEREO
Work performed by California Upholstery
Carrara burgundy material with gray inserts
Diamond stitching on seats
Vents painted to match interior
Seat belts dyed burgundy
Factory Rockford Fosgate head unit
Rockford Fosgate component 6×9 speakers in doors
Rockford Fosgate 8-inch subwoofers
Rockford Fosgate amplifi ers
SPECIAL THANKS FROM THE OWNER: "My beautiful wife Shanna Chollett, brother-inlaw 'Fatboy,' Gabe Castaneda, Juan Gomez, my dad, Pepe G. and my club Aftermath."