Not every beautiful truck you see at shows was built to be a barely driven trailer queen. When Joe Nasworthy of Jacksonville, Florida, decided he wanted to build a fully functional and reliable version of a brand-new '14 GMC Sierra, he knew no one could do it better than the Little Shop MFG. "We wanted to keep the look of what GM would build if they were building an air-ride-equipped sport truck," Joe said. So after the process of deciding which exact vehicle features he did and did not want, he purchased the brand-new Sierra and drove it from his home in Florida right to Little Shop headquarters in Tennessee.

Originally, Joe and the Little Shop crew had talked about body-dropping the truck on 26-inch wheels; however, after some deliberation, they decided to 'bag it without bodying it and spend the extra time and effort on other details. Details such as choosing 26-inch wheels that were three-piece instead of one-piece, adding a supercharger to the brand-new motor, and throwing on a huge set of big brakes all around instead of keeping the factory setup.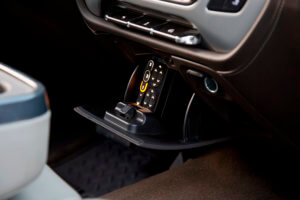 "When it was time to choose wheels, Joe didn't hesitate. The three-piece 26×10 Nuteks were exactly what he had envisioned."
Staying true to their original intention to keep the Sierra a driveable and reliable truck, the Little Shop crew decided to go with a five-lug swap to give the wheels a cleaner look. An added bonus of swapping six lugs for five lugs was cutting down on extra weight. They even went so far as to choose a 5×5.5-lug pattern from Dodge, which allowed them to install a stock Dodge 20-inch spare under the bed to cover "just in case." The spare even clears the new big brake setup, keeping it fully useable without extra effort or spacers.
When it was time to choose wheels, Joe didn't hesitate. The three-piece 26×10 Nuteks were exactly what he had envisioned. Joe and the Little Shop team decided on a chrome lip and barrel wheel with a smooth powder-coated satin charcoal face.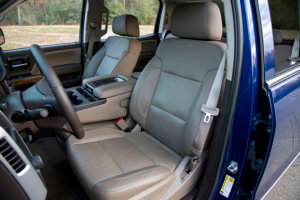 Before the Little Shop team could get to the fun part of building the motor, they had to move all of the factory parts and reservoirs to hidden areas. They worked hard to keep the original equipment intact for functionality and long-term driveability—they even managed to keep the washer fluid reservoir.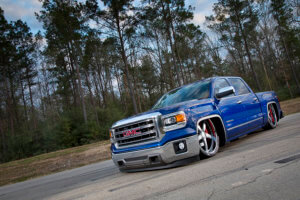 Truck Specs:
Owner
Joe Nasworthy
2014 GMC Sierra
Jacksonville, FL
Engine
Factory GM 5.3 V-8 Whipple supercharger
 installed for 
450 hp with 460 ft-lbs of torque
Magnaflow exhaust
Kooks headers
Manual six-speed transmission
Hidden reservoirs and GM components
Suspension
Shop: Little Shop MFG
Narrowed front end track width
Custom upper and lower arms with Moog ball joints
Dodge 5×5.5-lug swap
Narrowed rearend
Wishbone 3-link suspension
Rearend built to retain stock gas tank and driveability
KYB shocks
Front and rear 16-inch Wilwood brake kit designed and assembled by Little Shop MFG
AccuAir management
Wheels & Tires

26×10 Nutek series 801 in five lug with 6.5-inch backspacing, chrome lips, chrome barrels and satin charcoal faces
305-30-26 Pirelli Scorpion Zero tires
Body & Paint
Shop: Little House MFG
Front wheel tubs
Notched and tubbed bed inner bed
Line-X spray-on bed liner
OE GM paint
Interior & Stereo
OE GM leather seating
OE Stereo
A laser-cut aluminum air ride control center was custom-fabbed on the fender to house the AccuAir management system. They chose the spot for its superior accessibility; after all, no one wants to lift the bed off a truck to diagnose a malfunction. After narrowing the front and rearend, they added a wishbone 3-link setup to retain the factory fuel tank, using KYB shocks and Moog ball joints for their long, dependable service life. Once the axles were in place, the in-house Little Shop Wilwood-based 16-inch big brake setup was installed on all four corners of the truck.
Don't worry, the brand-new GMC 5.3 V-8 motor wasn't left out of the fun. A Whipple supercharger was installed on the barely-broken-in motor, attached to a six-speed manual transmission. Flowing out from the block, Kooks headers lead down to a Magnaflow exhaust, which provides the tuned, deep exhaust note the truck deserves. Finally, the truck's bed was redesigned to allow the truck to air out as low as possible on the large 26-inch wheels, while remaining useable for everyday driving.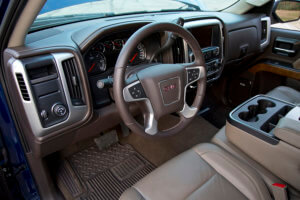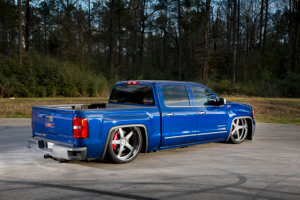 Joe would like to take a second to thank Anthony at GM for finding the perfect base to start with and all of the folks at Little Shop MFG: Eric, Josey, Tim, Justin and Leslie. He'd also like to thank his family and friends: Joe, Josh and Chris, Anthony at NuTek, and Ben and all the guys at Accuair. ST
Editor's Note: A version of this article first appeared in the September 2016 print issue of Street Trucks.