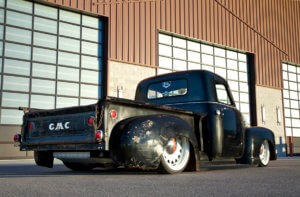 "There was something about the older models with that original finish, worn down to the bones yet untouched, that really spoke to him."
To say that Sam Castronova of Phoenix, Arizona, is a connoisseur would be a disservice. He has a passion—no, a master's degree—in patina trucks. His love for these vehicles is undeniable, and that's why when he puts his name on a project, you know it's legit.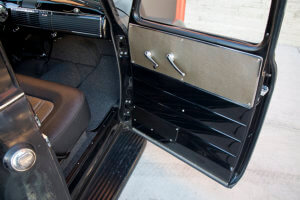 For the uninitiated, "patina" refers to the natural look that a truck's paint and body acquire after being used for decades without a refresh. Sam has loved trucks with that look for years, which comes from watching his father do 100-point restorations of Cadillacs when he was a kid. Those cars were great, and they got a lot of attention, but there was something about the older models with that original finish, worn down to the bones yet untouched, that really spoke to him. They had a history to them: something that made them better than a car that had been detailed top to bottom. After all, anybody can restore a car to original condition, but patina—true patina—can't be faked, no matter how hard you try. That makes vehicles in this condition unique, and today they're few and far between. As a result, he's always looking for new projects and builders to work with, so when he was contacted by Blake Stoner of Stoner's Speed Shop in 2014, he was intrigued. Blake wanted to build a truck for Sam; they just needed to figure out which one.
"When he was contacted in 2014 by Blake stoner of stoner's speed shop, he was intrigued. Blake wanted to build a truck for Sam. They just needed to figure out which one."
Truck Specs:
Owner
Sam Castronova
1949 GMC 100
Phoenix, AZ
Engine
2004 Chevrolet LS1 V-8
2014 Chevrolet 4L60E automatic transmission
350 HP
FAST intake manifold
Corky's Car Care exhaust
Turbo mufflers
Speedway Motors 20-circuit wiring harness
Optima battery
Suspension
Blake Stoner at Stoner's Speed Shop, Hudson, IA
Custom chassis from Stoner's Speed Shop
Mustang II front suspension
Fatman Fabrications front control arms
CPP drop spindles and front big brake kit
Firestone airbags front and rear
Ridetech front shocks
Ridetech rear 4-link
Monroe rear shocks
Air Lift Performance 3H air management system
Black Viair compressors
Stock GM G-Body 10-bolt rearend with posi
Stock rear brakes
Speedway Motors brake booster
Speedway Motors GM master cylinder
Tanks Unlimited Gas Tank
Wheels & Tires
20×8 Detroit Steel Artillery wheels finished in factory GMC Cream paint
235/45 20 Diamond Back Custom white wall tires front and rear
Body & Paint
Original (or near to) paint and patina
Stock front bumper
Stock front grille
Interior
Joel Mattix, Boss Custom Interiors, Evansdale, IA
Dakota Digital gauges
Leather upholstery on seats and door panel inserts
Black-painted dashboard by Blake Stoner
Sam appreciated the kid's moxie, so he figured that if he were going to work with Blake, Sam would give him a true challenge. First, it would be a 1947-55 (first series) GM truck, a model that's getting more rare in recent years. He also wanted a GMC, because if you're going to look for something out of the ordinary, you don't want a Chevy (plus, Sam has always been a fan of the GMC brand). And finally, it needed to have the original—or close to it—paint, and it had to be black. Essentially, what Sam told Blake was that sure, he'd work with him on a build, but first he had to find the truck version of a unicorn. Sam ended the conversation confident that it would take months, if not years, to find this odd duck of a ride, and that would give him a bit of time to clear out some of his other projects.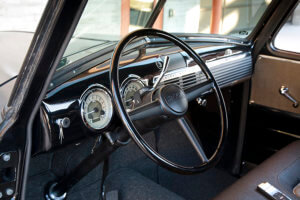 Three months later, Blake sent Sam a text. It was a picture of a black '49 GMC with patina sitting on the back of a trailer with the words "I got your truck" underneath. The unicorn had been captured, and now all Sam had to do was sign off on the build.
Shortly after SEMA 2014, the two sat down and figured out a plan for the project. They decided that SEMA 2015 was as good a time as any to get it done, so they shot for that, with the idea being that the truck would be dirty and original on the outside, clean and perfect under the hood and inside the cab. What the two didn't know was that they had an uphill struggle ahead of them. For those who haven't been, SEMA is all about custom cars and trucks, but the ones with patina are few and far between. On top of that, SEMA cracked down on the number of vehicles that appeared in 2015, and so finding a way in the door was not easy even for veteran builders. They had to prove to SEMA that they had something ground-breaking in the works, and the show wouldn't be the same without the "OGMC."
For six months, Blake called everybody he knew and then everybody he didn't, trying to get the truck in the door. The first company to hop on the project was Mobsteel, and it offered Sam and Blake one of the first sets of its new 20-inch wheels based on the famous Artilleries. That might have been enough to step into the ground-breaking category, but then they landed Air Lift, which offered them its new 3H air management system, as well as a spot in the show. Now the rest of the sponsors started rolling in, and soon it was just a matter of getting the work done on the truck and making sure it made it to the event.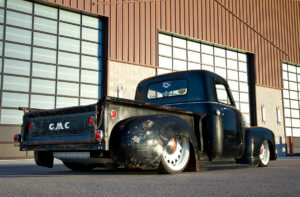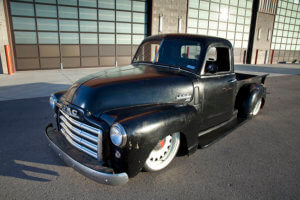 "He starts with a project that has decades of history and turns it into a modern, reliable ride with renewed purpose."
Then one big event stepped things up to the next level. Just before the SEMA show, Street Trucks featured a rendering of the truck as part of a sneak preview of trucks heading to the big event. After seeing what was on the table, Meguiar's contacted Sam and Blake to see if the car-care company could participate. Anybody who's been to the SEMA show knows that Meguiar's has a huge booth out front for the Meguiar's Car Crazy show, which has 20 spots exclusive to the company. It offered the OGMC a spot, and Sam and Blake hopped onboard to give the truck a great opportunity to shine—or not shine, considering the patina situation.
Blake towed the truck about 1,500 miles from Iowa to Vegas just in time for the show, and once everything was said and done, the OGMC made quite an impact. It also happened to be the first time that Sam saw the truck completed in person. Then the truck went back to Iowa for a few tweaks before it was returned to Sam just in time for Dino's Git Down and the 2015 Goodguys Show, a mere two weeks later.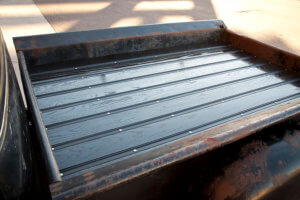 Since its unveiling, both Blake and Sam have spent some quality time with the truck.  Sam has put about 1,000 miles on the odometer in the process. But like any truck, Sam realizes that he never really owns it; he's more of a temporary custodian working to treat it well while it's in his possession. That time may be coming to a close soon. As of this writing, Sam is in negotiations to sell the OGMC to an overseas buyer, and that's OK. Not only does he have lots of other projects in the works, but one of them is even in the paint shop right now.
That's what makes Sam and his trucks so special. He starts with a project that has decades of history and turns it into a modern, reliable ride with a renewed purpose. When all is said and done, he passes it on to the next builder, so they can add their own mark, while he moves on to the next project. If the next one turns out anything like the OGMC, we say keep them coming. ST
Special Thanks From Owner: "Blake Stoner from Stoner's Speed Shop, Air Lift Performance, Detroit Steel Wheels, Dakota Digital, Boss Custom Interiors, Tanks Unlimited, Whipps Sticker Co., Diamondback Tire, Fast, Fatman Fabrications, Pinstripe Chris, Optima Batteries, Speedway Motors, Precision Restoration Parts, Corky's Car Care, Switch Suspension and Street Trucks magazine."
Editor's Note: A version of this article first appeared in the August 2016 print issue of Street Trucks.