Not everything in life goes according to plan, and not even fame and fortune can change that fact. Travis Barker, who is most notable for his role as drummer for band Blink 182, has also had many obstacles to face. His most recent was completing this '71 Blazer as an all around urban assault vehicle. The goal was to create a vehicle that could battle the tough streets of the Los Angeles area. It might sound odd to purpose-build a lifted truck to drive the streets of L.A., but if you've ever driven the roads there, you know that their surface quality is so bad that having a high-clearance vehicle is almost a requirement.
As a celebrity musician, Travis is well known around globe and has his fair share of greenbacks stuffed in his mattress. This might make you think that he's pretty much invincible, but you'd be wrong. As you might already know, in 2008 Travis was involved in a plane crash where he is now the only survivor. As he fled—on fire—from the wreckage, he thought that his life was over. His recovery in the hospital during the ensuing months was extremely painful. The one thing that kept him going through all of the surgeries was his love for his kids.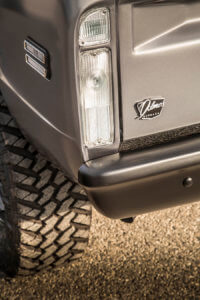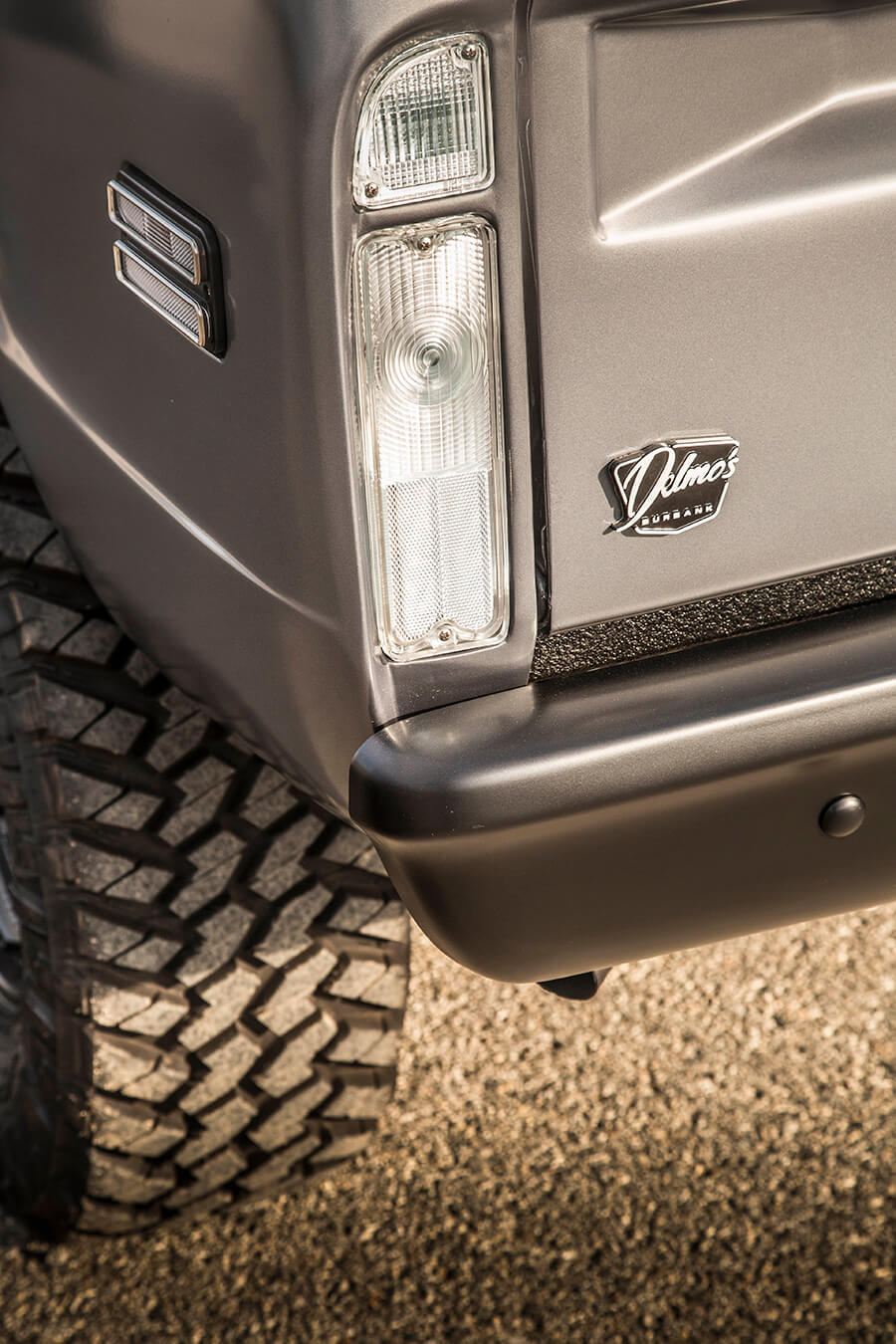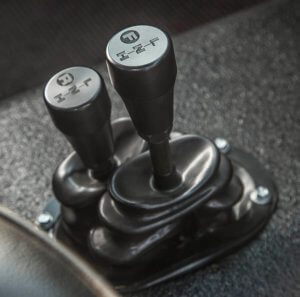 Though Travis is recovered, years later he's still shaken by the whole ordeal. Because of his near-death experience he's more involved in his kids' lives than ever before, and he takes them to and from school on a regular basis. That's where this 4×4 Chevy comes into play. Travis wanted it to be an unstoppable cruiser reliable enough to take his kids to school and on other (more exciting) adventures. So, whoever was going to build the truck would have to be trustworthy enough to make it a reliable daily driver.
The whole deal started off when Travis purchased the Blazer off eBay and took it to what he thought was a reputable shop in Burbank, California. Six months later, he walked down the road and discovered Delmo's Speed & Kustom when the shop was still in California. Travis liked what he saw at Delmo's and it made him rethink some of his decisions. Since the truck had been sitting for long time at the first shop with no signs of progress, he pulled it and took it straight to Delmo's.
Truck Specs:
Owner
Travis Barker

1971 Chevy K-5 Blazer
Los Angeles, CA
Engine
Shop: Delmo's Speed & Kustom
GM LS3 Crate engine
Classic Performance Products engine mounts
4L70E transmission
Hughes Performance 2,400-stall torque converter
Atlas transfer case
General Driveline driveshafts
Dana 60 front and rear axles
4.10:1 gears
Fab Fours differential covers
Holley accessory drive
Custom intake with K&N filter
Custom2.5-inch exhaust with Magnaflow mufflers
Be Cool radiator
Spal electric fan
Classic Performance Products aluminum gas tank
Suspension
Shop: Delmo's Speed & Kustom
6-inch lift leaf springs
Bilstein shocks
Classic Performance Products brake master cylinder and 9-inch booster
Chassis and suspension powder coated by Pacific Coast Powder Coating
Wheels & Tires
17×10 Black Rock Yuma Series 908M
Nitto Trail Grappler M/T 35×12.50R17LT
Body & Paint
Shop: Lasky Coachworks
Factory body painted BMW Gray with semi-gloss clear
GE LED headlights
Rigid Industries RDS light bar and rear floodlights
White taillights and markers
Custom roll cage and canvas top by Empire Fabrication
Interior & Stereo
Shop: Delmo's Speed & Kustom/Fat Lucky's
Factory seat reupholstered
Mercedes Black carpet
Dakota Digital VHX gauges
Vintage Air AC
Stock steering column with soft grip three-spoke wheel
Modified factory radio
 Eight JL Audio speakers throughout
Four 10-inch JL Audio subwoofers in custom enclosure
JL Audio amplifiers
The crew at Delmo's tore the truck down to bare bones to rebuild it from the ground up. The chassis, 6-inch lifted suspension and front and rear Dana 60 axles were all sent to Pacific Coast Powder Coating to be finished off in black. Meanwhile, the body was sent out to Lasky Coachworks to get its clean, menacing paint job created using BMW Gray and semi-gloss clear. Once back at Delmo's, the Blazer was reassembled with the addition of Bilstein shocks, Black Rock Yuma series 908M wheels, and Nitto Trail Grappler M/T 35×12.50R17LT tires.
Since Travis wanted to make this beast a reliable cruiser, a GM LS3 crate motor was dropped in and backed up with a 4L70E transmission and Atlas transfer case. The engine is fed by air from a custom intake with K&N air filter and gas from a Classic Performance Products aluminum tank. Spent gasses are released to a custom 2.5-inch exhaust with Magnaflow mufflers. All engine vitals are monitored using a set of Dakota Digital VHX gauges. The engine-mounted compressor feeds the Vintage Air climate control unit. Providing shade and protection is a custom roll cage with a canvas cover all built by Empire Fabrications. The top was also equipped with a Rigid Industries RDS light bar and rear floodlights.
As far as the rest of the build goes, the inside of this truck looks stock with a few minor touches. The flooring was replaced with Black Mercedes carpet and Fat Lucky's reupholstered the factory seats. Since Travis is in the music biz, it's a must for him to listen to his industry peers while cruising around. The stock radio was modified to stream tunes to a set of JL Audio speakers mounted throughout and the four 10-inch subs in a custom box mounted in the rear.
Though it's been years since the plane crash, Travis remains grounded and has yet to get in the air again. With a truck like this, who wouldn't mind staying close to the surface of Mother Earth? ST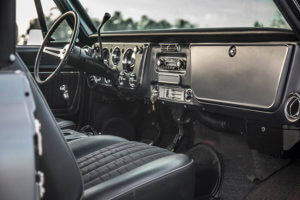 Special thanks from the owner: "Delmo's for the build, Fat Lucky's for the sick interior, Lasky Coachworks for the paint and body, Carlisle group for the Black Rock wheels, JL Audio for the sound system, Rigid Industries for the light bar and rear floods and Nitto for the tires."
Editor's Note: A version of this article first appeared in the June 2016 print issue of Street Trucks.