An RMD Garage F-100 Presentation
SOME OF THE COOLEST STORIES ABOUT OLD TRUCKS THAT CROSS OUR DESKS ARE THOSE INVOLVING FATHER/SON COLLABORATIONS.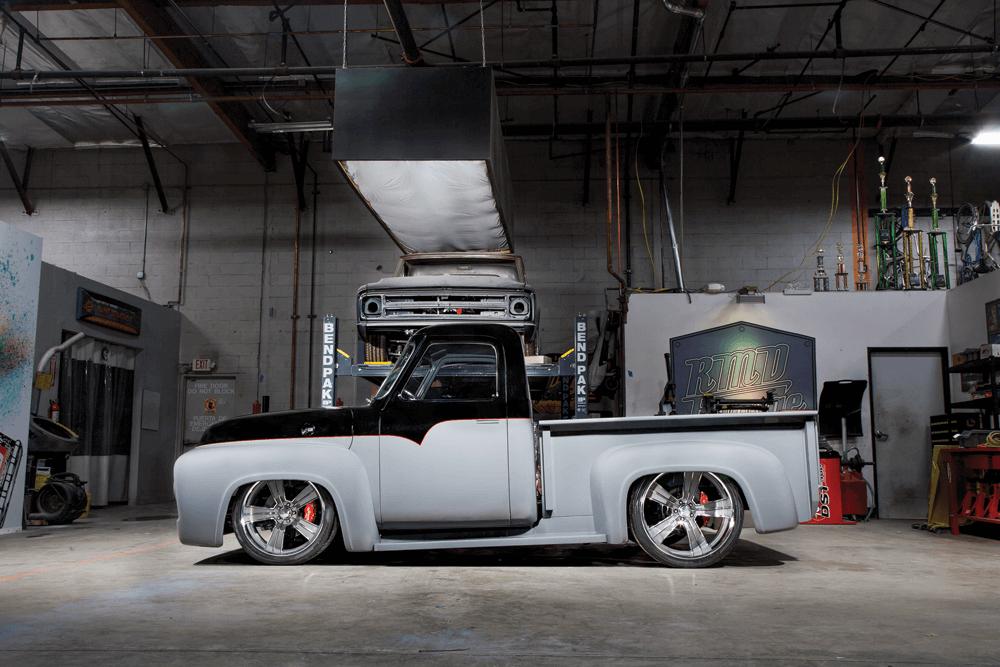 There's just something nostalgic and familiar about them. Those of us who were and still are lucky enough to share time with pops in the garage know what we're talking about.
The tales of hand-me-down trucks are some of the most inspiring because they're relatable. The guys who have received dad's rust bucket tend to radiate a genuine enthusiasm because that truck is a symbol of family pride. What's better than owning the vehicle your old man treasured for so many years? Around these parts, there's no better example of a valuable heirloom.
One guy we know will agree with us is Tony Bruncati. His father, Bob, picked up the '55 Ford F-100 seen here sometime back in the '80s. Tony has fond memories of how it looked years ago. Bob purchased the truck at the first dealership he owned and planned to get it up and running so it could serve as a humble parts runner. "When we got it, the F-100 was 100% original down to the paint and engine," Tony says. "The only thing my dad did was have it painted and updated with a fresh engine so it could be a reliable shop truck for the dealership."
The Ford was kept at the dealership, and according to plan, it was basically a utility vehicle used to pick up and drop off parts and products all over town. Tony is 38, and along with his two brothers, James and Dan, the trio now own and operate the Sunrise Ford dealership in Fontana, California. Obviously, the Bruncati brothers followed in their dad's footsteps, but it was Tony who was graced with a very special gift for his 18th Christmas. "My dad passed the '55 to me and was as excited as I was about it. I never made any real changes to it back then, even though my ambitions were high." With more resources now than ever before, Tony rekindled the fire that once engulfed the daydreams of his youth.
There's a cool twist in this story concerning what Tony envisioned for the future of the truck that has been a mainstay in the Bruncati family for nearly 40 years. "I decided that I wanted to give this truck back to my dad. Well, I wanted to first have it completely restored and customized to do something special for the man who has given me everything. I am where I am today because of my father, so I wanted him to have a good, reliable truck that he can take to shows and be proud of. It was to be a token of my appreciation for all that he has done for our entire family."
With a tangible goal ahead of him, Tony began weighing out the hows that would become necessary to get the F-100 prepared and ready to return to his father.
This is where Ralph Holguin of RMD Garage enters the story. Those who follow the world of customizers closely (or tune into the Velocity network regularly) will be familiar with that name. Ralph and his talented team have been hitting the custom vehicle scene hard throughout the last few years, and it just so happens that Tony met him by chance but didn't know just how serious he was about customizing vehicles. "I met Ralph many years ago at a Ford Motor Company event in Alaska. The trip was part fishing excursion, part business. One night while sitting at the bar, Ralph and I were discussing my racing career and how he was into building hot rods and show cars. I thought he was just talking about doing it as a hobby since he was working for Ford at the time. It wasn't until a year ago that I turned on the TV and saw Ralph working on my brother's '57 Thunderbird on the 'RMD Garage Show.'"
When Tony saw for himself the quality of craftsmanship that went into the T-Bird, he knew that Ralph and the rest of the RMD guys were the perfect choice for the F-100. Tony made it a point to take a trip to the Long Beach, California, location to get a first-hand look at the operation, and he was floored. "I was blown away by the finished vehicles on display in the showroom and was just as impressed by the vehicles that were being built back in the shop."
Tony left his Ford there at RMD HQ a week after that first visit, which was in June 2017. He would never have dreamed that the completed truck would be finished and delivered in only six months' time.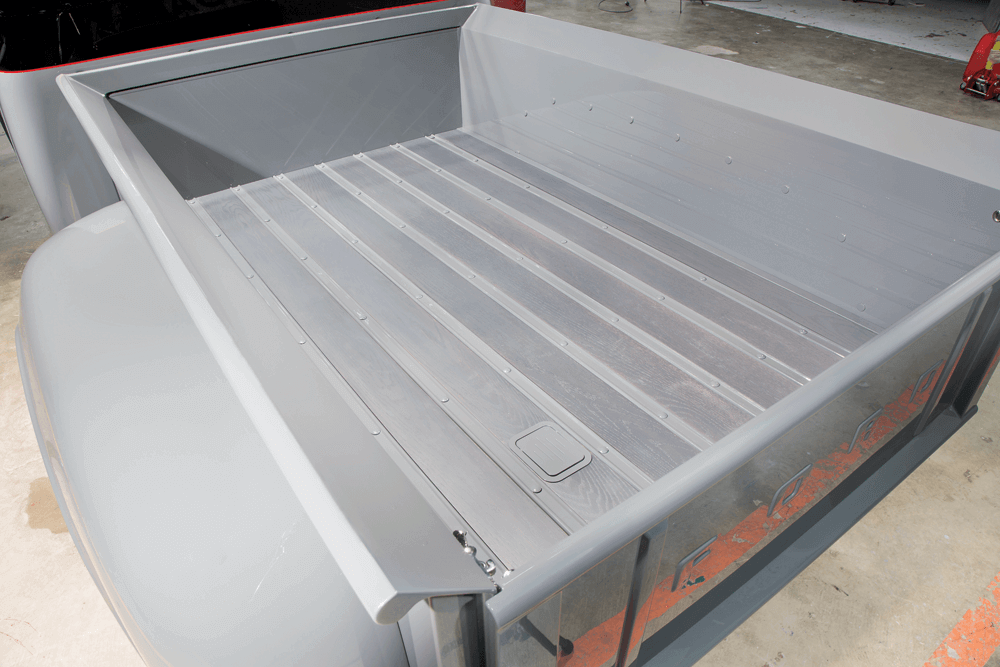 "It's truly amazing the speed and quality that Ralph and his guys are capable of," Tony says about the final rendition of his dad's old truck. The real reason that the truck was completed at such a high caliber in record time is due to the team Ralph has assembled. If you watch the show, then you already know the entire cast. Including the boss, there are a total of eight players who are incredible specialists in their own right, from audio to electrical, body and paint to a master mechanic, all based in-house. It didn't hurt that Tony was pretty clear on just the look he was going for, "After seeing Ralph's personal '56 F-100 and the '58 Apache the shop had built, I had a clear direction I wanted to go. Some of my other influences came from my experience with the auto industry and my racing days. I wanted my dad to have the amenities and styling of a modern vehicle but also wanted the horsepower, handling and stopping power of a race car."
And that's just what Ralph and company delivered. To start, the guys landed on a turnkey Coyote crate engine to provide the horsepower, while a fully custom Total Cost Involved chassis complete with Ridetech components created the proper stance and premium handling abilities any true performance junkie would envy. When it comes to looks, the RMD crew put a modern twist anywhere they could fit one. From the perfectly massaged metal work to the incredibly smooth interior space, and all of the immaculate details in between, it's safe to say that Tony wasn't ever expecting to see the truck look this good. "I think dad will want to show off the truck and hit the show scene this year. But I think he'll be just as excited to have it on display at our Ford dealerships. I built it for my dad to drive and enjoy, so whatever he wants to do with it is fine with me, as long as he is having a good time." ST