10 Things You Should Know About Chevy's Newest Design
CHEVROLET INVITED STREET TRUCKS TO TEST THE NEW 2019 SILVERADO IN BEAUTIFUL JACKSON HOLE, WYOMING, BECAUSE JUST LIKE US, PEOPLE IN THOSE PARTS TAKE THEIR TRUCKS SERIOUSLY. We spent a solid summer day driving the Silverado both on and off-road while testing out each and every new feature Chevy now offers. We even did some towing and had the chance to check out every one of the eight available trim levels. To make the day complete, we also had access to the designers and engineers who created the new Silverado, and naturally we spent that time picking their brain about the trucks.
What we learned is that Chevy has drastically revamped the half-ton Silverado for 2019, adding a long list of new features and upgrades. Here are 10 things that are notably new or different:
1. THE NEW 2.7-LITER turbocharged four-cylinder engine is impressive. Available in mid-range LT and RST trims, the new engine delivers 310 horsepower and 348 foot-pounds of torque, beating the existing 4.3-liter V6 on all points. Drive it before you render judgment.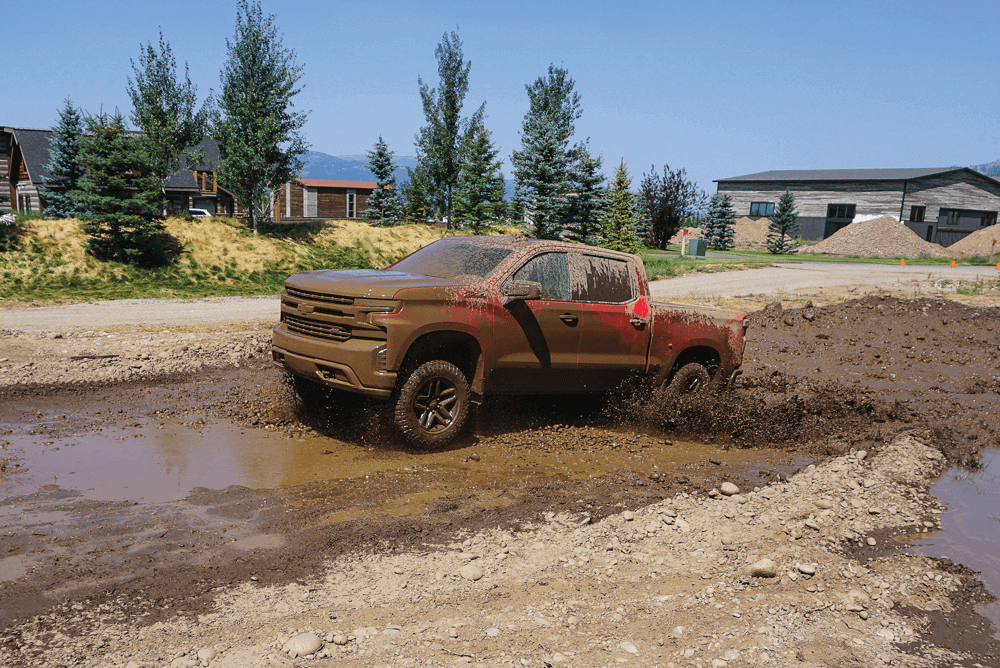 2. THE V8 OPTIONS are excellent. Both the 5.3-liter and the 6.2-liter options are substantially upgraded. Dynamic Fuel Management replaces Active Fuel Management on some trims, with 17 different modes of cylinder deactivation. You'll get 355hp/383tq from the 5.3-liter and 420hp/460tq from the 6.2-liter.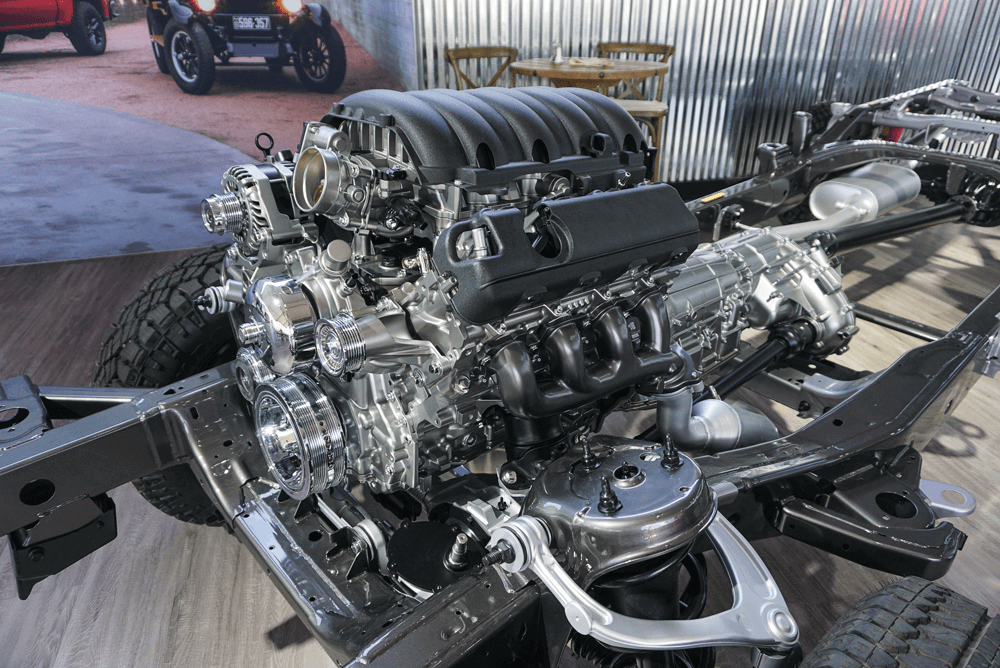 3. THE 2.7-LITER and upgraded 5.3-liter get an eight-speed automatic transmission. Base engines still get six automatic gears. The 6.2 and the still-tocome 3.0-liter turbo diesel will get the new 10-speed automatic. Traditional dual-range AWD/4WD is available in all trims. For light duty, a single-range AWD system is also available on all trims.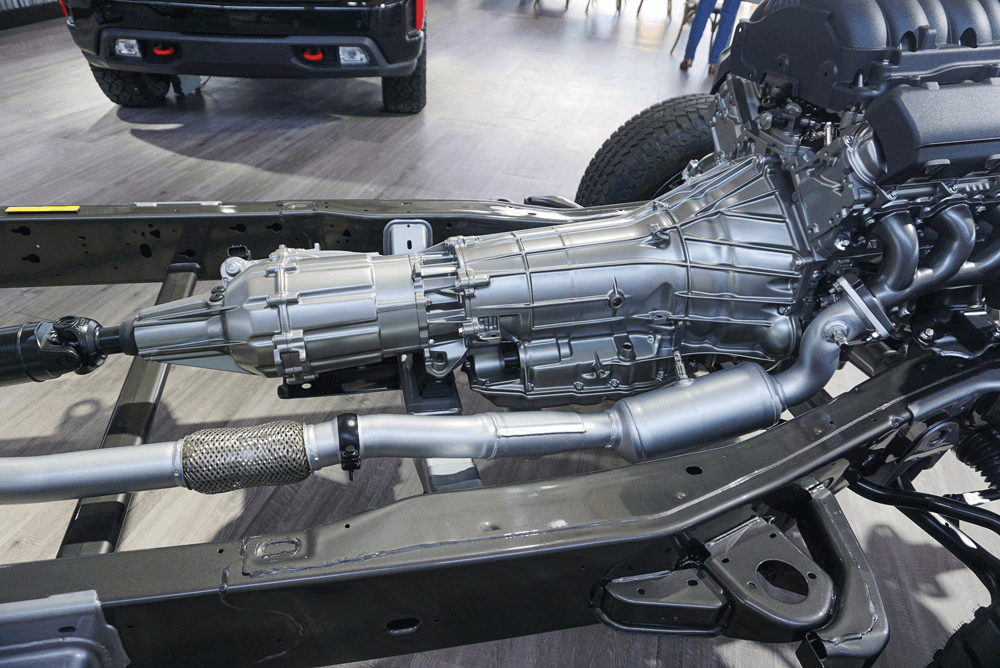 4. THE 2019 SILVERADO is larger than the outgoing model in every dimension. It's 1.2 inches wider, 1.5 inches taller, 1.7 inches longer and has 3.9 inches more wheelbase. This is a big truck, but it's also up to 450 pounds lighter due to upgrades to the chassis and bodywork. The bed is still high-strength steel, but doors and hood are aluminum. The new fully boxed high-strength steel frame drops 80 pounds while gaining rigidity.
5. THE OFF-ROAD Z71 package is available on all trims, adding Rancho shocks, hill descent control, two-speed transfer case, locking rear diff, skid plates, 18-inch wheels and more. Z71 is standard with the Trail Boss trim. For extra 4×4 goodness, order the 2-inch lift kit and you'll also get monotube Rancho shocks, upgraded front half-shafts, jounce bumpers and recalibrated power steering.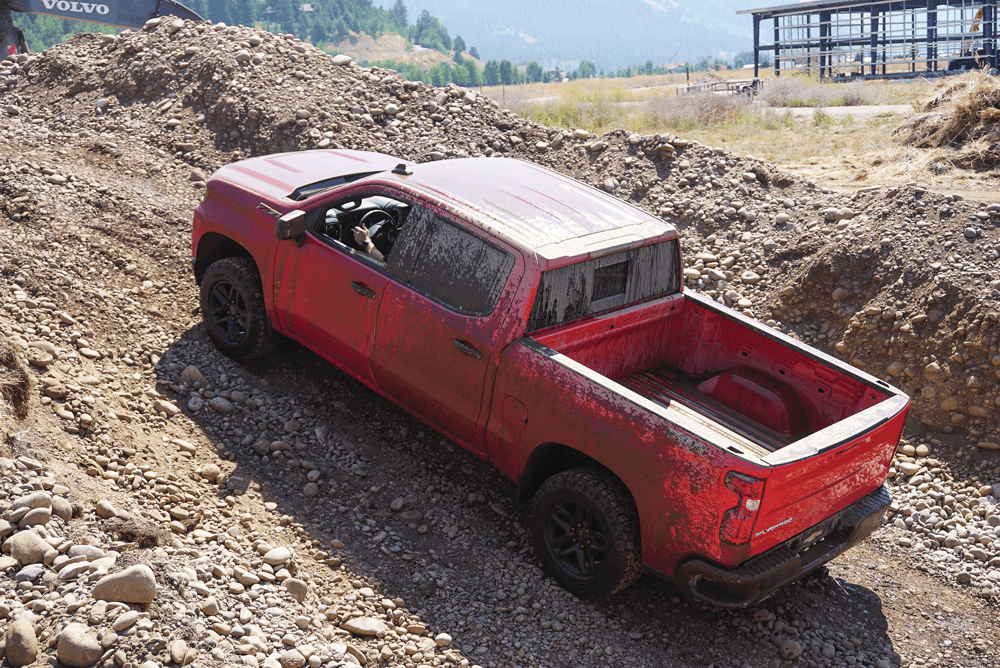 6. THE CAB IS BIGGER. Most of the extra length in the Silverado went into the cab, with 3 inches more legroom in the back seat of the crew cab. The back seats get a new 10-liter storage bin setup, plus a 24-liter storage bin under the back seat. You can get vinyl, cloth or leather seats depending on trim, and a wide variety of infotainment options, including Bose Audio and head-up display.
7. THIS TRUCK IS quiet inside. The new suspension and cabin mounting system reduces road noise, and Chevy puts all engines on hydraulic mounts. The result is that even with the aggressive off-road tires on the Trail Boss models, you can sort of vaguely hear some road noise off in the distance, but it's easy to ignore.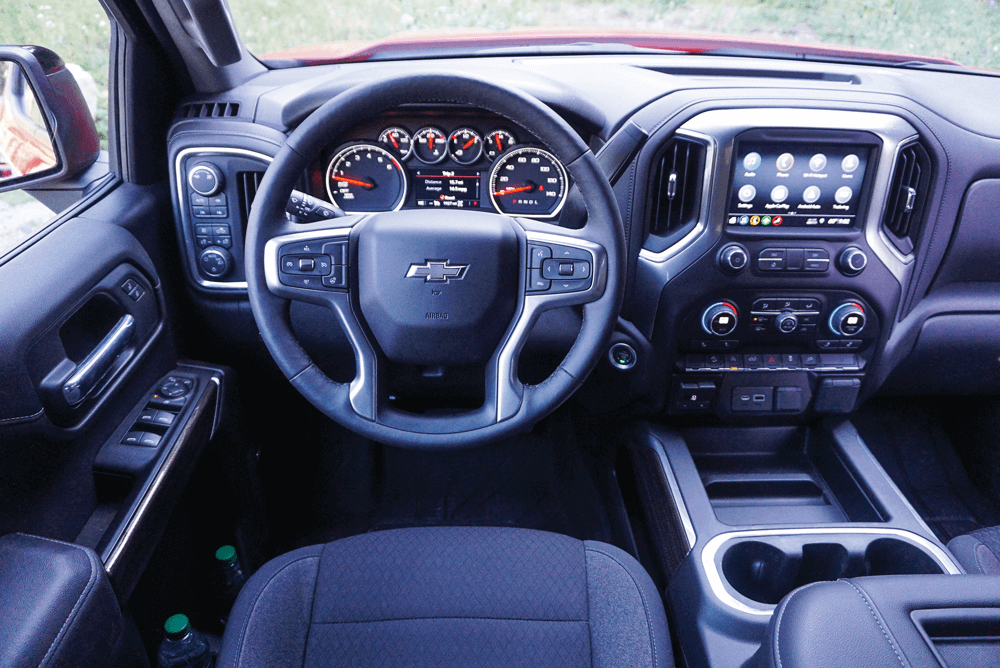 8. TOWING CAPACITY RANGES from 7,200 pounds with the 2.7-liter through 8,000 pounds with the V6, up to 11,600 pounds from the upgraded 5.3-liter to 12,200 pounds with the 6.2-liter engine. Payloads range from 2,100 pounds to 2,500 pounds. Two different camera systems are available to help with hitching up and driving, including one with a hard-wired camera that goes on the back of your trailer.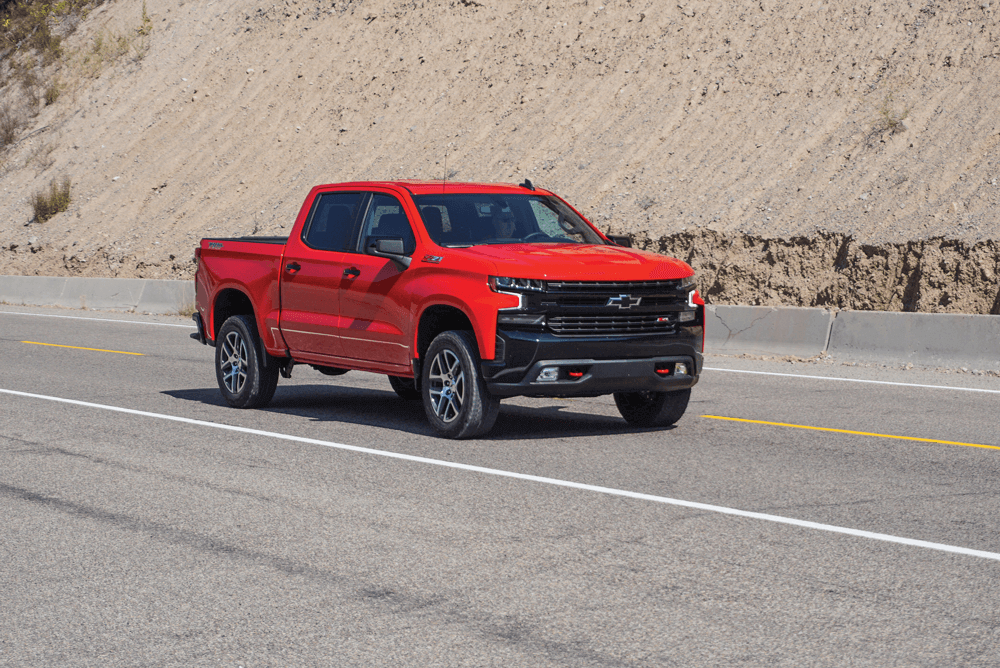 9. THERE ARE EIGHT different trim levels available starting with a basic standard cab work truck. The Custom trim dresses that up a little, and the new Custom Trail Boss trim adds off-road capability. LT, RST, and the new LT Trail Boss trims are Chevy's expected volume trims, with more goodies and up to 22-inch wheels. At the top end, you'll find the LTZ and High Country trims, with everything you might want. Expect to shell out about $54,095 for an LT Trail Boss, and up to $62,290 for a High Country with all the features.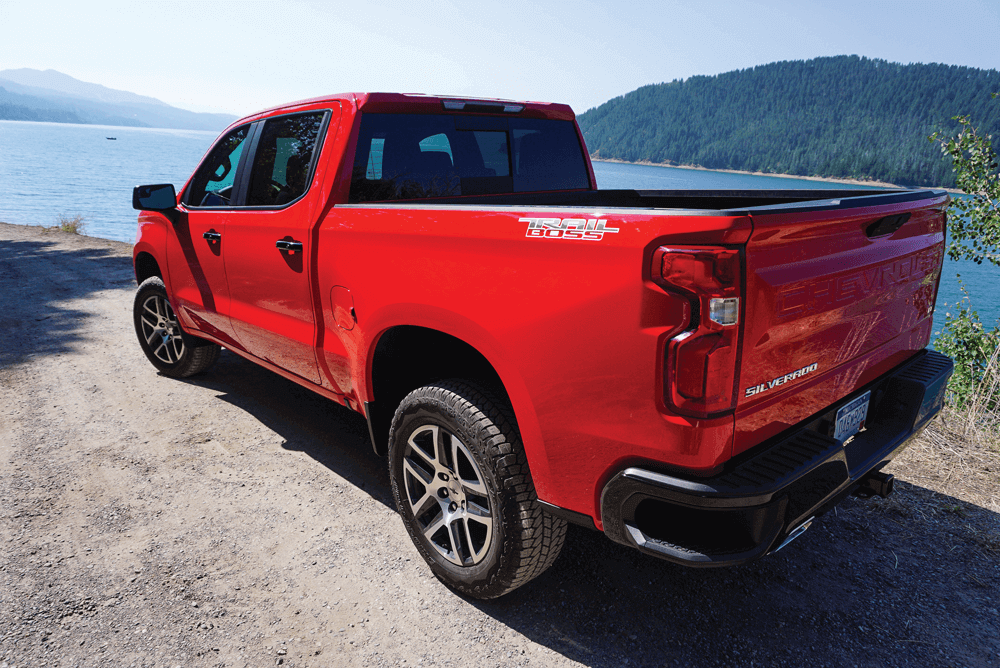 10. THE NEW SILVERADO drives better than any Chevy truck ever made before. Small changes like a new taller steering knuckle reduce bump feedback to the steering wheel, and the new suspensions are both smooth and certain. We road-tested both the LT Trail Boss and the High Country and found that the off-road suspension on the Trail Boss takes nothing away from the on-road experience. Four-wheel disc brakes are more than adequate to the task, and available Sport mode for steering and shifting is a nice plus.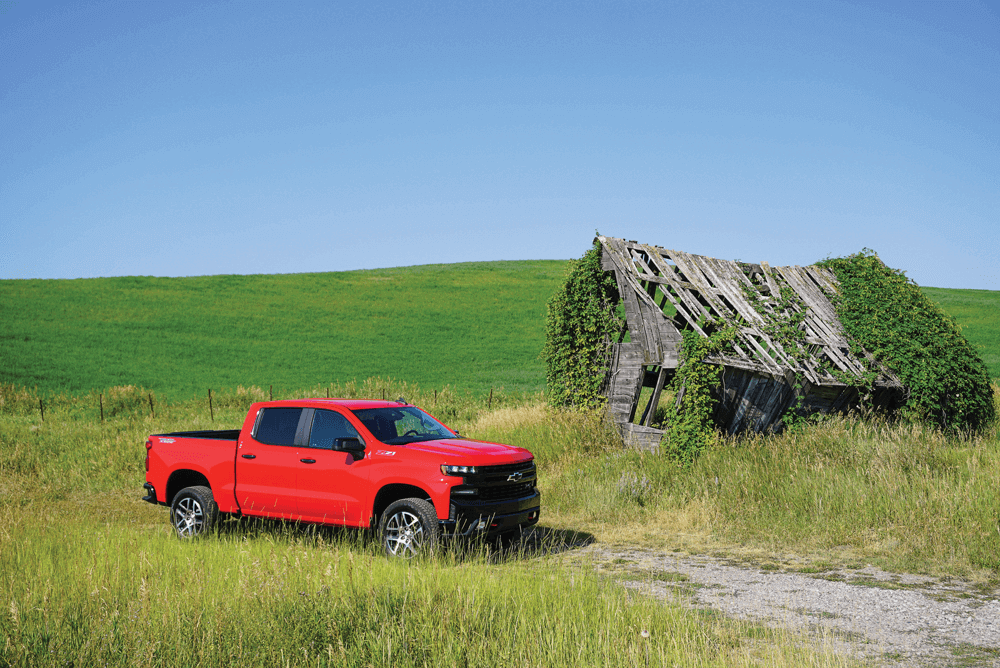 The 2019 Chevrolet Silverado is in dealers now, nicer trims first of course, and available with V8 engines. The rest will come along over the next few months, and the diesel will be available in early 2019. If you're shopping for a new truck this year, Chevy's got something to show you.