As a teen, Jeremy Pendergraft from Hollis, Oklahoma, used to flip through the pages of his favorite truck magazines, dreaming that he would someday build his own. "When I was growing up, I would see trucks that were perfect, and it felt unreachable," he recalled.
Fast-forward to present day. Times have changed, attitudes have changed, and Jeremy was sitting on a custom gold mine of family-owned trucks to work with. His wife ultimately provided the push he that needed to turn an old work truck into the low, mean badass he wanted without emptying his wallet in the process.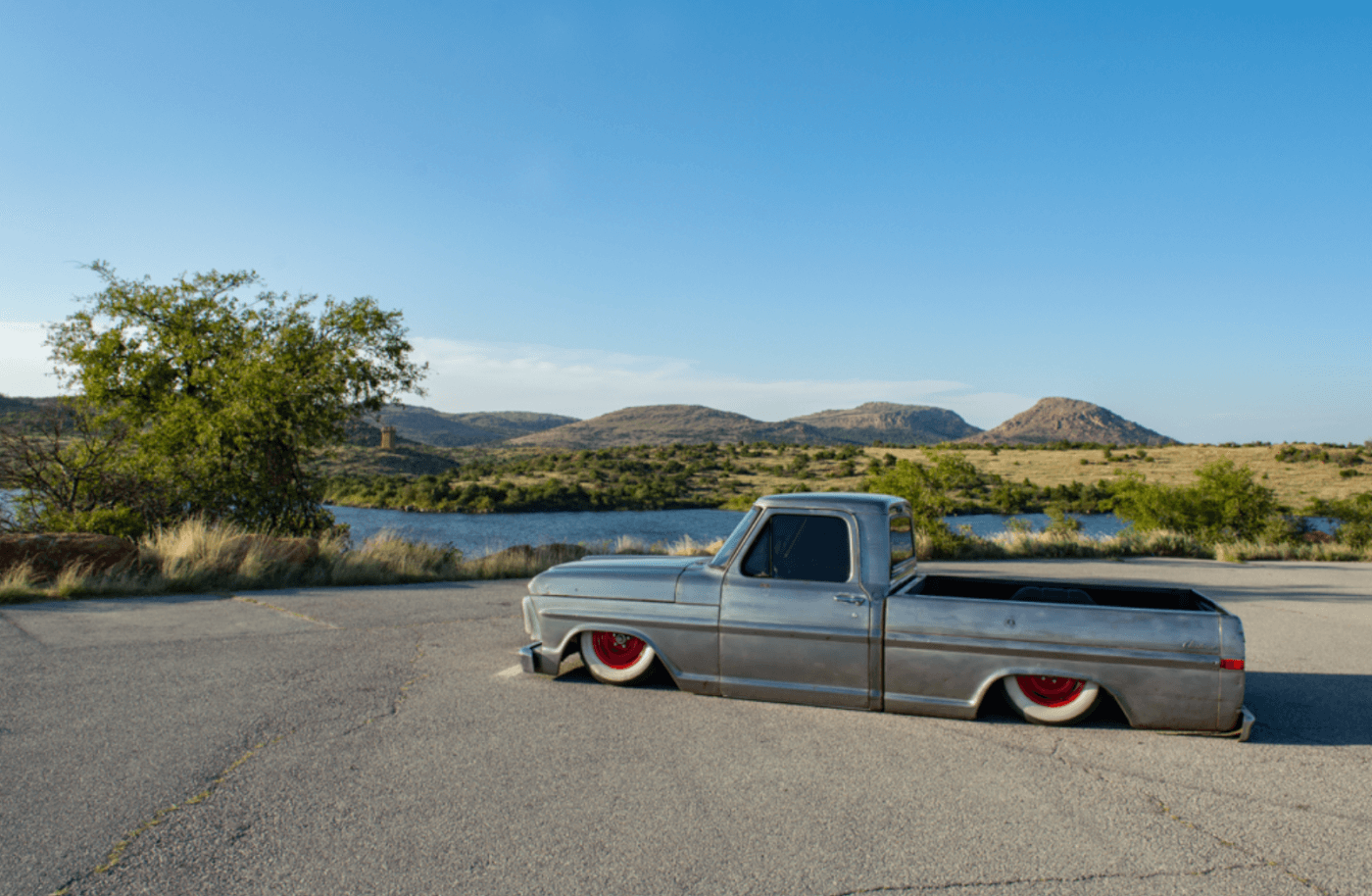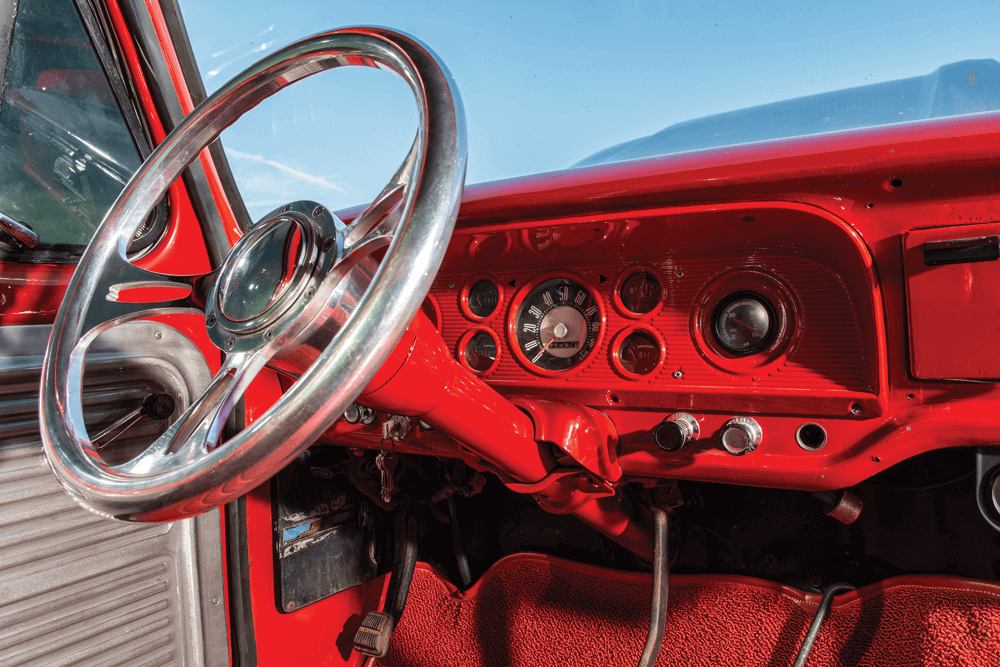 Jeremy is self-admittedly known as a Ford guy. He is the only Ford guy in his group, so it made sense that he wanted to build this 1971 Ford F100.
"I was always told you can't make a Ford lay out," he says. "I had to prove them wrong."
As luck would have it, there was an old ¾-ton sitting outside not being used.
"The truck had been in my family for a while," he says. "It was a ¾-ton with a camper. It was parted out and sitting in a field."
However, to make a complete truck, he was going to need a new bed. While he had access to several old trucks, he did not have a bed he could use, so he looked at outside sources. A local farmer had a step-side bed for sale, but Jeremy saw something better: a bed that had been converted into a trailer. The 1971 short bed had been converted to into a deer corn trailer and the farmer had been using it for years, but it was exactly what Jeremy wanted, so he offered to buy it on the spot.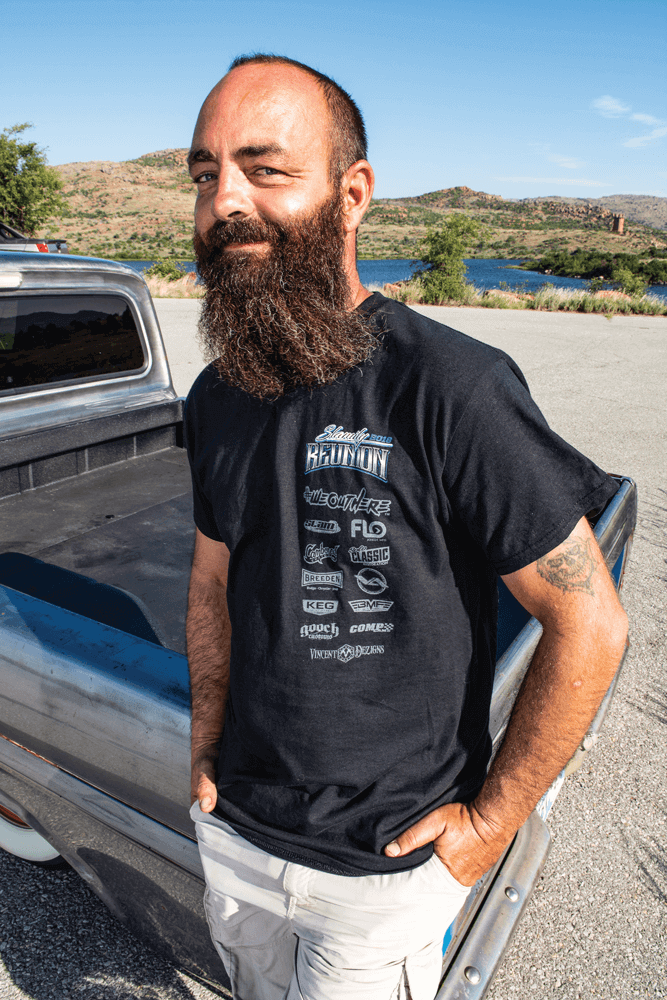 "That old man thought I was crazier than hell," Jeremy laughingly joked.
While the bed was a good find, it also needed a lot of time and attention. Jeremy's wife bought him a stud puller and he handled the task of straightening the body himself. The bed floor was completely rusted out, but Jeremy had planned to build a new, raised floor anyway. To complete that, he employed his wife and son, and together they raised the bed floor and fenders, using a set from an old 1966 Ford he had rolled in an accident as a teenager.
"I think that's one of the coolest things about the whole truck," Jeremy explains. "My entire family was there. Everybody had a say so in the process."
The bare metal skin of Jeremy's Ford is an instant eye catcher. Since the Ford was built using multiple trucks, the idea was to sand it down to metal, clear coat it to preserve it and then eventually paint it. To complete that, he also turned to his family for help.
"We took it down to the bare metal because we were going to try to paint it," Jeremy says. "The truck started getting so much attention as bare metal, we loved it and decided to keep it."
What can easily be overlooked due to the simplicity of Jeremy's Ford is the solid frame work that lies hidden beneath the shiny body.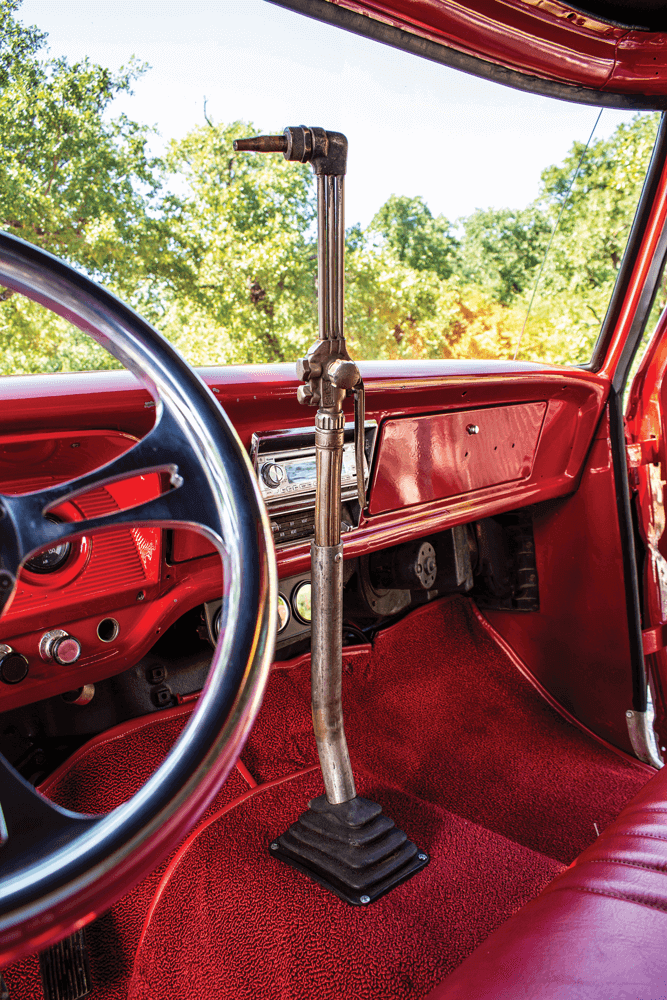 "The truck is not body dropped; the frame is custom," he says. "I wanted it low. I wanted it stupid low and I feel like I achieved it."
The Ford's 2×4 rectangular frame features the entire front suspension from a donor 1985 Lincoln Town Car, which was refreshed and a custom 2-link in the rear fabricated by the owner. Jeremy painted the frame metallic silver and installed Airmaxx airbags and toggle switches lift his truck from "stupid low" to ride quite effectively.
For power, Jeremy originally planned to use a Ford 390. As it turns out, the 390 was too tall and would have stuck out of the hood by nearly 8 inches. Jeremy wanted a flat, stock hood so he turned to the Ford 302 and transmission from the same donor 1985 Lincoln Town Car. The Ford 302 has been rebuilt and features an Edelbrock Performer intake manifold, carburetor and headers that Jeremy picked up from a swap meet. The exhaust flows through Flowmaster mufflers.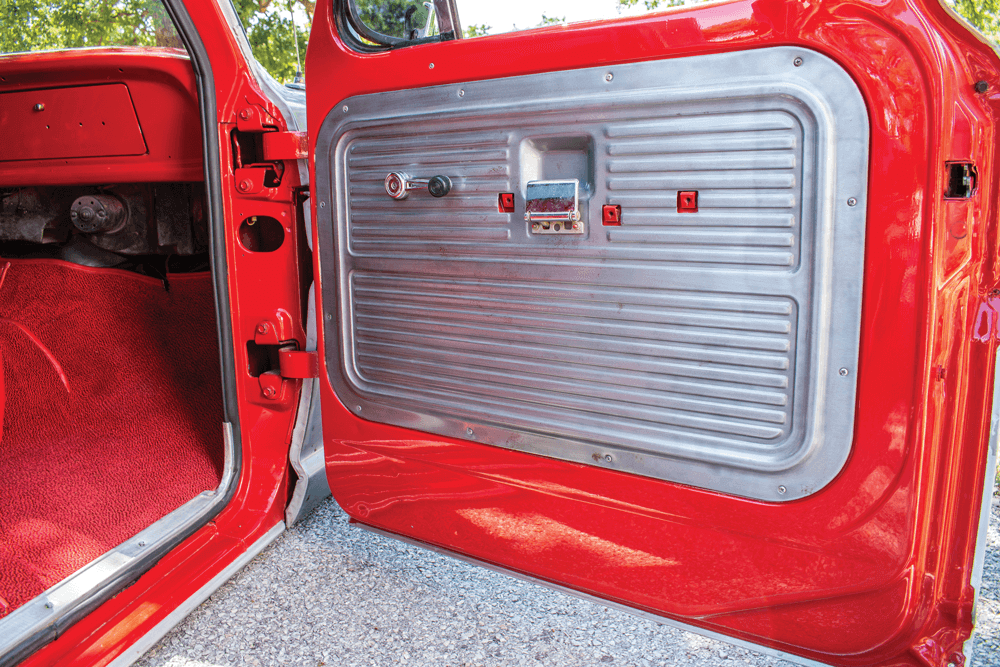 After being unable to find a set of wheels that he liked, Jeremy turned back to the donor 1985 Lincoln Town Car. He simply painted the wheels from the Town Car red and has used them since.
"I've tried changing them since, and it doesn't look right," he says. "I even tried some Torque Thrust wheels on it and didn't like it."
The original truck had a padded dash and a lot of wood grain, and quite frankly, Jeremy hated it. The interior now consists of the instrument panel and doors from a 2 ½ ton wheat truck and a bench seat that was gifted to him from a 1994 Chevy truck. M&R Upholstery in Altus, Oklahoma, recovered the seat in red vinyl. The custom shifter is actually an old antique torch that he picked up from his dad's collection and is easily the attention piece of the Ford's interior.
Since completion, Jeremy's Ford has been gaining a lot of attention from others and at shows, much to the surprise of the owner.
"I had no intentions of it ever being a show truck," he says. "It was definitely built with junkyard parts for sure."
With a total cost of around $3,000, Jeremy's Ford is the definition of budget build.
Jeremy wanted to say thanks to those who helped him along the way, including his wife Kaesi and son Jaydon.
"Everybody kind of dreams of building things with your dad," he says. "I was able to do that with my son, so that was pretty cool."
He would also like to thank his dad, Brian Gollihare from Midway Motors, and Mark Whiteskunk and Kyle Davis' help with the airbag system.