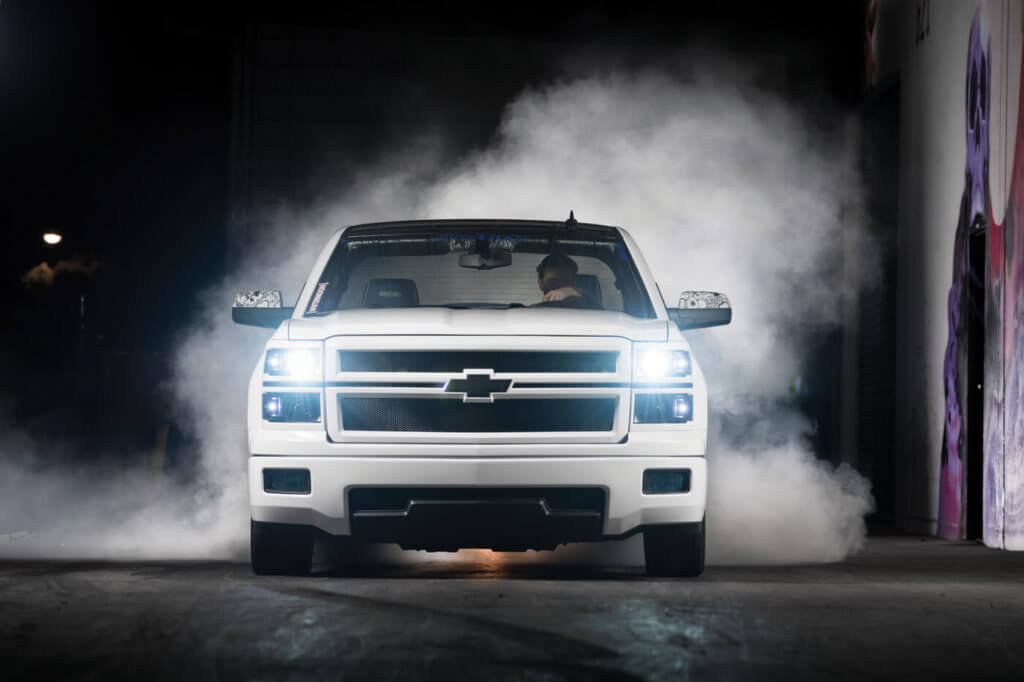 Inspiration can come from anywhere, so it's in your best interest to stay open to new things. Many of the trucks that generate the most attention are those that catch us off guard by implementing styling cues from unexpected sources. If you don't think outside of the box, you'll never be innovative or create something interesting. Enthusiasts who create a custom with unique style combined with good form become legends.
That's the standpoint Chad Carothers (aka Chad Cantcolor) started from when he was looking for his next big project. The last truck Chad built that we featured in Street Trucks was a '14 Silverado 4×4 lifted 10 inches over 35-inch tires. The truck looked mild, but hundreds of hours of custom hand-painted artwork had been invested in perfecting it. Chad is a full-time artist and the creative mind behind the lifestyle design brand Index Ink, so he was fully vested in creating a truck to showcase his personal style. Like many creative folks, Chad doesn't allow himself to get complacent; he's constantly driven to push the limits of his talents.
Chad later sold the lifted truck and formulated a plan for his next creative exercise. This time around, he wanted to build a performance street truck that was able to spin the tires on command. Inspiration arrived from a variety of quarters: Euro cars, DTM touring and even the import drift car scene. These aren't the types of vehicles most people would consider when styling a '15 Chevy Silverado, but Chad made it work. Though the truck looks simple on the outside, it has more details than meet the eye.
"His unorthodox Euro-car inspiration helped him test his boundaries and create something that redefines the street-truck movement."
Putting his plan into action, Chad purchased the truck new intending to cut into it for the sake of living the low life. Most hardcore truck enthusiasts heavily modify a truck to set it on the ground via trick suspension with airbags, but Chad went a different route. Since performance was his objective, he slammed the truck with a set of tunable coil-overs. Up front, a set of Street Edge spindles, DJM upper control arms and Viking coil-overs take the place of the factory springs.
In the rear, the suspension was completely gutted and the posi-equipped rearend was sent to J and S Gear to be narrowed 4.5 inches. Once it was back together, the All Star Customs 3-link was configured and Nate and Zeb Howard of N8Z Fab welded it in place. The frame was cut and a Street Edge bolt-in notch gave the rearend room to travel up as the truck's height was reduced. Then, a piece of steel round bar was welded between the frame rails so that a set of Viking coil-overs could be mounted to the rearend. A set of Stoptech six-piston disc brakes with 15-inch rotors on all four corners tops off the suspension.
With the truck dropped down a total of 7 inches in the front and 10 inches in the rear, performance was upgraded to back up the aggressive new look. The Silverado already came with an Ecotec3 5.3L V-8 engine and six-speed automatic transmission, but one can never have too much horsepower. Chad installed a Magnuson supercharger and built his own intake using parts from Spectre Performance to assist at the top end. The spent gases exit through a set of Gibson stainless steel headers and a custom Gibson exhaust exits under the passenger side of the bed before the rear wheels.
Once the Silverado was performance-ready, it was time to focus on the visuals in order to make it a real showpiece. On the inside, the seats were covered with black and blue leather seat covers with perforated inserts from Roadwire Leather Interiors. The rear centerpiece of the interior is the headliner. Chad pulled it out and used it as a blank canvas for to lay down 100-plus hours of freehand custom artwork. Building off of this theme, the dash and door panel inserts were dyed blue, and a custom gauge cluster cover was fabbed from carbon fiber to give it a racing touch. Then, various plastic covers were painted white and covered with custom artwork.
On the outside, Chad wanted the truck to have a clean Euro look with a few details that could only be seen with a closer look. Starting off, all chrome and non-white pieces were pulled, stripped and color-matched to the rest of the truck. Sticking to the idea of the Euro/import build, he wrapped the body in satin vinyl from Avery. On the front, he continued the look with carbon-fiber inserts on the headlights and Morimoto HID projectors. To really power home the sport-truck theme, Chad laid real carbon fiber on the roof and dressed it up with some of his artwork before giving it a final coat of clear. In the bed, Chad, with help from N8Z Fab, cut out the wheel wheels and replaced them with versions from a 1973-87 C-10 to make room for wide wheels. Spray-on bed liner painted white was coated over the inner bed, and then Chad spent countless hours painting clean lines over the bumpy surface. Finishing off the bed, Chad made a carbon-fiber floor with brushed aluminum strips.
The last thing on the list was attaching a set of large rollers to fit the proportions of the wheel wells. Originally, the suspension was configured for a set of 24-inch six-spoke billet wheels. Though the 24s looked good, they didn't have the Euro look Chad was after. What he had in mind was a set of mesh concave wheels in 26×9 and 26×12. Since there were no other mesh two-piece billet wheels on the market, Chad partnered with American Racing, a company with a rich heritage in American motorsports. The company agreed to make the VF 502 style in the size Chad wanted. A few weeks later, he was in possession of his custom set of wheels with polished centers and brushed lips. Of course, he couldn't leave well enough alone and spent a full week creating freehand art on the hoops and taping them so that New Year Metal Finishing could powder coat the hoops clear and the centers candy blue. Then they were wrapped in Delinte low-profile tires to make the truck mobile again.
Like most builds, the wheels can make or break the overall look. Lucky for Chad, he had a vision and executed it to perfection. His idea was to build his version of the prime modern street truck. During the process, Chad was able to create a unique showcase for his art. His unorthodox Euro-car inspiration helped him test his boundaries and create something that redefines the street-truck movement. Even though it might seem like this build was a massive undertaking involving hours and hours of hand-painted artwork, custom fabrication and a lot of help from dedicated truck people, Chad insists that the truck's name is appropriate because he really did do it all Just for Kicks.
TRUCK SPECS
OWNER
Chad Carothers (aka Chad Cantcolor)
Index Ink Design
2015 Chevrolet Silverado
Orange County, CA
ENGINE
Ecotec3 5.3L V-8
Magnuson supercharger
Custom Spectre cold-air intake
Gibson stainless steel headers
Custom Gibson exhaust the exits out under the bed before the rear wheels
Six-speed automatic transmission
Factory-installed posi
Rearend narrowed a total of 4.5 inches by J and S Gear in Huntington Beach, CA
Freehand painted radiator cover
SUSPENSION
Performed by owner, Kevin Aguilar, Nate and Zeb Howard of N8Z Fab
Street Edge drop spindles
DJM control arms
Front Viking Warrior C210 threaded shock bodies with 12-inch 600-pound springs mounted via Pro
omp adapters
All Star Customs rear 3-link
Rear Viking Warrior C205 threaded shock bodies with 9-inch 200-pound springs
Street Edge step notch
Stoptech 15-inch disc brakes with six-piston calipers on all four corners
WHEELS & TIRES
26×9 and 26×12 American Racing VF 502 concave billet wheels with bushed hoops and artwork
Wheels powder-coated clear and candy blue by New Year Metal Finishing in Santa Ana, CA
255/30R26 and 305/30R26 Delinte tires
BODY & PAINT
Performed by owner
All chrome and non-white parts were pulled, stripped, color-matched and wrapped in Avery Satin White vinyl
Front bumper valance trimmed
Grillcraft mesh grille inserts
Real carbon fiber laid on the roof with custom artwork
Headlights cleared and modified with carbon fiber inserts and Morimoto HID projectors
Mirror caps painted in custom artwork
1973-87 C-10 rear inner fenders
Spray-on bedliner painted white
Hundreds of hours of custom artwork on inner bed
Radiator shroud covered in custom artwork
Carbon-fiber bed floor with brushed aluminum strips
INTERIOR & STEREO
Seats reupholstered in blue-and-black leather and perforated leather seat covers from Roadwire Leather
Dash and door panel inserts dyed blue to match seats
Custom carbon-fiber gauge cluster cover
Headliner hand painted with hundreds of hours of freehand artwork
Trim and plastics color-matched with custom artwork
US Speedo brushed finished gauge faces with blue LEDs
Chevrolet MyLink Audio 8-inch head unit with camera and Soundstream processor
Soundstream component speakers and amplifiers
Soundstream 10-inch subwoofer with enclosure
FatMat sound deadening material
Special Thanks From the Owner: "Everyone who helped me build and wrench through sleepless nights: John Linen, Nate and Zeb Howard of N8Z Fab, Kevin Aguilar, Chris Anderson, Chris Plump, Rene at New Year Metal Finishing for staying up late so we could make my wheels a reality, SA Trucks and Affiliated Truckin for showing me love and how big the West Coast truck scene really is, Index Ink Design because I wouldn't be here without you, and everyone else, you know who you are."
Editor's Note: A version of this article first appeared in the November 2016 print issue of Street Trucks Magazine.