Julio was Supposed to Leave This one Alone!
Plenty of us use our trucks for work, but it's always nice to have an extra truck that we're not afraid to abuse. Everything from gravel to hauling an engine and trans home from the swap meet has the potential to add a lot of unwanted wear and tear to our rides, so we generally like to use our beaters whenever possible.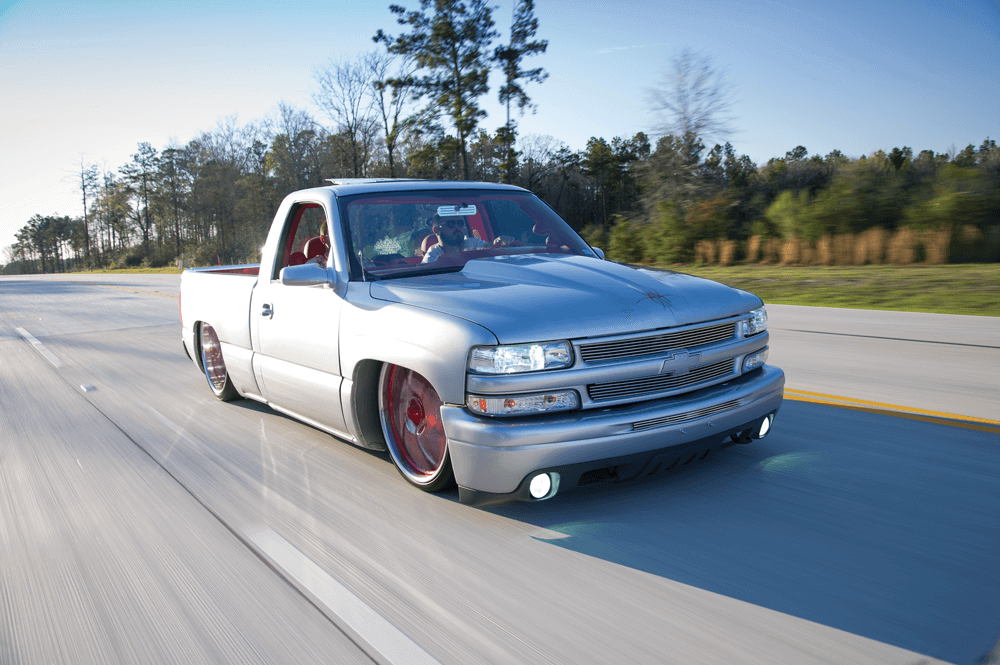 Julio Trevino was totally onboard with this methodology, and picked up a well-used '00 Chevy Silverado to do his dirty work. It even had the 4.3L V-6 so that he'd have a better chance of fighting off any temptation to mod it. But, as often happens in our circles, the supposed work truck ends up hauling home more trophies than 2x4s.
We get that work trucks don't have to be boring, so we didn't raise our eyebrows too high when Julio told us that he was only going to give it a mild drop. After all, it makes loading stuff into the bed easier, right? "Since I can't keep any of my vehicles stock, I added a 3/4 drop kit and drove it like that for a while," Julio explained. Seems harmless enough. Well, we're all too familiar with this slippery slope because Julio continued, "… then I did a little system in it, a couple of 10s with a nice head unit …" Uh oh, here we go.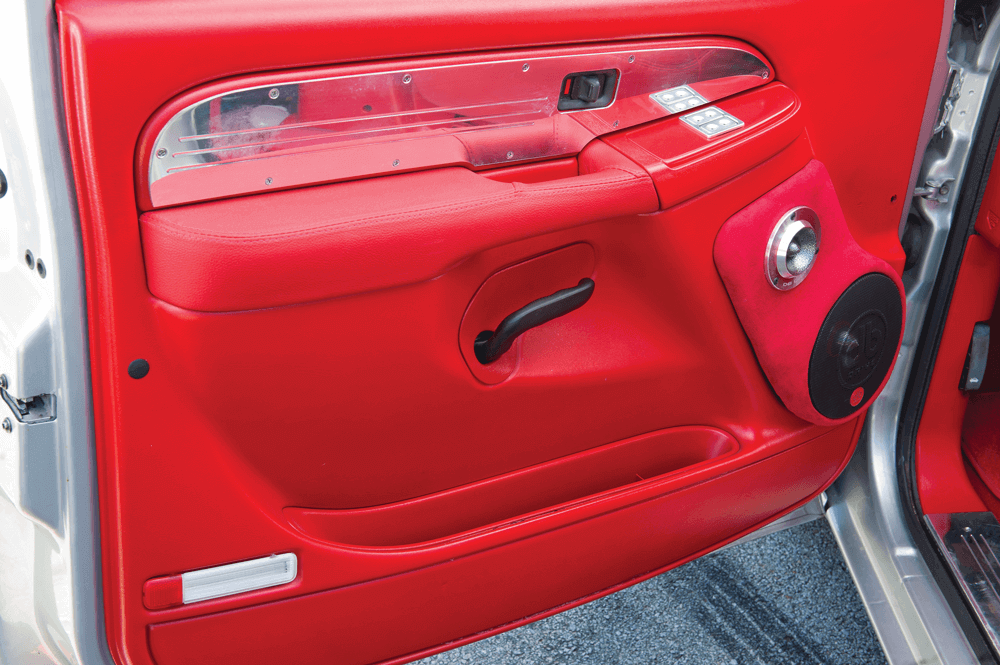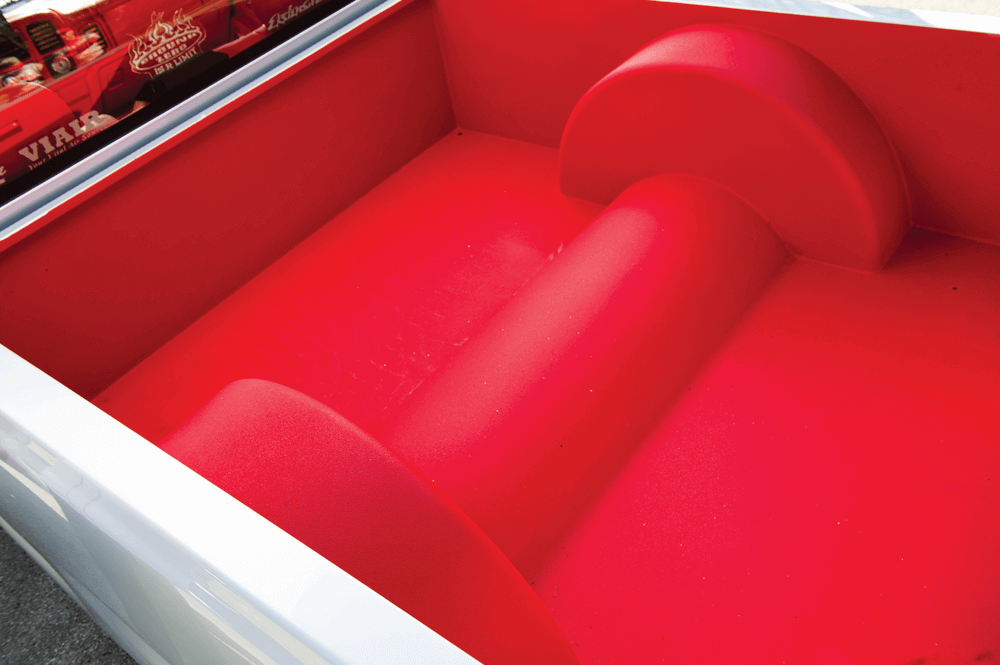 Julio was able to keep the temptation to further mod the truck at bay for a little while, but it seemed like every time he'd drive the truck, something would happen to test his resolve. "Since the truck kind of had a hot-rod look with the drop, everyone wanted to race me. I wasn't going anywhere fast with the six-cylinder, so I did a 6.0-liter swap, but that led to a cam, ported and polished heads, a built tranny and rearend with gears and posi, and a custom tune." I think we've heard this song before.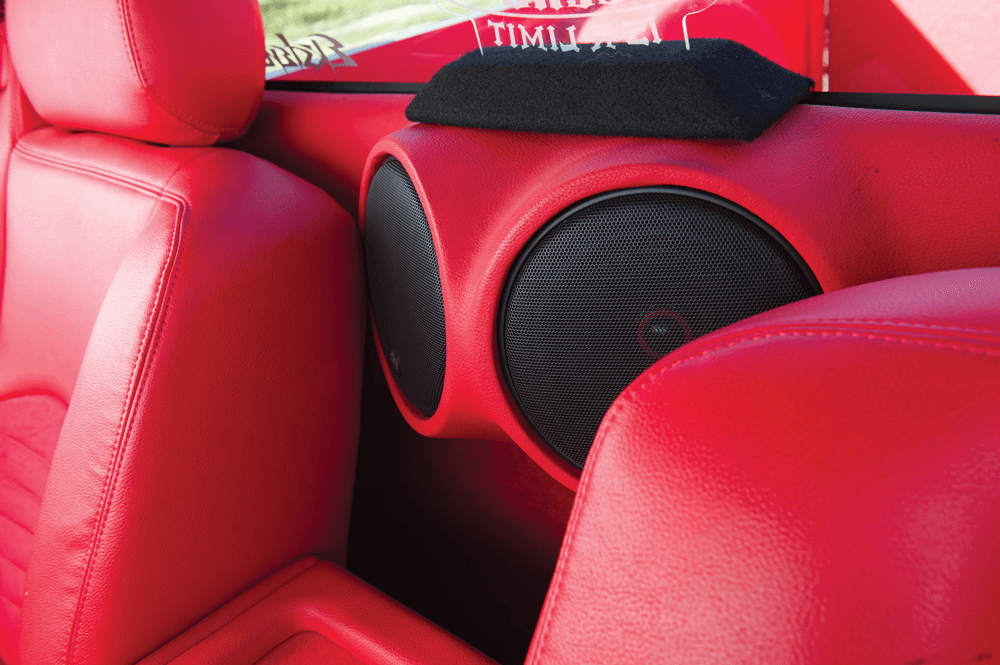 The problem was, after Julio did all that, it seemed like no one was interested in racing him anymore, which was probably a smart move on everyone's part. Still, what fun is a race truck when no one wants to race? So, Julio decided to throw some more street style into the mix in the form of 24- and 26-inch staggered Raceline Explosion 6 wheels. But that made the truck look too high with the low-profile tires, so he had Shorty's Customs introduce the frame to the ground using an Ekstensive 'bag kit. We're happy to report that the two have been nearly inseparable ever since.
Julio was happy having a truck that was really fast and really low, but the stock paint didn't seem as shiny as it once did, and the snowball effect once again took over. "I was like, I need a paint job, so then the truck looked really good—too good to have a stock interior." Before long, Julio had a full show truck on his hands, with Ford Platinum paint and a wild custom interior, which was done up in red from top to bottom.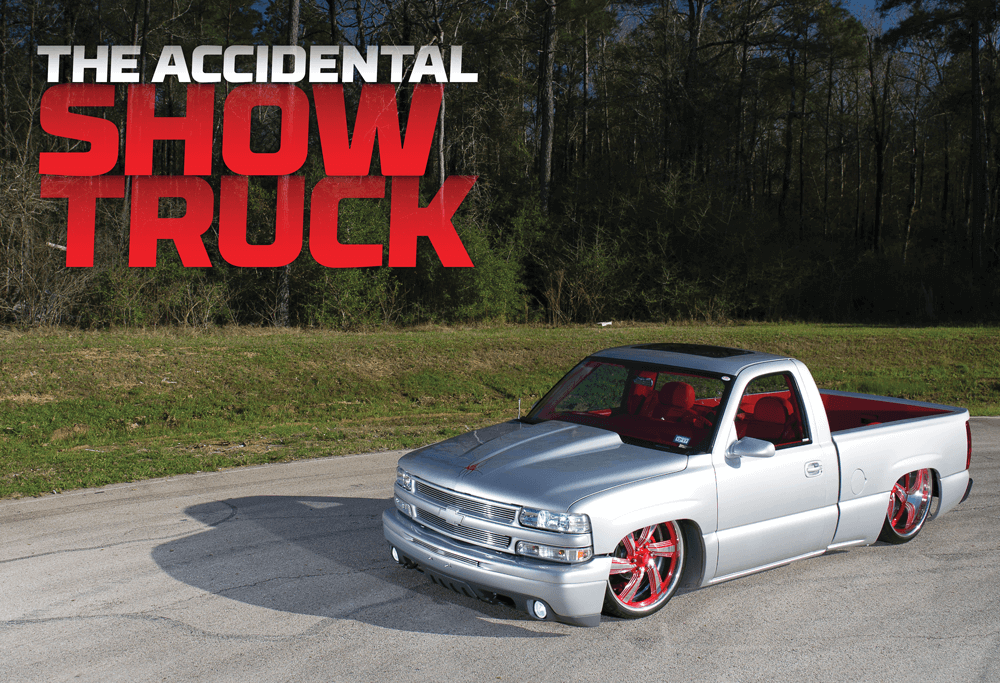 Without even really trying, Julio ended up with a show-winning truck that's the envy of everyone who sees it."
Without even really trying, Julio ended up with a show-winning truck that's the envy of everyone who sees it. As you might have guessed, he still needs a work truck, so he's been in the market for something new. Good luck with that, Julio. We're guessing we'll be shooting that one before long, too.
OWNER
Julio Trevino  
2000 Chevy Silverado
Pasadena, TX
Ground Zero
ENGINE
Work performed by Cantu & Sons Performance, tuned by STS Performance
2007 6.0L LS swap
COMP Cams camshaft
7.4-inch COMP Cams pushrods
2.02 COMP Cams valves
COMP Cams dual valve springs
COMP Cams lifters
Ported and polished heads
Holley valve covers
Melling high-volume oil pump
PaceSetter headers
Custom air intake by Shorty's Customs
Corsa Sport 3-inch exhaust
2007 4L60E trans swap
Transgo shift kit
3,400-rpm stall converter
Red Eagle clutch pack
CHASSIS & SUSPENSION
Work performed by Shorty's Customs and Pyle Bros.
Rearend narrowed 4 inches per side with Moser axles
Ekstensive Metal Works air ride kit with 2-link and tubular control arms
EMW step notch
Belltech lowering spindles
SSBC slotted and drilled rotors
20-gallon fuel cell in stock location
WHEELS & TIRES
24×9 and 26×12 Raceline Explosion 6 billet aluminum wheels
275/30ZR24 and 305/30ZR26 Pirelli tires
BODY & PAINT
Work performed by Gerardo at Shorty's Customs
Goodmark cowl induction hood
Shaved bed holes and tailgate
Sheet metal bed floor with red bedliner
Tubbed firewall
DuPont 2015 Ford Platinum Silver paint
Color-matched grille and handles
Pinstriping by Pablo's Paint Stripes
Crystal clear headlights and running lights
Recon LED taillights
INTERIOR & STEREO
Work performed by Daniel Upholstery and Shorty's Customs
Chevy Avalanche seats covered with red ultra-leather and suede
Red suede headliner
Red suede and ultra-leather door panels
Red carpet and seat belts
Billet gauge insert with red LED backlighting
Billet dash knobs
Painted dashboard
Raceline Explosion billet steering wheel
Pioneer DVD head unit
DB Drive equalizer
DB Drive P7 component speakers
DB Drive subwoofers
DB Drive 400Wx4 amplifiers
Custom console by Gerardo at Shorty's Customs
Special Thanks From the Owner: "Ground Zero, Shorty's Customs and my family and friends who helped along the way."