The Benefits of Working Late
Besides the sore hands, backaches and throbbing knees there are upsides to staying true to the almighty hustle. There is a certain satisfaction that only comes from completing a job well done, even if it does require working way past the hour when most others have called it quits for the day. For the average guy, these long days may pop up every now and then, but for some, they are a way of life. Punching the clock for the gain of some greedy corporate machine isn't exactly everyone's drink of choice, though, which can make constant overtime toiling for one's own business a little easier to endure.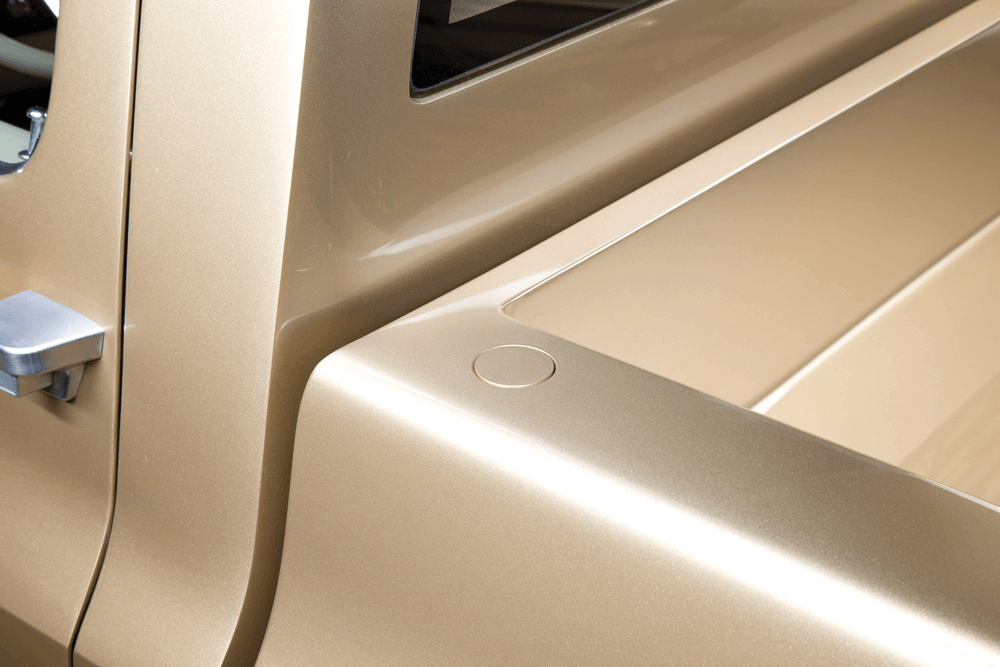 Bradley McFarlin knows the excruciating hardships of pulling double shifts on a regular basis, but they don't faze him all too much (well, not anymore). At only 25 years old, Bradley puts in his share of work and then some for his family's business, Select Glass. Even though they don't see too much wild weather in Peoria, Arizona, it's always busy season since they not only focus on auto applications, but also commercial and residential clientele as well. "I have worked overtime every week for several years, without extra pay," Bradley admits. "I don't mean that to sound like I am complaining because I am not at all. I want to show my dad [Brad Sr.] that I am onboard 100% with the company and will gladly go out of my way to help us grow." For a small business owner, nothing is more valuable than family participation and dependability, and the efforts that Bradley was making certainly did not go unnoticed by upper management.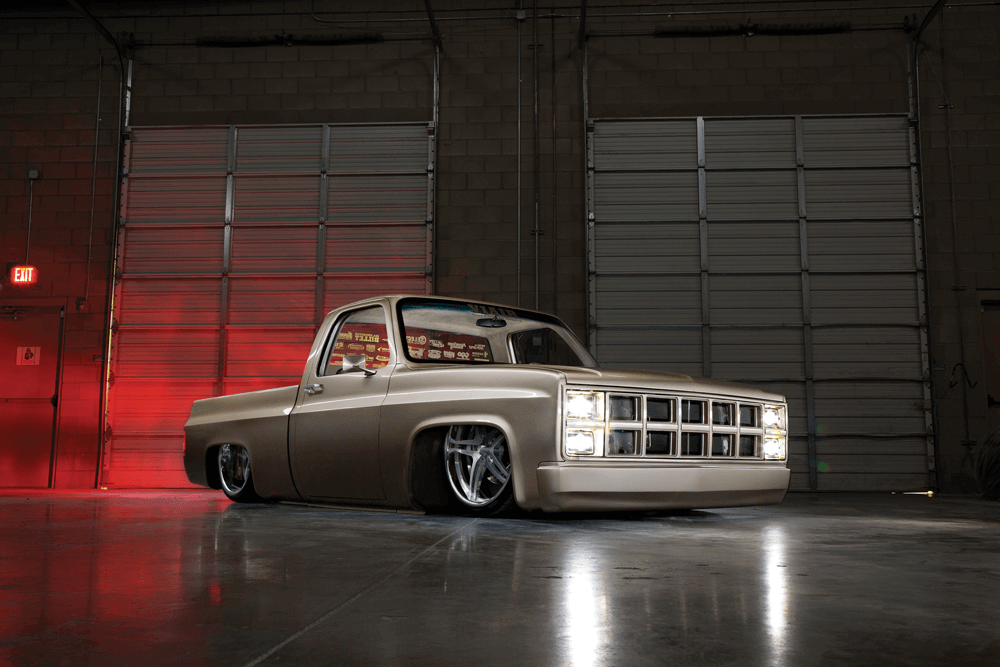 "I was not expecting my dad to repay me at all, but I couldn't have asked for a better gift." You're probably wondering just what Brad Sr. hooked his hardworking son up with. Well, you're looking at it. "I've always loved C-10 trucks, and all classic trucks, for that matter. When my dad presented the idea of building a truck as a form of appreciation for my work, we talked about just what we could work on, but I knew instantly that a square-body would be the ultimate for me," Bradley says with pride.
I'VE ALWAYS LOVED C-10 TRUCKS, AND ALL CLASSIC TRUCKS, FOR THAT MATTER. WHEN MY DAD PRESENTED THE IDEA OF BUILDING A TRUCK AS A FORM OF APPRECIATION FOR MY WORK, WE TALKED ABOUT JUST WHAT WE COULD WORK ON, BUT I KNEW INSTANTLY THAT A SQUAREBODY WOULD BE THE ULTIMATE FOR ME." — BRADLEY MCFARLIN
Now before any chatter from the peanut gallery starts up, let's get things straight: This kid has busted his ass so that his pops would take notice of his diehard work ethic. At the age when most guys are ditching community college classes and goofing around all day, Bradley puts in hours that would make a lot of grown men cry. "A lot of people might think this is kind of cheating or just being spoiled, but my dad thought that it would be cool for us to build a truck together, and the experience itself was really the best part of this gift."
Fortunately for Bradley, this build wasn't his dad's first rodeo. In the past, he had put together some pretty righteous custom vehicles of his own. Unfortunately for Bradley, he was too young to get a chance to really appreciate them, let alone drive any. "My dad would always sell his cars when he was done with them. I wish he had kept a couple of them," Bradley says. "He's been into trucks though for a long time. He is pretty big into off-road Baja-style racing. Actually, most of his experience is in off-road type vehicles, and he didn't exactly know how to build the square-body the way I envisioned it when we first started." Luckily for the guys, Jeremy Rice of Tre 5 Customs happened to be in Brad Sr.'s contact list. It's funny how things work out. Jeremy had done some work for Brad Sr. on a '65 Cadillac for a fellow Select Glass employee that made it all the way to the bright lights of the 2016 SEMA Show. This really does sounds like a great company to work for, right? The benefits are amazing!
With Jeremy now in the loop, the guys were a bit more optimistic about the whole thing. Modifications sometimes snowball quickly, and the escalation of an entire phase of the project can skyrocket into galaxies beyond at the speed of light. It might go without saying, but the bill for circumstances such as these can grow large, but the resulting project vehicle usually benefits significantly with the additional resources (they should, anyway).
As devout custom truck fans, you must have come across Jeremy Rice's name, or at least the name of his Tre 5 Customs outfit. And if you are familiar with one or both names, then you know nothing with their signatures is boring. The Brads recognized this fact while they watched the magic unfold before their eyes. Right from the start, the truck was slated for a full one-off Tre 5 chassis complete with the best arsenal in the game to get it on the ground. A Porterbuilt Dropmember and lower arms (along with one-off uppers by All American Billet as designed by Jeremy) play a huge role in setting the front end down, while Tre 5's own 3-link system, complete with billet lower trailing arms and fabricated upper wishbone, not only dump the rear down, but also keep the truck happy while driving highway speeds. Of course, to help successfully orchestrate the functionality of the premium suspension setup, a boatload of equally top-end accessories such as VIAIR's latest Gen 2 480C compressors, Slam Specialties 'bags, Fox shocks, Currie rearend and so much more were also included on the parts list.
OBVIOUSLY, THERE IS FAR MORE TO THIS TRUCK THAN JUST THE BULLETPROOF DESIGN OF ITS CHASSIS, ESPECIALLY IN THE GO-FAST DEPARTMENT."
Obviously, there is far more to this truck than just the bulletproof design of its chassis, especially in the go-fast department. We haven't been given a personal confession from either of the Brads on just how fast the truck has been pushed on the streets, there's no question the heavily accessorized LS7 is capable of racking up its weight in speeding tickets. The average onlooker may not suspect that a truck that sits so low and looks so clean is capable of breaking traffic laws with such ease, but maybe that was part of its design. Any vehicle sitting on super slick 22-inch American Racing wheels, countless hours of bodywork and attention paid to even the most minuscule details probably shouldn't be propelled at suicidal speeds, but who are we to pass judgment? The details mentioned, however, come in the form of a flush-fitting windshield and back glass, a one-off sheet metal front bumper, a smooth roll pan/tailgate combo from Grant Kustoms, a modified factory front grille, relocated pop-up gas filler, completely custom bedsides and floor, an insanely clean color job from IKandy Paintworks, and have you even seen the interior? This truck has it all, every square inch of it. It really is a masterpiece.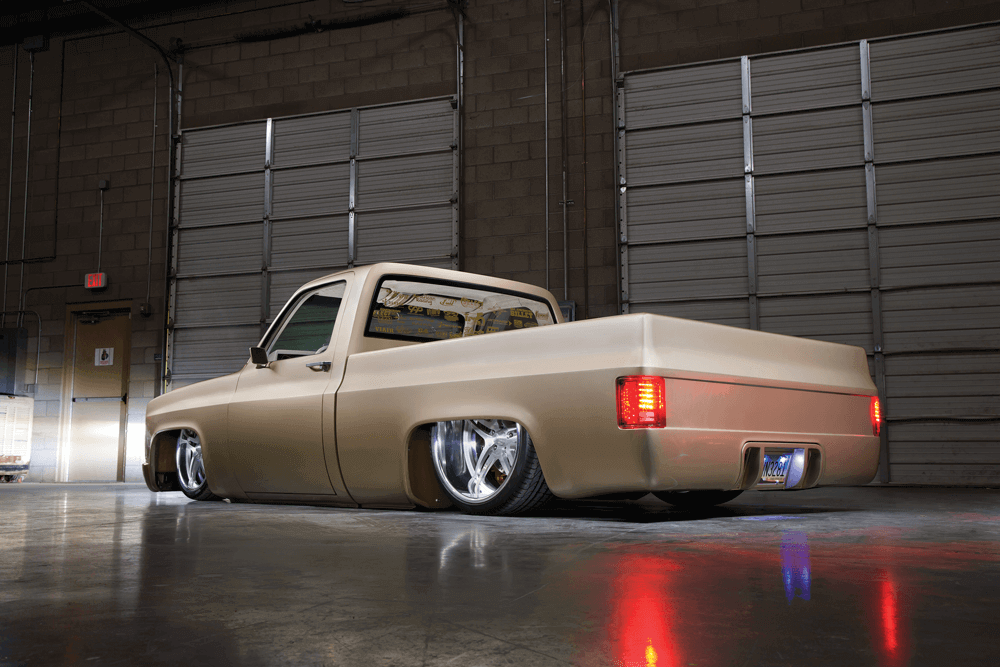 It is fitting that the reward for Brad Jr.'s hard work is a gift that represents even more hard work—in its most presentable form. The truck is not only a highly desirable object, but a token of appreciation for its owners, creators and fans alike. Countless hours of overtime never looked so good.
Owner
Bradley McFarlin
1981 GMC Sierra
Youngtown, AZ
ENGINE
Shops: Forester Racing Engines and A&S Transmissions
LS7 engine
 427 ci
700 hp
2017 Chevy 4L80E transmission
A&S shift kit
Lokar shifter
4-inch aluminum custom driveshaft
Callies crankshaft
Cam Motion camshaft
I-beam rods
Dished pistons
Chevy oil pump
ETP aluminum cylinder heads, lifters, pushrods, springs, rockers and guides
ARP hardware
Edelbrock water pump
Griffin radiator
Custom aluminum coolant tubes by Tre 5 Customs
Stock Chevy LS7 intake manifold
Spectre Performance filter with custom intake tube
Kooks long tube headers with 1 7/8-inch primaries
Tre 5 Customs custom-fabricated dual 3-inch exhaust system with X-pipe
Black Widow Venom 250 polished muffler
Tuff Stuff alternator
Dual electric fans
Wilson 90mm throttle body
All American Billet drive accessory
Modern Vintage Systems wiring
CHASSIS & SUSPENSION
Shop: Jeremy and Hector at Tre 5 Customs
Full-custom built chassis
Porterbuilt weld-in Dropmember built into frame
One-off, All American Billet upper control arms designed by Jeremy Rice
Porterbuilt lower control arms
CPP modular 2-inch drop spindles
Fox remote reservoir shocks, front
Slam Specialties SS7 'bags all around
VIAIR Gen 2 480c compressors
Rear 3-link setup
All American Billet billet lower trailing arms designed by Jeremy Rice
Fabricated upper wishbone
Fox remote reservoir shocks, rear
Fox emulsion shocks, front
Baer Remaster master cylinders
Baer six-piston calipers, 14-inch rotors, front and back
CPP Showstopper Hydroboost
Custom aluminum fuel tank by Tre 5 Customs
Currie Fab 9 rearend
3.73:1 gear ratio
WHEELS & TIRES
22×8.5 and 22×12 American Racing VF481 wheels with polished lip and powder-coated centers
255/30R22 and 335/25R22 Pirelli P Zero tires
BODY & PAINT
Shop: IKandy Paintworks
DeBeer Aztec Gold on body, Java Gold on drivetrain
Shaved roof lines, shaved emblems, trim, fender lights, etc.
Modified factory grille by Tre 5 Customs with custom inserts
Custom sheet metal front bumper by Tre 5 Customs
Bob Grant Kustoms tailgate and roll pan combo includes bodyline between taillights
Tre 5 Customs modified rear combo with license plate mounts and exhaust exits
Billet door handles from Brothers Trucks
Pop-up gas filler in top of bedside
Bed floor fully smoothed, custom floor built to support 3/8-inch glass insert
LED sequential taillights from Brothers Truck Parts
JW Speaker LED projection high and low beam headlights
Flush-fit front and rear glass by Select Glass with custom window frames by Tre 5 Customs
One-piece side door windows from Brothers Truck Parts
I NTERIOR & STEREO
Shop: Elevated Design
TMI Products bucket seats covered in faux leather and suede materials
Summit Racing billet steering wheel
Billet switches
Vibro Solutions sound deadener
Bentley-style carpet
TMI Products headliner
Modified instrument cluster
Dakota Digital HDX gauges
All American Billet handles
Elevated Design custom console
Vintage Air Gen V AC system
Bluetooth head unit in dash
Image Dynamics 6-inch speakers in kick panels
Image Dynamics 12-inch subwoofer in center console, amps behind seats
Dual Optima Red-Top batteries
SPECIAL THANKS FROM THE OWNER: : "Biggest thanks to my dad, Brad McFarlin, also to my mom, Terri. Of course, Jeremy Rice and Hector at Tre 5 Customs, Frank and everybody at Ikandy Paintworks, Steve at Elevated Designs, James and Kyle (coworkers) helped out a ton on the build too. Kyle and Rick at J&R Performance helped out big time to get the truck to run correctly, Aljir at A&S Transmission, Chris and John at American Racing, Shane and Tyler at All American Billet, TMI Products, VIAIR, Dakota Digital, Baer Brakes, Currie Enterprises, Royal Purple, Slam Specialties, Image Dynamics, G4 Paint Supply, Summit Racing and everyone else who played a part, thank you!"