We truck guys can be really demanding when it comes to what we expect from cleaning products. This especially goes for those of us who drive our show trucks often or on a daily basis. The problem here is that we drive them on dirty streets where who knows what can get kicked up on them. We abuse them like this and then expect our cleaning products to perform in order to get a show-quality shine.
One company that has the proper cleaning solutions for these challenges is Wizards Products. The company was started back in 1986 when the founder, who ran and owned a body shop for 12 years, encountered several cleaning issues that couldn't be solved using available products. To address the problems he was having at the professional level, he created a new line of cleaning products to help himself and anyone else looking for similar results.
What sets Wizards apart from the rest is that it manufactures all of its products itself. This is key to having total control, making sure that the product going out the door is of the quality you expect. This means that you can rely of these cleaners every time. On top of that all of the employees are enthusiasts with first hand experience of what it takes to get a ride clean enough to show off.
After hearing all of the hype, we hit up Wizards to see what would help us shine up our custom-painted Chevy S-10 with billet wheels. Wizards recommended Mist-N-Shine Professional Detailer and Mystic Clay to get the body clean. Shine Master Polish & Breathable Sealant gave us the luster we craved, and Mystic Spray Wax Slick Finish Detailer keeps it clean. For the wheels and tires the All Wheel & Tire Cleaner gets the job done while the Metal Polish and Tire & Vinyl get the rollers shiny.
From what they told us, these products are the real deal. These are not watered down versions of the products sold to industry insiders. These are the professional products that will give you the results you expect. We can tell you from first-hand experience that these cleaners and polishes get the job done right. We spent a few hours cleaning our S-10, and by the time we were done it looked better than ever before.
In addition to the products we used, Wizards Products has a whole line of other polishes, compounds and detailers for all of your needs. Some of the other cool products they sell are the Wipe Down Matte Paint Detailer, Black Renew, Leather Plus, Metal Renew, Power Seal for all metals and the full line of compounds and buffers. They are available on the company's website and at most NAPA auto parts stores, or you can even ask for them at your local automotive paint supplier/jobber.
Source:
Harbor Freight
800.423.2567
Harborfreight.com
RJ Star, Inc./Wizards Products
800.356.7223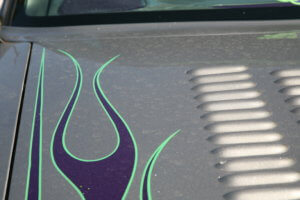 As you can see, our show truck is driven during various weather conditions and a rainstorm left a mess on the body.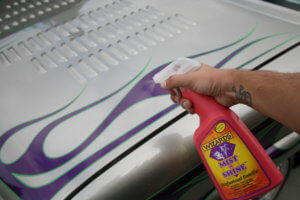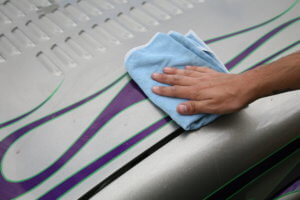 The Mist-N-Shine Professional Detailer can be used as a waterless carwash that leaves a slippery high-gloss finish. We simply sprayed it on the body and used a Wizards multi fiber cloth to spread the cleaner. Then we flipped it over to buff to a shine. It can be used for all painted surfaces, chrome and even glass.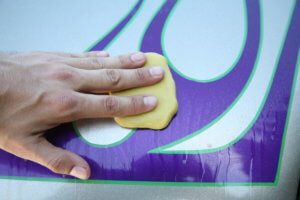 For extra shine and to get all of the contaminants off of the paint, we used the Mystic Clay bar along with the Mist-N-Shine as a lubricant. We sprayed the Mist-N-Shine directly on the body in small sections and slid the clay back and forth and then side to side. You'll feel it picking dirt off and you'll know it's clean when there is no more friction when you slide the clay.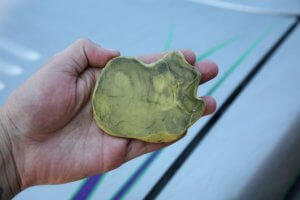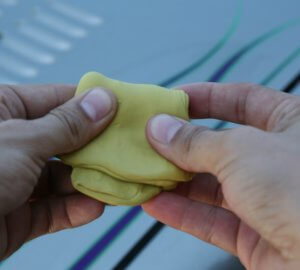 While using the clay bar, be mindful of how much dirt is on it. When you see a buildup like this, it's time to knead it and fold it over like so.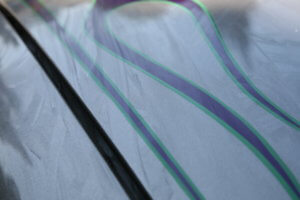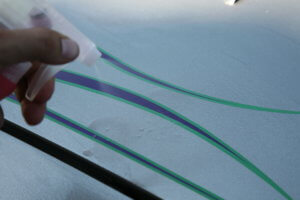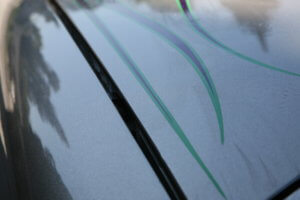 After using the clay bar, you'll have some residue left over. To remove it, we sprayed the Mist-N-Shine once again and wiped it of with the multi fiber cloth. Do note that if you choose to clay bar your vehicle, it will take the wax off along with the dirt, so Wizards recommends that you apply wax afterwards.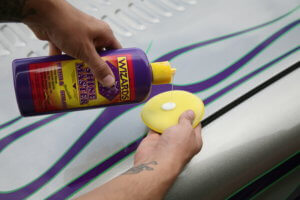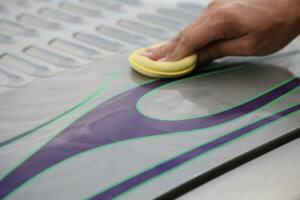 For that extra glossy finish, we applied the Shine Master Polish & Breathable Sealant. This is a wax replacement polymer blend that gives painted surfaces a nice shine while removing swirl marks, fine line scratches and light oxidation. It can be applied using the foam applicator pad. From there, simply coat your truck with it by using a back-and-forth or circular motion. Also be mindful that your truck's surface should be cool and in the shade.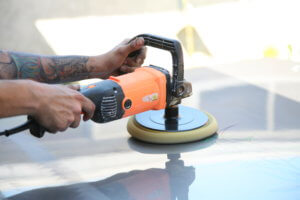 You can also use a rotary buffer if you have experience using one and can avoid burning the paint. To do so, simply apply the Master Shine in a line or a bead and run the buffer along it. Our Chicago Electric Power Tools polisher from Harbor Freight has been used many times to achieve a show-quality shine and worked perfectly to spread the Wizards product on our truck.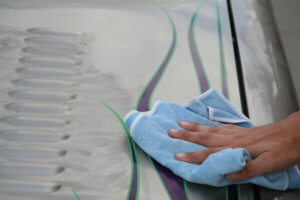 Once applied, it will leave a haze over the surface of your truck. This can be easily removed with use of the multi fiber cloth. The Shine Master leaves no greasy film or powder residue.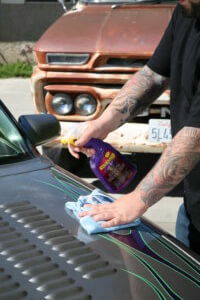 Wizards Mystic Spray Wax Slick Finish Detailer is a synthetic wax derived from Nano Polymer Technology. It's a great product for surface protection and can be used as a dry wash.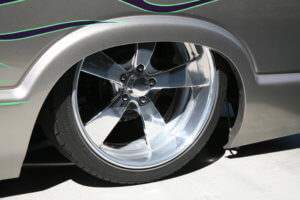 As you can see, our billet wheels weren't looking so clean. After all of our everyday driving, they were in need of some TLC.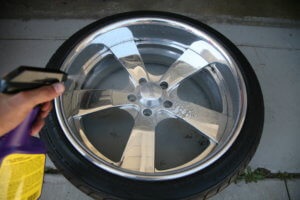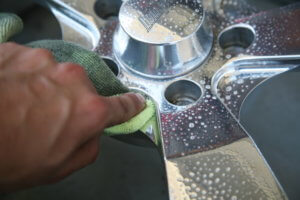 The All Wheel & Tire Cleaner was the perfect product to start with on the rollers. Spray it on the wheels and tires while the foaming action releases the dirt particles. It's safe for even the most sensitive types of wheels, including billets aluminum, powder-coated and even painted or clearcoated wheels. For some of the trouble areas, Wizards suggests using a cloth to agitate dirt buildup. To get the best results, we suggest jacking up your truck and unbolting the wheels for this process.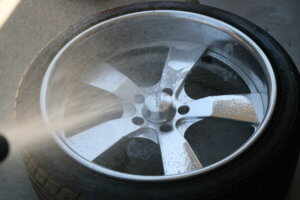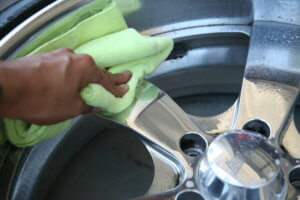 After about 30 to 60 seconds the wheels can be hosed off with water. Don't let the cleaner dry on the wheels. When they've been completely rinsed off, use a clean cloth to dry them before water spots form.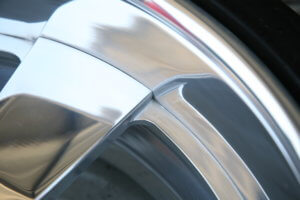 We were truly impressed with Wizards All Wheel & Tire Cleaner. It helped clean even to most problematic crevices that other products failed to clean.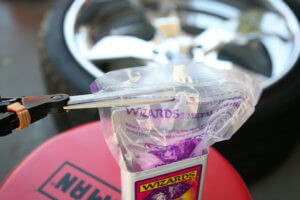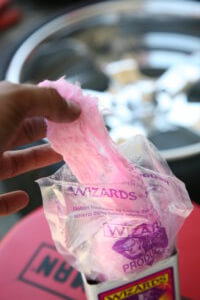 Let's face it, polishing billet wheels is no fun, but they look amazing when finished correctly. To get our billets looking good, we used Wizards Metal Polish. It comes in a cool bandage-shaped tin with a plastic wrapper that keeps the polish fresh. After cutting the package open, grab a 2-3-inch piece of the impregnated cotton. When you're done with it, fold over the plastic pouch and put it back in the tin.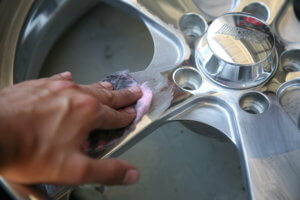 The Metal Polish has a fast-cut that brightens and protects all types of metal surfaces. It removes the tarnish, corrosion, brake dust, oxidation, tar and other hard-to-remove surface imperfections. To use it, rub the cotton against the bare metal in small areas at a time.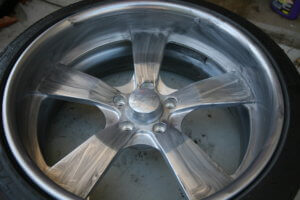 You will need to work the polish until it leaves behind a black haze. Your wheel should look like this when it's fully applied.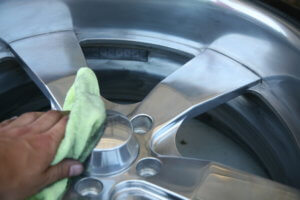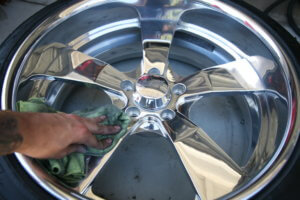 Wiping off the excess polish will take some work. The initial wipe down should be done using a clean cloth. Then you'll need to use a secondary clean cloth to buff the metal to a mirror-like shine.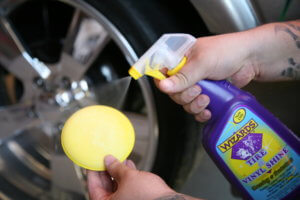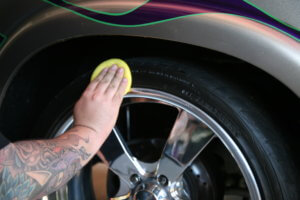 Now the tires are brightened up with Tire & Vinyl Shine. Simply spray the dressing and protectant product on an applicator pad and apply it directly to the tires. This product can also be used on all other vinyl, leather, rubber and plastic surfaces on your truck.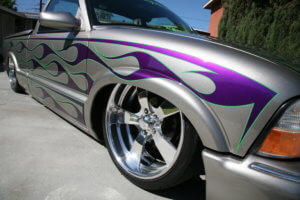 As you can see, our S-10 was cleaned up and has a very nice gloss. The products were simple to use and gave us incredible results. We especially liked how well they cleaned our billet wheels. On top of that, the tires have a nice clean sheen that isn't overwhelming.