Don't Ask Why, Ask Why Not?
"JUST BECAUSE" IS AS VALID A REASON AS ANY TO BUILD A TRUCK. As often as there's an inspiring or otherwise touching story behind a build, it's also just as common that the truck itself is the only reason needed. When you look at the beautiful, classic lines of a 1960-66 Chevy/GMC, for instance, you can't help but want to dive right in. Case in point: Dave Schneider's '65 Chevy C-10.
 Don't like to read? We narrated it for you! Click Play!

The truck was an eBay find about a dozen years ago, and Dave's sole intention was to have a cool daily driver to tool around town in. Things were fine and dandy for a while; that is until the engine blew one day. It's a friggin' terrible predicament to be in, but, boy, does it open up a bunch of options when you have to pull an engine and stare at an empty bay.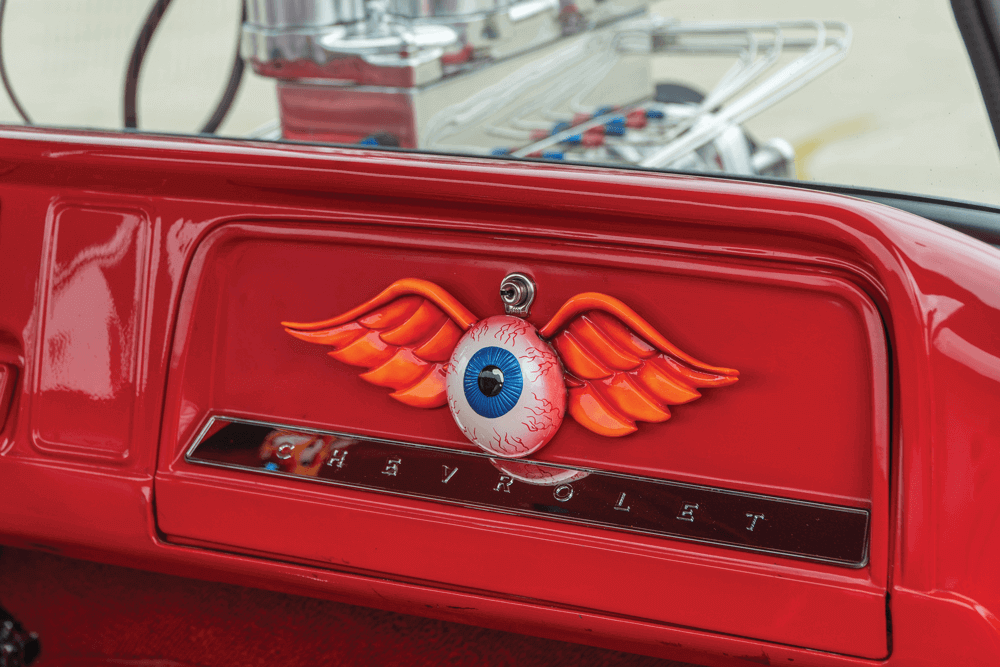 This sudden turn of events meant a lot of downtime, but it gave Dave time to come up with some pretty wild ideas. All he needed was some space in the garage and plenty of money. The first part came easy; the rest came in time.
A BUILT TURBO 350 KEEPS THINGS SIMPLE IN THE SHIFTING DEPARTMENT, ALTHOUGH WE'RE CURIOUS ABOUT HOW WELL IT'LL HOLD UP OVER TIME, ESPECIALLY WHEN DAVE HITS THE NITROUS TRIGGER."
Dave ordered a Scott's Hot Rods front suspension/ cross-member kit to update the front end with air ride, so it only made sense to treat the back as well. There were plenty of kits for him to choose from, but in the end, Porterbuilt won out with its Extreme Dropmember rear setup, which helped put the C-10 flat on its belly, thanks to its included Firestone airbags and step notch.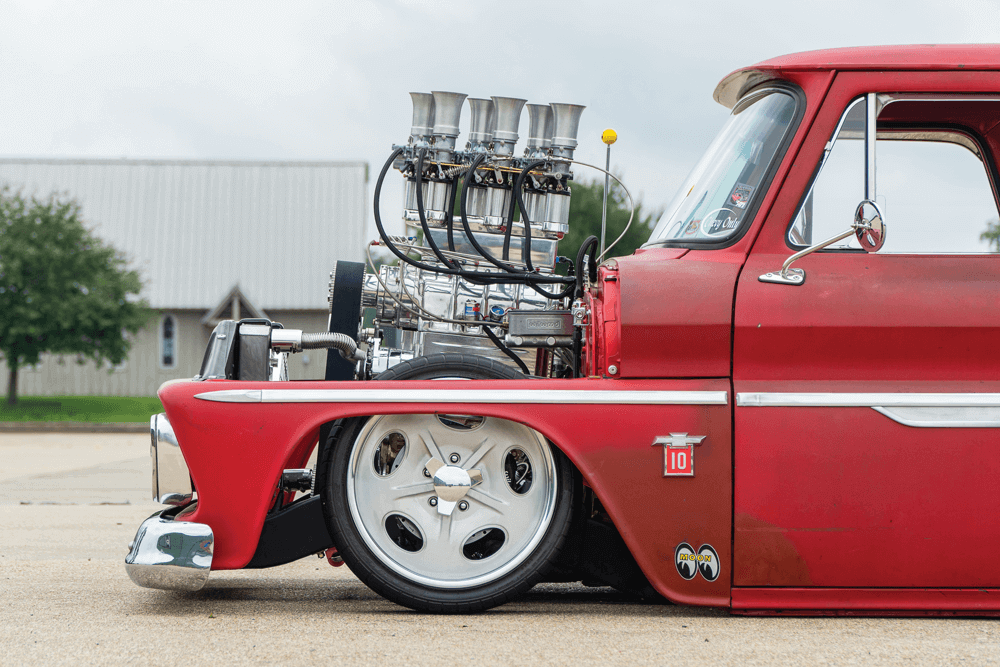 After all that, though, Dave still hadn't dealt with the engine situation that caused him to tear the truck apart in the first place. He decided to pick up a new 350 crate engine and call it a day.
If you're wondering why the words you just read don't quite match the photos, there's a logical explanation. Yes, Dave just replaced the old engine with an internally strengthened 350 engine and a set of stainless headers. The induction setup, however, is a whole other story.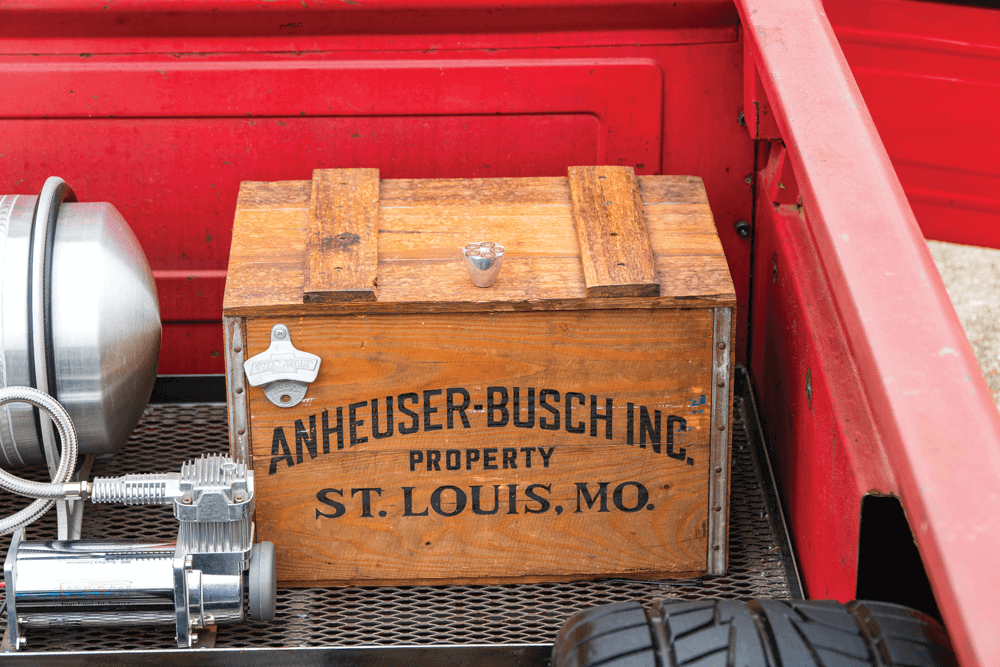 While Dave was already going against the grain by sticking with a classic Chevy small-block (weird, right?), it's the Hampton supercharger topped by a half-dozen Stromberg 97 carbs that really stands out. Include a decent shot of nitrous oxide to squeeze tons more air into the engine, and you quickly understand that Dave's mighty mouse means business. In fact, when we first saw Dave's truck, we wondered if it was an Australian burnout that had been transplanted to U.S. soil.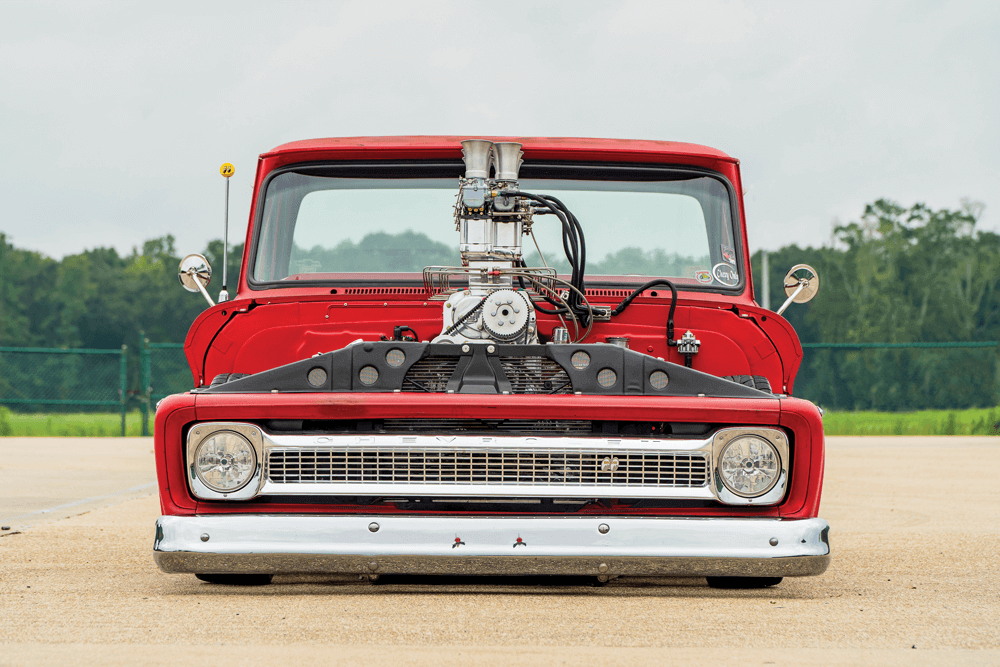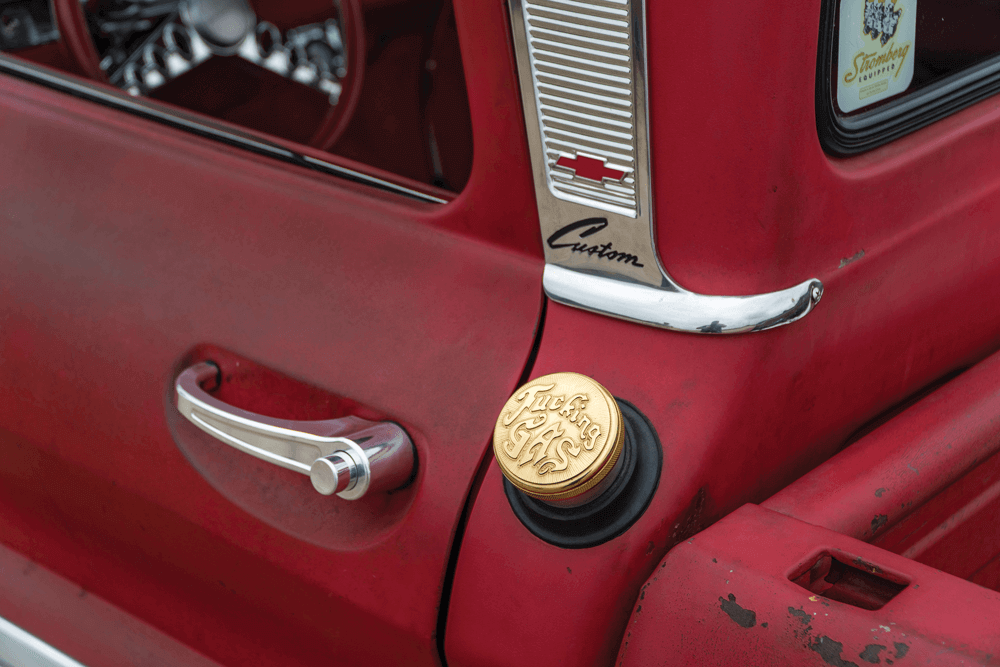 A built Turbo 350 keeps things simple in the shifting department, although we're curious about how well it'll hold up over time, especially when Dave hits the nitrous trigger. At least he has Wilwood brakes hidden behind each Colorado Custom Sugar City wheel to slow the truck down after hitting Ludicrous Speed.
NO RADIO FOR DAVE BECAUSE HE WOULDN'T BE ABLE TO HEAR IT OVER THE SOUND OF THE SUPERCHARGER AND CARBS ANYWAY. OVERALL, WE THINK HE'S MADE SOME PRETTY SOLID—IF NOT A LITTLE CRAZY—CHOICES FOR HIS TRUCK, BUT THAT'S THE BEAUTY OF DOING IT 'JUST BECAUSE.'"
The interior of Dave's red Chevy definitely has some early drag-racing influence, which makes sense considering the general hot-rodiness of the Strombergs and early GMC-based blower sitting directly in front of the cab. The Speedway Motors bomber-style seats, which were made a bit comfier thanks to padding stitched by The Custom Stitching Company, really stand out as the centerpiece of the interior. The rest is pure hot rod as well, with a 14-inch steering wheel, Moon tachometer and even a vintage-style aftermarket turn signal assembly mounted on the original steering column.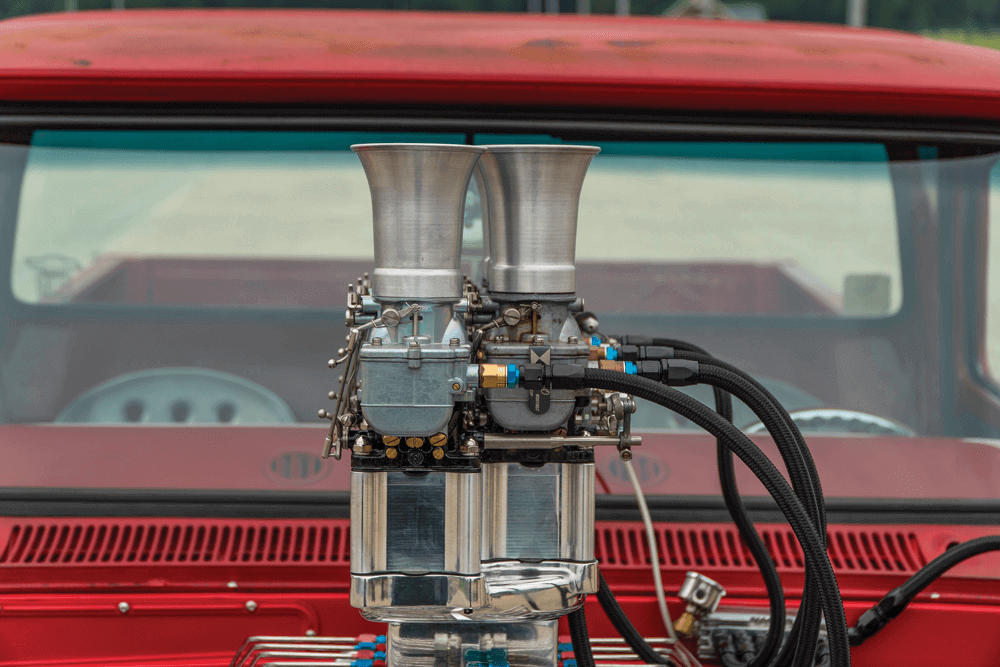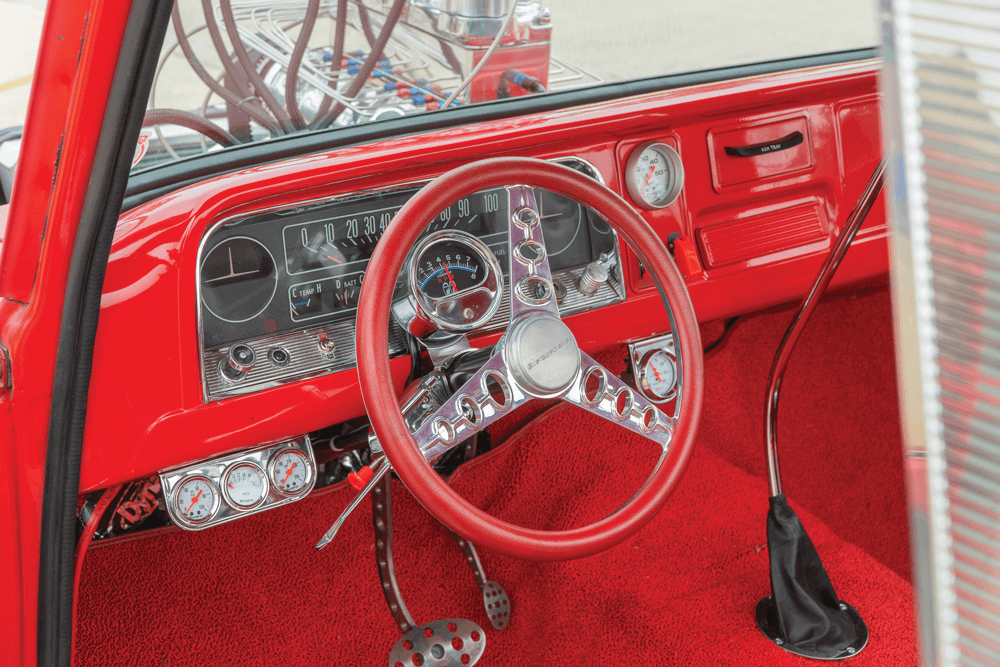 And guess what? No radio for Dave because he wouldn't be able to hear it over the sound of the supercharger and carbs anyway. Overall, we think he's made some pretty solid—if not a little crazy—choices for his truck, but that's the beauty of doing it "just because."
OWNER
Dave Schneider
1965 Chevy C-10
Mint Hill, NC
Relaxed Atmosphere
CHASSIS & SUSPENSION
Scott's Hot Rods front suspension setup
Porterbuilt Dropmember rear suspension
Slam Specialties front airbags
Firestone F9000 rear sleeve airbags
VIAIR compressors
Wilwood brakes front and rear
Mooneyes spun aluminum gas tank
WHEELS & TIRES
19×8 and 20×10 Colorado Custom Sugar City billet wheels
245/35ZR19 and 285/30ZR20 Nitto NT-555 tires
ENGINE
Chevy 350 crate engine
Six Stromberg 97 carburetors
Custom Hampton intake/ blower manifolds
Hampton supercharger
Stainless-steel headers
Mallory ignition setup
Turbo 350 transmission
Lokar floor-mounted shifter
BODY & PAINT
Original paint/patina
All original body panels
INTERIOR & STEREO
Upholstery work by The Custom Stitching Company
Aluminum Speedway Motors seats with red seat pads
New red loop carpet
Billet Specialties Flat Out steering wheel
Dash repainted with Von-Dutch-style flying eyeball