How Low Can You Go?
The daily stresses of work and other responsibilities can certainly take their toll on our lives. Without any distractions to balance things out, things can get pretty darn boring, even depressing. Thankfully for truck folks, finding distraction is not all that difficult.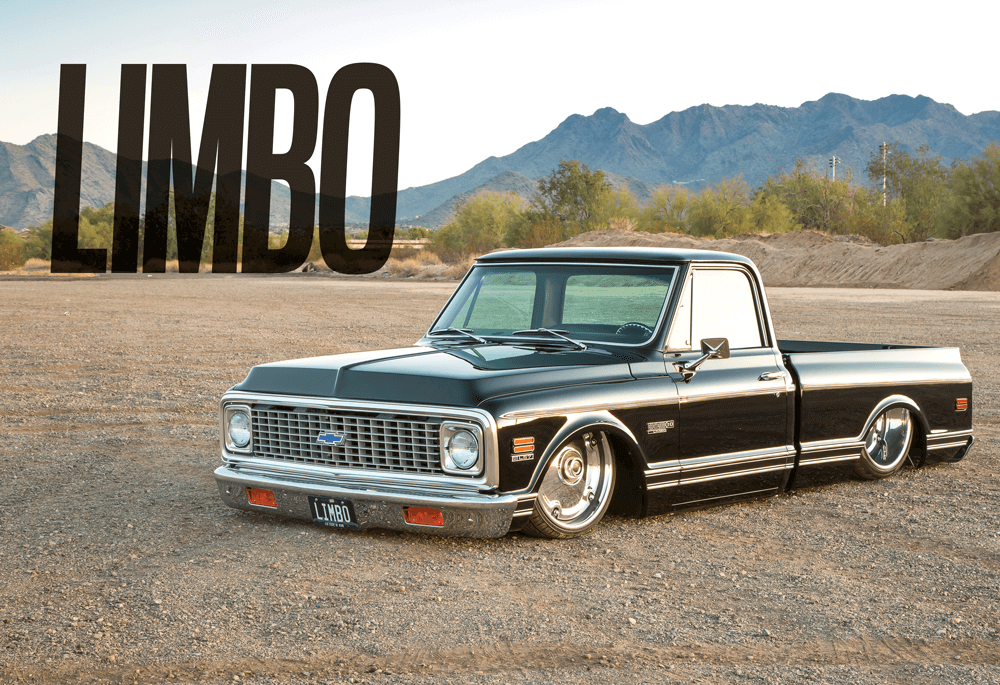 Kevin Stickel of Calgary, Alberta, Canada, grew up with C/K trucks in his family, and in fact, he first learned to drive in a C-10. Knowing them inside and out before he ever owned one, Kevin knew that one day he'd have one for himself and has even built a following on Instagram as @digitalc10, where he posts tons of wild C-10 renderings that he has created.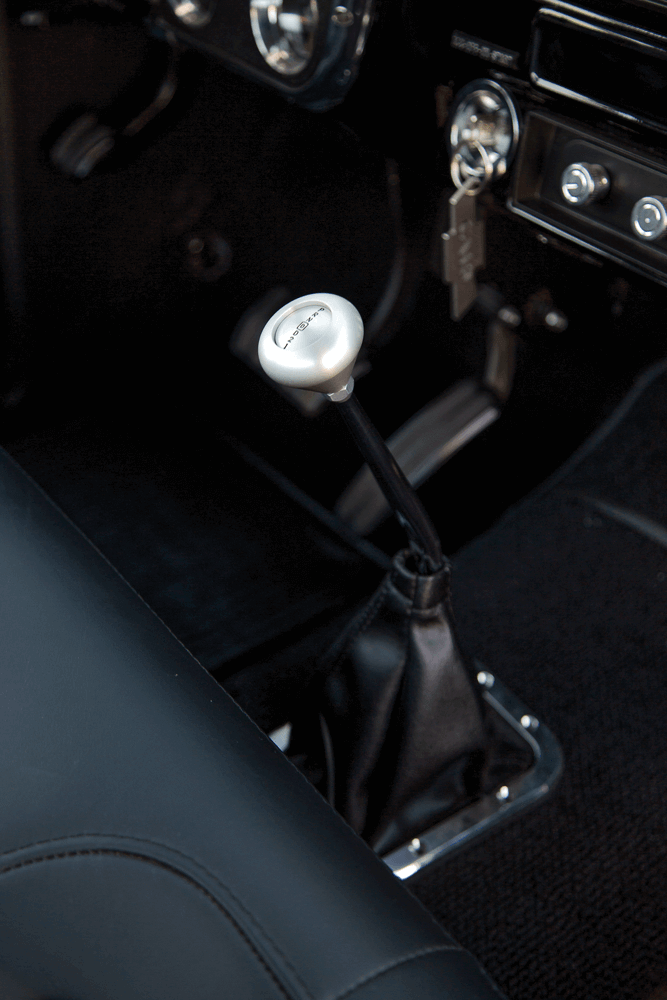 Kevin decided that he wanted a father/son project to keep daily stress at bay. He found a '69 C-10 that was just itching for a second lease on life. It originally started as a cab and chassis work truck that had been customized by a previous owner with a suspension drop, shaved body, a shorty bed and custom paint. By the time Kevin picked it up in the Boston area, it had been through a couple of owners since and was in need of some help. The quick trip to Massachusetts with Kevin's dad and son Danton in tow yielded an adventure and bonding experience that we're sure none of them will ever forget.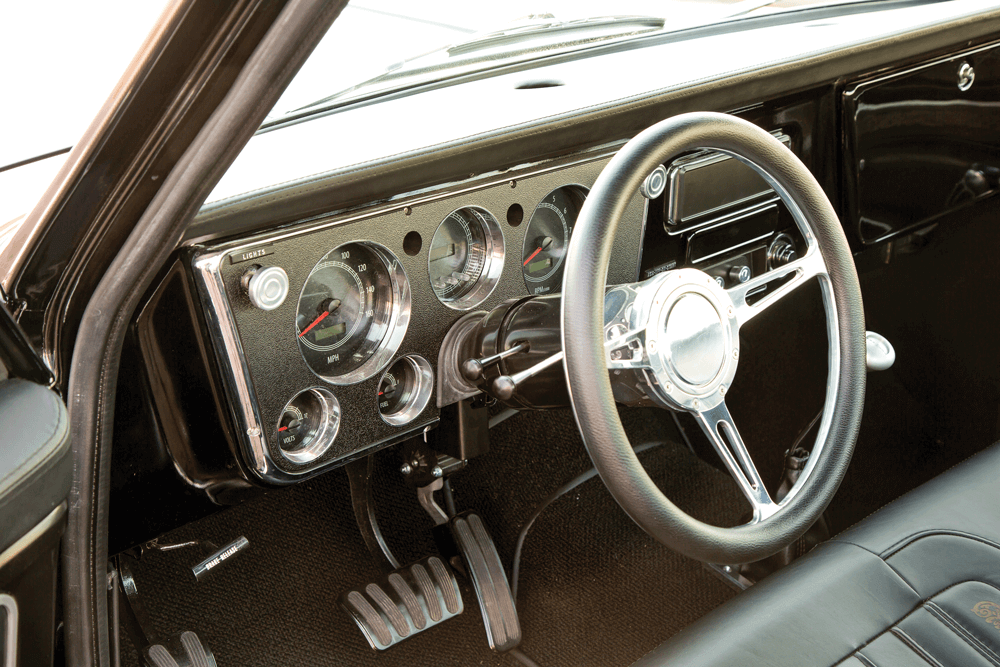 As often happens, though, the truck saw some action early on, but eventually the project stalled for a while. Three years of neglect finally ended when Kevin decided that the truck had sat in limbo for far too long, so he got on the ball with a renewed commitment to finishing the truck. In fact, he called the truck Limbo because of its long hibernation, as well as the stance it would soon have. Kevin explained that with what he had planned for the truck, he'd have to do some housecleaning and get rid of a bunch of parts that he wouldn't be using. "I basically used the sheet metal and frame, then sold everything else to rebuild it into Limbo."
Luckily, Kevin was able to round up a bunch of help with the build, although he and Danton were still able to do a fair amount of the work in their own two-car garage. Part of the transformation involved restoring the body to its former stock self—well, mostly. A few modifications did have to be made to drop the truck as far down as possible, such as raising the bed floor and wheel tubs all around for some major wheel-tucking action.
"When the truck was finally ready for some shiny stuff,  it was treated to Axalta Cromax Black paint by Chris Lange at Lange's Shop,  and a custom wood bed kit was constructed by Darren Oberten."
This stance comes courtesy of Porterbuilt's finest air suspension components, which lay the truck flat out, while AccuAir management components monitor and adjust each corner on the fly. Baer 14-inch brakes all around are hidden by a super rad set of Delmo's Speed CST V2 wheels, which measure 22×8.5 and 22×12.
With a couple of Subway sandwiches worth of meat out back, the C-10 was begging for more power than the stock-ish mill it had, so an LS7 engine was an easy choice with its 505-horse rating. A 4L70E tranny provides a beefy solution with four forward gears, and the 3:73 rearend ratio offers a good compromise for off-the-line and highway performance.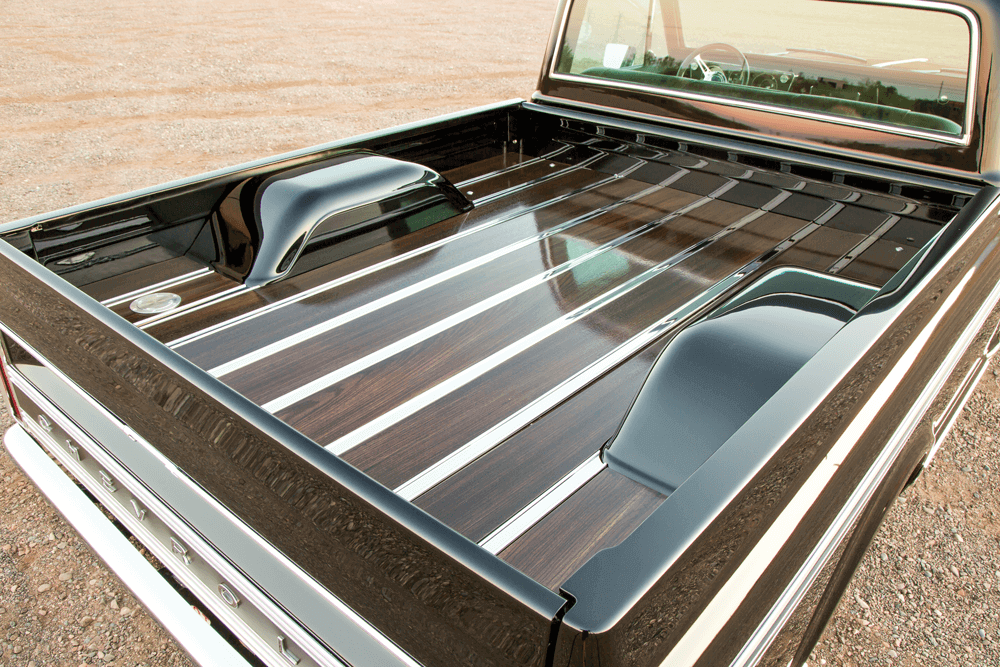 When the truck was finally ready for some shiny stuff, it was treated to Axalta Cromax Black paint by Chris Lange at Lange's Shop, and a custom wood bed kit was constructed by Darren Oberten. To finish the body off, an OEM 1972 grille was bolted on to replace the original 1969 unit, and rechromed bumpers and fresh trim were installed too.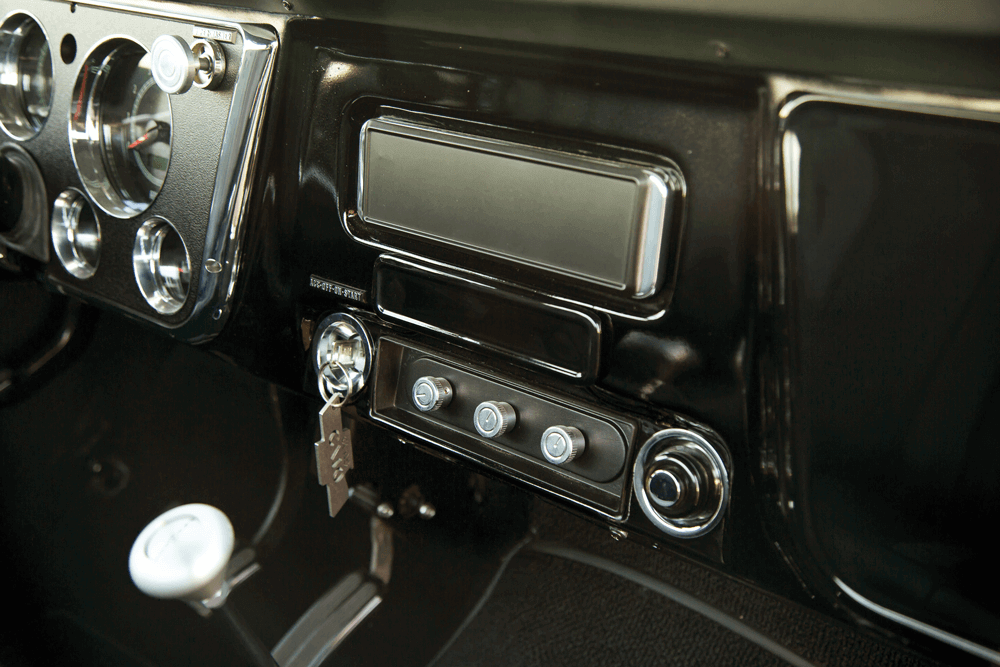 Not wanting to stray too far from the exterior theme, Kevin chose to keep things clean and classy inside. The guys at Auto Marine Upholstery were able to come up with a design reminiscent of the factory treatment that still gives Kevin's truck a look all its own, thanks to details like the laser-etched leather and Marquez Designs leather headliner. Restomod Air's latest AC kit takes care of cooling the all-black interior; as if this truck could stand to be any cooler.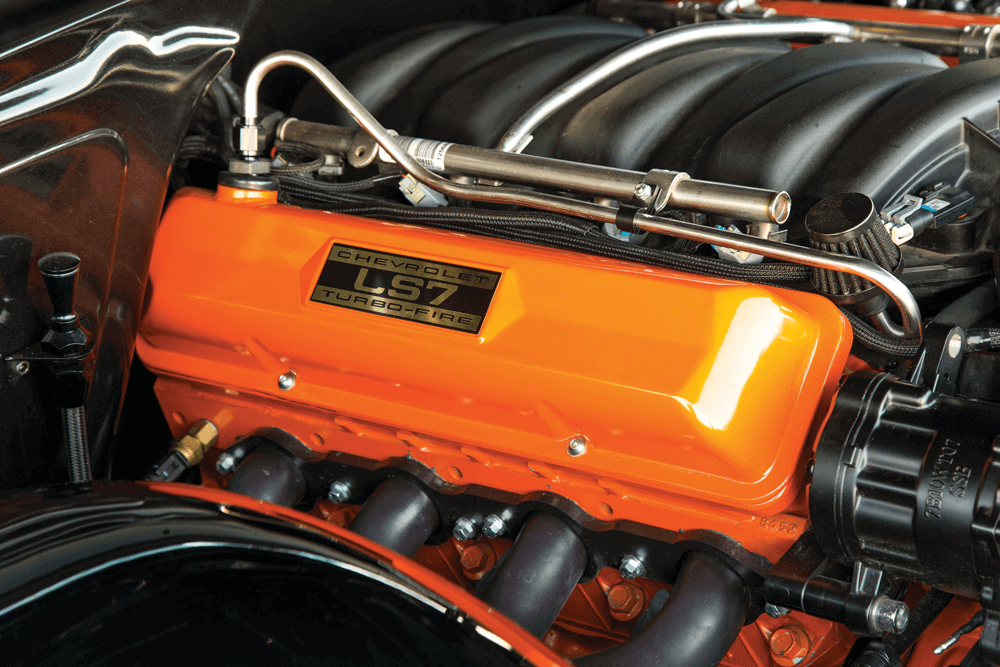 As it turns out, the completion of the truck coincided with SEMA 2016, where the truck was invited to be in Royal Purple's booth, but it would take a village to make sure the truck would make it in time for move-in. Lange's Shop, Auto Marine Upholstery and even Del from Delmo's Speed & Kustom all came together to guarantee that the truck would be 100% ready for its big debut, and it did not disappoint.
OWNER
Kevin Stickel
1969 Chevy C-10
Calgary, Alberta, Canada
C/10 Club
ENGINE
GM LS7 engine
Porterbuilt engine mounts
Delmo's Speed valve covers
Concept One accessory drive system
Sanderson LS134 ceramic-coated headers
Magnaflow 3-inch stainless exhaust
Entropy radiator
GM 4L70E transmission
Lokar shifter
Narrowed factory rearend with Dutchman axles
3:73 gears
Boyd's Welding fuel tank
CHASSIS & SUSPENSION
AccuAir air management
Porterbuilt Extreme frame notch
Porterbuilt rear trailing arm suspension
Firestone 9000 rear airbags
Porterbuilt front Dropmember with PB control arms
Airlift Dominator D2600 front airbags
KYB shocks
CPP drop spindles
Wilwood Aerolite 14-inch front and rear brakes
Wilwood master cylinder with Corvette booster
WHEELS & TIRES
22×8.5 and 22×12 Delmo's Speed CST V2 wheels
255/30R22 and 315/30R22 Atturo AZ850 tires
BODY & PAINT
Work performed by Lange's Shop
OEM 1972 C-10 grille
Restored body with Axalta Cromax paint
Custom bed floor by Darren Oberten
INTERIOR & STEREO
Work performed by Auto Marine Upholstery
Leather upholstery with custom laser etching on seat
Marquez Designs leather headliner
Dakota Digital gauges
Restomod Air climate control
Eddie Motorsports steering wheel
Dynamat sound-deadening material
Special Thanks
From the Owner:
"My wife Theresa and kids Danton, Sydney and Gracie; Delmo for helping with parts, tech support and the last week before SEMA; Darren Oberten for the help, advice and incredible bed wood; Lange's Shop for dropping everything to help at the last minute; and Auto Marine Upholstery for the awesome interior and late nights."