Getting noticed in today's custom truck world requires building something unique with quality craftsmanship and attention to detail apparent on every surface.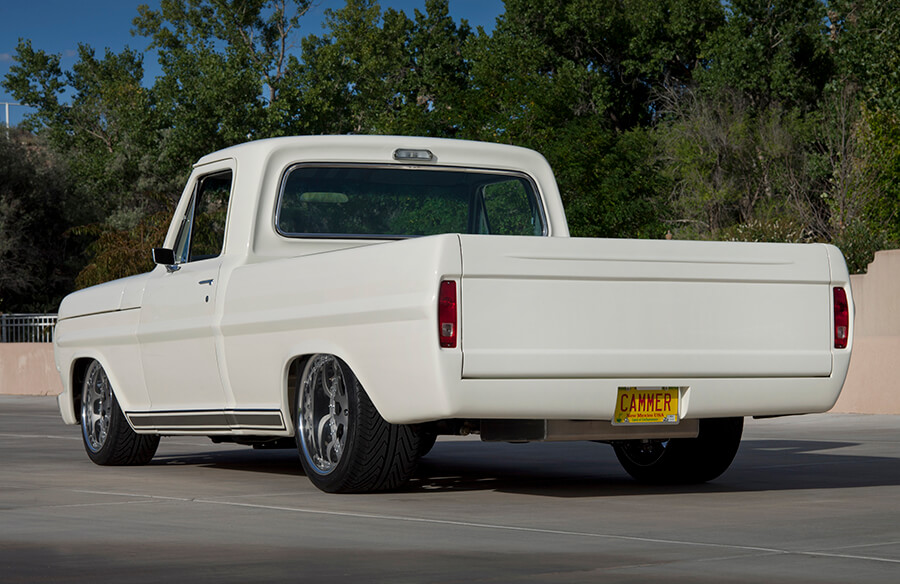 C-10s are all the rage these days, and from restored cruisers to pavement-crushing customs, they have permeated the show scene. While classic Bow Ties have historically been builders' trucks of choice, it seems that their Blue Oval brethren might be getting their place in the sun. Why the sudden thaw for classic Ford trucks? The answer is simple really: They're different and can be made to look every bit as sexy as the Chevys with the right mods, stance and attitude.
Enthusiasts have long ignored the 1967-79 Ford F-100 pickups because they chased their Chevrolet counterparts, but the times they are a-changin'. The earlier part of the 1967-72 spectrum are the trucks Ford fans are after mainly because the lines are a bit more subdued than those on trucks from the latter part of the '70s.
Jack Nelson of Farmington, New Mexico, has owned his fair share of hot rods and muscle cars throughout the past 30 or 40 years. When he decided to try his hand at a truck it came as no surprise to anyone who knows him that it packed some serious performance attitude and style. At first a '56 F-100 big window pickup was Jack's druthers, but after hitting a few shows and realizing there were lots of them out there the "dare to be different" bug bit and his mental gears started turning for another option.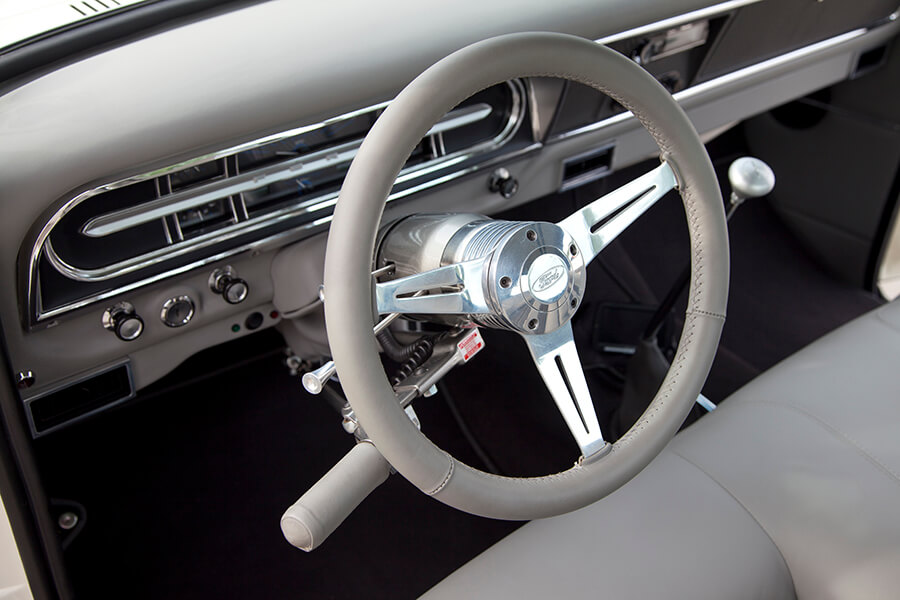 Jack had always had a fondness for the square-style Ford trucks, and his original freedom machine was a '75 F-150, so he decided to begin the hunt for a truck of that style. He located a '69 F-100 in New York that turned out to be a rust-free transplant from the South.
With the build throttle to the floor, the truck was stripped down to a bare frame in Jack's home shop to prep for the chassis and suspension modifications. Rob MacGregor, owner of No Limit Engineering, is somewhat of a mad scientist when it comes to cooking up chassis and suspension components for these classic Ford trucks to make them sit, handle, stop, steer and turn far better than the factory ever did. No Limit Engineering had historically specialized in 1953-56 F-100 pickups and panels, and as the years rolled on, the company dove head first into chassis and suspension trickery for later model trucks. So, Jack had a No Limit frame fitted and installed a No Limit Wide Glide Mustang-II-style front end with No Limit control arms, ROMIC coil-over shocks and 2-inch Camaro drop spindles capped with 13-inch Wilwood brakes. A No Limit Fatbar rear 4-link centers and stabilizes the Currie rearend, while Ridetech rear coil-overs provide the perfect drop. Wilwood 12.2-inch rear brakes teamed with Wilwood's 13-inchers on the nose and a GM-style hydraboost provide significant stopping power. The chassis is finished with a No Limit fuel tank. Completing the stance in style are SCHOTT Vector billet wheels clothed in Michelin Pilot Sport rubber.
Truck Specs:
Owner
Jack Nelson 1969 Ford F-100 Farmington, NM
Engine
Ford SOHC 427 Cammer
Billet Moldex crankshaft
Crane 612A camshaft
CP pistons
Crower rods
Dove aluminum heads
Ferrea stainless valves
T&D rockers
Edelbrock water pump
Mechman alternator
Mattson radiator
SPAL fans
Dove dual-plane intake
FAST dual throttle bodies
Wild West Street Rods custom 2-inch Jet-Hot-coated headers
Wild West Street Rods custom
3-inch exhaust with 70 series Flowmasters
C6 Transmission with Gear Vendors OD and 3,000-rpm Hughes converter
Mark Williams custom aluminum driveshaft
Suspension
Chassis components and suspension work by Rob MacGregor, No Limit Engineering
No Limit Engineering Wide Glide Mustang II IFS
Tubular No Limit control arms, ROMIC front coli-over shocks
No Limit 2-inch Camaro dropped spindles
Wilwood 13-inch front brakes
No Limit Fat Bar rear 4-link
Ridetech rear coil-over shocks
Wilwood 12.2-inch rear brakes
Wheels & Tires
18×10 and 19×12 SCHOTT Vector
275/35ZR18 and 345/30ZR19Michelin Pilot Sport
Body & Paint
Performed by Wild West Street
Rods: Jim Malone and Lorenzo and Wilson Blackie
All seams welded and metal- finished
LMC Truck rear roll pan
Kindig-It Design door handles
Econoline front bumper
Shaved emblems and trim
High efficiency white halogen headlights and LED taillights
Custom Wimbledon White paint with custom performance-inspired graphic by Jim     Malone of Wild West Street Rods
C. Cook Enterprises 427 SOHC grille badge
Interior
Wise Guy seats stitched in leather by Justin Stephens, JS Custom Interiors in Salt Lake  City
Dakota Digital gauges
Grant steering wheel
Lokar shifter
Vintage Air AC unit
Custom audio system by Jim Purdue of McDue Ultimate Audio
Pioneer head unit
Illusion Audio speakers and amplifiers
Hushmat sound deadener
"When Jack decided to try his hand at a truck it came as no surprise to anyone who knows him…"
After Rob finished flexing his custom muscles on the chassis it was time to add the bullet between the frame rails. Jack wanted a wow factor whenever he lifted the hood and buried the pedal, so he chose a rare 670-hp SOHC 427 Ford Cammer engine assembled by Kurt Neighbor. Topping out at 501 ci and with 550 lb-ft of torque, this Blue Oval tire-roaster was fitted with only the best go-fast goodies, including a billet Moldex crankshaft, Crower rods, CP pistons, Crane 612A camshaft, Melling oil pump, T&D rockers, Ferrea stainless valves and aluminum Dove heads. A Dove-style dual plane intake topped with dual FAST throttle bodies handle induction, while exhaust is belted out through custom 2-inch headers and a 3-inch custom exhaust system with 70 series Flowmasters by Wild West Street Rods. A Painless wiring harness connects all of the electrical dots, while a custom accessory drive system with Jones Racing pulleys provides smooth rotation of the Blue Oval rat. Backing up this tire-blistering package is a C6 transmission stuffed with a Gear Vendors Overdrive unit and a Hughes Transmissions 3,000-stall speed converter all commanded by a Lokar shifter. A custom aluminum driveshaft by Mark Williams links the powertrain spinning the 3.25:1 gears on a Detroit Locker, Currie 31-spline axles and Moser gear set. Jim Malone and Lorenzo and Wilson Blackie at Wild West Street Rods installed the engine and transmission, custom-built the exhaust and inner fenders, and prepped everything for paint.
Jim also smoothed over the body, removing all of the emblems and filling and metal-finishing all of the seams. An early '70s Ford Econoline front bumper was adapted to the nose, and an LMC roll pan caps off the rear. Jim coated the truck in Wimbledon White and added custom charcoal stripes at the base of the rockers. C. Cook Enterprises fabricated a 427 SOHC grille emblem, and the stock steel grille was buried in white. High-efficiency white halogen headlights and LED taillights update the original lighting. Kindig-It Designs door handles lend a further dose of class.
"Jack Nelson pushed his imagination to the edge and built something unique with this custom '69 F-100. The truck successfully blends performance and custom pedigrees for a well-balanced build."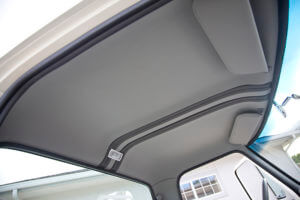 To finish off the truck, Jack delivered it to Justin Stephens at JS Custom Interiors where a pair of Wise Guys seats was custom stitched in gray leather with charcoal accents. Dakota Digital gauges, a Grant steering wheel, Lokar shifter and a Vintage Air A/C unit are just a few of the updated creature comforts in this old pickup. Jim Perdue at McDue Ultimate Audio installed a Pioneer head unit and an array of Illusion Audio speakers, subwoofers and amplifiers to rock the cab.
Jack Nelson pushed his imagination to the edge and built something unique with this custom '69 F-100. The truck successfully blends a performance and custom pedigree for a well-balanced build. Hats off to the build team for a job well done on a truck that is sure to stand the test of time. ST
Special thanks from the owner: "Wild West Street Rods' Jim Malone, Lorenzo Blackie and Wilson Blackie: body, paint, engine installation, exhaust and fabrication. Rob MacGregor of No Limit Engineering: chassis, suspension and fuel system. Kurt Neighbor: assembly. Mark Williams: driveshaft. Justin Stephens of JS Custom Interiors: interior work. C. Cook Enterprises: custom 427 SOHC grille emblem. Jim Purdue of McDue Ultimate Audio: stereo system."
Editor's Note: A version of this article first appeared in the May 2016 print issue of Street Trucks.