The 1947-55 (first series) Chevrolet trucks don't get enough love. There, we said it. These rides have been on the road for decades now, and it seems like their more popular (and admittedly more available) newer model siblings get all of the attention. When you see a super clean truck like this '51 3100, it's got to make you question why that is.
Let's back up a bit. In the mid-'70s, Carmen Vasquez's father purchased a '51 Chevrolet 3100 as a fun little project to pursue on the weekends. That's exactly what he did, shaving the hood and vents and even making a custom diamond-plate tailgate, which still sparks conversations among the old-timers in Carlsbad, New Mexico, where the family lives.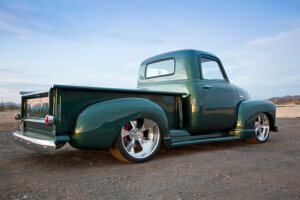 But in 1984, the elder Vasquez decided to park the truck because he needed the funds for his growing family (including little Carmen) and selflessly decided that they were more important than his hobby. Someday, he thought, he would build it again. You know, once he had some extra money.
More than 30 years later the money and priorities just weren't there, so the '51 spent its days in the same state it always had, neglected and in desperate need of repair. That's when Carmen decided to take action. The details are a bit fuzzy, but in June 2015, he came up with the idea to have the truck hijacked in "Overhaulin'" fashion. He took it to Jeremy and his team in Peoria, Arizona—far away from the prying eyes of his dad—and got to work building the truck that would eventually be renamed "Legendary."
Truck Specs:
Owner
Carmen Vasquez
1951 Chevrolet 3100
Carlsbad, NM
Engine
Turnkey Engine Supply, Oceanside, CA
Chevrolet 372-ci LS3 V-8 with 432 hp and 430 ft-lbs torque
Forged powdered metal rods
Mahle hypereutectic aluminum pistons
Nodular iron crankshaft
Cast aluminum cylinder heads
2.160-inch hollow stem intake valves
1.590-inch exhaust valves
5/16×7.400 pushrods
1.7:1 rockers
COMP Cams hot cam and lifters
Edelbrock high-performance aluminum water pump
Summit Racing radiator
Energy Suspension motor mounts
LS3 composite intake manifold
Polished stainless steel headers
Dual 3-inch Black Widow Venom mufflers
140-amp 1-wire alternator
Dual electric cooling fans
K&N air filter with custom intake
Drive-by-wire throttle body
All American Billet LS front drive system with All American Billet polished 6061-T6 pulleys
All American Billet coolant and power steering reservoirs
Turnkey Engine Supply wiring
Custom aluminum hoses
Color-matched valve covers with custom-engraved plaques by Hanro Studios
Turnkey Engine Supply 4L65-E transmission
2,800 stall speed
Lokar shifter
Five-pinion gear sets
Heat-treated stator shaft splines
Induction hardened turbine shaft
Seven-plate clutch
Shot-peened output shaft
Revised valve body calibration
Custom two-piece steel driveshaft with carrier bearing
20-gallon gas tank
Strange Engineering 9-inch rearend with 31-spline axles
Eaton Tru Trac
3:73 gear ratiok
Suspension
Roadster Shop Revo chassis
Parallel 4-link with pan hard bar
Ridetech RQ coil-overs
Wilwood spindles
Roadster Shop control arms
Baer six-piston 14-inch brakes front
Baer six-piston 14-inch brakes rear
Under-cab-mounted 7-inch dual diaphragm brake booster
Wheels & Tires
20×8.5 and 22×10 polished Intro Santa Fe
Pirelli 255/35R20 and 305/30R22 tires
Body & Paint
Performed by Jeremy and Hector/Frank, Jackie, Jim and Chris at Ikandy Paintworks, Peoria, AZ
Shaved center hood seam and trim
Shaved cowl
Shaved gas door
Shaved B-pillar vent
Shaved stake pockets
Altman latches on doors and tailgate
Custom bead-rolled firewall and matching tailgate skin
LMC Truck replacement grille
LMC Truck chrome front and rear bumpers
LMC Truck bed
LMC Truck LED taillights and headlights
Custom-built gas door in the bed floor
Precision Replacement Products windows installed by Select Glass
Billet custom-cut badges by All American Billet
Fashion Paint Nature Green laid over black basecoat
Automotive HS50 clearcoat
Interior
Performed by Steve Yiu at Elevated Design, Phoenix
TMI Products Bentley carpet
TMI Products Sport X seats
Wrapped headliner
Double-DIN radio and Vintage Air AC control custom fitted to the stock dashboard
Painted trim piece around radio and AC controls
Wrapped dashboard
Dakota Digital VHX direct-fit gauges
All American Billet interior handles
Vintage Air Gen IV AC
Custom console
Custom door panels and kick panels
Single-piece side window conversion
Power side windows
Pioneer head unit
Rockford Fosgate wiring
One five-channel Rockford Fosgate Punch amplifier
One 10-inch Rockford Fosgate Punch series shallow-mount subwoofer
Kinetik HC1800REV battery
"… Merely two years ago, it was just one of those things that kept getting put off and would likely never be finished. It just goes to show that you can't keep a good truck down."
A quick glance at the tech specs will tell you that this truck was built right. It sits on a chassis from the Roadster Shop, which says a lot about the process right there. From the LS3 engine built by Turnkey Engine Supply to the 20- and 22-inch Intro Santa Fe wheel combo, everything is done in a clean and simple fashion that's engineered for a reliable and fun driving experience. No truck is bulletproof, but this one is as close as they come.
As is so often the case, it's the little things that make this truck stand out. The billet badges on the hood are subtle, because they're done in the same style as the originals. The dashboard, while stock, was tweaked to fit Vintage Air AC controls and a Pioneer double-DIN stereo. Plus, all of the lighting on the truck is done with LEDs, so it's high visibility and low voltage. To finish it off, the paint and bodywork by Frank and his crew at Ikandy Paintworks in Peoria, Arizona, killed it. The body is smooth as silk and the finish is second to none.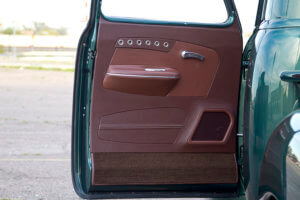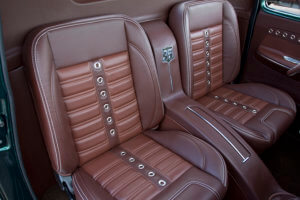 It's funny how things work out sometimes. Today, the truck is complete and back home in Carlsbad, where Carmen's dad is enjoying having it in his life again. But merely two years ago, it was just one of those things that kept getting put off and would likely never be finished. It just goes to show that you can't keep a good truck down, and you never know what life is going to bring you. ST
Special Thanks From the Owner: "Special thanks to El Primo Oilfield Services. I also want to thank God and all my friends and family for helping me make that special memory and build possible."
Editor's Note: A version of this article first appeared in the July 2016 print issue of Street Trucks.