Rebuilding a 12-Bolt Rearend to Hold More Power
TODAY'S BUILDERS demand a lot for their trucks, and this goes especially for the power segment. Getting performance has been more attainable in the last few years and has increased our expectations. There is a huge selection of crate engines on the market, and stout salvaged versions are plentiful.
With great power comes the question of sticking it to the ground, since your truck is only as good as its weakest link. For most that point is the rearend. Fortunately, C-10s have decent versions that can be modified to suit modern demands.
Chances are your truck has a 12-bolt rearend, but if not, it's fairly easy to get your hands on one. Not only are they common, but they can also be pretty solid when built correctly. In fact, they can stand up to around 800 hp, which is perfect for a street truck with some performance mods under the hood. Thirty-spline axles and a large ring gear help these rearends hold power. They also require less power to turn because of the height where the pinion gear contacts the ring gear.
Since they're plentiful, a 12-bolt can be found for only a few hundred bucks, but it's still important to make sure you're getting one that's in good condition. While you're modifying them to fit your needs, you might as well change some of the internals while you're at it, including the bearings, seals and even the gears.
We had a 12-bolt and decided to do a full rebuild. Not only did we want to make it solid, we also wanted to change a few things. We searched Summit Racing's website to find all of the Yukon Gear and Axle components we needed. We started with 31.5-inch axles (P/N YA G14071751) to convert from a 6- to 5×5- lug pattern. To help our truck jump off the line better, we changed the gears to 4.11:1 (P/N YGA-24130). To make the truck run like new, we ordered a master rebuild kit (P/N YK GM12T).
One drawback to running a factory rearend is the open differential. It will allow the wheels to rotate at different speeds for a smooth ride, but it will also transfer power to the wheel that has the least traction. This isn't ideal when you're trying to get the maximum amount of power transferred to both rear wheels. To combat this, we ordered a Yukon Dura Grip positraction differential (P/N YDGGM12T-4-30-1), which uses a set of springs to lock two packs of clutches in order to distribute power more evenly between the two separate wheels.
With our rearend set up to help the truck go faster, we thought it would be wise to help it stop shorter too. When it comes to getting better stopping power, Wilwood is at the top of the game. We ordered an Aero6 disc brake kit (P/N 140-15305) for the front with six-piston calipers and 14-inch two-piece rotors. For the rear, we matched it with an Aero4 rear disc/ parking brake kit (P/N 140-10941) with four-piston calipers and 14-inch two-piece rotors.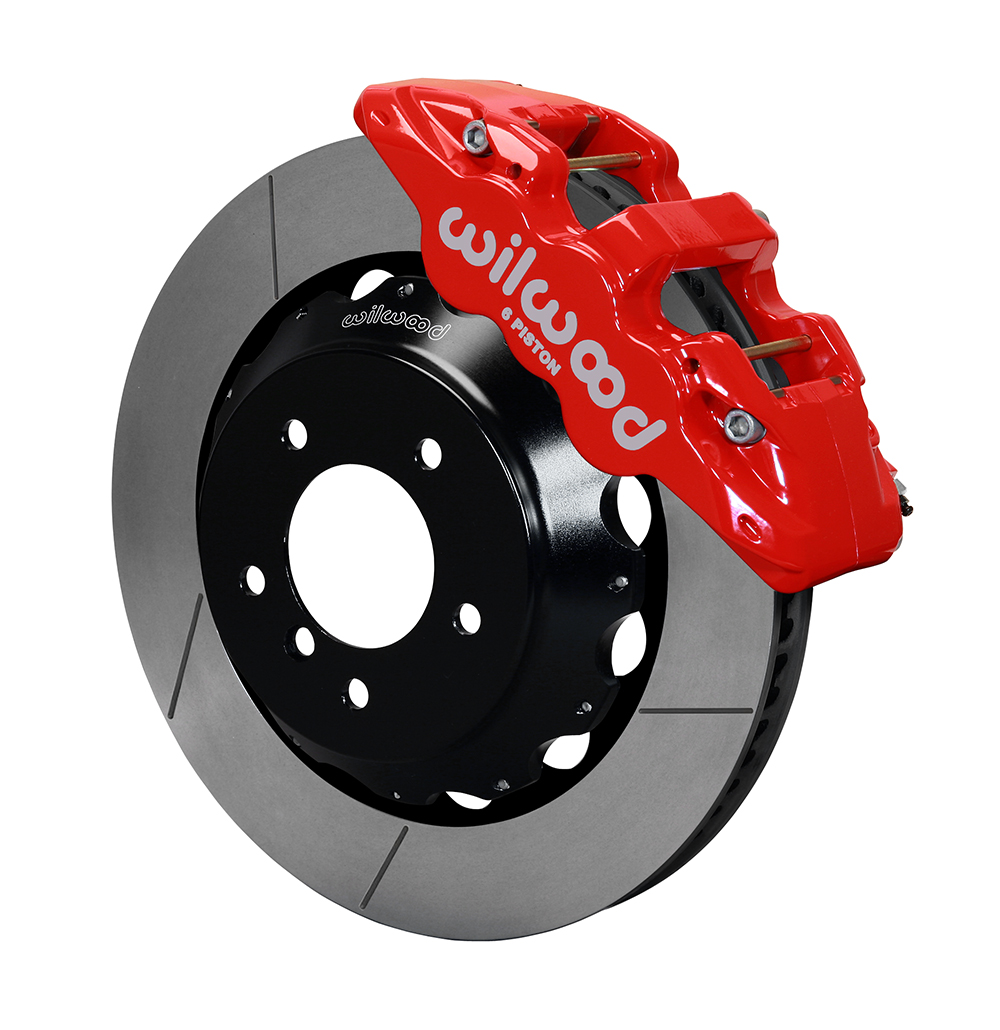 The included SRP rotors have a drilled and slotted pattern to improve braking response and pad performance. The holes and slots vent and clean to reduce pad glaze and disperse gases and heat. The rear rotor hats also have an internal shoe system that can be used for parking.
To help us build our rearend, we took everything to J and S Gear in Huntington Beach, California. John Coulman is the man with a plan with more than 30 years of experience building rearends. Not only is he a top-notch rebuilder, he can also narrow rearends to fit specific wheel/tire combos. While talking with John, we discovered that he got into his profession by doing what most of us do: hammering on our vehicles and breaking parts. After watching him build this 12-bolt rearend in just a few hours, we can confirm that he knows his stuff. After a simple rebuild, our rearend was ready to go, moving our project faster and stopping it better.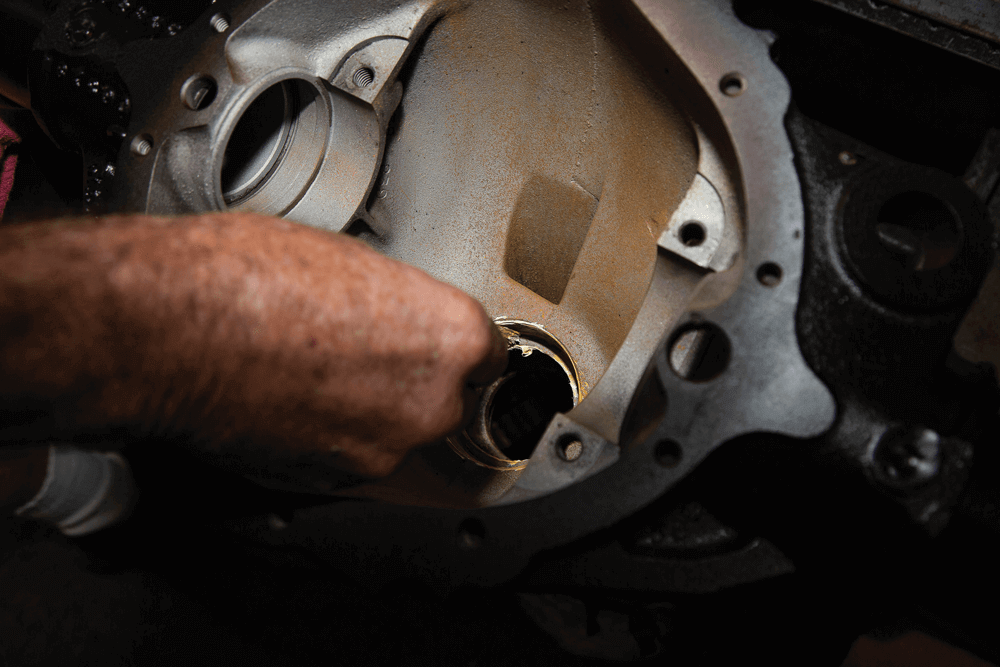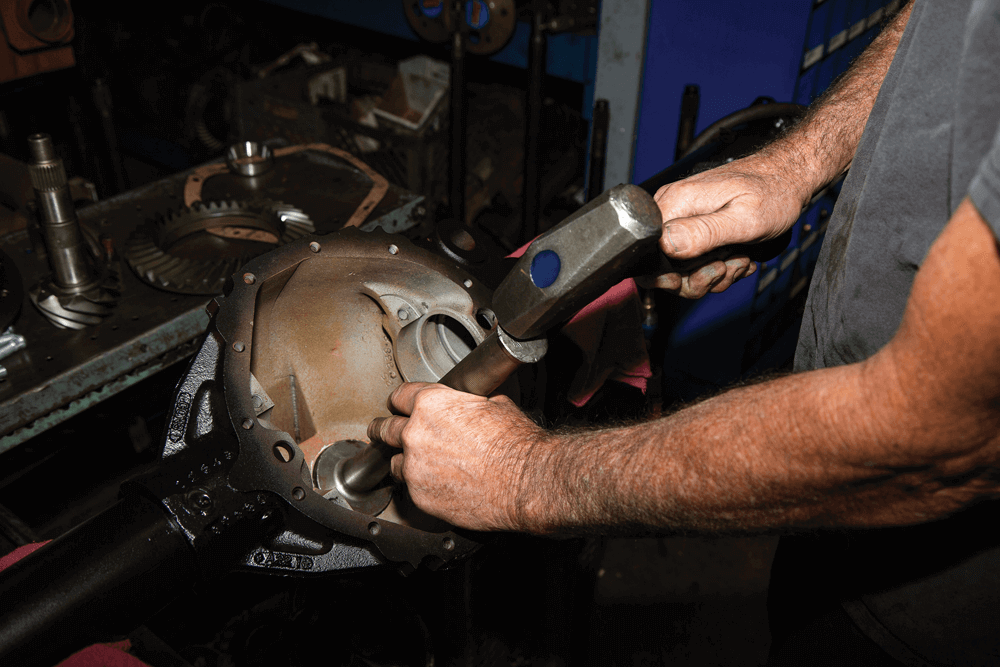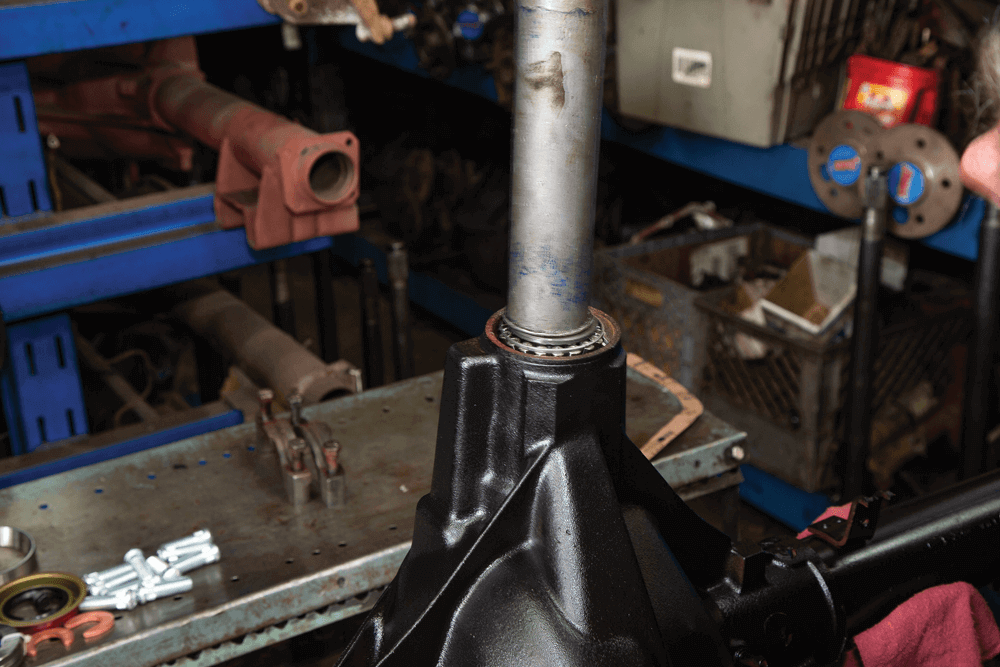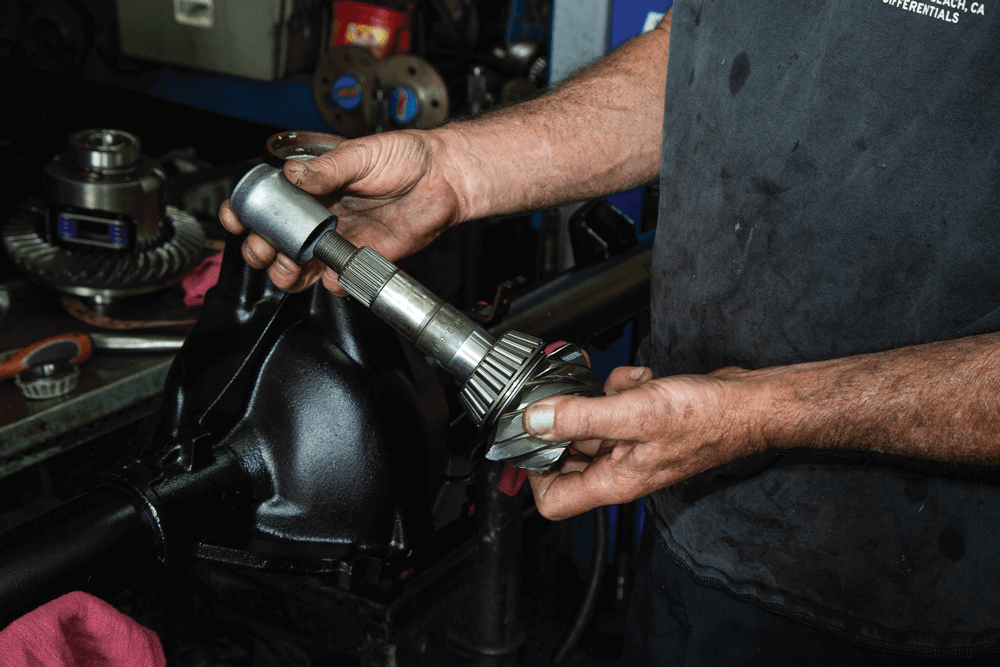 Gear-marking compound was used to check the contact patch and backlash again to ensure it stayed in place during final assembly.