Lean, Mean, Diesel Swapped Machine
EVERYONE WANTS THEIR project truck to be personal and reflect their own personal tastes, but Timothy Roper decided to go further than most with his '67 F-100. He had already purchased several other trucks, but were either not finished quite the way he wanted or not near the quality he wanted. It wasn't until he found a '67 F-100 with no motor or transmission sitting in a barn that the dream of this truck was born. Around the Fourth of July, Timothy bought a true barn find and sold his other trucks to do a full frame-off restoration on his new truck.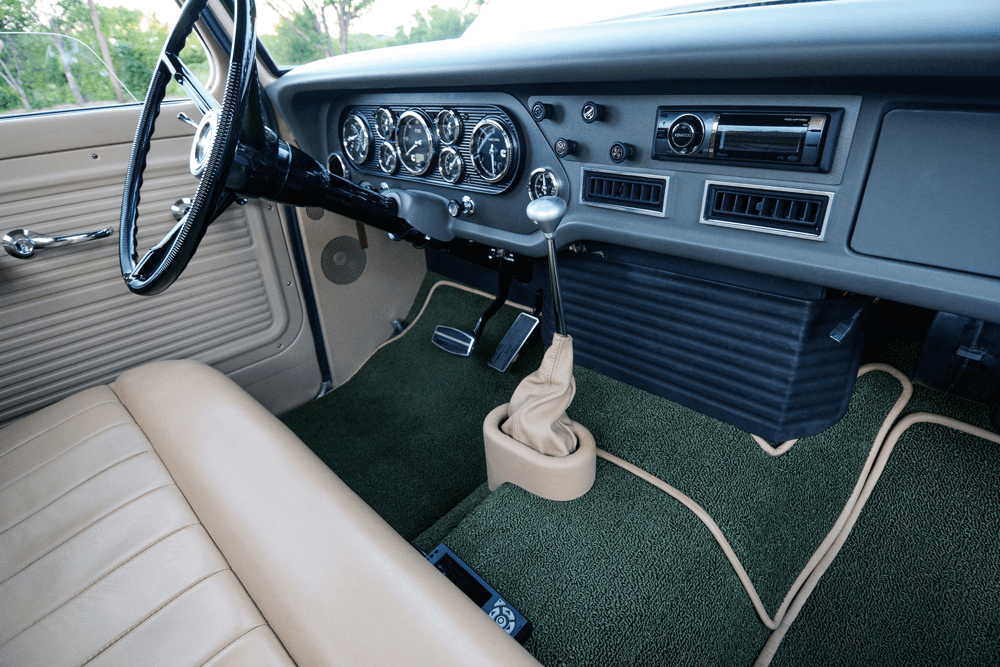 Timothy also wanted to test his skills with this build and do everything he could himself. With only one exception, he succeeded. The actual painting turned out to be something that didn't lend itself well to being done in a two-car garage, which was where all the other work was done.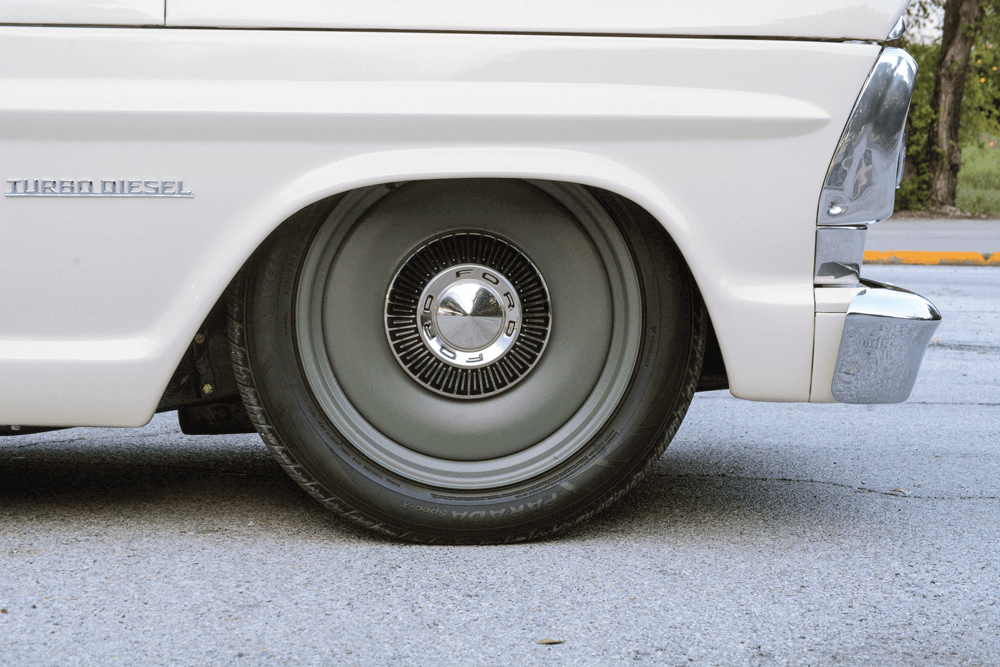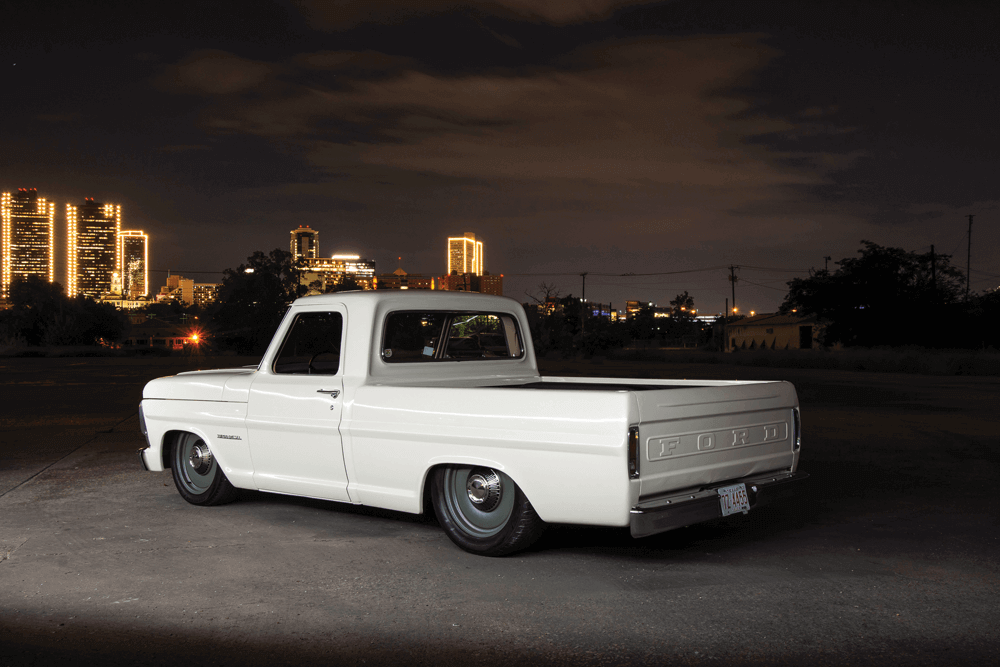 While the truck was a do-ityourself project through and through, Timothy says he enjoyed the help and company of his dad Gerald Roper and brother-in-law Gib Searight. Gerald boxed the chassis himself, welded the rearend and fabricated the rear shock mounts. When it came to the front end, Mustang II components were the best option, but rather than using a kit, Timothy made all the mounts himself. This wasn't without purpose, as he needed to upgrade the ball joints and add gussets in the lower control arms to support the weight of the motor.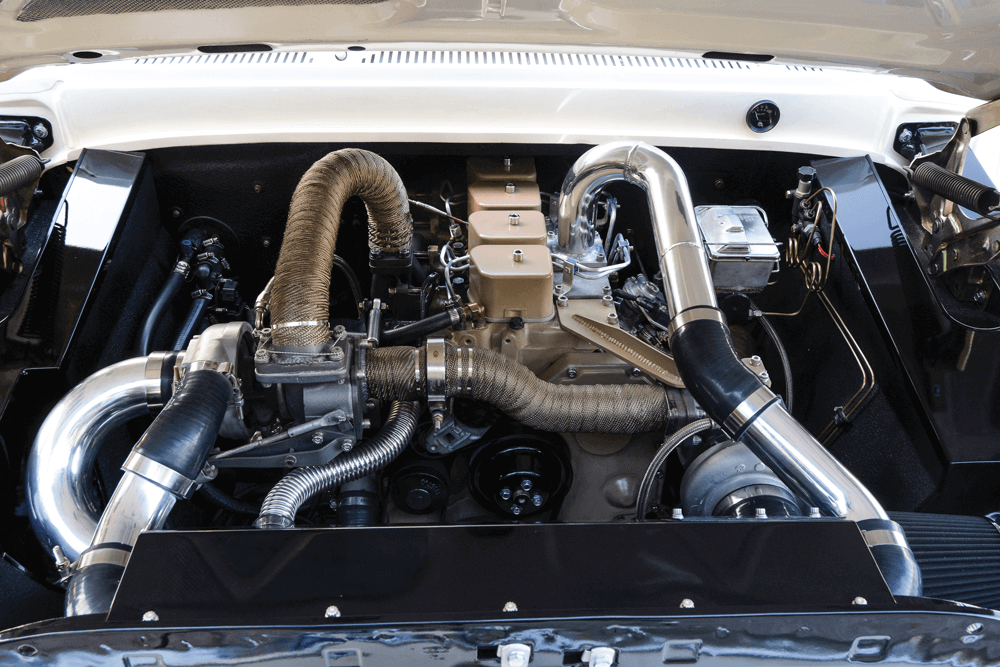 The motor itself had to be something truly unique, and he found what he was looking for in Houston. After a trip to retrieve the motor, he began work on the heart of his truck; a 3.9L inline 4 Cummins diesel. As with everything else, Timothy rebuilt the motor himself, manufactured all the motor mounts and even made his own custom intake.
With the truck completed, Timothy still has ideas about one more project that promises to be even more wild, and let's just say we can't wait to see what he has up his sleeves for the next one!
All that wasn't quite unique enough though, so next he added a compound turbo charger system comprising a Holset HX30 and HX35. Coupled to the engine is a 4l80e built for a diesel. In order for the new engine to fit, the firewall had to be moved back 4 inches. This was a good time to rework the sheet metal in the engine bay and the fender wells. While doing this, Timothy was able to run the wiring inside the fender wells so that there would be no visible wires in the engine bay. To complete his custom engine bay, he removed the cowl seal and manufactured a custom rain gutter.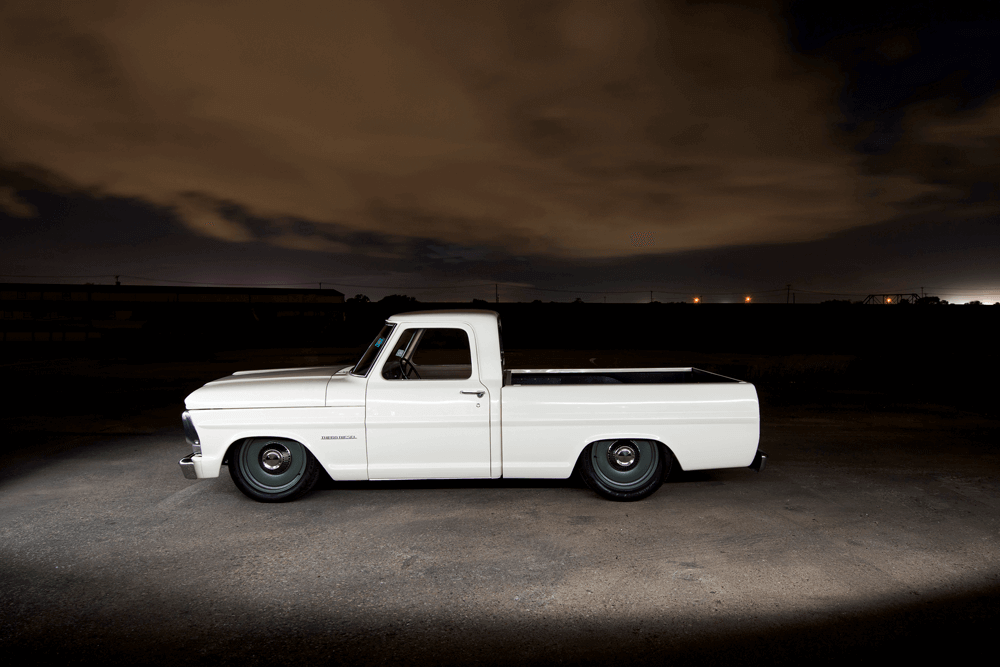 Another wild customization that he wanted was a single-pane side window, removing the wing window. Having seen only one other before, and discovering that no ready kits existed, it would be a truly custom fabrication. Timothy ended up purchasing two extra complete doors to salvage parts from them. He used the rear track from them instead of the narrower stock front track. Also, to have the weather stripping run continuously all the way around he had to order an uncut roll of weather stripping from Dennis Carpenter.
The rest of the interior had to be custom as well, starting with the seat being dropped and pushed back 2 inches to make for a roomier feeling cab. The dash was custom fabricated by Timothy as well, along with custom kick panels for the speakers. In addition, the seat belts were moved back to provide a cleaner look, so they are no longer visible with the doors open.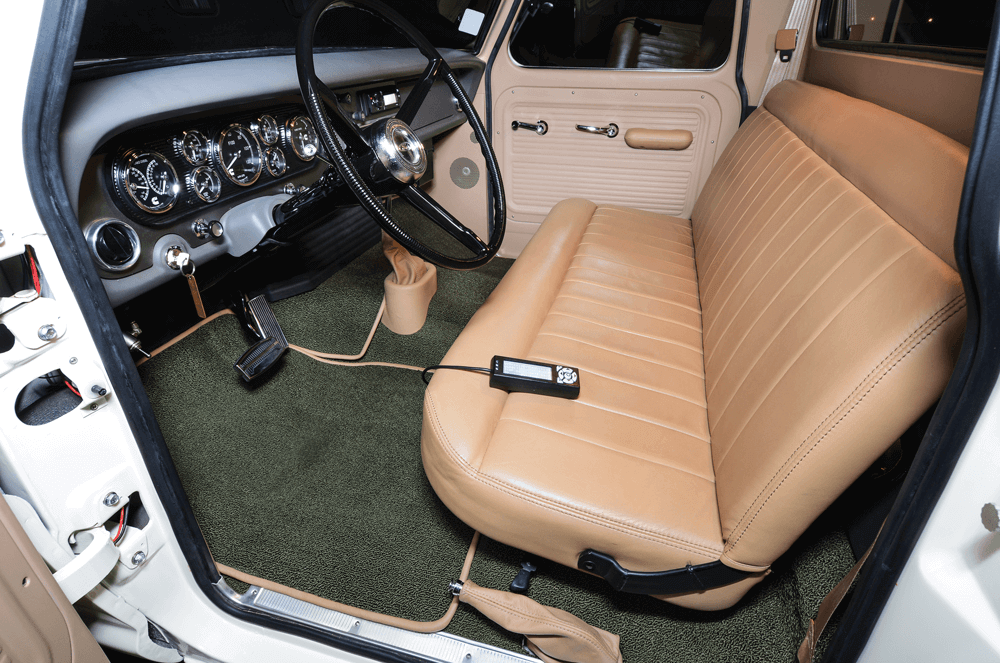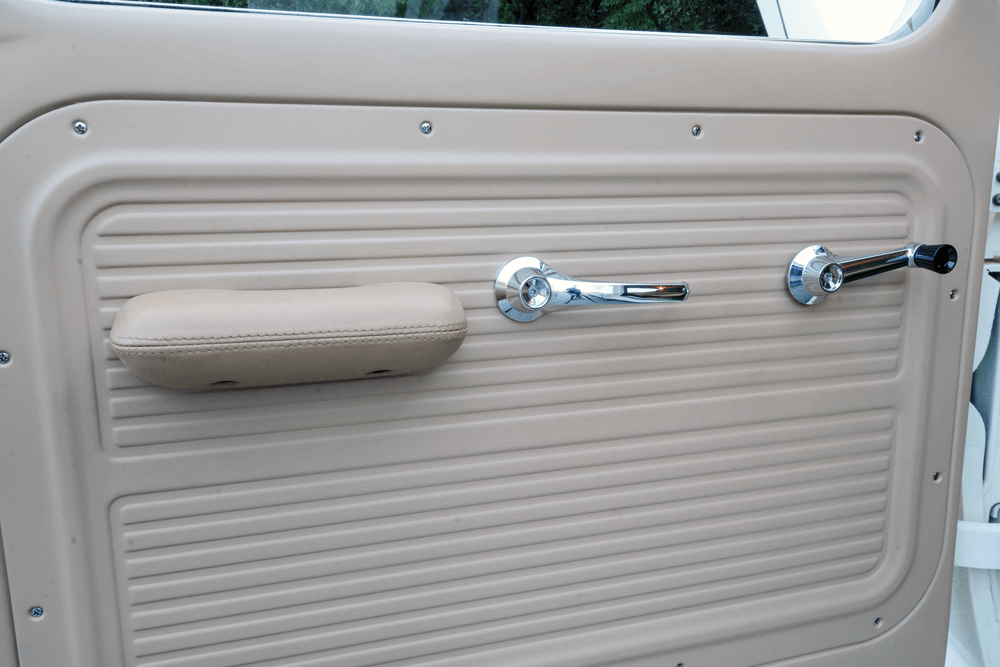 The exterior was finished in PPG Wimbledon White and was the only thing that Timothy didn't do himself, though he did insist on doing the final buffing on his own with the help of his friend Mark Kuban. The front and rear bumpers were both two separate strokes of luck, as they both came from two separate friends who also had project trucks of their own. One was sent the wrong front bumper and the other was sent the wrong rear bumper, and both found their way to Timothy's truck. The truck is sitting on Yokohama 235/55/20s and 285/50/20s on Detroit steel wheels finished out with Fairlane dog dish hubcaps.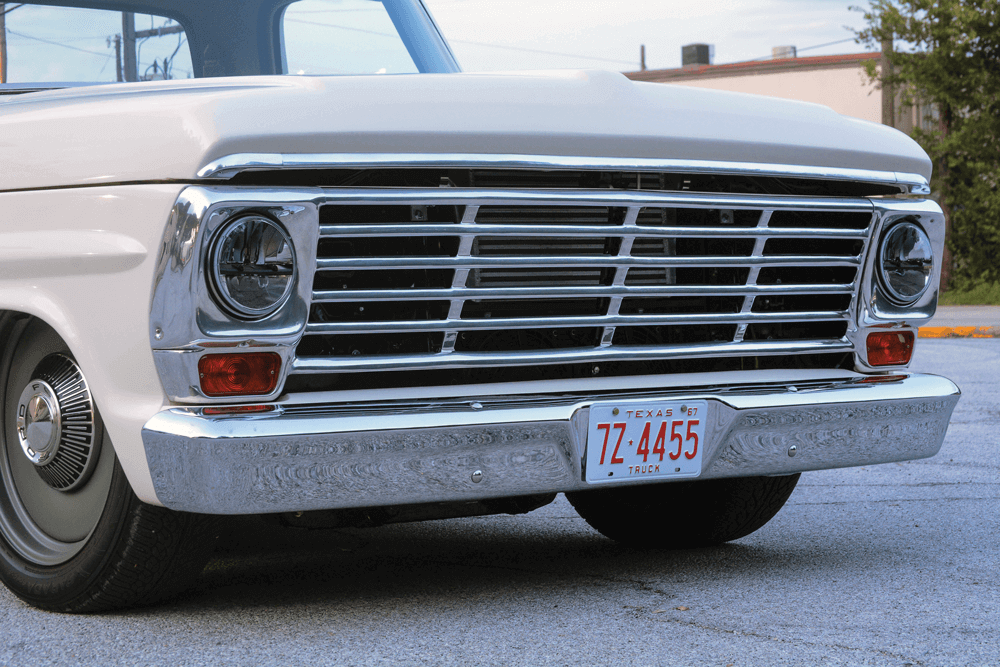 With the truck completed, Timothy still has ideas about one more project that promises to be even more wild, and let's just say we can't wait to see what he has up his sleeves for the next one!F100