If you happen to own a Toyota Tacoma from last year, then we got "braking" news for you: Toyota is recalling about 47,000 Tacoma pickups worldwide due to a defect in the brake master cylinder.
The recall affects Tacomas from 2018 and 2019 and is due to a faulty seal in the brake master cylinder. The seal is can be damaged and leak brake fluid, which will greatly affect braking performance and increase stopping distance, especially at high speed. Owners of affected pickups will receive notifications by late January, with dealers replacing the master cylinder for free.
The Japanese carmarker is also recalling about 96,000 Toyota Land Cruisers as well as Lexus LX570 SUVs from 2008 to 2019 due to a safety sensor defect. According to Toyota, the seat belt tension sensor has a malfunction risk, and might deactivate the front, knee and side airbags for the passenger side. The company is in the process of developing a fix, and owners will be notified come mid-February.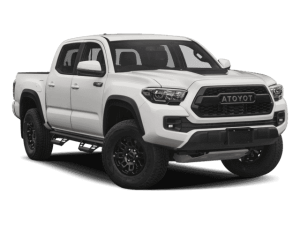 The double-whammy is just the latest in a string of recalls for Toyota. Earlier this month, the carmaker was forced to recall over 65,000 Sequioas, Tundras, Corollas as well as Lexus SCs tied to the deadly Takata airbag defect. That recall affects 2002-2005 Sequioas and Lexus SCs, 2003-2005 Tundras and Corollas.
To check if your truck is part of the recall, enter the VIN at NHTSA's recall webpage. You can also call Toyota's customer service hotline at 1-800-331-4331, or Lexus at 1-800-255-3987.