59 Products to Invest Your Tax Return In
WE HOPE YOU'LL BE EXPECTING SOME CASH BACK THIS YEAR AFTER FILING THAT DREADED TAX RETURN. Instead of blowing it all at the mall on a bunch of crap you didn't even really want in the first place, why don't you invest that money on parts you need for your project truck?
Times are tough, sure, but we're not saying you have to spend your whole return on truck parts (not that we'd judge you if you did). Three hundred dollars is a fair amount of money. It's just enough dough to score some pretty awesome products, whether or not it all gets spent at the same store. There are deals to be had out there in aftermarket land, and there are a lot of unique specialty items offered at prices that will have you questioning why they're so low. From suspension kits (not just individual components) to real performance-adding parts and items to dramatically change the ins and outs of your truck, three bills is all you need to make something substantial happen.
For the sake of staying within a $300 budget, we've scouted high and low in order to bundle such a large amount of goods together. There are a few items, however, that did go over budget, but not by much. And the parts that carry a slightly heavier price tag are well worth the few extra bucks. Also, the products here aren't cheap knockoff s, these are real-deal innovative parts from some of the top manufacturers in the business. Be sure to keep that in mind when you open up your wallet.
If you have bills to catch up on or a few loans to repay, get those handled first, but make sure to stash $300 away for yourself. Trust us on this. Consider this the Christmas gift(s) you couldn't treat yourself to a few months back.
AIR RIDE
MC.2 Controller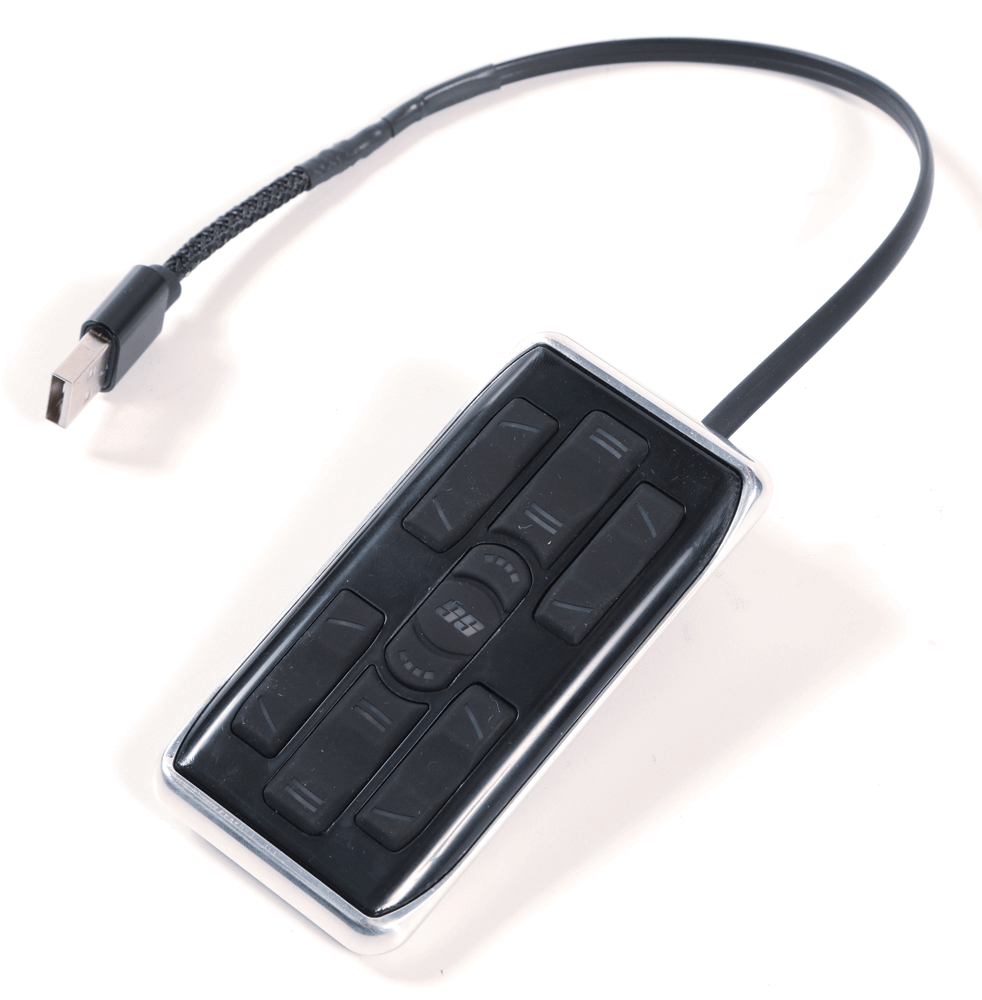 MSRP: $289.95
SLAM SPECIALTIES' MC.2 controller features a billet aluminum case and a silicone touch-pad with 12 color options, customizable LED back-lit buttons for a real good time while hittin' the switches. The case is available in black or gunmetal anodized finish or in a polished option for those who like things shiny.
Slam Specialties
888.352.5225
Slamspecialties.com
SSF Series Air Spring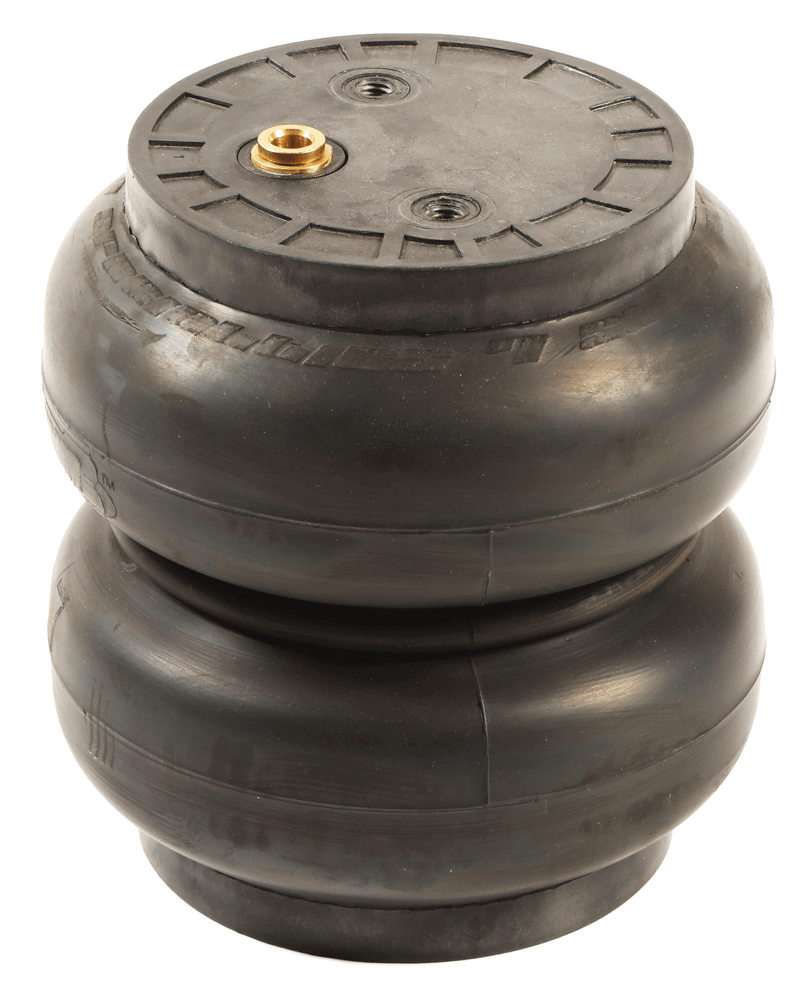 MSRP: STARTING AT $109 EACH
AVAILABLE IN 5, 6, 7 AND 8-INCH DIAMETERS, THE SSF series air springs feature 3/8-inch pushconnect- style fittings, zinc-plated steel-threaded inserts and are rated at 200 psi. The SSF 'bags have been designed to combat ballooning and have internal bump stops for safety and comfort.
Slam Specialties
888.352.5225
Slamspecialties.com
Builder Wheel Tubs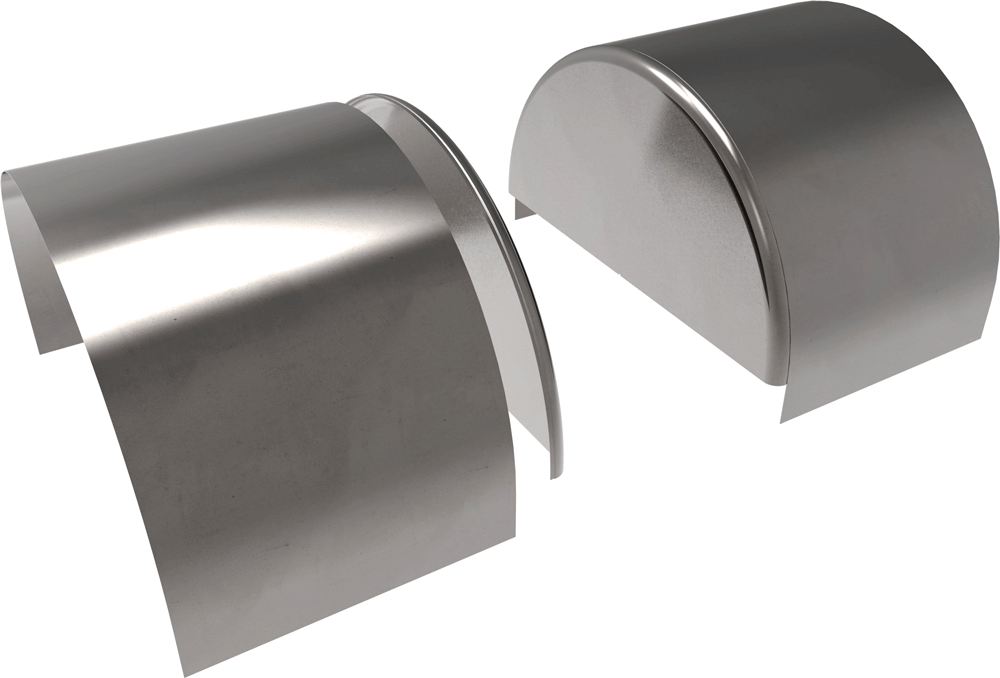 MSRP: $319 PAIR THESE 34X21-INCH wheel tubs are constructed from 18-gauge steel and designed with 3 ¼-inch extra skin length per side past the end cap for wiggle room. Tubs are shipped unassembled, which makes it easier when welding them permanently into place.
Chris Alston's Chassisworks
888.388.0297
Cachassisworks.com
e-Level Wireless Fobs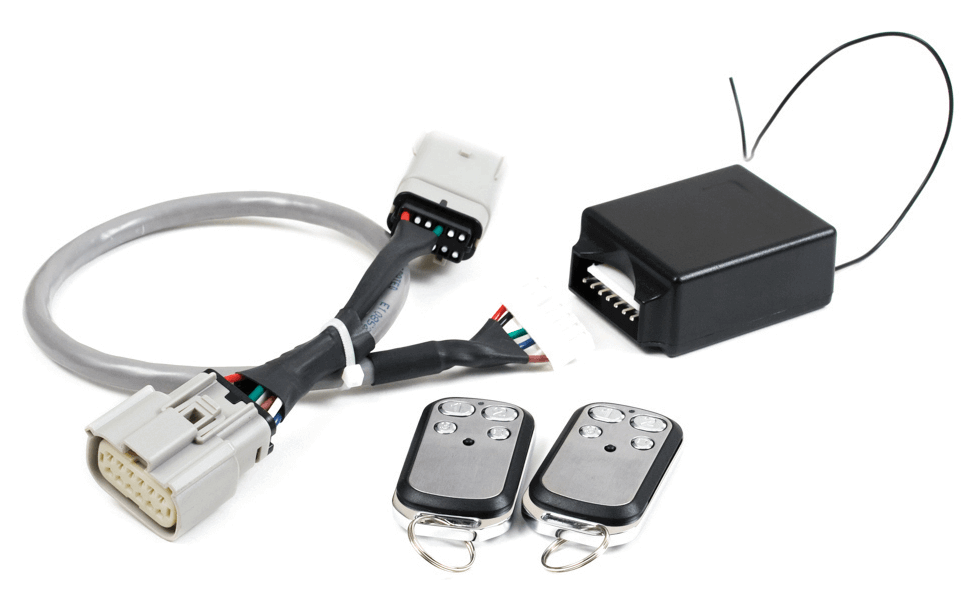 MSRP: $225
IF YOU'D LIKE TO HAVE THE CAPABILITY TO wirelessly control your truck's air ride system from up to 200 feet away, then these fobs from Accuair are most definitely for you. The four-button fobs allow you to program three saved ride heights and an all-down function. The convenience of having this much control from something that attaches to your key ring is incredible.
Accuair Suspension
877.AIR.DOWN
Accuair.com
VIAIR 450C Dual Pack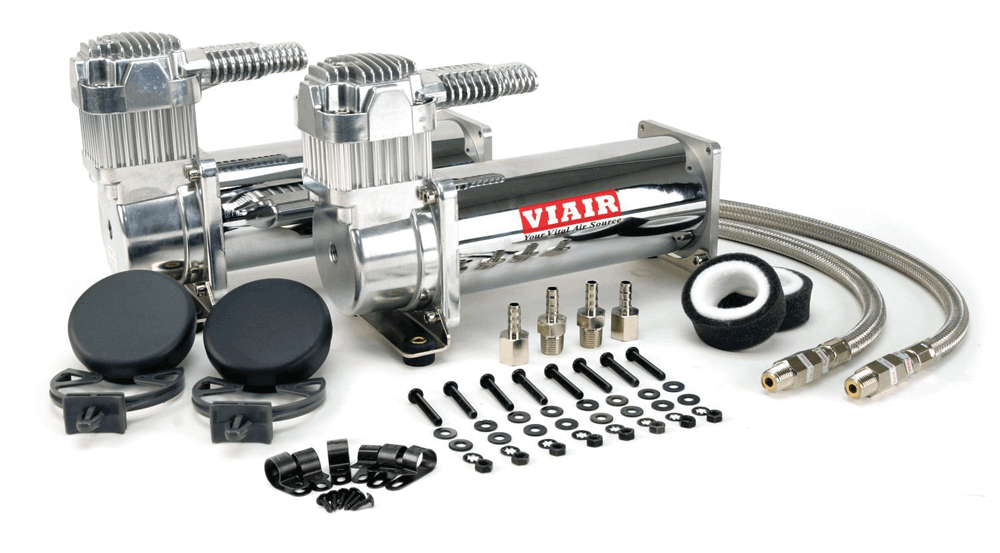 MSRP: $299.95
THE 450C IS A RESPECTED AIR compressor, and this dual pack offered by AVS definitely has enough power to fuel any air suspension system at a price that is tough to top. The kit also comes with two heavy-duty 40-amp relays, a 110-psi cut-on and 145 cut-off pressure switch and all of the mounting hardware to properly wire it up.
AVS
866.915.BAGS
Airbagparts.com
2005-Plus 2WD/4WD Toyota Tacoma 2-Inch Front /1-Inch Rear Leveling Kit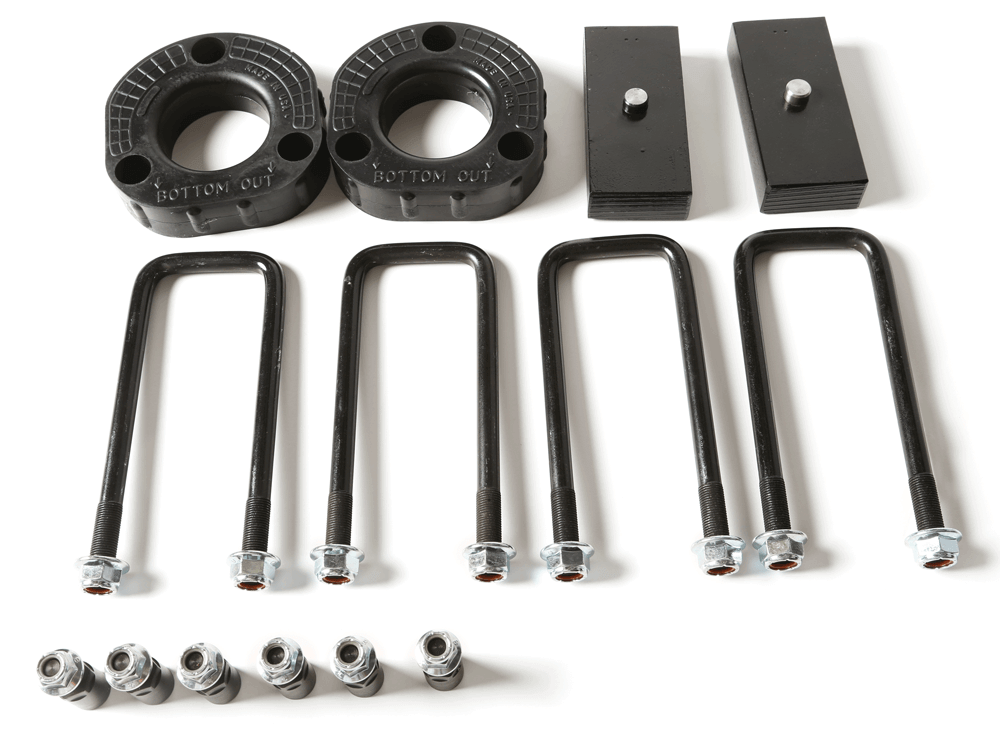 MSRP: $211.14
FOR A complete, straightforward leveling kit package for your Tacoma, look no further than this one from Ground Force. The kit includes front urethane spacers and rear ductile iron blocks and a new set of U-bolts. You'll be more than satisfied with this package and still have a few bucks left over.
Ground Force
724.430.2075
Groundforce.com
2015-Plus F-150 XDS Series Leveling Kit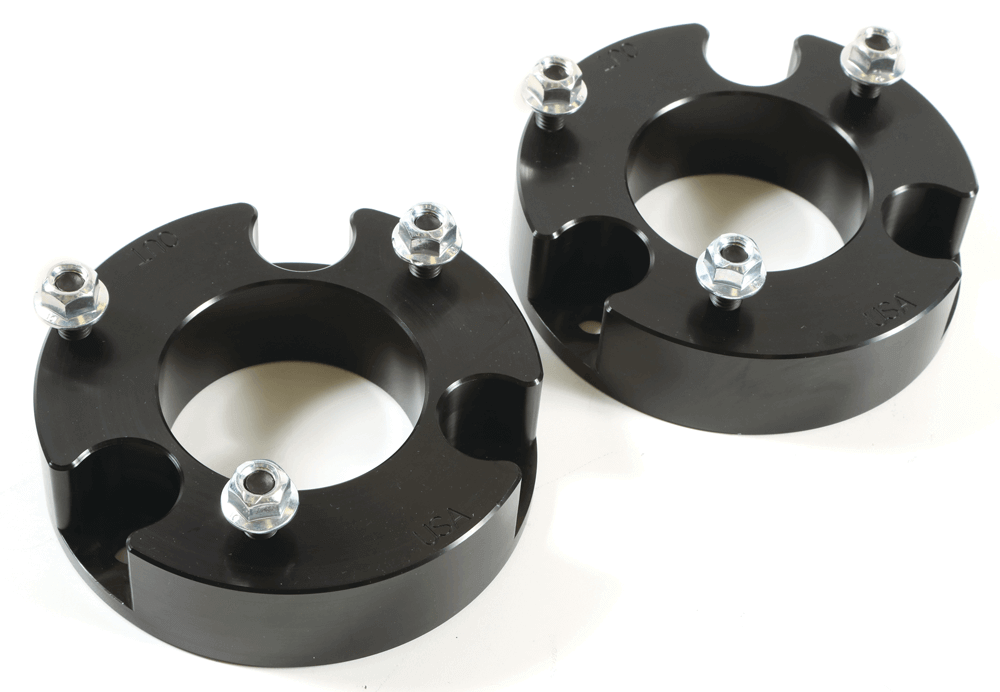 MSRP: $199.95
DESIGNED FOR 2WD AND 4WD MODELS, THIS leveling kit from Excel Suspension features a onepiece billet aluminum 2.5-inch strut spacer with a MIL-spec hard black anodized finish. The spacers are specially built with a unique "offset" to better suit both driver and passenger sides specifically. Rear lift components are also available separately.
Excel Suspension
888.298.0456
Excelsuspension.com
SuperBLOK 3-in-1 Rear Leaf Spring Block Kit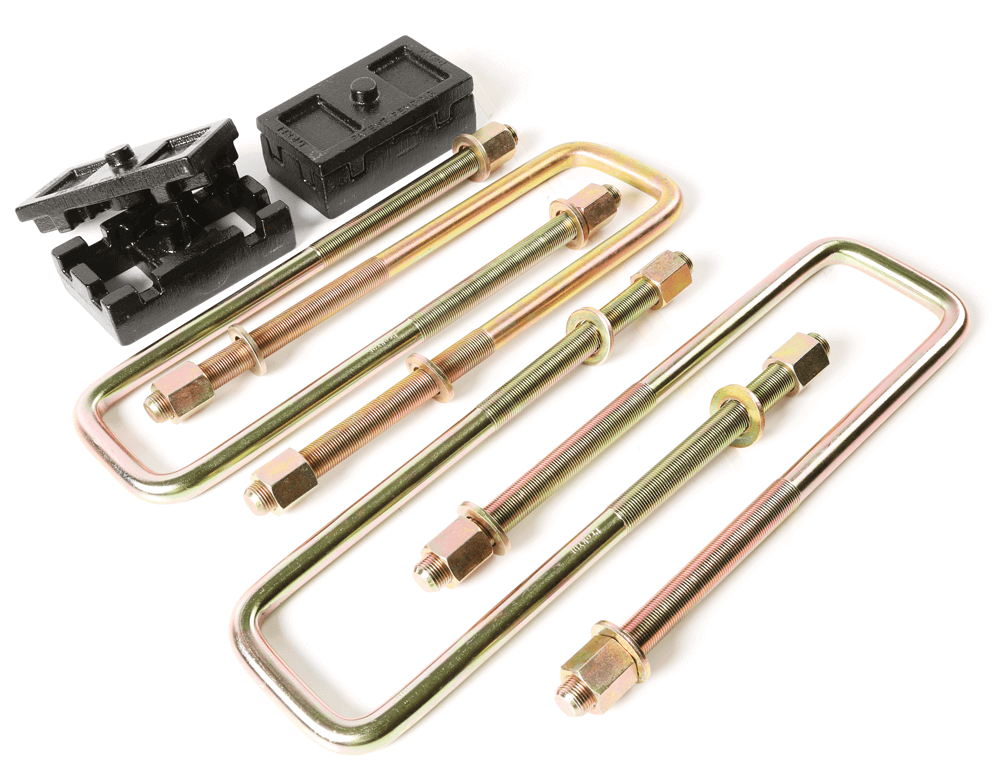 MSRP: STARTING AT $139
THIS PROGRESSIVE, ADJUSTABLE LEAF SPRING block kit allows multiple ride height options for the ultimate in customization. The SuperBLOK 3-in-1 kit allows for 1-, 1 ½- and 2-inch lift options and is available for Titan, Tundra, F-150, F-250, F-350, Ram, Silverado and Colorado applications.
Pro Ryde
888.813.7933
Prorydeliftkits.com
1963-70 C-10 2 ½-Inch Drop Spindles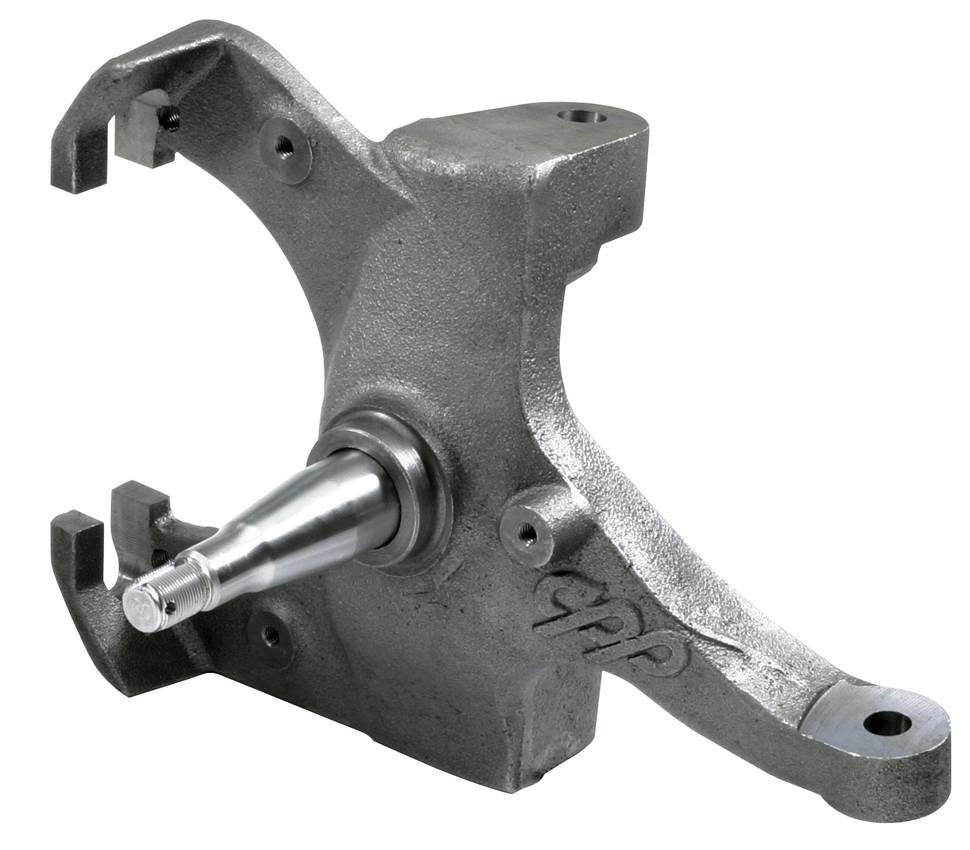 MSRP: $279
PAIR THIS SET OF SPINDLES IS DISC brake compatible and are the same ones sold in CPP's OEM and upgrade kits. They are cast of indestructible ductile iron with 4130 chrome-moly CNCmachined pins. Designed to accept factory ball joints and tie rod ends, these are a solid investment for the price of admission.
Classic Performance
Products 800.830.3297
Classicperform.com
2017 Ram 3500/4500/5500 Rear Sway Bar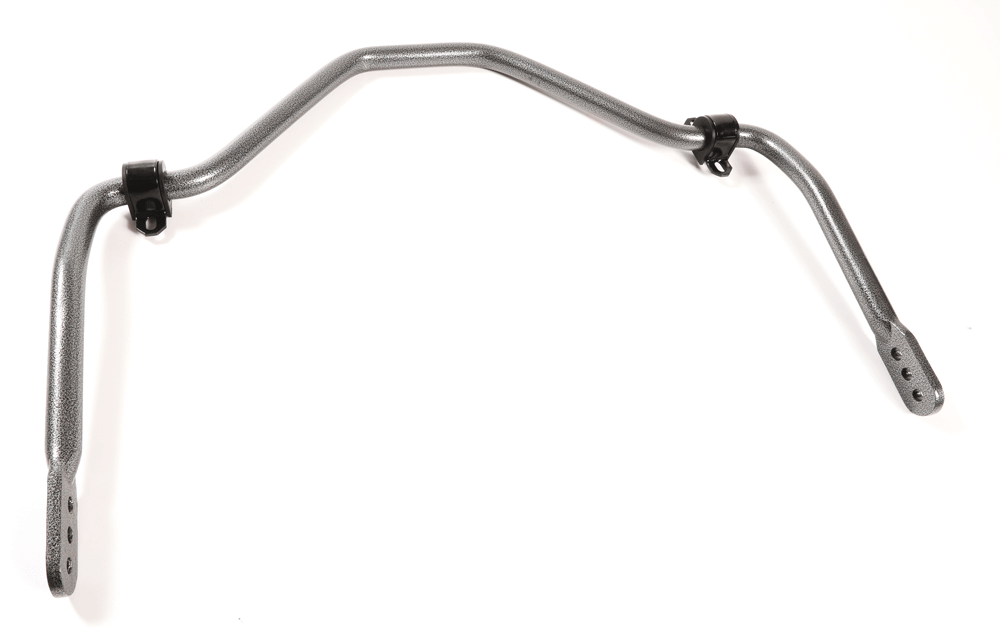 MSRP: $214.20
HELLWIG'S LATEST 1 ¼-INCH SOLID HEAT-TREATED CHROME-MOLY SWAY bar installs easily with basic hand tools and improves handling and safety as it decreases body roll that occurs in everyday driving and when towing. Multiple mounting positions also allows for an adjustable rate for the best feel imaginable.
Hellwig Products
800.367.5480
Hellwigproducts.com
B6 4600 Shocks and Struts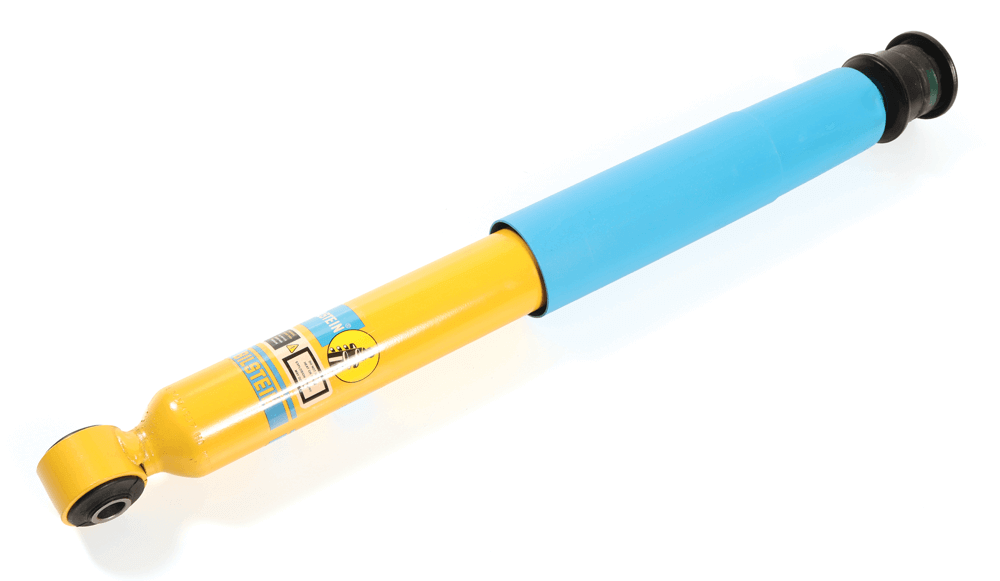 MSRP: STARTING AT $66.97/EACH
NO MATTER WHAT TRUCK OR SUV YOU ARE driving, Bilstein more than likely can outfit it with its B6 4600 gas-pressure shock absorbers. With these shocks and struts, you can increase the vehicle's suspension carrying capacity while reducing uncontrolled movement on the road. Increased steering confidence and better control are also benefi ts of upgrading to Bilstein's latest shocks that are ideal for on- and off -road, as well as trailerpulling applications.
Bilstein
858.386.5900
Bilstein.com
1967-87 C-10 Transmission Cross Member

MSRP: $149
ALL AMERICAN BILLET HAS DESIGNED ITS C-10 transmission cross member with multiple mounting holes, which are bolted right in at the sides of the frame rail. The cross member utilizes a 3/16-inch-thick shim at both ends to help ease the installation process.
All American Billet
844.245.5381
Allamericanbillet.com
Deluxe Rearend Conversion

MSRP: $169.99
THIS KIT IS AN ABSOLUTE MUST DURING A REAREND change. It includes a fully adjustable pan-hard bar, which is critical when lowering the rear of your truck more than 4 inches with lowered coils. This kit will promote better handling and installs directly to the frame on the driver's side using a custom bracket that mounts to the trailing arm on the passenger side.
Western Chassis
888.999.9139
Westernchassisinc.com
1973-87 C-10 Flip Kit With Notch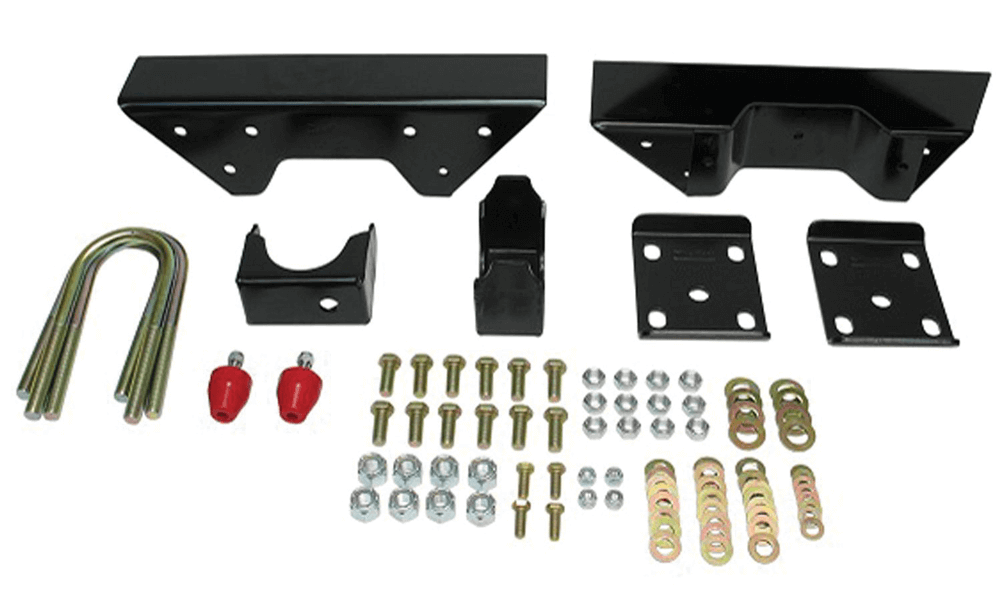 MSRP: $267.80
WITH SQUARE-BODY C-10 PICKUPS INCREASING IN popularity, it's reassuring to see that there are drop kits to fit tight budgets. This flip kit will drop the rearend a solid 6 inches by relocating the rear axle from beneath the leaf spring to above. The kit also comes complete with a C-notch, which is a must when lowering the back end this much.
Belltech
800.445.3767
Belltech.com
1965-72 Ford F-100 Hanger and Shackle Kit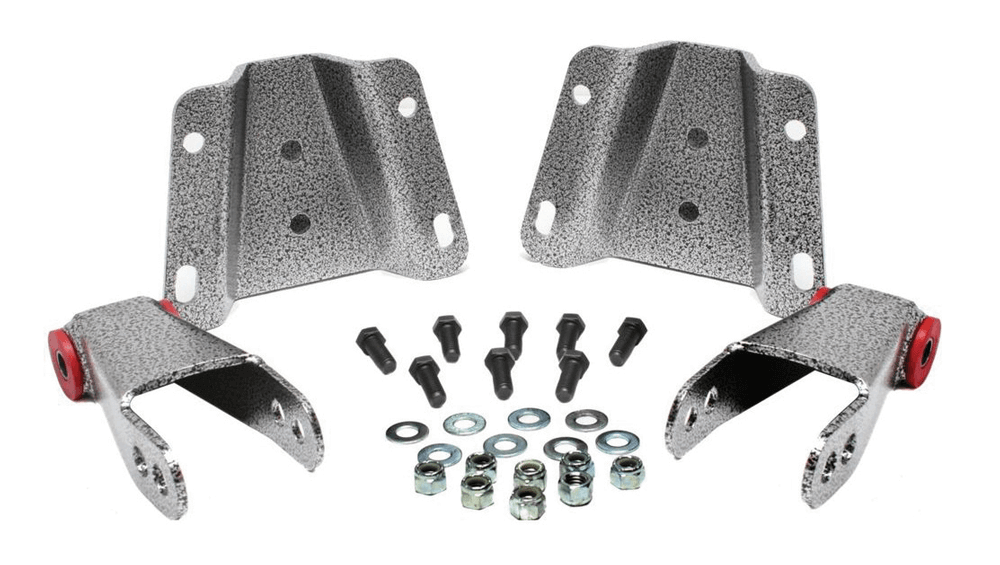 MSRP: $242.98
DJM HAS COMMANDED THE FORD CORNER WITH the development of its front Dream Beams, but it also manufactures rear drop components as well, such as these leaf spring hangers and shackles that will drop the rear a total of 4 inches. Pair these with a set of Dream Beams and your F-100 will be sitting oh so pretty.
DJM Suspension
310.538.1583
Djmsuspension.com
2014-17 Silverado 1500 Crew Cab 3-inch Drop Springs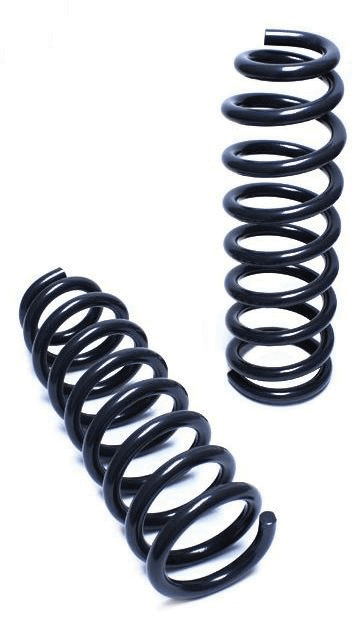 MSRP: $149.55
LOWER THE FRONT OF YOUR Silverado easily and efficiently with MaxTrac Suspension's 3-inch lowering coils. They simply replace the factory coils and off er a comfortable ride quality. They're powder-coated for rust and corrosion resistance. Pair these coils with MaxTrac's wide range of other suspension products to get just the stance you're after.
MaxTrac Suspension
844.535.1668
Maxtracsuspension.com
1973-80 C-10 7-Inch LED Headlights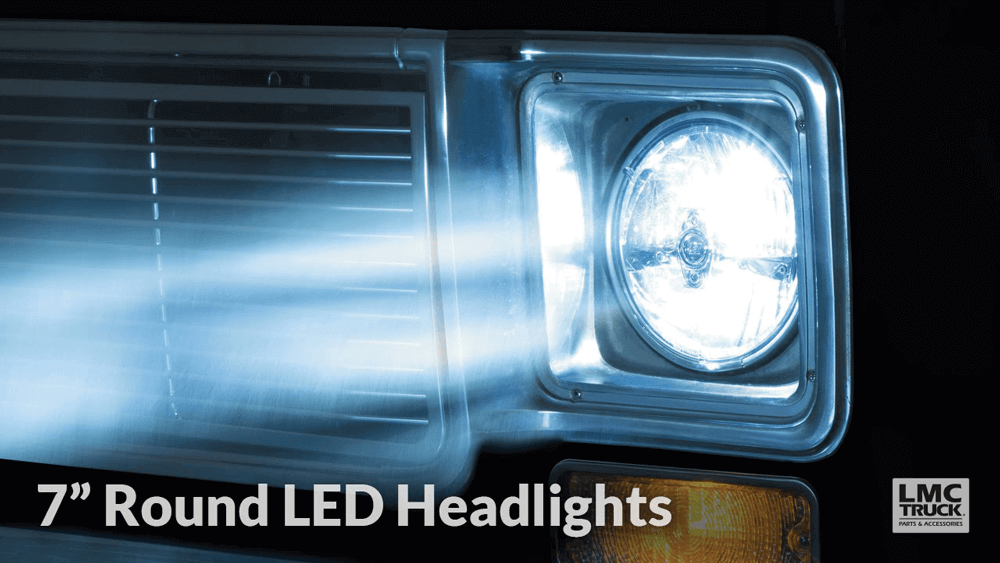 MSRP: $389.95
YES, THESE LIGHTS COME IN A LITTLE over the $300 allotment, but they are defi nitely worth the extra coin. These LED headlights not only increase light output, which dramatically improves safety and visibility at night, but the solid-state, bulb-free design resists damage from shock and vibration. The DOTcompliant headlights are more energy effi cient and last longer than conventional bulbs. Low and high LED beams are built right into the housing.
LMC Truck
800.562.8782
LMCtruck.com
Impulse Grille for Silverado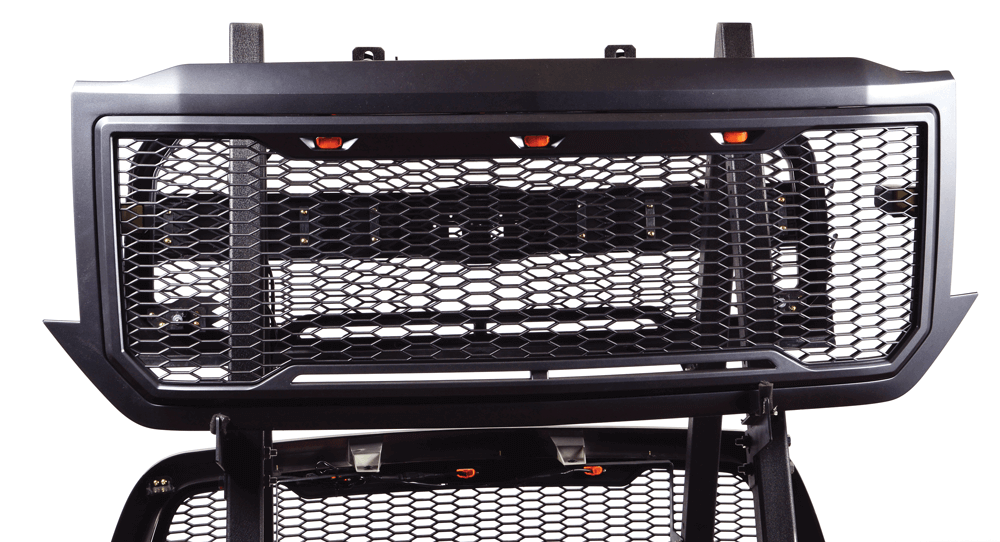 MSRP: $289.97
WHILE THE AVAILABILITY of these grilles is still forthcoming, these Paramount Automotive pieces will be available for 2016-18 Silverado 1500 and will be offered in a couple of different finish options. The grille will replace the entire OE grille assembly and install with ease.
Paramount Automotive
909.781.6492
Paramount-automotive.com
BedRug Impact Mat
MSRP: STARTING AT $199
DESIGNED FOR TRUCKS WITH A spray-in liner or no liner at all, the BedRug Impact Mat offers a padded surface that will withstand the elements, even if your truck isn't equipped with a bed cover. The Impact Mat is made to fit your specific make and model truck to fill in all of the floor ribs and contours for a completely fl at surface that is resistant to harmful UV light and water damage, including mildew and mold. Installation is easy—no tools required.
BedRug
800.462.8435
Bedrug.com
2007-14 Silverado SMD LED Taillights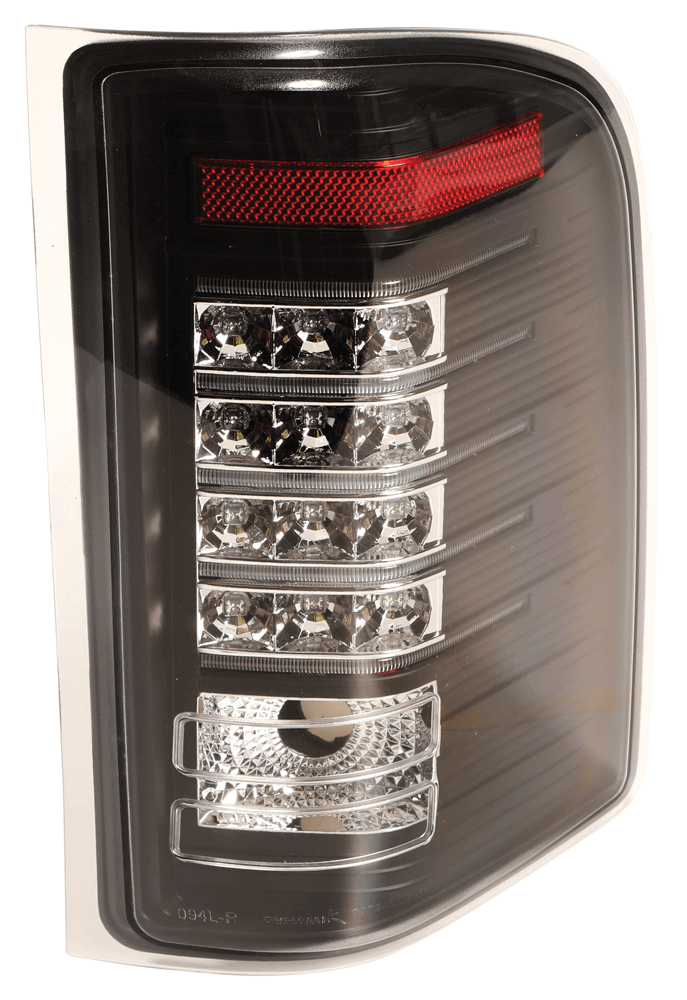 MSRP: $150
SIMPLE ADDITIONS LIKE NEW TAILLIGHTS MAKE A difference in appearance and are easily affordable no matter the budget. Spec-D Tuning's tails are constructed from OEM-approved materials, and the SMD LED bulbs generate higher output with cooler operation for a long-lasting bulb lifespan.
Spec-D Tuning
909.839.2533
Specdtuning.com
Ribbed Aluminum Exterior Trim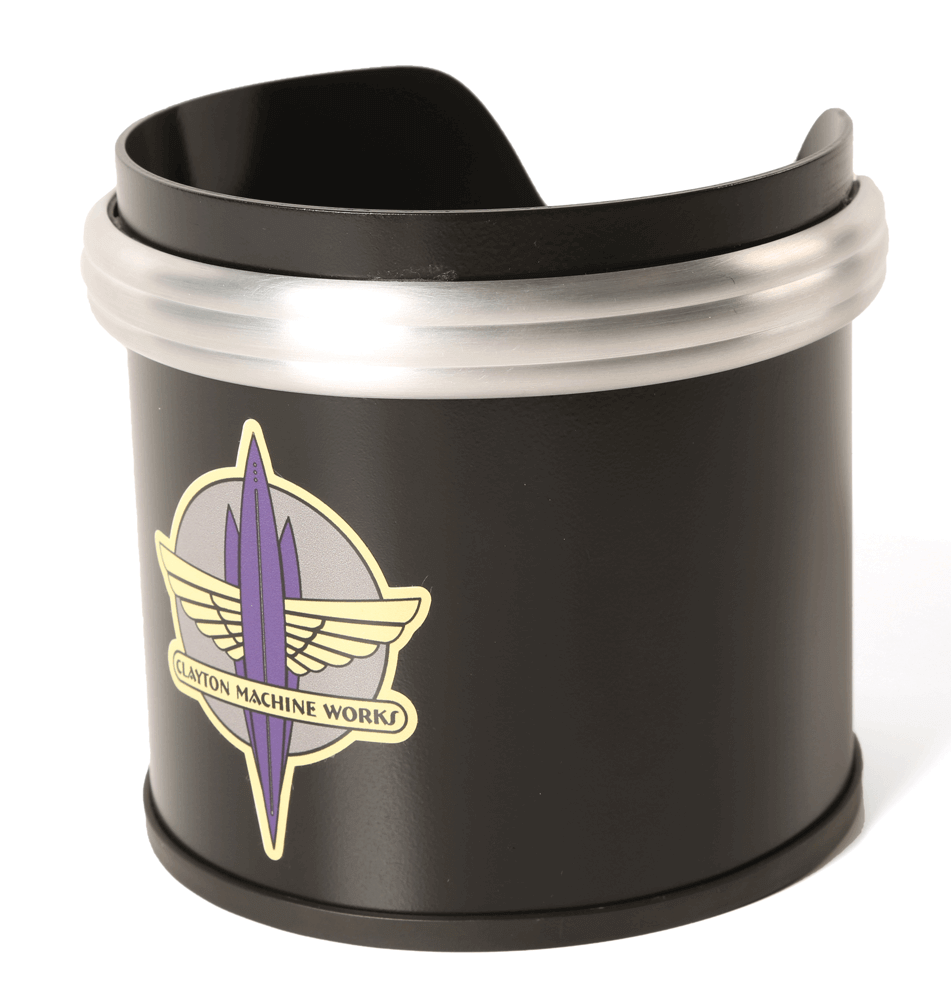 MSRP: STARTING AT $75
THE GREAT THING about this trim from Clayton Machine, aside from it's mill-finished 6063-T0 aluminum construction, is that it can be ordered in various lengths depending on your specific needs. The aluminum can be polished to a mirror finish if desired and is easily shapeable for those looking to add finishing touches to the exterior of their truck project.
Clayton Machine
865.824.9778
Claytonmachine.com
Luminix Edge Lamps for F-150
MSRP: $266.19
PAIR THESE FOG LIGHTS FEATURE AN ANODIZED aluminum housing and blast 1,200 lumens of bright LED illumination. The lights are direct OE replacements and are fully compatible with the OEM harness for quick plug-and-play installation.
Putco
800.247.3974
Putco.com
2016-17 GMC Sierra 1500 Black Mesh Custom Grille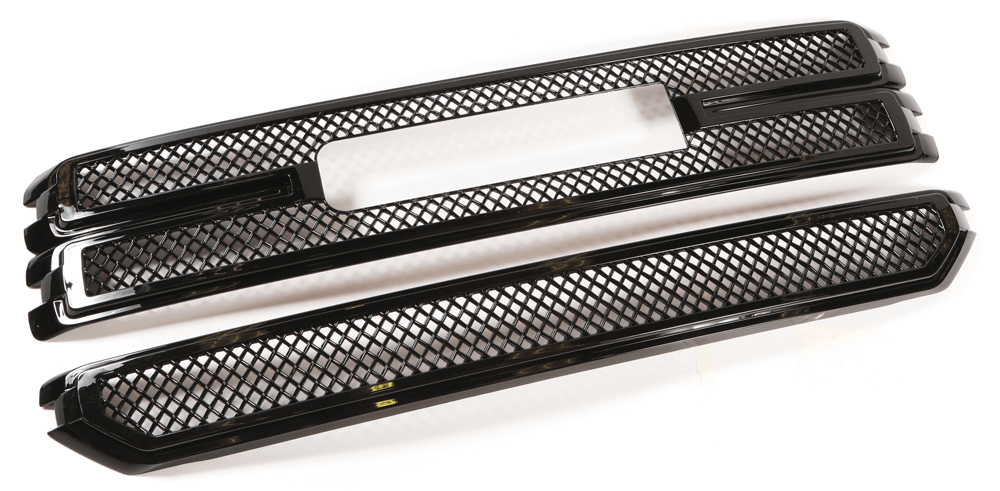 MSRP: $133
WANT TO BLACK OUT YOUR SIERRA'S FRONT END? If so, this gloss black ABS insert/overlay grille from Trim Illusion will work just great. It's less expensive and far lighter than steel, and rust will never be an issue no matter the climate. Changing up the looks of the grille shell has never been easier or lighter on the wallet.
Trim Illusion Inc.
866.889.8746
Trimillusion.com
C-10 Cowl Filler Panel

MSRP: STARTING AT $149
THESE DAYS, YOU HAVE TO REALLY START PAYING attention to the details in order to make your C-10 stand out from the crowd. Scott's cowl filler panel allows you to replace the factory piece with this high-end 16-gauge sheet-metal panel. The new panel is compatible with the factory windshield wipers and maintains the same correct shape as the OEM part.
Scott's Hot Rods
800.273.5195
Scottshotrods.com
2015 Ford F-250 Super Duty BG Series Grille Insert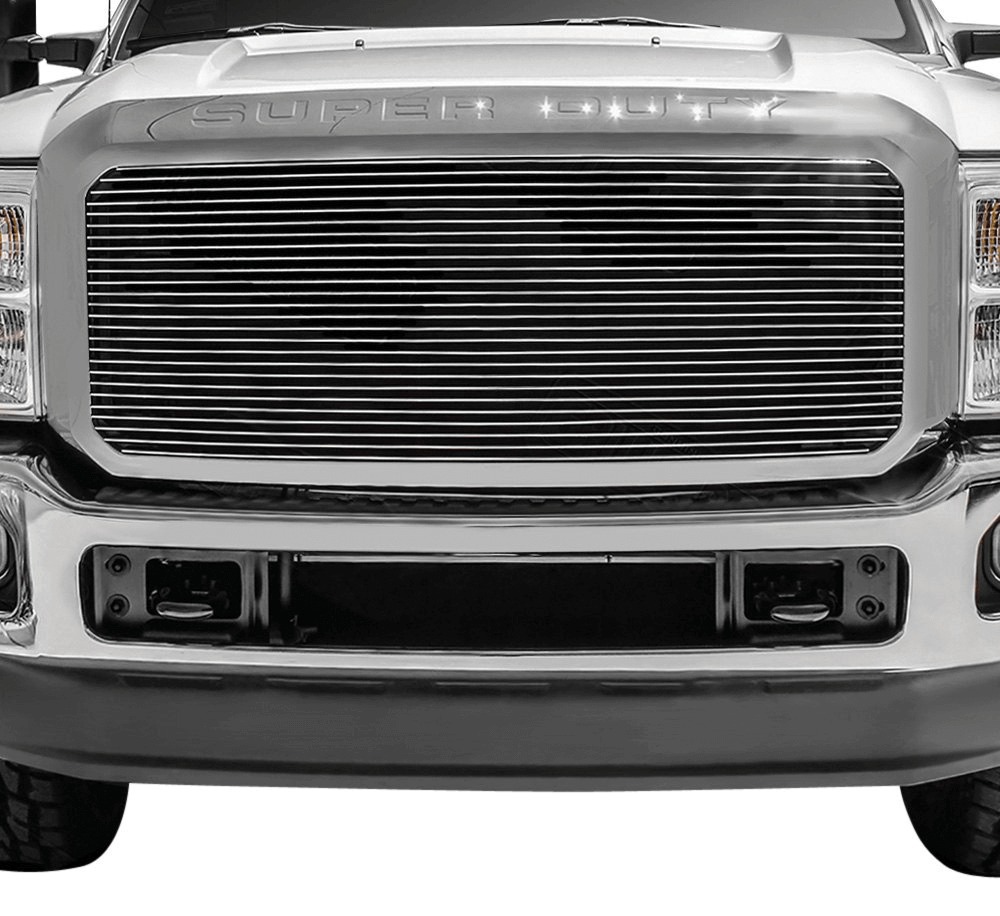 MSRP: $235
IF YOU WANT TO MAKE your Super Duty look like an oncoming big rig, Grillcraft's BG series grille insert can help. The 6061- T6 aluminum construction and a high-gloss polished billet face ensure this front-end addition will stand the test of time.
Grillcraft
888.300.9258
Grillcraft.com
1969-72 C-10 Cargo Light With Third Brake Light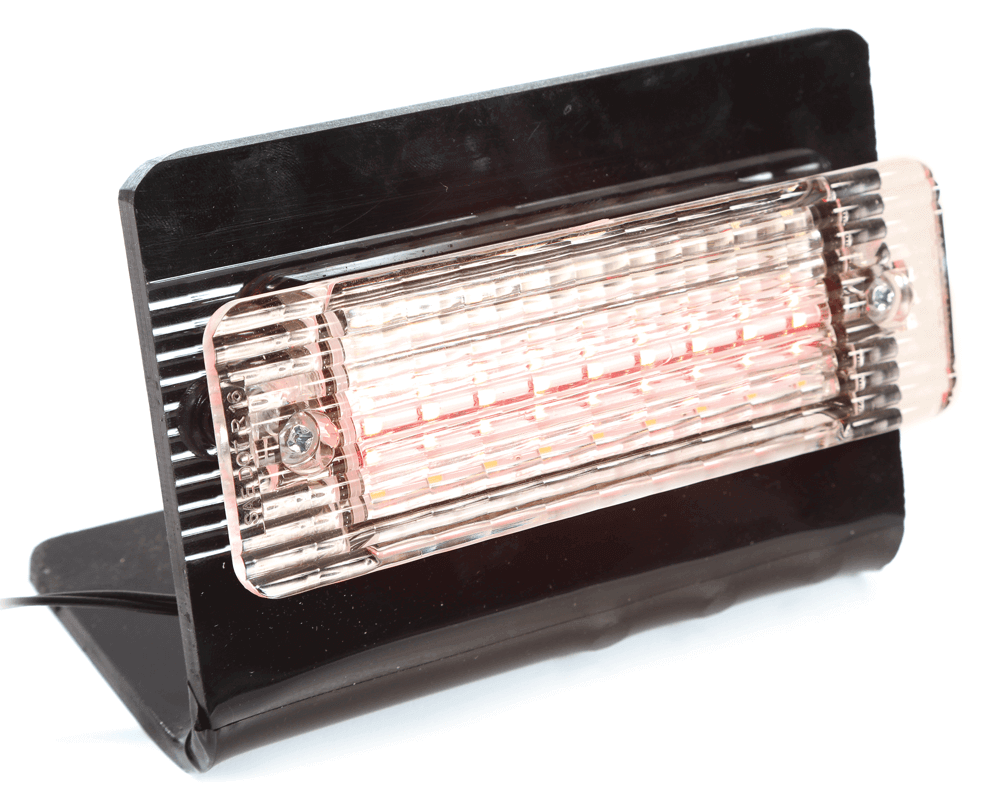 MSRP: $49.99
HERE'S AN IDEAL REPLACEMENT FOR YOUR busted cargo light lens. This one features 18 white LED cargo lights and nine red LED lights, and is epoxy coated and fully sealed. It has a cool, clear look when not in use, and a minimalist look when the lights are on.
United Pacific
562.912.2858
Upauto.com
1947-87 14-inch Half-Wrap Steering Wheel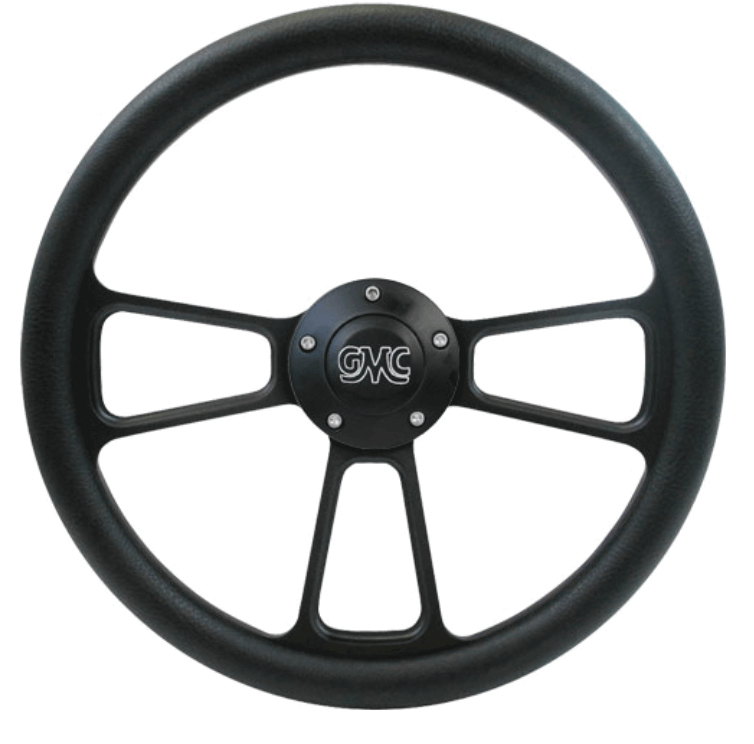 MSRP: $229.99
BROTHERS NOW OFFERS A WIDE ASSORTMENT of custom steering wheels in many options. This black-on-black example features a retro GMC logo horn button and black vinyl wrap. The center is constructed from machined aluminum and can either be ordered in a powder-coated matte black finish (as shown) or polished. A real mahogany halfwrap is also available.
Brothers Trucks
800.977.2767
Brotherstrucks.com
GT 3 ProLine Louver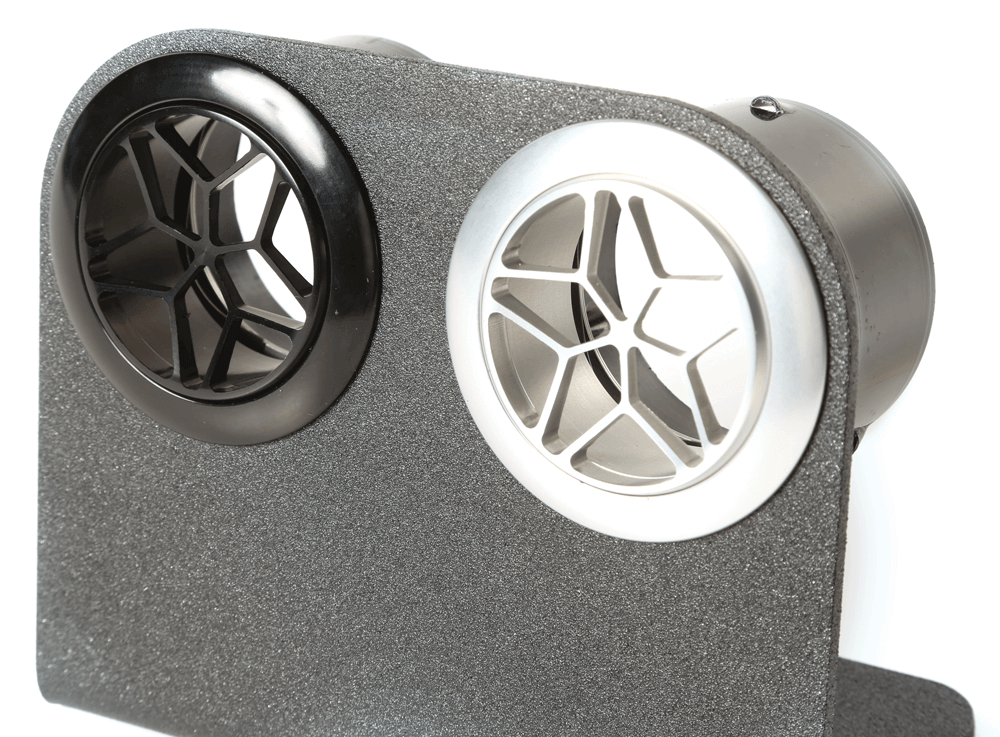 MSRP: STARTING AT $175
VINTAGE AIR HAS RELEASED A WHOLE line of freshly styled ProLine louvers that boast 6061 T6 billet aluminum construction and are available in clear or black anodized finishes. Choose the style that best suits your truck's interior space.
Vintage Air
800.862.6658
Vintageair.com
Licensed GM, Ford and Mopar Radio Dial Screen Protectors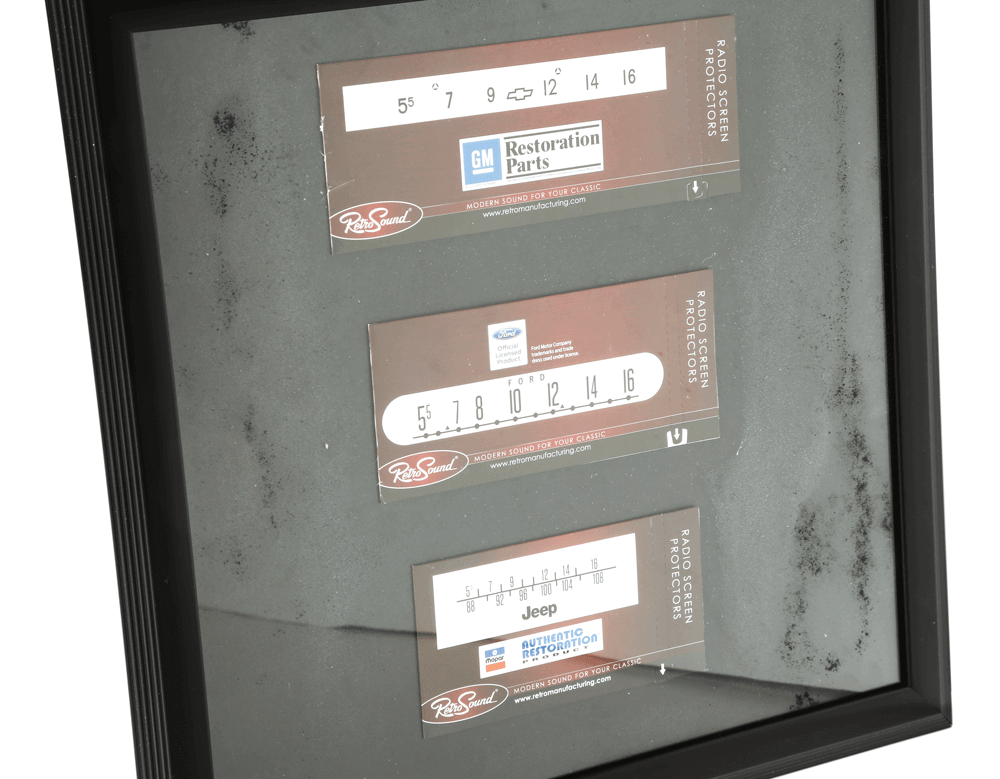 MSRP: STARTING AT $19.99
WANT A MORE CUSTOMIZED AND AUTHENTIC LOOK TO YOUR RETROSOUND receiver? These dial screen protectors are the perfect way to do it, plus they'll keep your radio safe from any mishaps while rocking out to your favorite jams. They apply as easily as any cell phone screen protector and are available in 33 different styles.
RetroSound
888.325.1555
Retromanufacturing.com
2017-Plus F-250 Front Floor Liners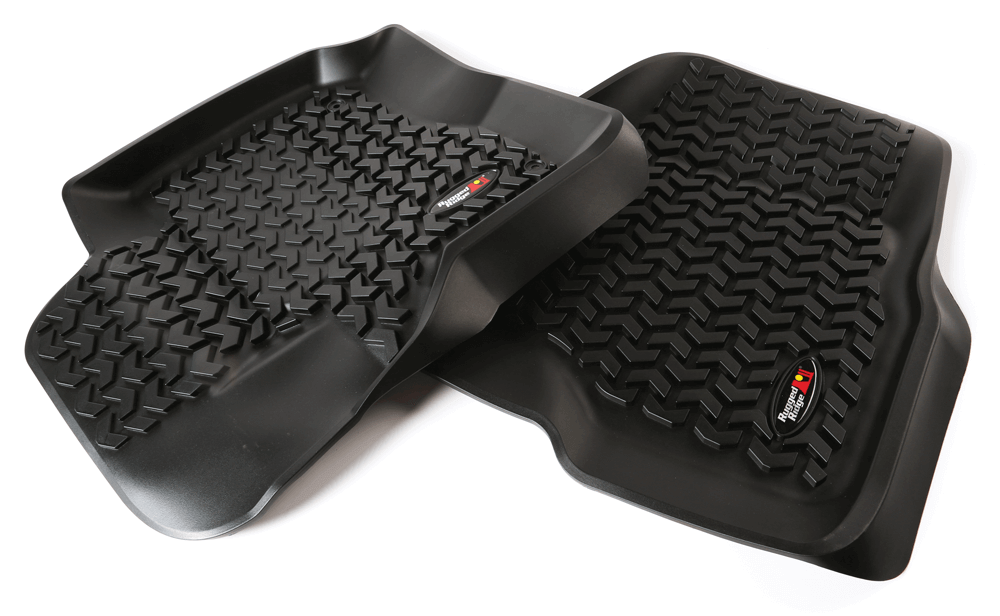 MSRP: $119.99
PAIR IF YOU USE YOUR TRUCK FOR WORK OR HEAVY PLAY, YOU'LL NEED TO UPGRADE the factory-issued floor liners, unless you want your carpet to get completely annihilated. The Rugged Ridge floor liners are perfectly contoured to the floor pan for secure fitment, and the durable OE-quality thermoplastic material can withstand all the abuse you can throw at it.
Rugged Ridge
770.614.6101
Ruggedridge.com
Rose Gold Edition Gauge Face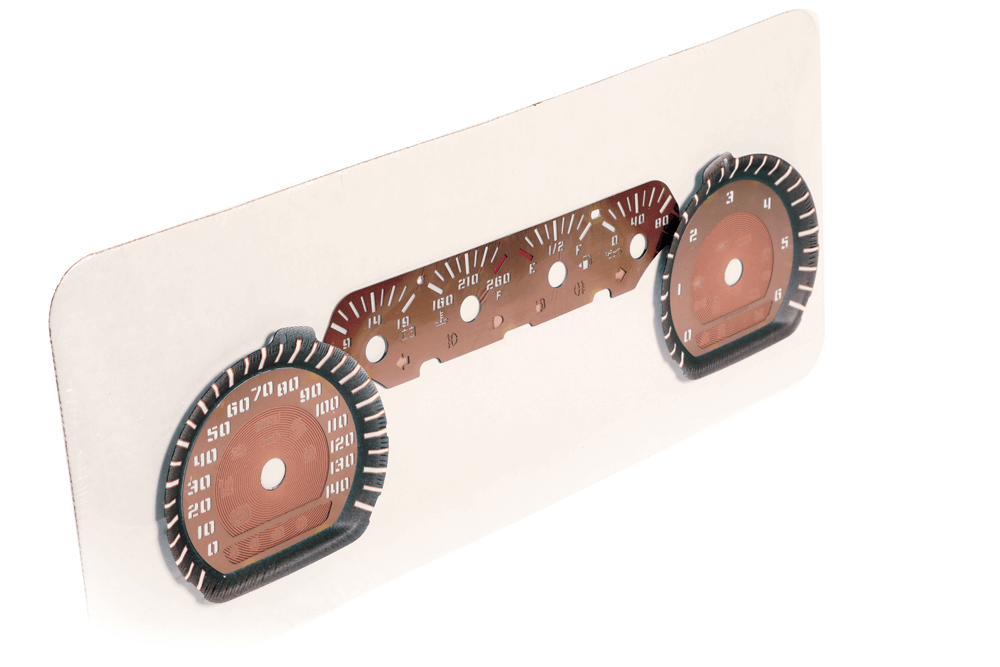 MSRP: STARTING AT $259.99
NEW FROM U.S. SPEEDO ARE ROSE GOLD anodized stainless steel gauges for most applications the company currently makes in stainless. This colorway is eye-catching in a subtle way and is an elegant upgrade to any interior.
U.S. Speedo
810.244.0909
Usspeedo.com
1967-72 F-100 Sport Dash Pad

MSRP: $363.97
DON'T WORRY ABOUT TRYING TO SALVAGE YOUR OLD, ROTTING DASH PAD— it's toast. The easy solution is to replace it with one from TMI Products. For $63.97 more than our targeted budget, you can choose a fresh dash pad with a choice of contrasting stitching color. Removal of the old pad and installation of the TMI version is simple and straightforward, and the benefits are huge.
TMI Products
855.767.3744
Tmiproducts.com
Key Smart Amplifier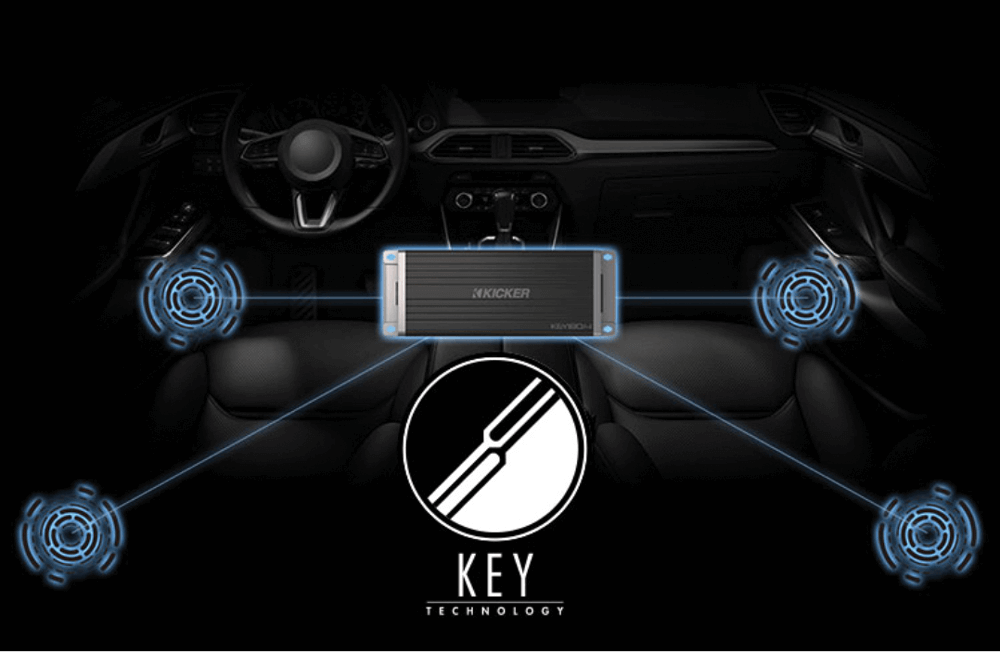 MSRP: $199
THIS LITTLE PACKAGE IS BOTH AN AMPLIFIER AND AN AUDIO PROCESSOR. IT helps your factory or existing stereo deliver audio signals that are much clearer, not just louder. The press of a button engages a built-in microphone that listens and then adjusts the soundstage with a 40-band equalizer and 24 dB crossover. What could take hours with the right ears can now be done in a matter of minutes automatically. You've never had a piece of stereo equipment like this before.
Kicker Audio
405.624.8583
Kicker.com
Midnight Series Shifter Boot Set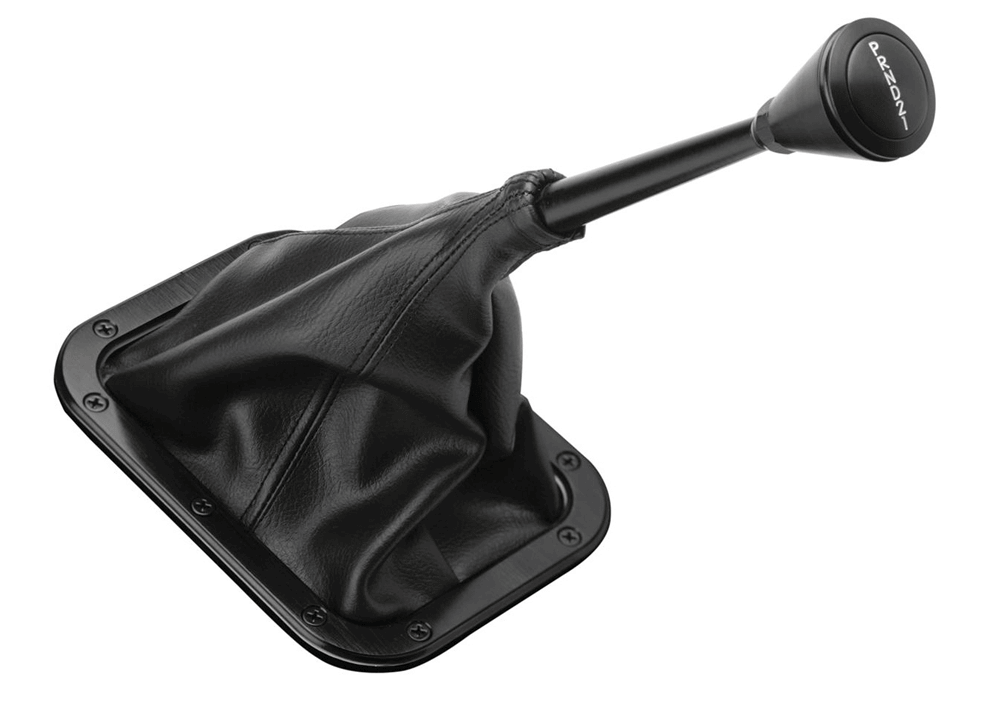 MSRP: $71.97
THIS DARK AND BOLD SETUP WOULD BE A WELCOMED look in just about any interior space. Lokar's black Naugahyde boot has a plush feel, and the black finished base ring is available in either classic, hot rod and rectangular shapes.
Summit Racing
800.230.3030
Summitracing.com
Adjust-2-Fit Chevy LS Engine Adapter Kit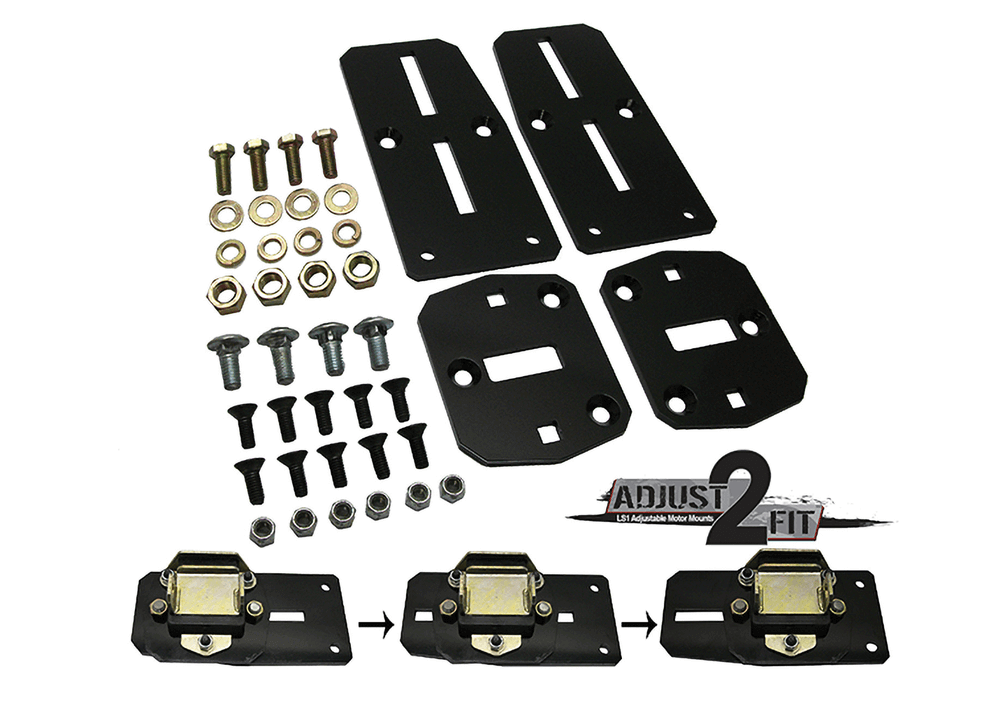 MSRP: $125.99
WHEN AN LS ENGINE JUST DOESN'T ALIGN WITH the existing motor mounts, in comes POL's kit to the rescue. This package offers almost 3 inches of adjustment, which makes alignment less of a pain in the neck. The improved design features no-weld brackets constructed of CNC-laser-cut 1018 steel that has been powdercoated in a durable black finish.
Performance Online
888.704.6292
Performanceonline.com
Predator 2 Programmer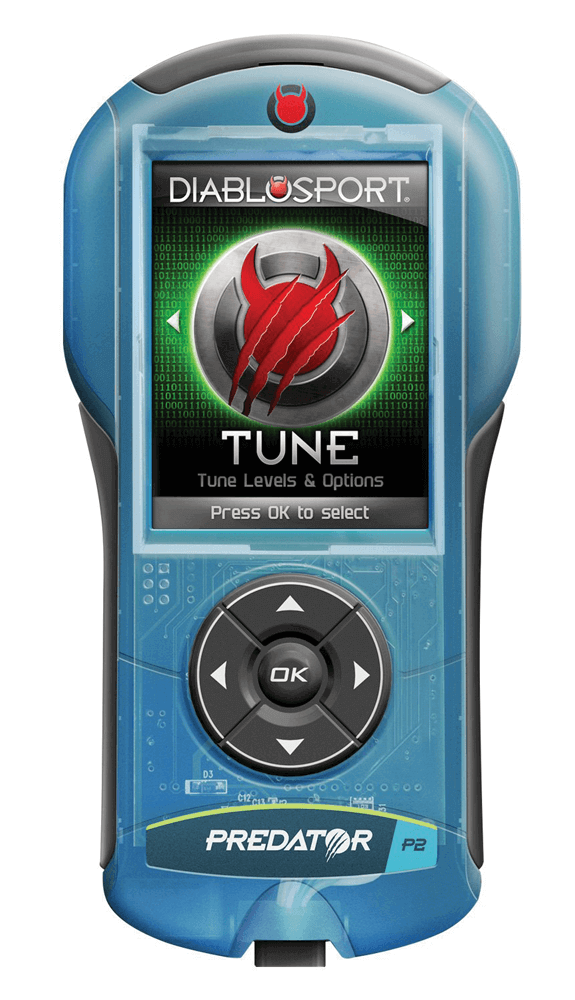 MSRP: $329.95
OK, SO THIS PROGRAMMER IS SLIGHTLY OVER budget, but the extra $30 bucks is money well spent. Designed for late-model GM vehicles (also available for Ford and Dodge), the Predator 2 programmer can increase horsepower, torque and bump up fuel economy numbers, all with simple plug-and-play compatibility. The user can adjust options such as tire size, gearing, shifting and a whole lot more to fine tune the performance output.
Diablo Sport
866.404.6141
Diablosport.com
Aftermarket EFI Expansion Modules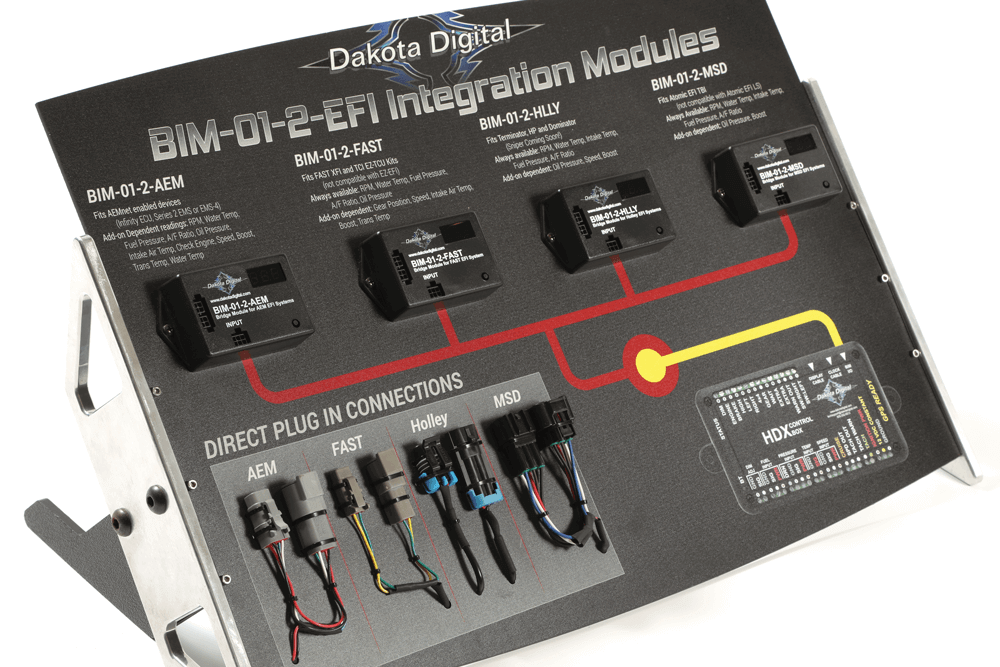 MSRP: $99.95
IF YOU'RE RUNNING AN AEM, HOLLEY, FAST OR MSD EFI controller, Dakota Digital now makes these expansion modules to allow its instrument systems to pull data from the ECU, which means not having to mess with running multiple sending units. The ability to access additional valuable performance information is always a good thing. The required harness for each specific manufacturer is supplied in the package for a simple plug-and-play experience.
Dakota Digital
800.852.3228
Dakotadigital.com
2015-17 Ford F-150 3.5L Air Intake System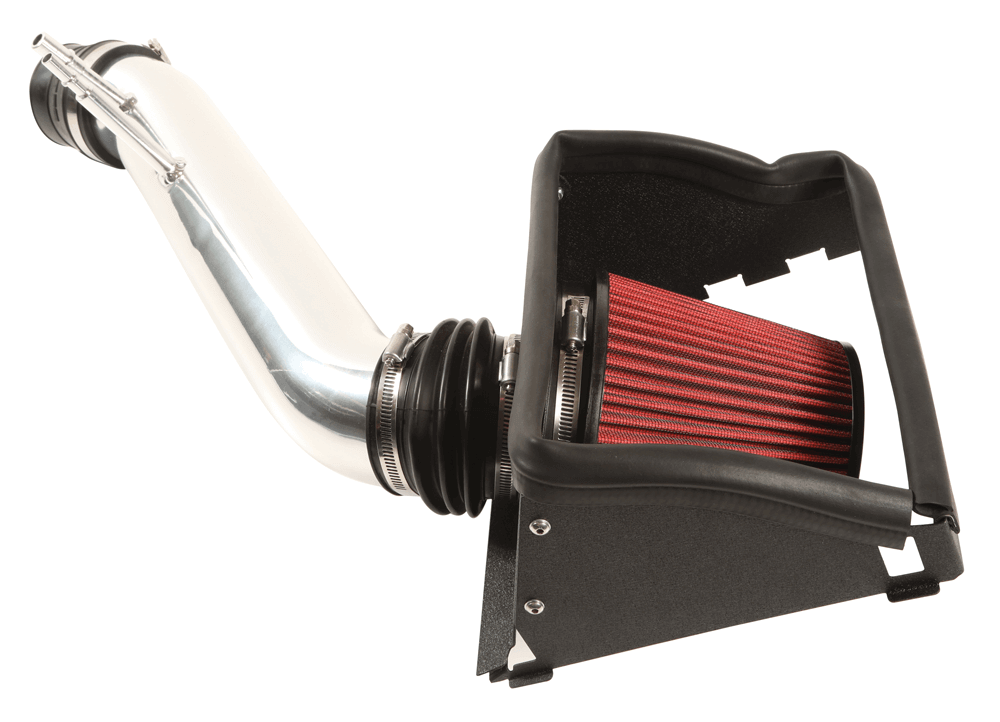 MSRP: $191.25
SPECTRE'S AIR intake system is designed to pull more horsepower and torque from your truck, while protecting its engine from dirt and debris with the cleanable, reusable filter element. The kit features a polished aluminum intake tubing and black powder-coated two-piece heat shield that prevents heated engine air from entering the intake inlet.
Spectre Performance
909.673.9800
Spectreperformance.com
JET Mass Air Flow Sensor for 2018 GM Applications
MSRP: $279.95
A TRIED-AND-TRUE METHOD OF INCREASING horsepower, torque and getting better mileage from your vehicle is JET Performance Products' Powr-Flo Mass Air Sensor system. The factory sensor is not only restrictive, it limits the full potential of what an aftermarket cold air intake can deliver. Increase airflow by up to 45% with just 15 minutes (usually less) of work.
JET Performance Products
800.535.1161
Jetchip.com
Delta Boost Module for Ford 2.7L/3.5L EcoBoost Engines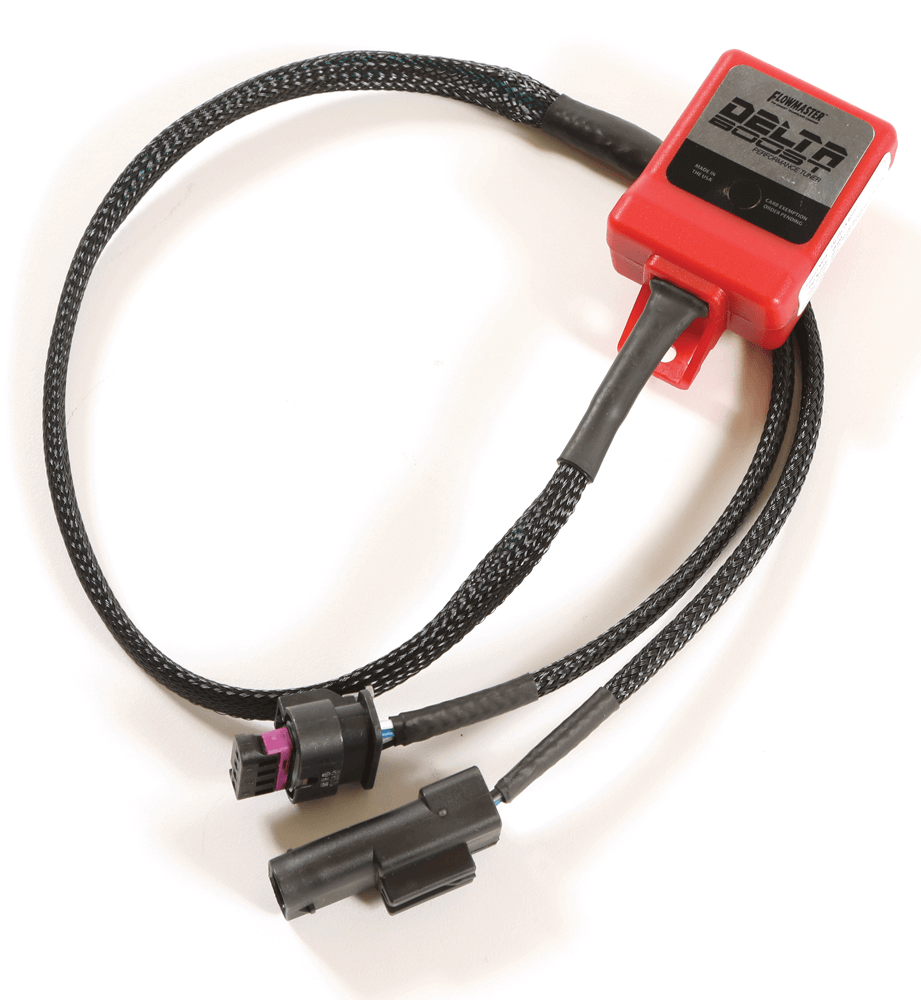 FLOWMASTER'S DELTA BOOST MODULE IS AN extremely simple method of gaining 4 extra psi in boost, which is a bump of 32 hp and 50 lb-ft of power. While those numbers are rather significant, accessing them is as easy as plugging in the module and controlling it wirelessly via Bluetooth app on your smartphone.
Flowmaster
707.544.4761
Flowmastermufflers.com
2017-Plus GM Truck/ SUV Inline Speedometer Calibrator Module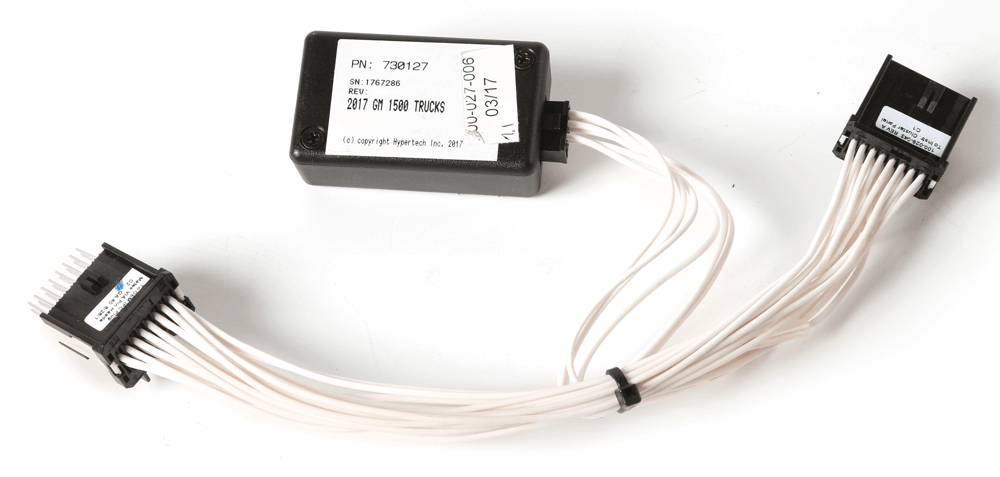 MSRP: $229
RUNNING LARGER THAN FACTORY tires? If so, this speedometer calibrator module can correct readouts in the speedometer and odometer when using non-stock tires and gear ratios. The module is programmable, and the harness that connects inline to the factory harness requires no cutting or splicing to install.
Hypertech Inc.
901.382.8888
Hypertech.com
2014-15 GM Silverado/ Sierra 5.3L/6.2L Jammer CAI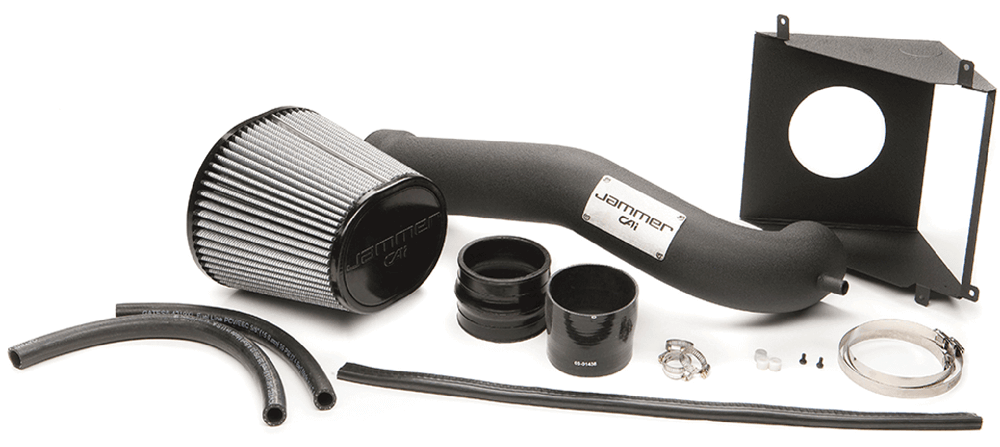 MSRP: $299.95
THE JAMMER COLD AIR INTAKE system combines a 3 ½-inch black powder-coated aluminum tube and a massive 7 ½-inch dry filter with inverted top, which generates up to 30% more airflow. The Jammer dry filter is comprised of three-layer synthetic gauze and requires no oil because it cleans with just soap and water. Easy maintenance, easy installation, increased performance— it's a win, win, win.
Edge Products
888.360.3343
Edgeproducts.com
Widowmaker 6 Universal Muffler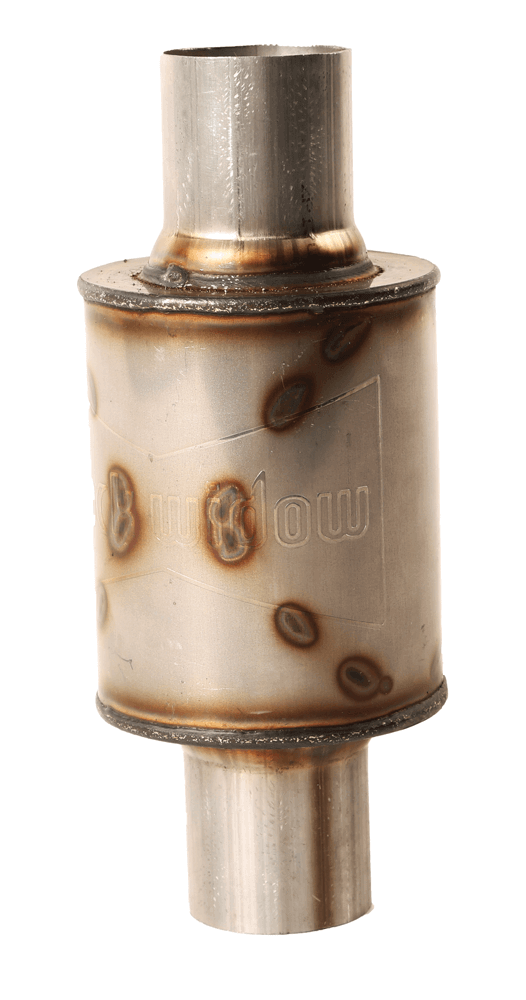 MSRP: STARTING At $154
THE WIDOWMAKER 6 muffler is the latest addition to Black Widow's lineup of performance mufflers. With a 6×5-inch body profile, it's the company's smallest muffler offering, but its most aggressive. This unit is ideal for those who want a straight pipe sound while maximizing volume.
Black Widow Exhaust
949.333.0906
Blackwidowexhaust.com
1960-62 C-10/C-20 Aluminum Radiator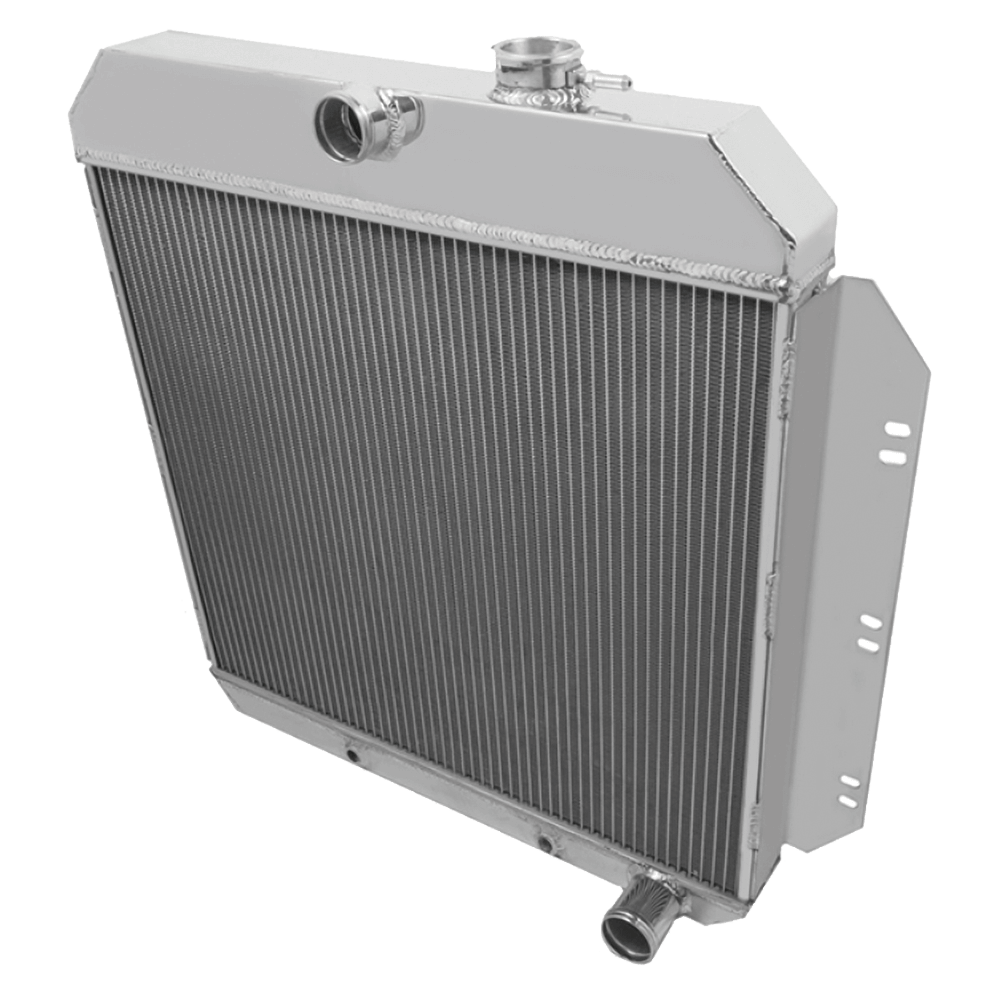 MSRP: $199.99
POL'S NEW RADIATORS ARE constructed of aircraft grade aluminum and are 100% TIG welded with 14-16 cooling fins per inch for even cooling distribution. These radiators also feature 2mm-thick tanks and fittings to handle highpower engines. For an extra $60, a three-row radiator option is also available.
Performance Online
888.704.6292
Performanceonline.com
OE Six-Lug Steel Wheel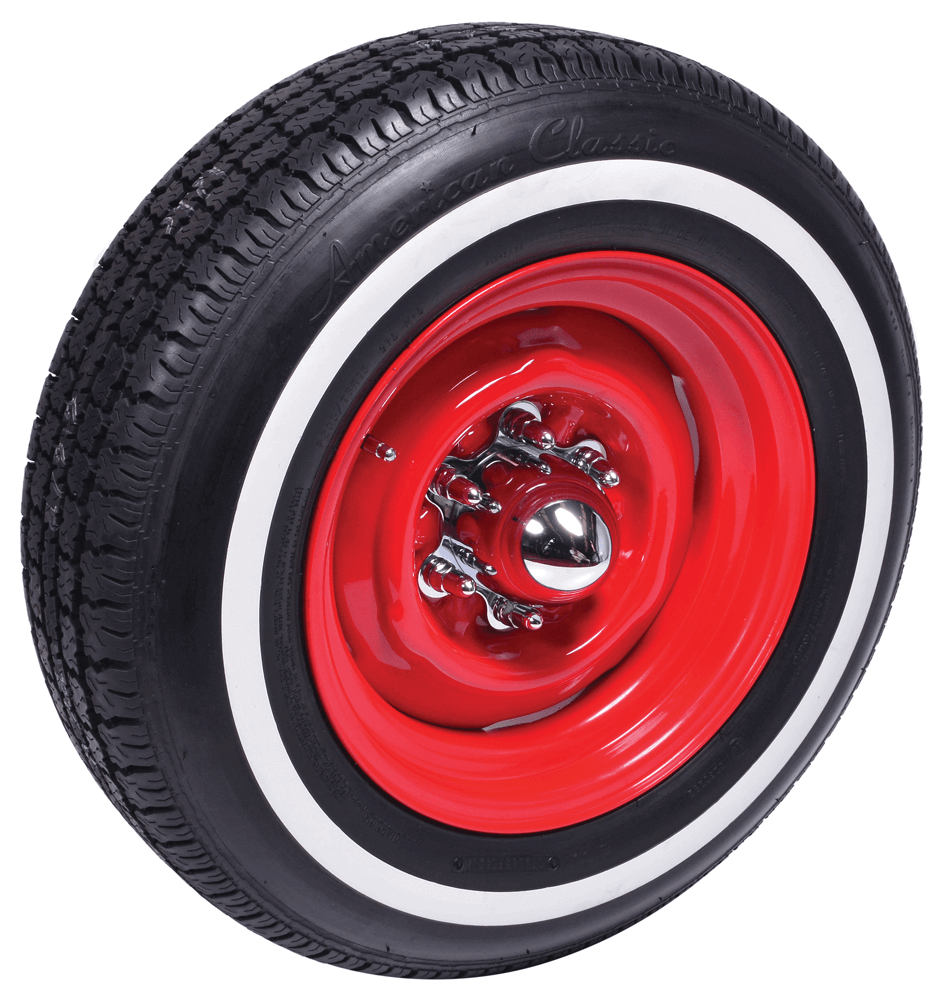 MSRP: STARTING AT $84
SOMETIMES OLD-SCHOOL TRUCKS need to have old-school wheels to look their best. Wheel Vintiques has your ride covered with its vintage-looking 15-inch steel wheels built using modern materials and equipment. Fitments for Chevrolet, Ford and Dodge are available.
Wheel Vintiques
800.959.2100
Wheelvintiques.com
1964-66 C-10 Bow Tie Hubcap Set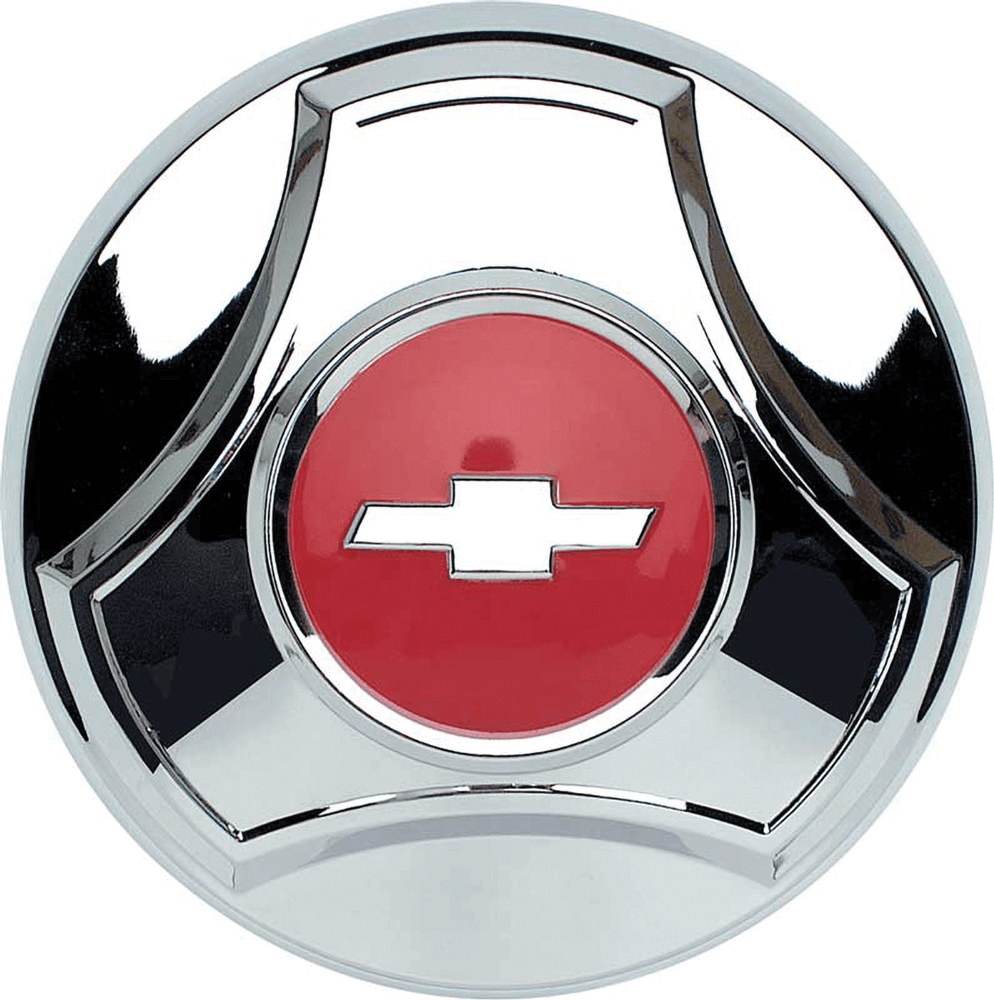 MSRP: $269.99
FINDING ORIGINAL HUBCAPS IS getting tough, but these reproduction caps from Classic Industries can alleviate the stress of tracking down an OEM set. These here are chromeplated, include bow tie logos in the center and are officially licensed by General Motors.
Classic Industries
800.854.1280
Classicindustries.com
Baer Sport Rotors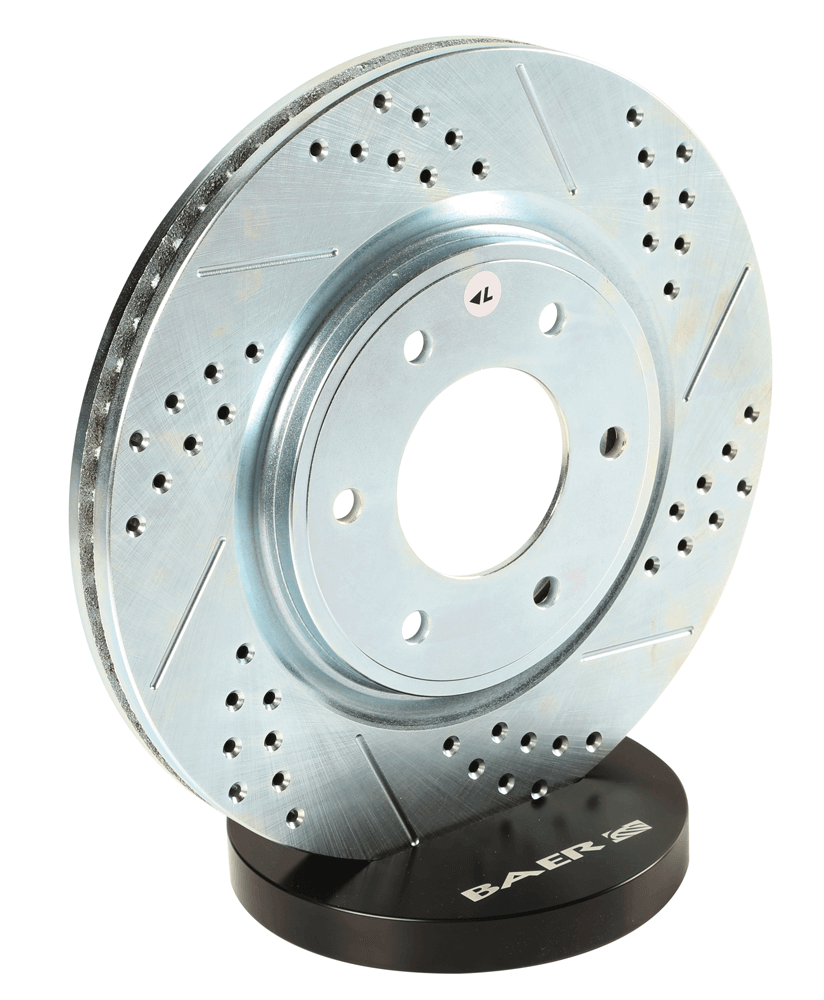 MSRP: STARTING AT $151.90
BAER'S SPORT ROTORS ARE AVAILABLE FOR A WIDE variety of mini and full-size pickup and SUV applications, and they're sized to be direct replacements for the factory rotors. The rotors are slotted, drilled and zinc-plated for the ultimate in durability. Baer Sport brake pads are also available for a complete braking upgrade package.
Baer Inc.
602.233.1411
Baersport.com
Wilwood PolyMatrix-E High- Temp Race Pads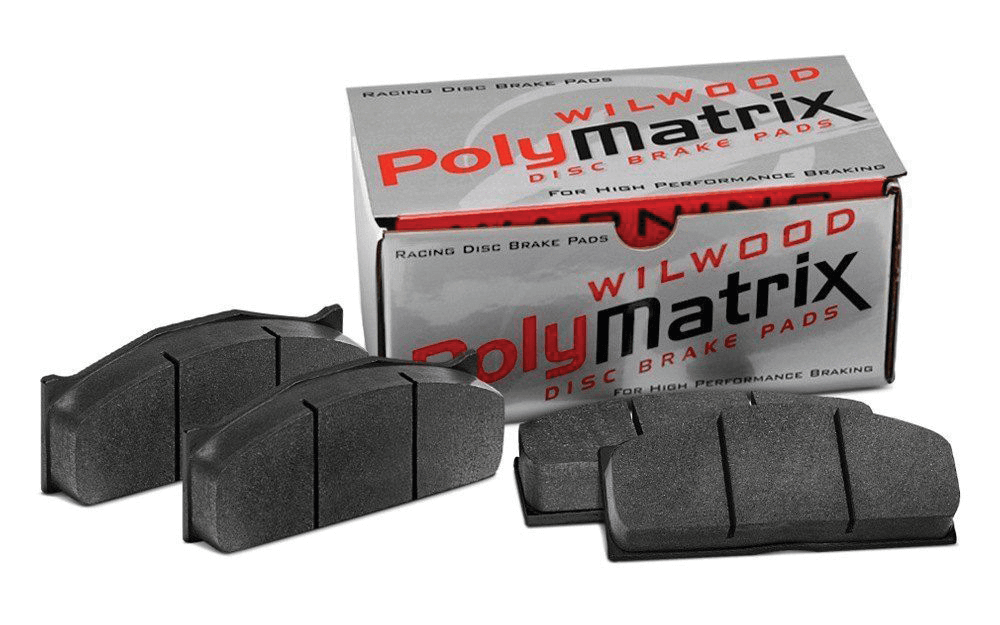 MSRP: $144.90
FOUR PADS DEPENDING ON YOUR driving habits, you'll have to replace the brake pads at some point. If you're running Wilwood Aero4 or Aero6 radial-mount calipers, these replacement pads are just what you need to maintain optimum performance of your premium braking setup.
Wilwood
805.388.1188
Wilwood.com
Outlaw Three-Chime Train Horn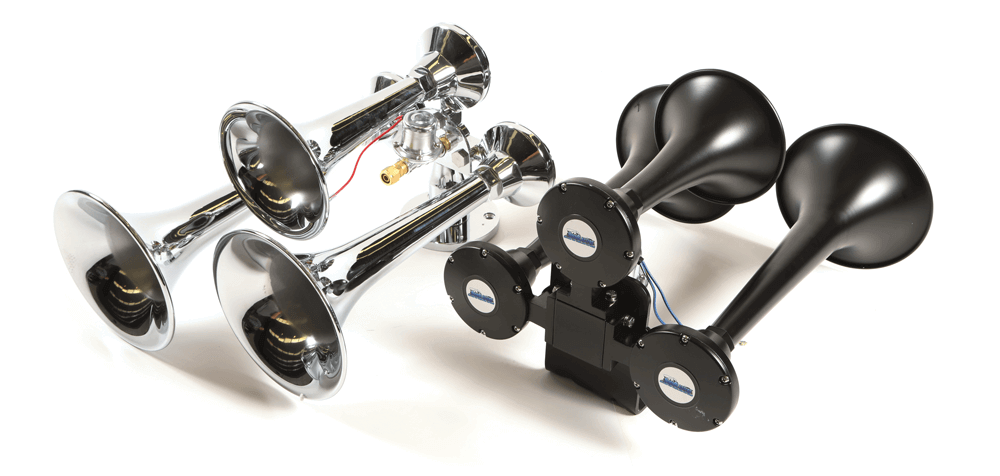 MSRP: STARTING AT $179.99
IF YOU DIDN'T WANT TO BLOW YOUR ENTIRE $300 BUDGET ON TRAIN horns, HornBlasters' Outlaw versions fall well under that figure and will still deliver a solid sound for the price. Available in black and chrome, the Outlaw horns are the same size as those used on real locomotives, so you know you're getting a square deal.
HornBlasters Inc.
877.209.8179
Hornblasters.com
Full Throttle FT680-48 High Performance AGM Battery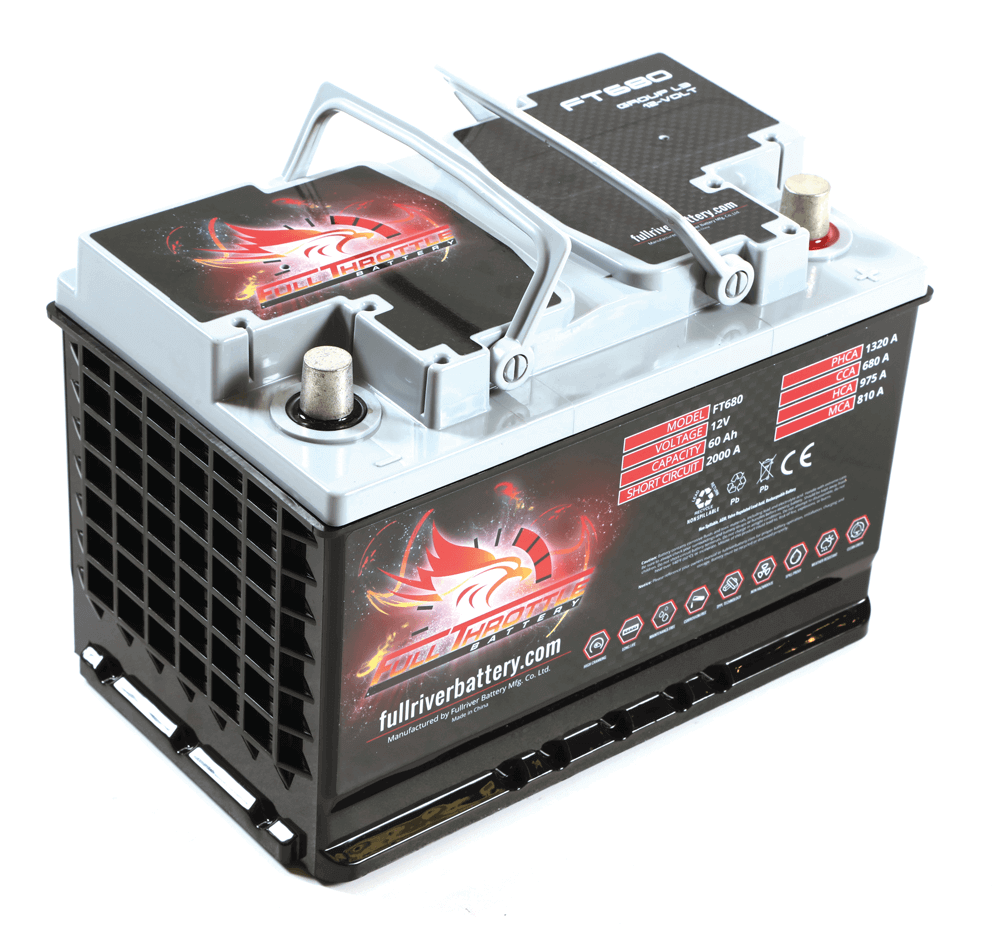 MSRP: $249.99
THE FULL THROTTLE LINEUP OF BATTERIES LIVES UP TO ITS name with TPPL pure lead technology, brass terminals and high shock and vibration resistance. This battery can handle just about anything you can throw its way and beg for more. It's ideal for off -road applications with many onboard accessories such as winches, and it works just as well on the streets for hydraulic and air suspension systems, even for the loudest of audio setups.
Fullriver Battery
805.484.7900
Fullriverbattery
ABS Hood Insulation Kits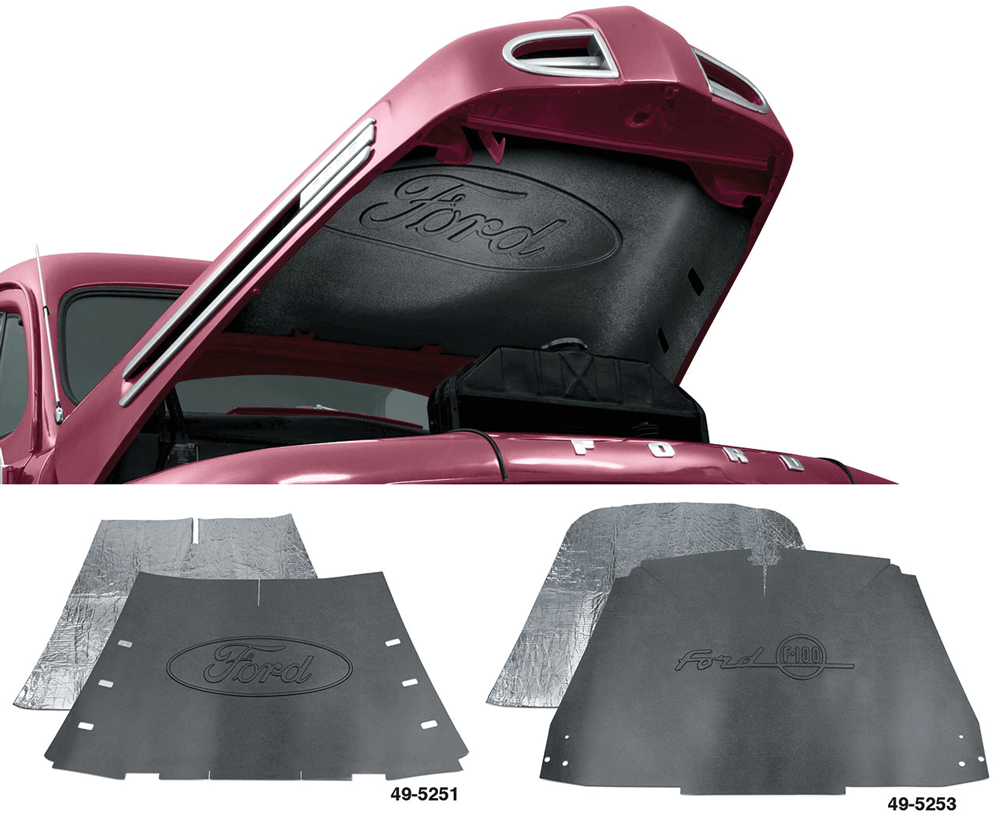 MSRP: STARTING AT $179.95
AVAILABLE FOR FORD 1948-52 F1 AND 1953-56 F-100/F-200 models, LMC Truck's hood insulation kits come complete with a heat-resistant and textured ABS insulation panel that covers the underside of the hood and can be ordered with or without any officially licensed logos. The kits also include all materials to complete installation.
LMC Truck
800.562.8782
LMCtruck.com
Trac-Grabber Quad Pack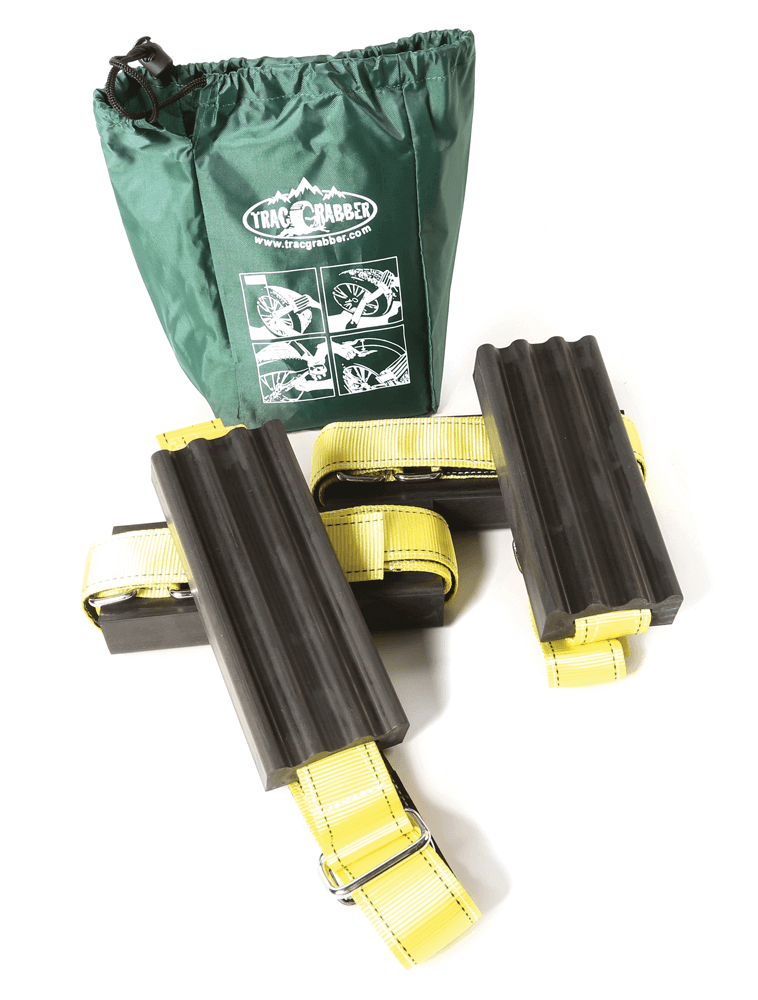 MSRP: $99
HAVE YOU EVER been stuck in the mud or snow? If you have, then you know it's tough to get unstuck, especially if you're by yourself. The Trac-Grabber helps get your 4WD out from tough situations single-handedly. The rugged EPDM rubber attaches around any tire with up to a 40-inch girth (an oversize XL model is available for larger applications) and allows your truck to regain enough traction to free itself from a mess. Trac-Grabbers are reusable and handy to keep stashed away.
Trac Grabber
954.294.7711
Tracgrabber.com
Low Profile Socket Set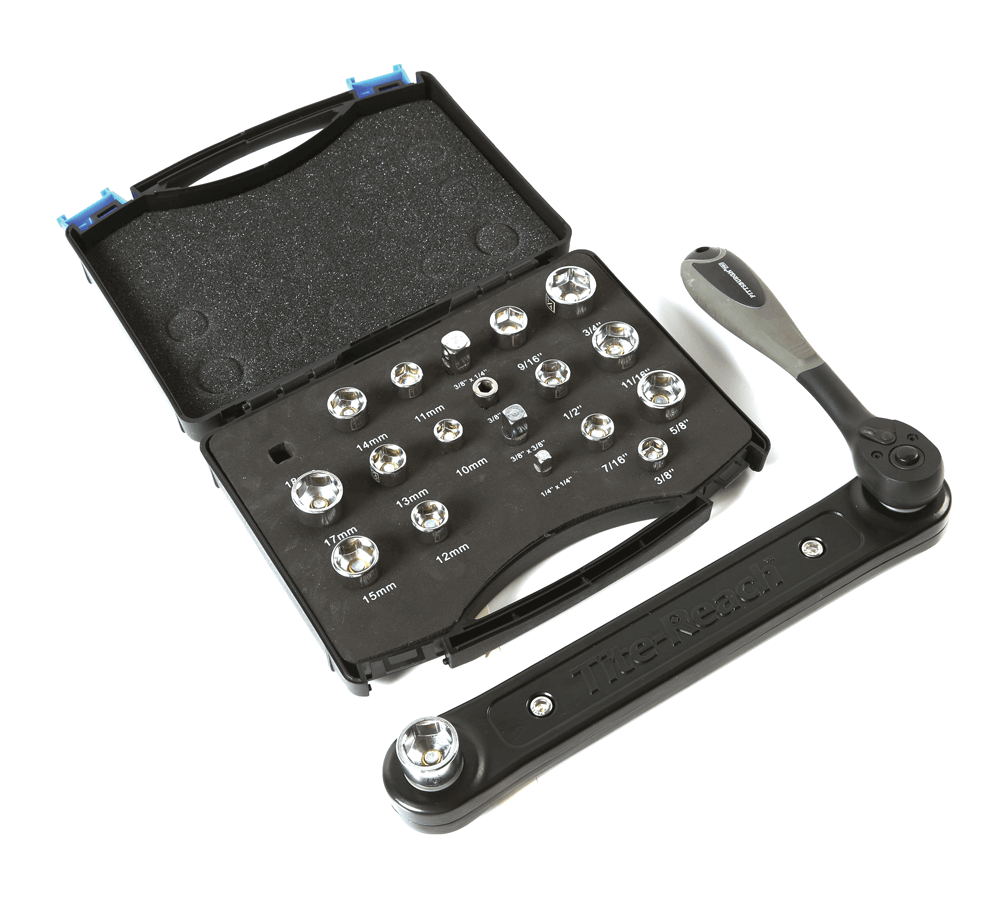 MSRP: $54.99
WRENCHING ON TRUCKS CAN BE HARD ENOUGH, especially when they're heavily customized. Tite- Reach's low-profile socket set makes it easy to access tight spaces because they're 50% shorter than standard sockets. A built-in magnet holds the nut or bolt in place, which is always helpful.
Tite-Reach
866.721.9399
Tite-reach.com
1000 AirMover Fan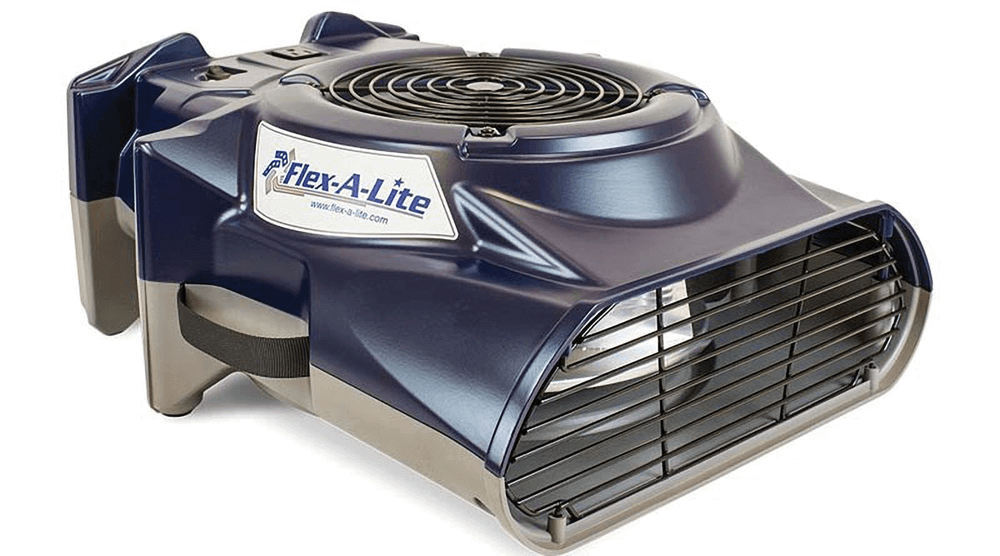 MSRP: $219.97
SUMMER WILL SOON BE HERE, AND YOU'LL BE GLAD you picked up one of these pit fans to keep you cool while you're out in the garage or shop. It's lightweight, portable and can easily be positioned to direct airflow where you need it most.
Flex-a-Lite
800.851.1510
Flex-a-lite.com
1978-79 F-100 Rear Window Gasket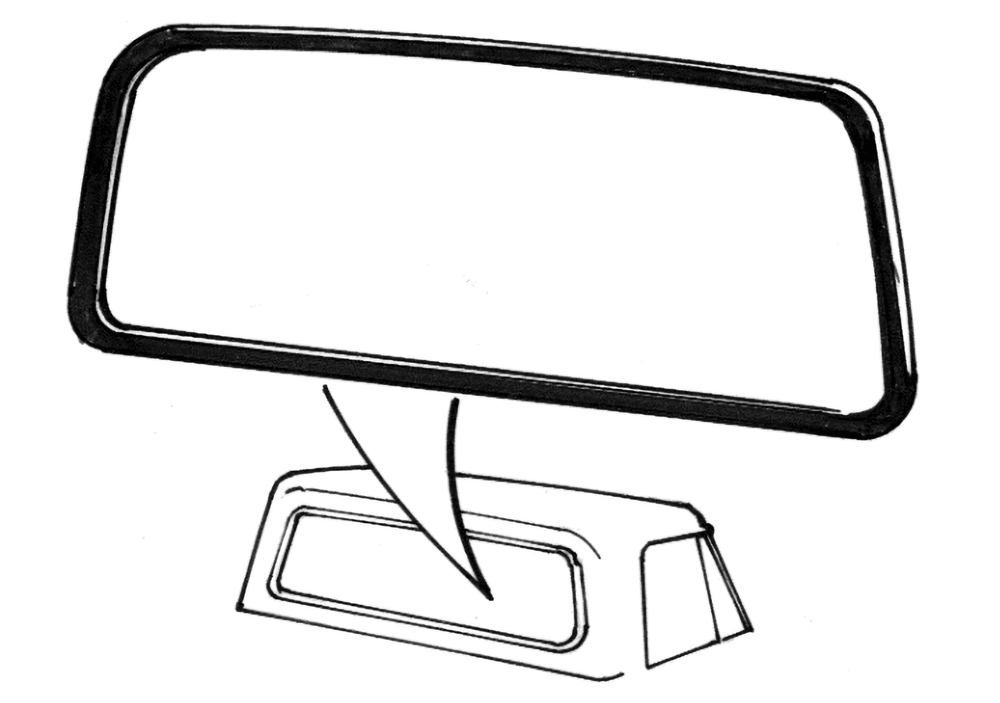 MSRP: $147.30
AVAILABLE FOR A WHOLE ASSORTMENT OF MAKES, models, years and applications, Steele Rubber Products makes gaskets and weather stripping to work with just about any classic truck. This rear window gasket has been designed from the original part for proper fitment and seal. The seal mounts around the full perimeter of the back glass and features vulcanized or bonded ends, which removes the need to cut or trim during installation.
Steele Rubber Products
877.455.1178
Steelerubber.com
Altman Easy Hood Latch 1953-56 Ford F-100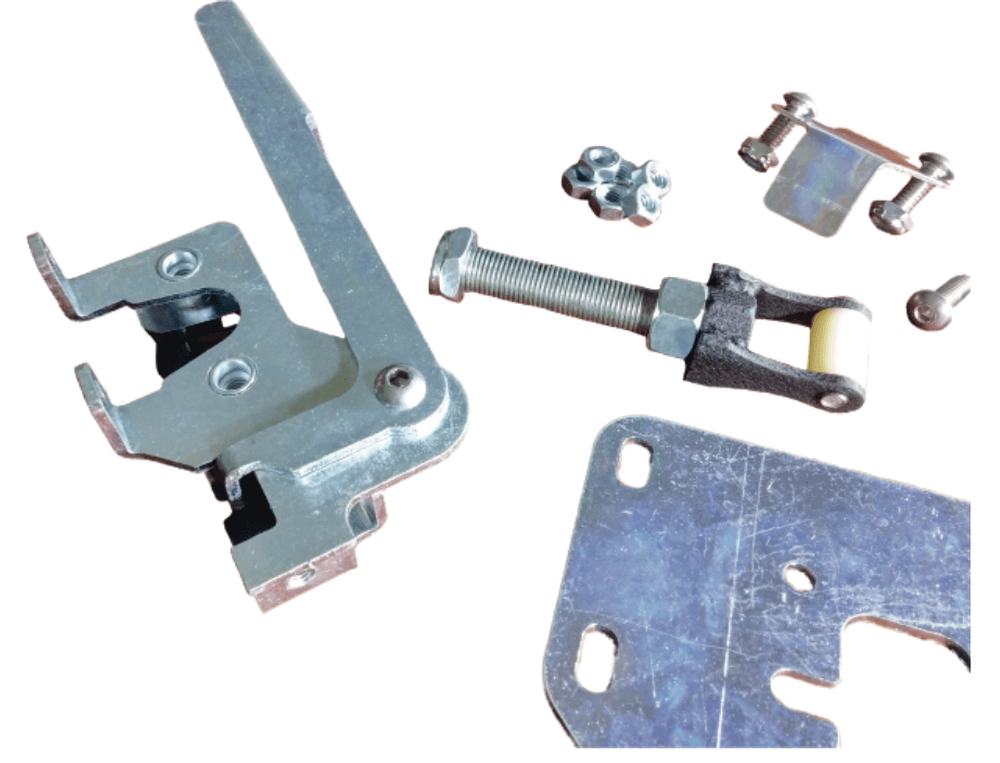 MSRP: $189.95
THE ALTMAN LATCH system has made its presence known with C-10 applications, but it has been modified to fit in the radiator support for F-100 models as well. Get ready to close your hood as gently as you have always wanted—no more slamming shut. Altman latch kits are 100% bolt-on with no permanent modifications needed.
Trique Manufacturing
866.987.4783
Triquemfg.com
RX-1 Exhaust Tip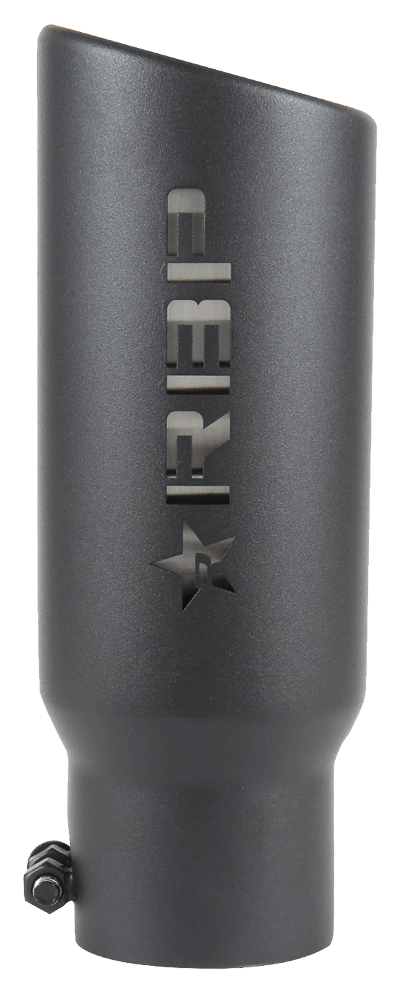 MSRP: $119.99
CONSTRUCTED FROM premium T-304 stainless steel and baked with a high-temp black powder-coating process, RBP's RX-7 exhaust tips offer rugged good looks and install easily—no welding required. RX-7 tips are also available in a polished option as well with different accent colors to choose from.
Rolling Big Power
800.237.7560
Rollingbigpower.com
Handheld Automatic Tire Inflator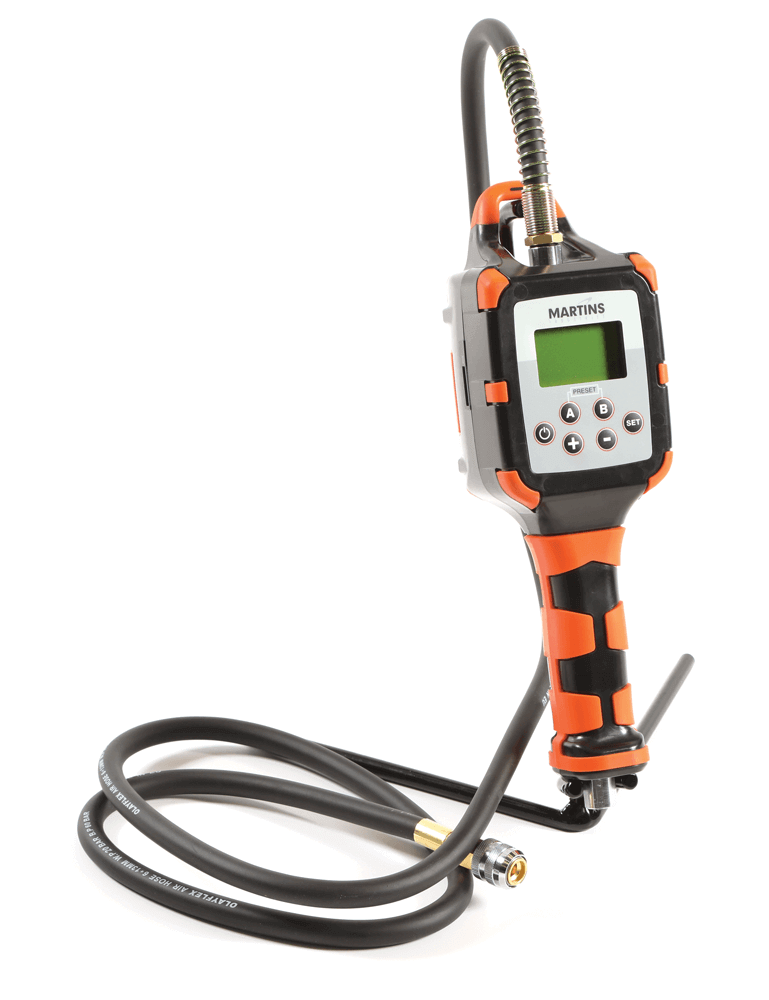 MSRP: $235
PERFECT FOR THE ROAD AND IN the garage, this handheld automatic tire inflator is rough and tough thanks to its ABS casing, and its rechargeable battery delivers up to 500 inflation cycles on one full battery charge. The inflator is nitrogen compatible, and has two programmable pressures, four measure units, an LCD screen and sound signal, which makes this gadget good enough for just about any situation.
Martins Industries
450.293.9000
Martinsindustries.com
Big Throw Mini Polisher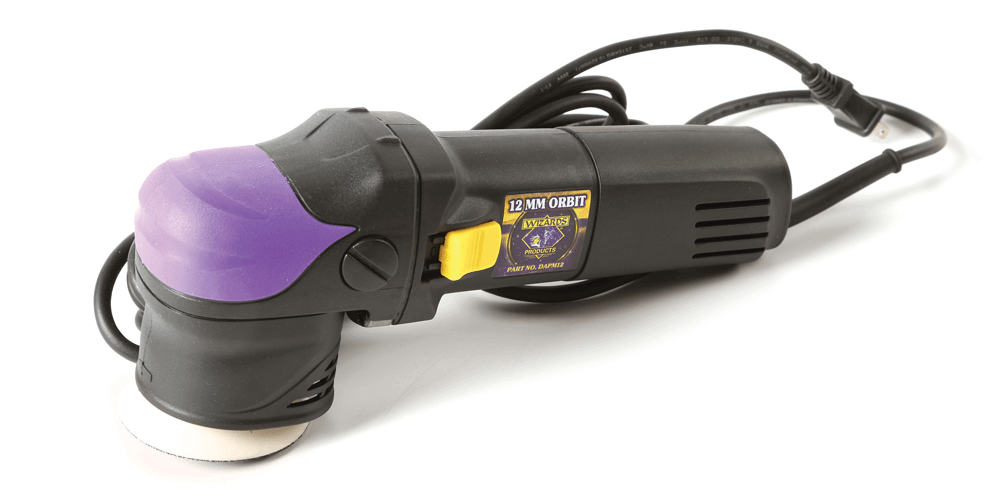 MSRP: $229.95
EVERY GARAGE SHOULD HAVE A DUAL ACTION orbital polisher, and the Big Throw Mini from Wizards Products will do the trick. This polisher accepts 3- and 4-inch pads for fast, easy scratch removal without leaving swirls behind, and it works great in areas with limited access.
Wizards Products
800.356.7223
Wizardsproducts.com