Rockin' Colorado
This 2005 Chevy Colorado Z85 StreetPack is a sleeper you don't want to mess with. Daniel Cronin has performed a number of modifications to his 2.8-liter Vortec I4 including a ported throttle body, custom cold air cowl induction intake with two K&N air filters and a DynoMax Turbo muffler. Torsen G80 locking differential, a BellTech rear sway bar and BellTech Street Performance shocks in both front and rear give Daniel's truck the performance and reliability he needs. Additional personal upgrades include ZQ8 wheel well flares, Street Scene mirrors, CoverKing neoprene seat covers, Fold-A-Cover bed cover, BedRug bed liner, AeroForce Interceptor scan gauge, Wheel Vintiques Series 35 truck rally wheels on BF Goodrich Radial T/A tires and a Reflexxion cowl induction hood with painted w/SS Stripes and a matching front spoiler. Nice work, Daniel!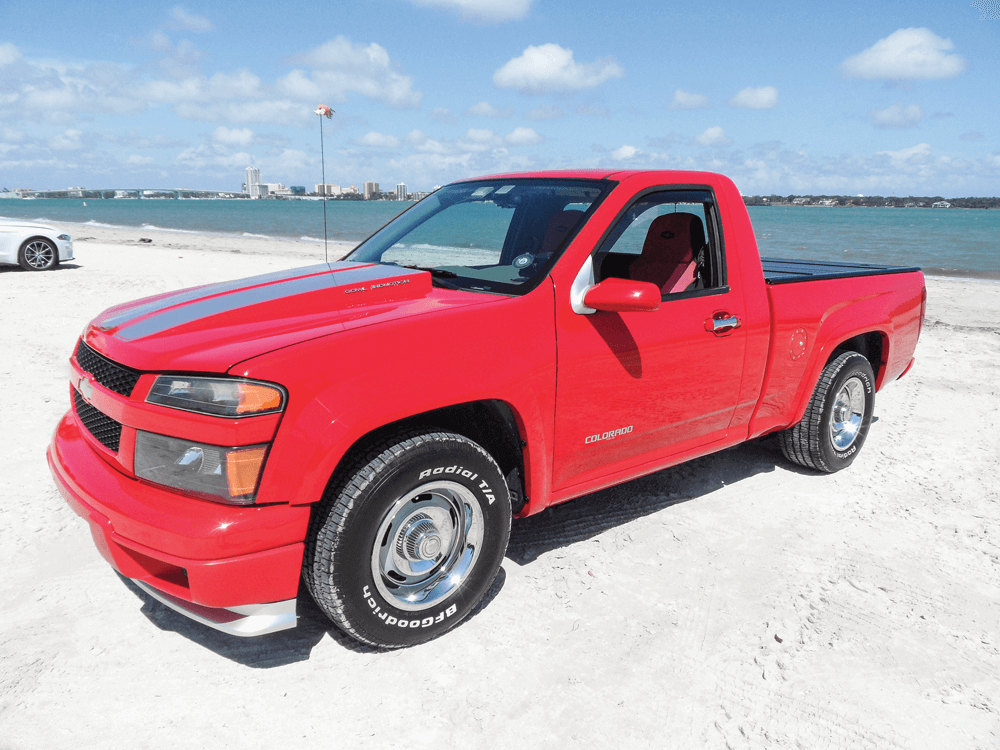 ---
LSA Swapped Chevy
Tanner Davis sent us his LSA swapped 1995 Chevy C/K. The truck has all-original interior bucket seats with the factory-original working instrument cluster. Internal work and bolt-ons have been done to the motor, including a supercharger with around 14 pounds of boost! It had a recent Big Brake Kit upgrade in the front using a hydroboost and Wilwood's proportioning valve master cylinder. A 3-inch Magnaflow exhaust with a x-pipe gives it the sound and all mandrel bent 409 stainless pipes move the air. Factory original paint still covers the sheet metal and the BOSS 338 wheels are painted to match in Switchblade Silver. "You won't find a cleaner OBS than this one, believe me," Tanner says.
YOU WON'T FIND A CLEANER OBS THAN THIS ONE, BELIEVE ME."—TANNER DAVIS
Submit Your Ride to StreetTrucks and get the Chance to See Your Truck in Print.
Every month we will select a "Hometown Hero" and one or two runners-up. Earn bragging rights and see your truck in the magazine! To enter, please send a high-resolution photo and your vehicle information (name, year, make and model of truck, engine/performance, exterior, suspension, wheels/tires and interior) to chamilton@engagedmediainc.com or mail to 17890 Sky Park Circle #250, Irvine, CA 92614.