A Pavement-Pounding Promise Fulfilled
Tributes. They come in all forms across the country. Statues, plaques, park benches, freshly planted trees and even buildings are dedicated to the memory of people who made a significant impact in their community and on other people. Everyone has a different interpretation of how to honor the personal heroes in their lives and for a custom truck enthusiast building a custom truck is the best way to celebrate them.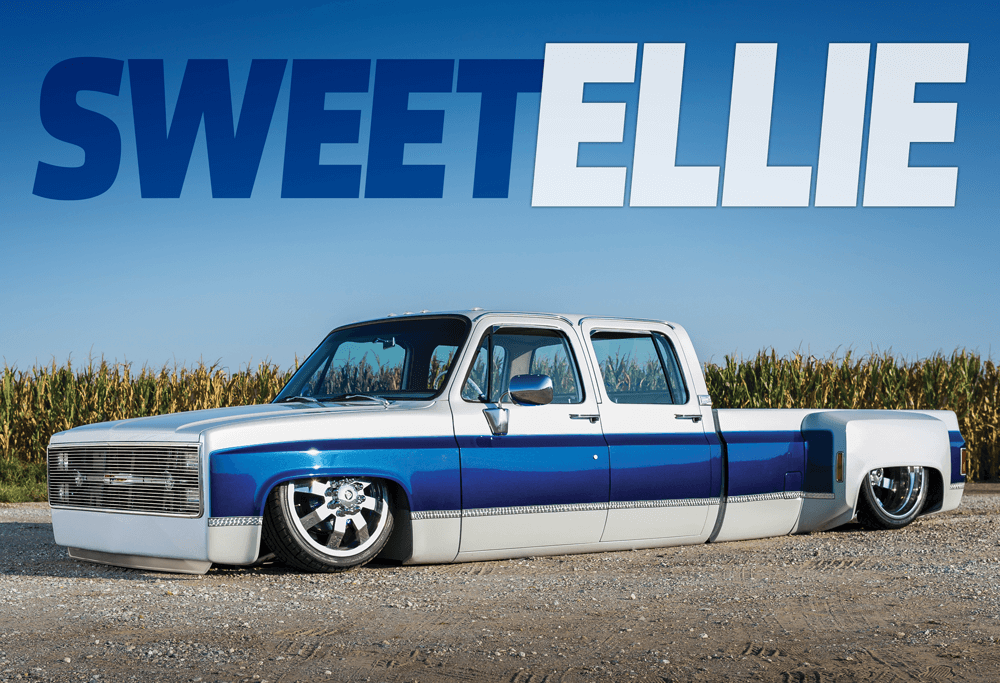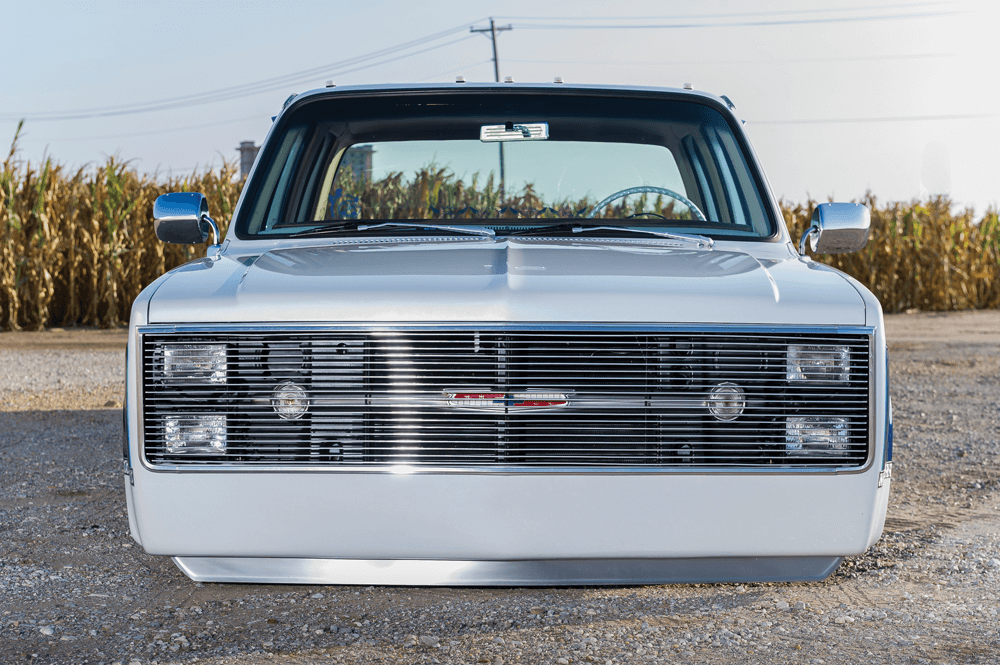 A CUSTOM MADE FRONT ROLL PAN TEAMED WITH A CUSTOM STAINLESS AIR DAM
UNDERLINES A CARRIAGE WORKS PHANTOM BILLET GRILLE INSERT BRANDED
WITH A 1957 CHEVROLET BEL AIR EMBLEM FRONT AND CENTER.
David DeKorver of Fort Walton Beach, Florida, built the full custom crew cab dually laid out across these pages and had the motivation of honoring his grandmother's memory (Eleanor DeKorver, a.k.a. "Sweet Ellie") to carry him through the ins and outs of the build.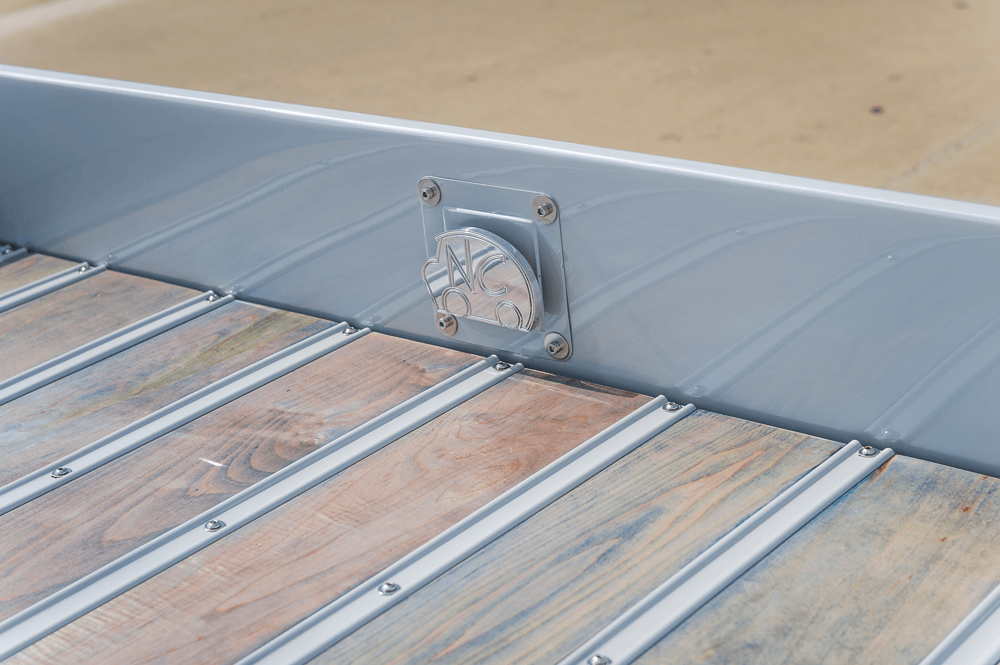 David began by completely disassembling the truck and rolling the stock chassis out to pasture. To get the rockers flat on terra firma, David built a full custom 2×4 square steel frame to serve as the skeleton for all of the slick suspension bones. Out back, David built a custom 4-link to keep the stock rear end planted while 3-inch dropped spindles up front coupled with Contitech airbags hammer the chassis. A custom hydro boost power booster was installed to enhance the braking system, while the chassis was plumbed with stainless steel airline, fuel lines and power steering lines. Planted under the fenders are 22×10-inch dually wheels by Diesel Wheels wrapped in Kumho Iron Man 225/35R22 front and 265/35R22 rear pavement skins. Once the cutting, welding and grinding concluded on the chassis and all of the suspension Mach up was complete, the frame was smoothed, painted and pinstriped.
For reliable pavement surfing in this laid-out land yacht, David did some minor updates to the stock 454 and Turbo 400 combo. An Edelbrock reverse flow water pump keeps things cool while a 145 amp alternator ensures enough juice to keep all system going. A Holley 600 carburetor flows the proper air/fuel mix while Sanderson shorty headers feed a custom built exhaust system capped with MagnaFlow mufflers. March Performance pulleys and brackets provide reliable rotation while a 50s Cadillac air cleaner allows the big block to inhale just the right amount of oxygen when David leans on the fun pedal. Wiring from Ron Francis and Dakota Digital replaced the ailing original wiring harness. An '87 GM Turbo 400 commanded by a Lokar shifter puts the fun into gear while the stock 14-bolt dually rear end stuffed with 3.23:1 gears spins the rear 22-inch duals.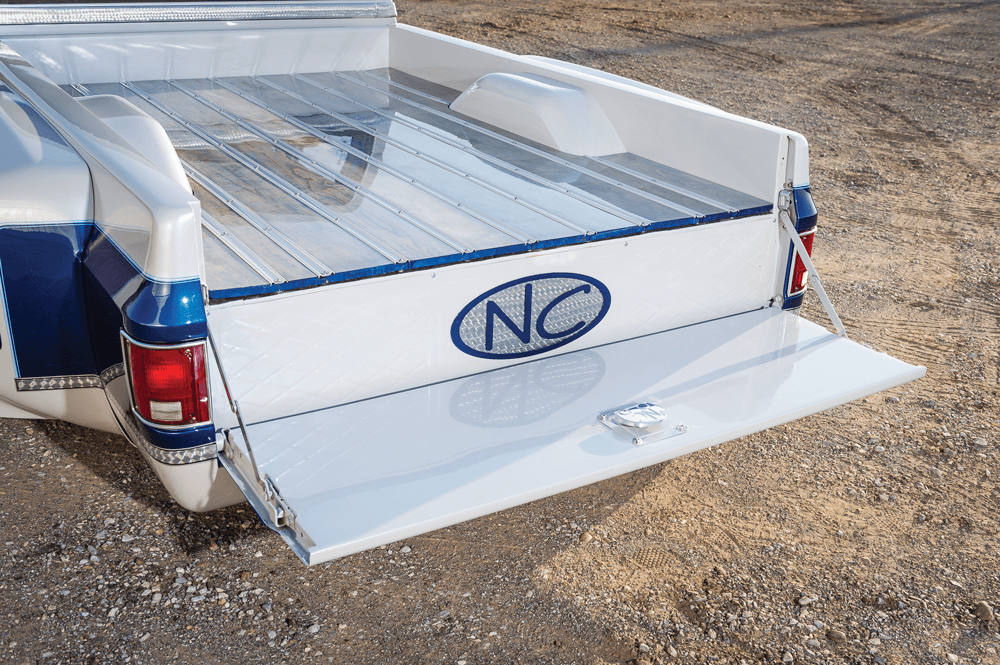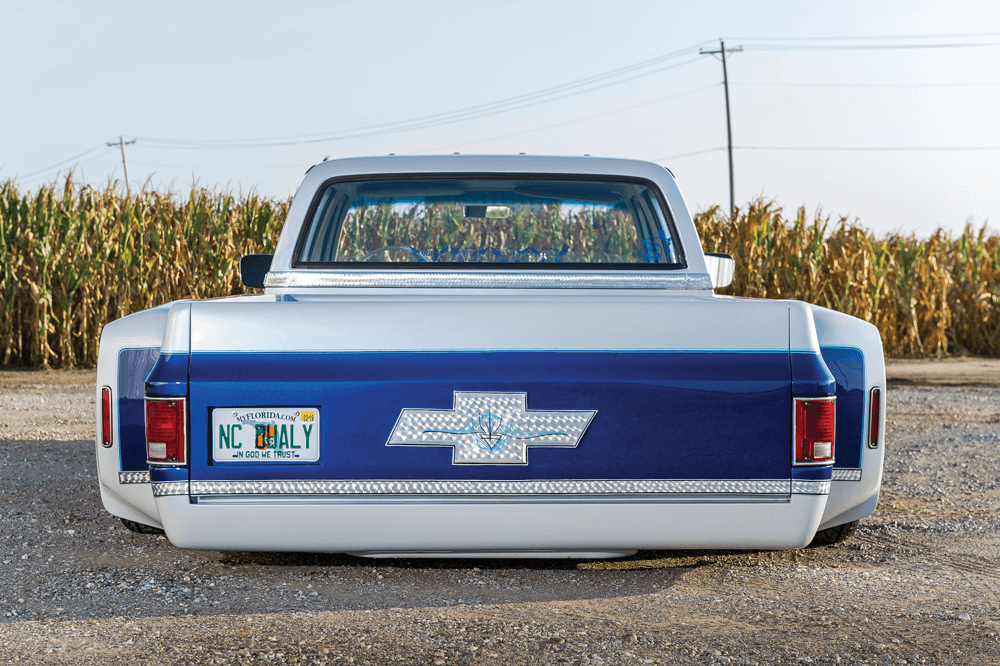 To take full advantage of the extensive chassis and suspension work and to bury as much of the 22-inch spools in the fenders as possible, David body dropped the truck 4 ¾ inches. The body was further modified with a Grant Kustoms three-piece molded rear roll pan, a custom-made front roll pan with custom stainless air dam. A Carriage Works Phantom billet grille insert with 1957 Bel Air emblem was mounted between the smoothed front fenders relieved of the factory marker lights and badges. The cab was relieved of all seams while a custom made tailgate skin was fabricated and welded up to flow into the smooth Grant roll pan. Providing ample room for the 22-inch rear Diesel Wheels to tuck for show duty and roll for cruising duty David installed a pair of 323 Dually Sports dually fenders, which are 3 inches wider and three-quarters inch taller than the originals. Inside the hauling platform David fabricated a custom raised wood bed floor to give the bed some custom style.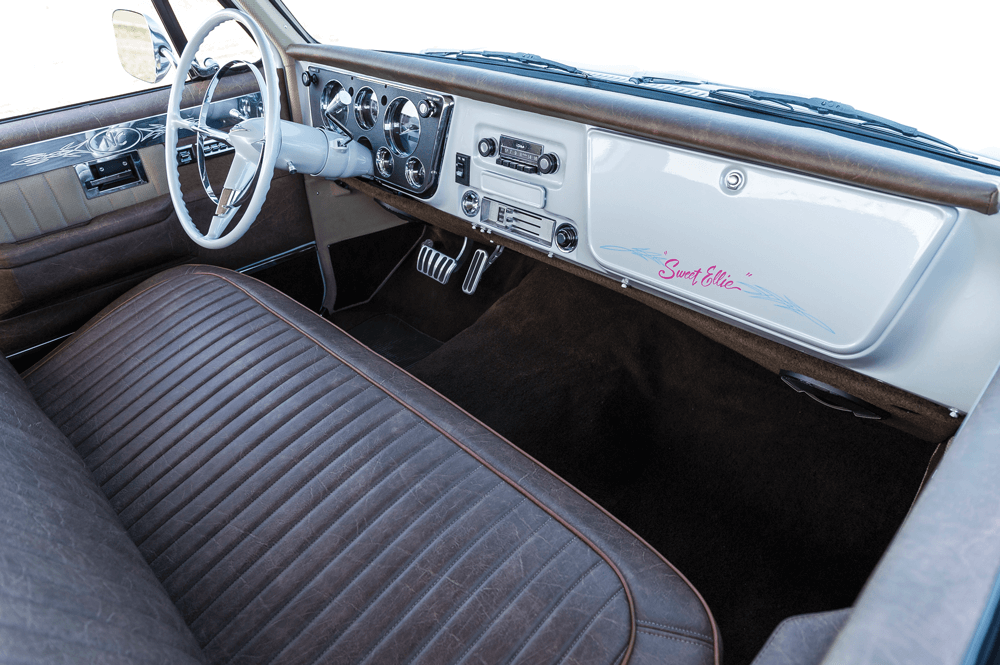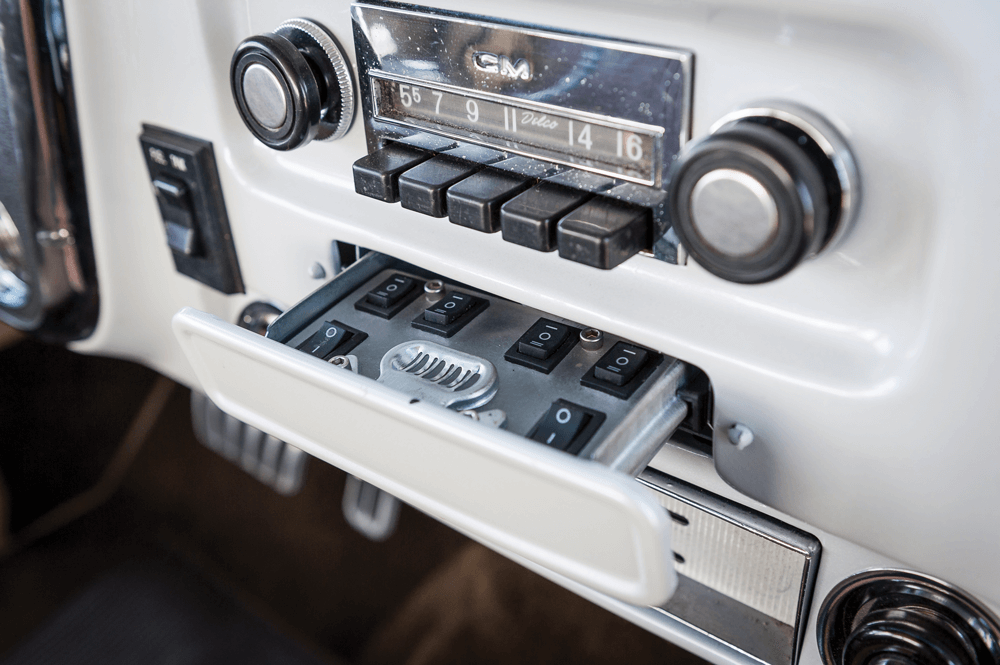 After the metal's mods were complete and this classic crew was as slick and smooth as a newborn's backside, David delivered the truck to Nate Dixon for the eye-popping color. Matrix Glacier Frost complemented by PPG Fiji Blue was sprayed over the dually's smooth envelope in a factory-esque pattern. Cliff Jette performed the custom silver leaf molding graphics and baby blue pin striping. The Fiji Blue takes center stage in the trucks mid drift, while the Glacier Frost covers the roofline and rockers for a rich and classy combo that blends factory patterns with custom style.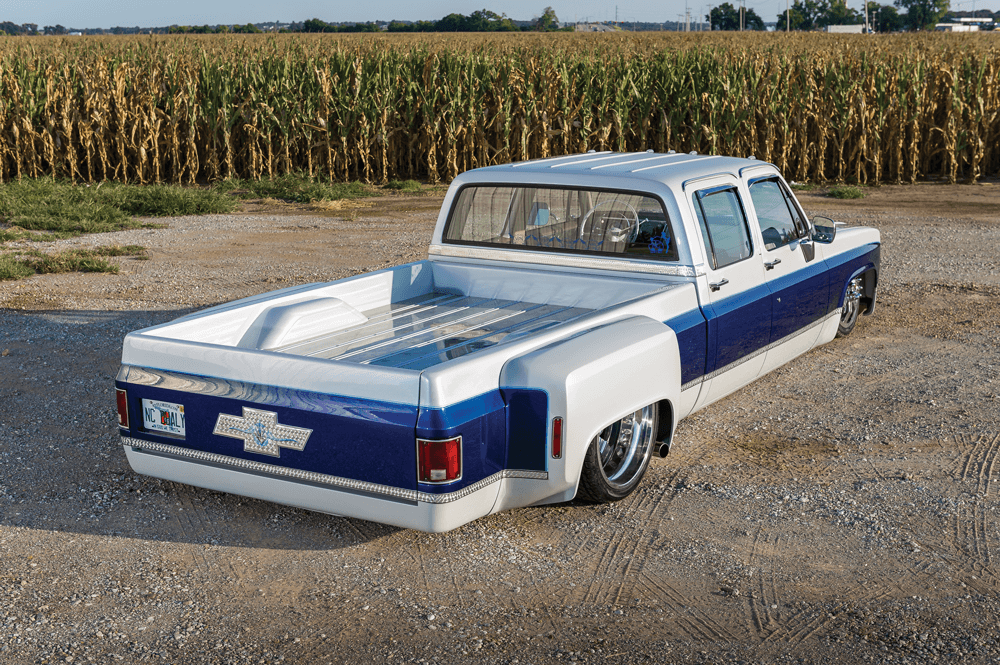 For the cruising chamber, David delivered the truck to Gary Bass for some sick threads. The stock bench seats were covered in custom tan cloth and distressed brown vinyl while fresh carpet from Custom Auto Carpets in brown was tacked to the floorboards. A custom tan cloth headliner by Erin Ruddy of Ruddy Made replaced the torn and sagging original.  David fabricated and grafted in a '67-72 C-10 dash for a one-off look. Dakota Digital gauges keep a watchful eye on engine vitals while a '56 Chevy Bel Air steering wheel handles navigational duties. Keeping the beats rocking for low down cruising in the Sunshine State, David and friend Jai James installed a complete Sony audio system. The Sony gear creates the cruising mood as the big block hums and the rockers hug the highway below.
David DeKorver, with the help of great friends and the support of his wife Kim DeKorver, has created a slick and sanitary custom squarebody dually. "Sweet Ellie" turns heads wherever it goes. Since its completion, David has taken the truck to shows such as Lone Star Throw down, Battle in Bama and Slamfest just to name a few—and the truck has cleaned up with multiple Best of Show honors. The coolest part, in our opinion, is that every time David hits the key and the big block roars to life, Sweet Grandma Ellie is right by his side and in his heart as he drives his dream.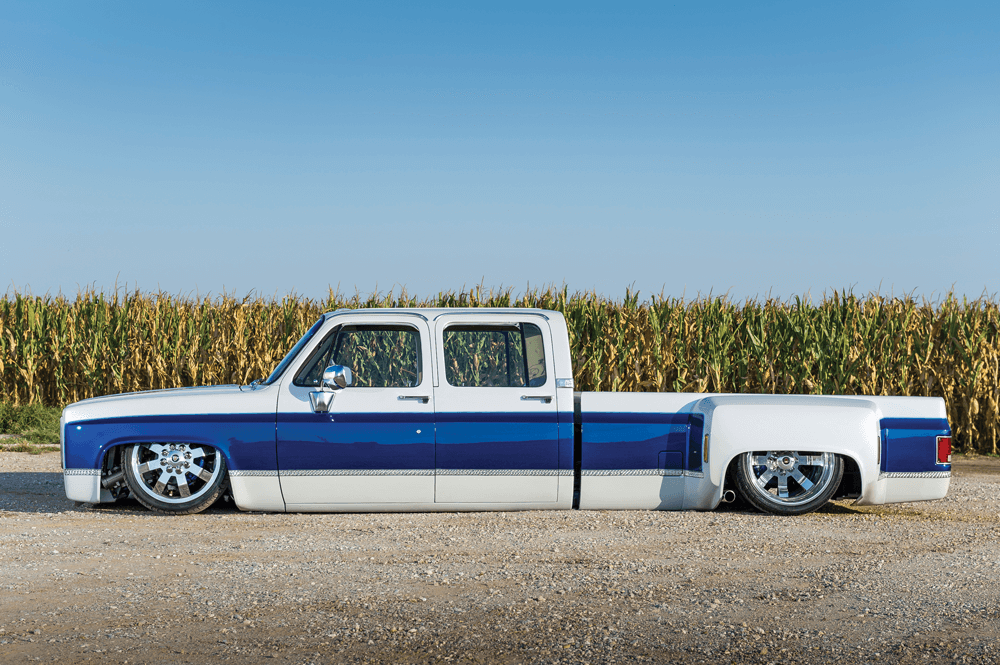 OWNER
David & Kim DeKorver  
1987 Chevy C30 Dually
Fort Walton Beach, FL
Negative Camber  
ENGINE
Stock 1987 454 Big Block Chevrolet
Edelbrock reverse flow water pump
Holley 600 Carburetor/50s Caddy air cleaner
March Performance pulleys & brackets
Ron Francis/Dakota Digital wiring system
Sanderson shorty headers
3-inch custom exhaust/MagnaFlow mufflers
 CHASSIS & SUSPENSION
Full custom 2×4 square steel tube frame by owner
Custom rear 4-link suspension by owner
Smoothed, painted & pinstriped chassis
3-inch dropped spindles
Contitech front airbags/Firestone rear airbags
All SS hardline for air system, fuel and power steering
WHEELS & TIRES
22×10 inch Diesel Wheels dually wheels
Kumho Iron Man 235/35R22 front/ 265/35R22 rear tires
BODY & PAINT
4 ¾ inch body drop by owner
323 Dually sports 3 inches wider/3/4 inch taller rear dually fenders by owner
Custom stainless air dam spoiler by owner
Custom molded Grant Kustoms steel 3-piece rear roll pan by owner
Custom tailgate skin with Frenched license plate box by owner
Custom front inner fender panels by owner
De-seamed cab by owner
Custom Carriage Works Phantom Billet Grille with 1957 Bel Air Insert
Paint: Matrix Glacier Frost & PPG Fiji Blue by Nate Dixon
Silver leaf molding graphics & baby blue pinstriping by Cliff Jette
INTERIOR
Custom distressed brown vinyl & tan cloth by Gary Bass
Custom Auto Carpets brown carpet
Stitch work by Gary Bass –FWB, FLA
Custom tan cloth headliner by Erin Ruddy of Ruddy Made
Dakota Digital gauges
1956 Bel Air steering wheel
'67-72 C-10 dash grafted in by owner
Billet Specialties rear view mirror
Sony head unit
Sony 400 & 600 watt amplifiers
Four Sony 5-1/2 separates
Two Rockford Fosgate P35 12-inch subwoofers
Audio installation by owner & Jai James-FWB, Florida.
 Special Thanks From the Owner: "Thanks to my wife Kim DeKorver for being supportive throughout the build. Thanks to Darren 'Smokie' Fitzpatrick, Jai James, Nate Dixon, Ricardo Dremount, Cliff Jette, Erin Ruddy, my Negative Camber family and most of all Thank You to my late Grandmother Eleanor DeKorver, a.k.a. 'Sweet Ellie,' for motivating me to carry the project through to the finish line."