Stanleys Stance | Swapping out the suspension on our 2008 Tahoe sport utility vehicle with a Belltech lowering kit and EBC brakes.
Sport utility vehicles have generally been the go-to purchase over the last 10-plus years for both families with and without children. SUVs are spacious, easy to drive and the gas bill isn't really that much higher than a small car when doing local, around-town driving. Folks use them for transporting sporting equipment and dogs, driving to the city or embarking on long cross-country road trips. They are ideal for many situations and readily available for an affordable price on the marketplace.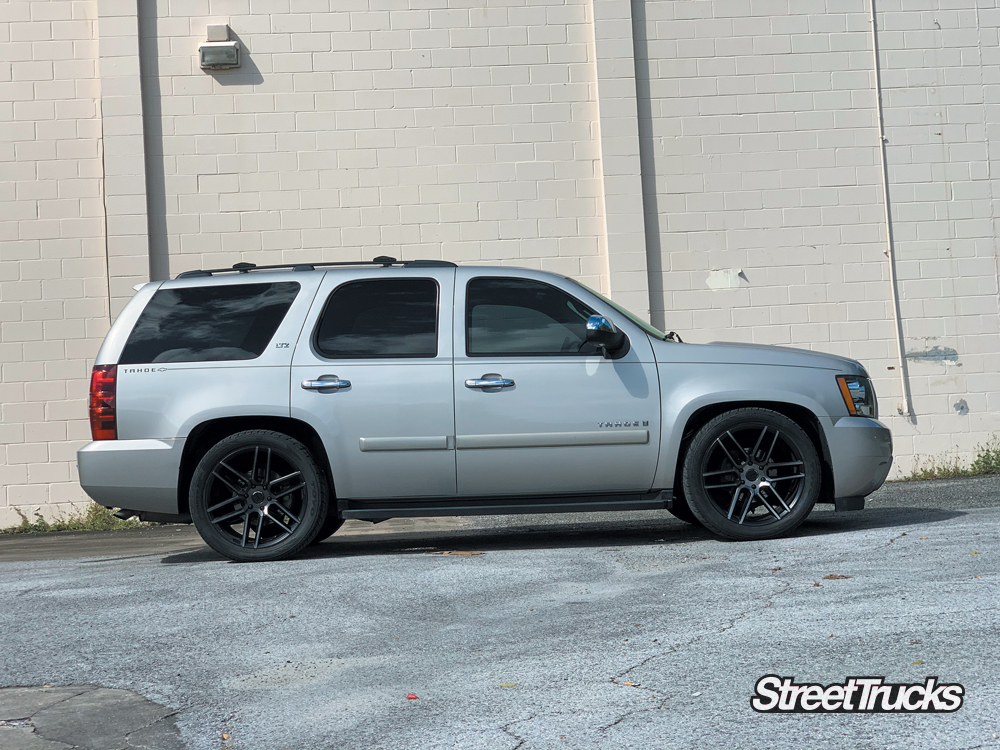 Even after describing all the great benefits SUVs have!
We still can't see them as cool custom cruisers with their high factory stance and big bubbly tires. They sway like mad around the corners, and hitting the brakes feels soft and very non-performance like. Well, we are going to focus on all those negatives and turn them into positives so you can see that your old soccer-mom mobile really can be a cool little street rod with some time, money and greasy fingers. No need to get a new car loan on an overpriced people mover when you have a ton of potential in the driveway already. So, get some wrenches and start making your old SUV cool again!
For this project, we picked up a 2008 Chevy Tahoe LTZ with 128,000 miles from a member of the U.S. Navy. Certainly, you know how detailed and by the book the men and women in uniform are trained to be, and it's no different when it comes to their vehicles. Aside from some dirty seats and carpet, this truck was all stock and begging for some coolness. It came with captain's chairs and third-row seating from the factory, but the old leather was extremely worn out and pretty smelly, to be honest. We could have spent some time deep cleaning and scrubbing the factory material, but we knew that the team at RoadWire leather interiors made a nice seat-cover replacement kit.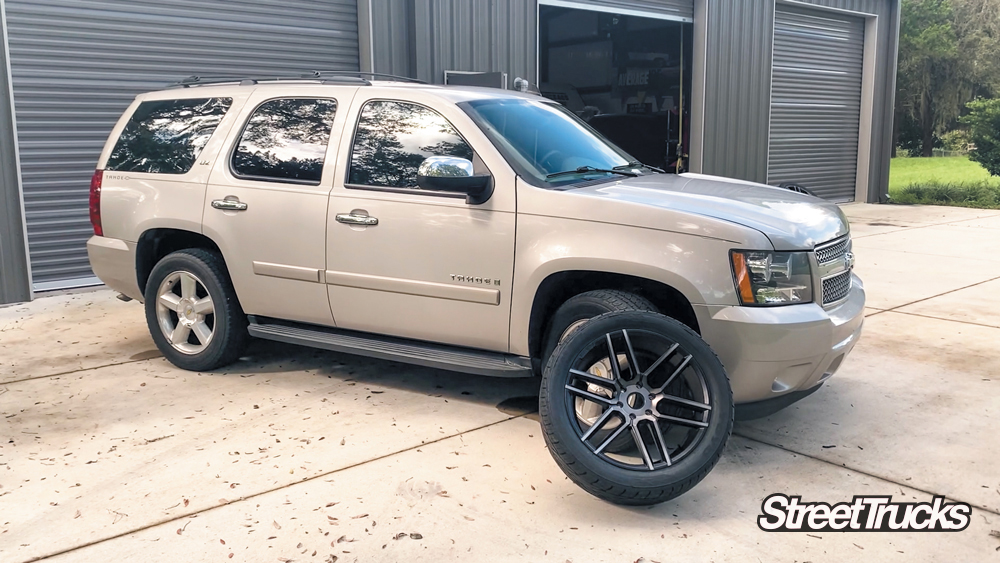 Like most projects, we are turning to Belltech!
A fantastically fitting suspension system that includes new performance shocks and big fancy sway bars, all for a very affordable price! Let's get started!
For rollers, we wanted something classy and affordable but with a name that has been synonymous with high-quality standards for many, many years. The Status Titan is an imposing split 6-spoke mesh wheel available in an eye-catching Carbon Graphite finish. We went with a 22×9.5-inch wheel and a 305-40-22 Toyo Proxes ST III tire. MSRP: $299.20
The Proxes ST III is the perfect balance of dynamic looks and sport-oriented performance for trucks and SUVs. With a wider tread and a silica-based tread compound, the Proxes ST III stops up to 6 feet shorter in wet conditions while delivering superb handling, excellent all-season performance, consistent wear and a smooth, quiet ride, now backed by a 40,000-mile warranty. MSRP: $169.94
In the next issue
Belltech Suspension
800-445-3767
www.belltech.com
Status Wheels
www.statuswheels.com
Toyo Tires
800-442-8696
www.toyotires.com
EBC Brakes
855-322-2725
www.shopebcbrakes.com
Gorilla Locks
800-262-6267
www.gorilla-auto.com