With Pro-touring being all the rage these days, a lot of truck enthusiasts want to get in on the action. Though there are several systems currently available for classic trucks, there is no viable option for late-model pickups. Lowering a truck closer to the ground will drop its center of gravity, but it won't make your truck ready to attack the track. 

Running a timed autocross-style course not only requires performance, it also makes other demands. Since all courses are laid out with multiple left and right turns, your truck will need to hold down as much traction as possible. Wide wheel-and-tire combos are a plus, but having added contact surface is worthless if your suspension has enough play to lose grip. Though 2007-plus ½-ton GM full-size pickups come with a strut-style front setup, they are not tuned for high performance. There are a few lowered and even adjustable-height replacement struts available for these trucks, but they aren't adjustable for track settings. The proper way to set up a truck for autocross competition is to use a set of adjustable coil-overs at all four corners. A few months ago, Chad Carothers, creative director for Index Ink Design, approached us with dreams of achieving Pro-touring victory in this '15 Silverado.
After doing some research, he discovered that there aren't any coil-over kits on the market for these trucks. That didn't stop him, though; instead he added a custom 3-link suspension by Anthony Wilfong of All Star Customs to the rear and figured the front could be fixed using an adapter. Though it sounded simple, he had his work cut out for him. To start this project right, we contacted Viking Performance. The company has more than 60 years of experience in racing and the performance aftermarket industry. We chose Viking because it makes a high-quality coil-over that has the most adjustability, which will make up for any differences in our guesswork. Though there were many options available, we chose a set of Warrior coilovers because they are more budget-friendly and designed for street vehicles that see occasional track time. The simple knobs make it easy to adjust compression and rebound valving from a comfortable street ride to racing and everything in between. Plus, there are multiple spring options for adjusting height and suspension travel. Though the coil-overs will improve handling, these new trucks are pretty sky high in factory form. To lower the height for aesthetics and performance purposes, we contacted Suspension Source for a set of Street Edge drop spindles. By that point we had entered into uncharted territory and later realized that we needed a new set of DJM upper control arms to correct the front-end geometry. With this recipe of parts, we dropped the truck 7 inches in the front and 10 inches in the rear. Since the coil-overs make the truck height adjustable, we can set the truck lower if we ever want to. On the performance side, our Silverado was already fitted with a Magnuson supercharger to boost power.
However, speed isn't everything on an autocross course. Increased stopping power and the ability to late brake in a corner will allow you to keep on the throttle and get lap times down. To help with this aspect, we contacted Stop Tech and ordered a Touring Big Brake kit. The larger-than-factory rotors combined with multipiston-equipped calipers add up to better stopping power. Topping the whole build off is a set of American Racing VF485 billet wheels. Chad ordered them in a brushed finish and had them powdercoated blue to match the interior. With this wheel setup, it was difficult finding the right combination of tire sizes, but Pirelli came through with what we needed to complete the look we wanted.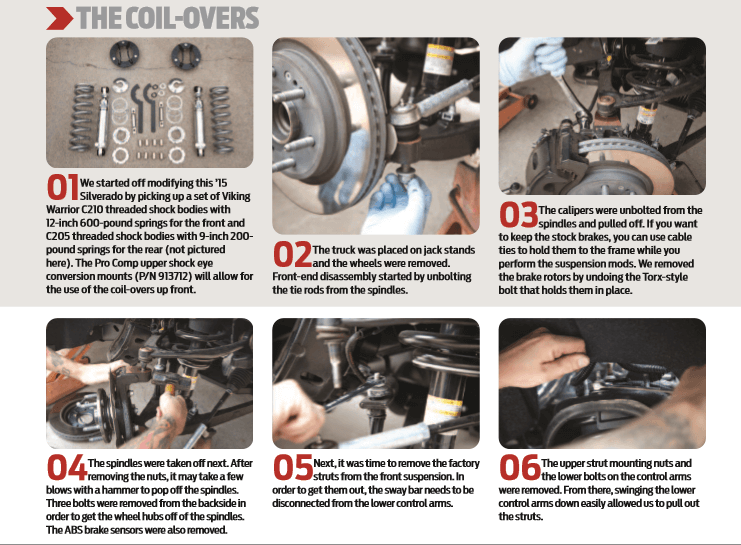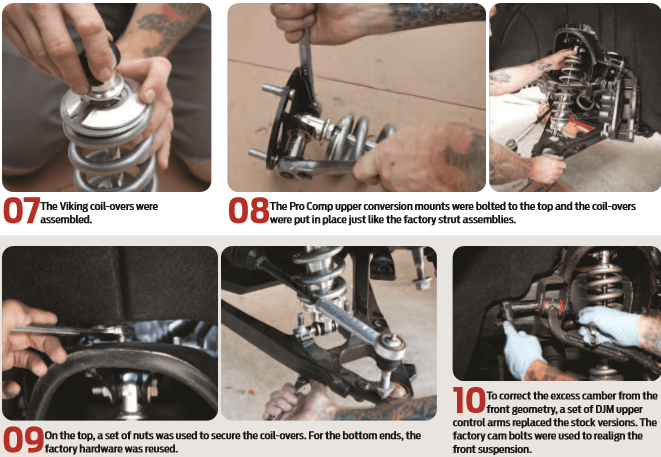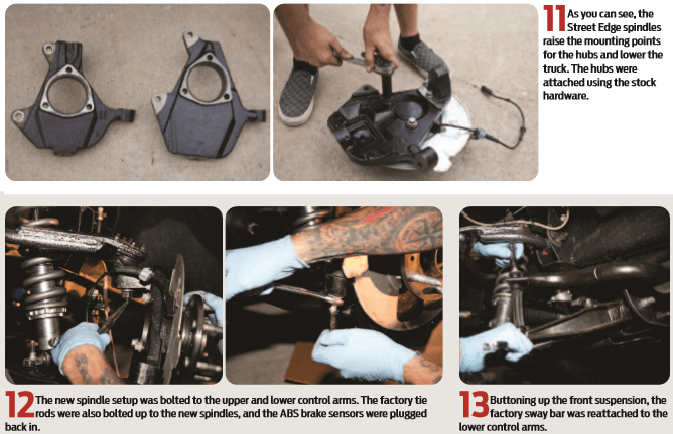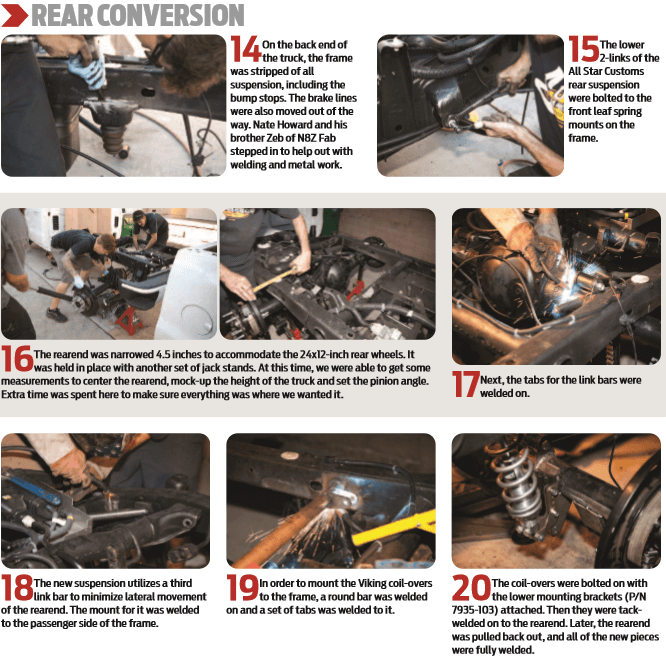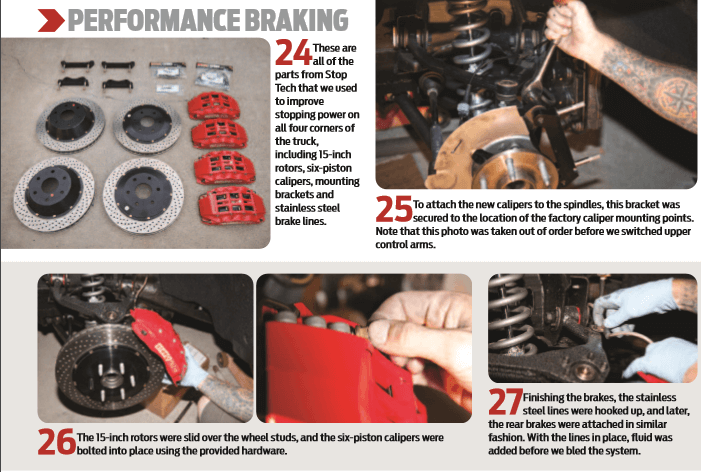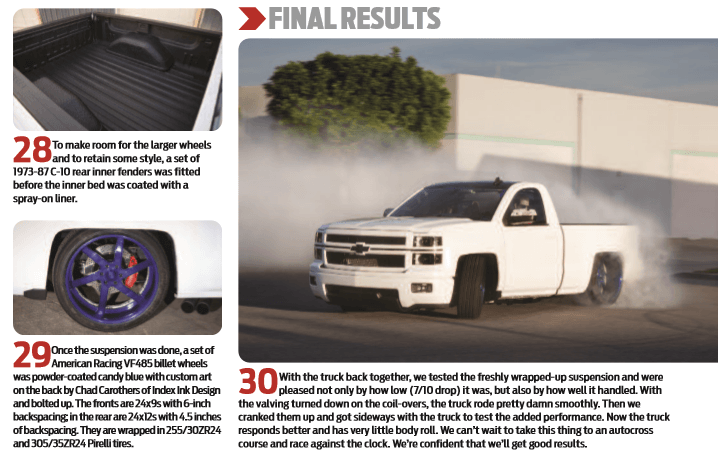 Sources:
All Star Customs
832.270.6250
Anthony Wilfong on Facebook
American Racing/Wheel Pros
800.959.1969
DJM Suspension
800.237.6748
Index ink Design
Magnuson Products
805.624.8833
N8Z Fab
714.756.1523
Pirelli
800.747.3554
Pro Comp
800.776.0767
Stop Tech
310.933.1100
The Suspension Source
888.230.1288
Viking Performance, Inc.
952.469.4130
Editor's Note: A version of this article first appeared in the July 2016 print issue of Street Trucks Magazine.