A drive-anywhere, money-green, neck-breaking street machine
TRUCKS. They've been America's workhorse for decades being put through the ringer to get the job done. From hauling gear to a job site and pulling watercraft to the lake on the weekends to serving as the vehicle for a little tailgate-down star gazing, America loves their pickup trucks.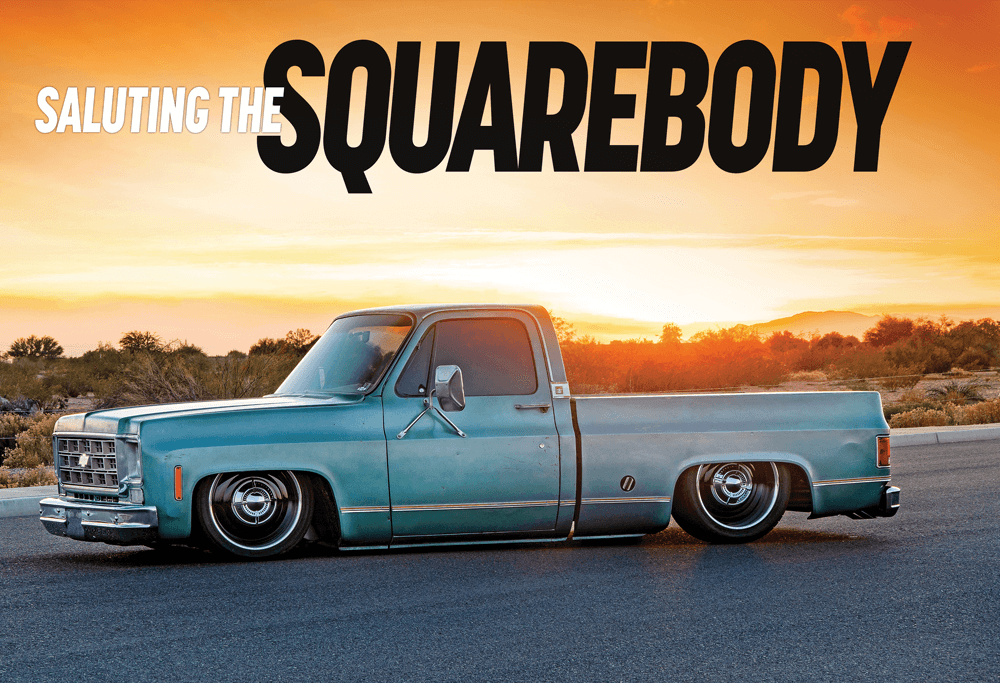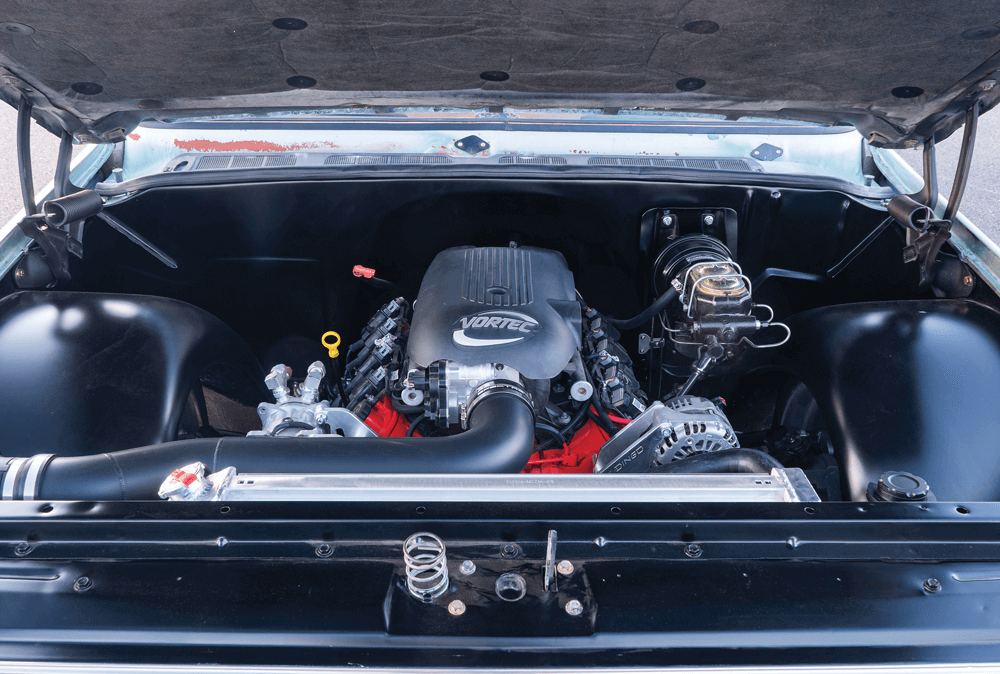 A brand leader in trucks since 1918, Chevrolet has hit the century mark with offering customers a truck for every occasion. After 100 years of engineering, body style changes, drivetrain changes and refinement, Chevrolet has maintained one consistent thread: simplicity. Chevrolet Trucks are simple, functional and, for the custom truck guy, easy to modify.
Introduced in '73 with a production run through '87, the "square body" Chevy and GMC pickups have dominated the custom truck scene over the last decade. It seems every time we turn around someone is building a square body and putting their own twist on the classic chiseled square lines.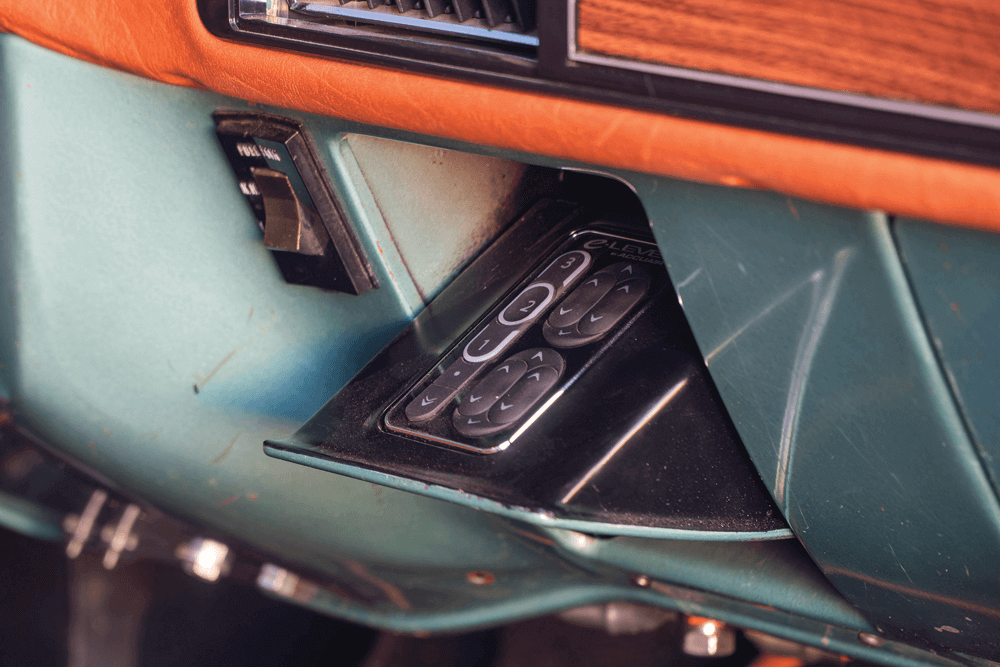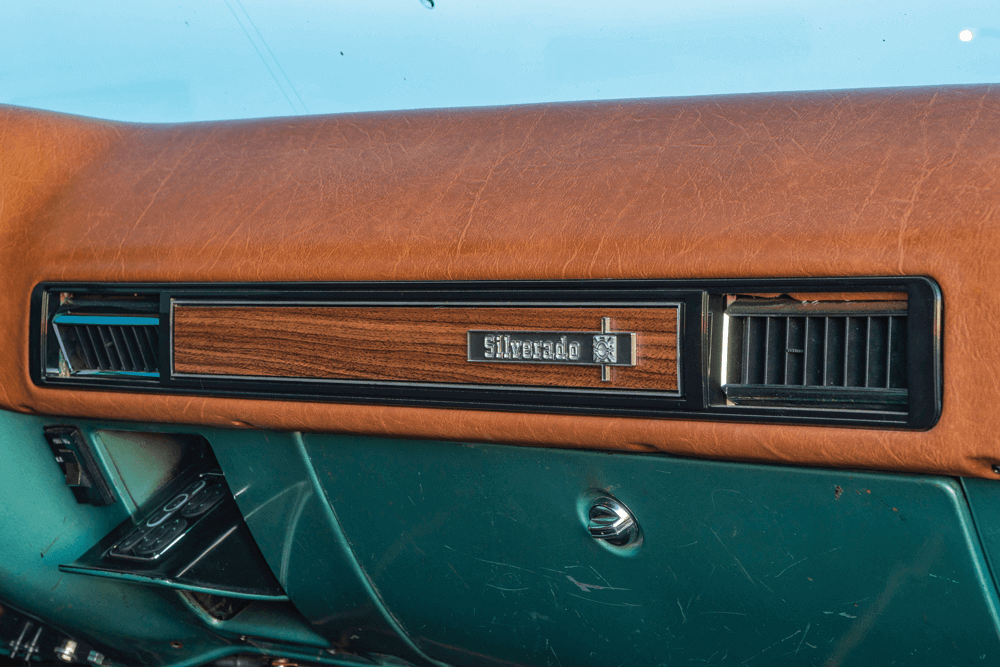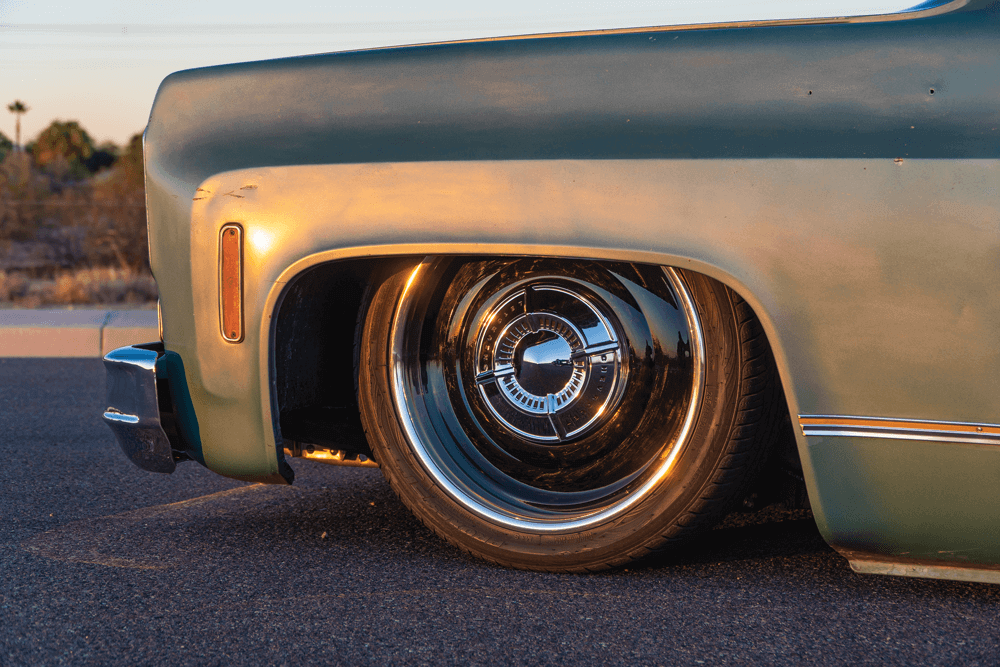 Brian Vowell of Mesa, Arizona, wanted to get in on the square body action. His custom orange and white '72 C10 short bed was getting a bit lonely in the garage, so it was time for a roommate. Brian had always wanted to put together a nice square body C10, and Tino Garza of Max Built Customs in Indio had the perfect truck, so they struck a deal and the project was put into frame-laying and rim-stuffing motion. The other goal for the project was to tap into the fab skills of Jeremy Rice at in Peoria, Arizona, to put it all together.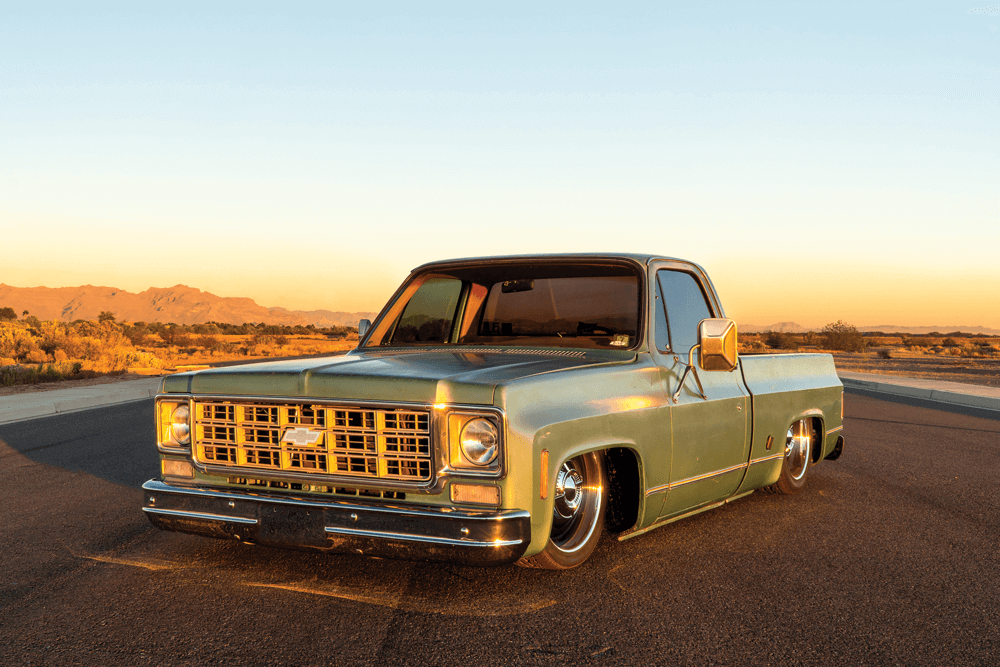 The stock 350/350 combo was yanked out to clear a path for a Porterbuilt Extreme drop member with Slam Specialties SS7 airbags and KYB shocks. Classic Performance Products 2-inch drop spindles accept steering commands from a Mustang II Rack and Pinion. A Porterbuilt Extreme rear drop member kit teamed with Slam Specialties airbags gets the hauling platform in the weeds. For juice and oxygen supply, Jeremy built a custom air tank and battery mount featuring Viair compressors bolted to the fully powdercoated chassis. AccuAir e-Level EndoVT air management handles suspension adjustment to air up slightly for cruising and lay out for showing off. For proper steering clearance and suspension movement installed a pair of Slosh Tubz front wheel tubs while the stock rear wheel tubs were widened for extra clearance. An AZ Pro Performance disc brake kit with a CPP master cylinder and booster plumbed with all stainless brake lines slows the roll of the 20×8.5-inch front and 20×10-inch rear Delmo Specials mounted on Toyo Proxes ST II P255/40VR20 front and P295/40VR20 rear rubber. For the drivetrain, Brian wasn't about to slap the wheezy stock 350 and the worn out three-speed slush box back in. With the suspension and chassis receiving extra special attention, it was time to put some modern fuel-injected power under the 41-year-old hood.
A 2003 Chevrolet 5.3-liter LS coupled to a 4L65-E was mated up and the whole combo stabbed into a Flat Black engine bay sprayed by Frank Rechlin at IKandy Paint Works in Peoria. The engine block was painted Chevy orange for a classic look. Sanderson ceramic coated mid-length headers with 1 5/8-inch primaries kick the octane cocktails out the door through a custom 3-inch stainless mandrel bent exhaust system with Magna Flow mufflers shouting out the LS' mechanical music. Dirty Dingo Motor Mounts kept the mill firmly in its position of power, while Dirty Dingo accessory drive kept everything spinning freely. A Modern Vintage Systems stand-alone wiring harness handled fuel and spark commands to the engine, while a Painless Performance wiring harness connected the electrical dots throughout the rest of the truck. An F Body oil pan ensured proper clearance with the Porterbuilt gear, while a Griffin aluminum radiator and dual electric fans kept cruising temps in check. Mark Clark at Speed Sports in Chandler, Arizona, tuned the LS for maximum performance and reliability. A&S Transmission in Phoenix freshened up the 4L65E and tossed in a 2000 RPM stall converter for good measure. A Summit Racing transmission cooler kept the slush box comfortable while a custom-built driveshaft by Kenny at The Gear Shop in Phoenix hooked to the rebuilt Chevy 12-bolt. For the ultimate in both tire fryin' and highway cruising, the factory 12-bolt was stuffed with an Auburn limited slip and 3.73:1 gears. A custom fuel tank by Boyd Welding warehoused the cruising juice.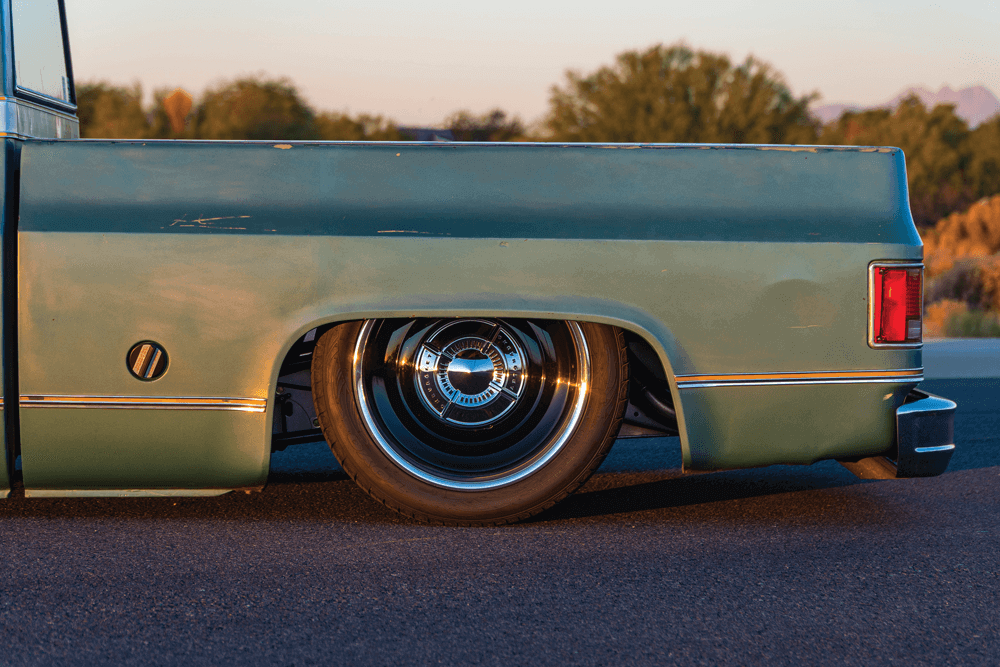 Since Brian always planned for this truck to be a fun driver, he skipped the paint and body and left the factory paint, patina and character intact. This way all of the suspension and performance goodies could be enjoyed without the fear of rock chips and road rash.
A custom yet somewhat factory-looking interior was on the build docket, so Brian ordered up a brown and tan two-tone ultra-leather covered split bench from TMI Products to replace the tired original cruising platform. Elevated Design in Phoenix upholstered the dash, door panels, headliner and A-pillars. Dakota Digital "Syndicate Series" gauges reported engine vitals while a Retro Sound stereo provides cruising music. A CTP Concepts Elevel controller was mounted in the factory ash tray for quick adjustments and eye sight pressure monitoring.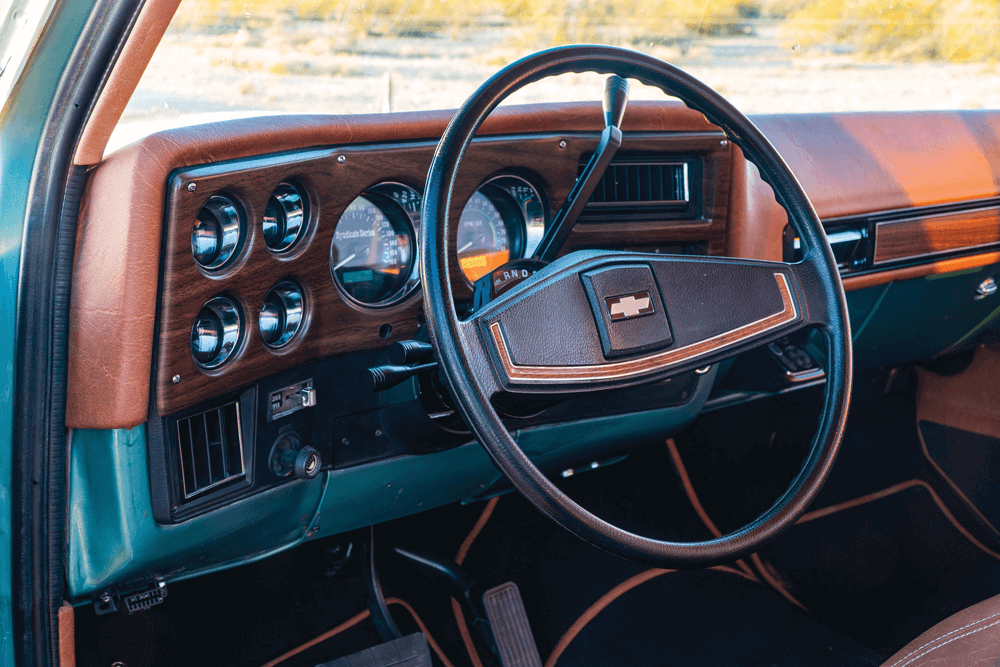 "Benjamin" was a fast-paced build going from stocker to shocker in just four short months. Jeremy Rice hit it out of the park with the stance, style and drivetrain swap. Since the truck's completion, Brian has enjoyed driving it to shows like Dino's Git Down, Square Body Syndicate Run to the Brothers show and various trips to the Pomona swamp meet.
"It's a fun truck to drive that you can take anywhere and have a ball with all the time," Brian says.
"Benjamin" embodies what the custom truck scene is all about-enjoying custom trucks on the open road with good friends.
OWNER
Brian & Mikki Vowell/ Frontier Shop Supplies
1977 Chevrolet C10 Mesa, AZ
ENGINE
2003 Chevrolet 5.3-Liter LS
Dirty Dingo accessory drive
Modern Vintage systems wiring harness
F-body oil pan
Sanderson headers
Porterbuilt engine/ trans mounts
Vintage air climate control/Sanden compressor
Custom-built 3-inch stainless mandrel bent exhaust/Magnaflow mufflers
LS swap and exhaust fabrication by Jeremy Rice
Engine painted Chevy orange
Slosh Tubz wheel tubs
Griffin aluminum radiator
Dual electric fans
4L65-E transmission rebuilt by A&S Transmission
2000 stall speed converter, Summit heat sink trans. cooler
Rebuilt Chevy 12-bolt rear end by Kenny at The Gear Shop with Auburn Limited Slip/3.73:1 gears
CHASSIS & SUSPENSION
Porterbuilt extreme front and rear drop members: All fabrication/ installation by Jeremy Rice
Slam Specialties SS7 airbags
KYB shocks
CPP 2-inch drop spindles
Air tank/ battery mount
Mustang II rack and pinion
AccuAir E-Level air management/air management mount
Custom built transmission cross member
AZ Pro Performance front and rear disc brake upgrade/CPP master cylinder
WHEELS & TIRES
20×8.5-inch front, 20×10-inch rear Demo Specials
Toyo Proxes ST II P255/40VR20, P295/40VR20
BODY & PAINT
"Mother Nature" enhanced stock teal blue with patina
INTERIOR & STEREO
Custom split bench by TMI Products, custom wrapped door panels, dash and plastics by Elevated Design
Retro sound stereo
CTP Concepts Elevel ash tray mounted controller
SPECIAL THANKS FROM THE OWNER: "Special Thanks to my wife Mikki Vowell, Jeremy Rice, Nate Porter at Porterbuilt, Tino Garza at Max Built Customs for selling me the truck, Frank Rechlin at IKandy, Mark Clark at Speed Sports, A&S Transmission, Kenny at The Gear Shop, AZ Pro Performance, Delmo-Del Uschenko, Mike Losh at Slosh Tubz, Elevated Design, Travis Pruis at CTP Concepts, Joe Yezzi at Syndicate Series."