One Bad Dog
We all enter the scene in many different ways. Some grow up in a family building cars and trucks, and some are introduced by friends. Scott Harms is no exception; he was introduced to the scene by a friend. Back in 1992, Scott's pal took him for a ride in a lowered Mazda truck, and Scott became instantly hooked. At that time, he owned a 1988 Ford Ranger. This was not a truck for his future plans; his dad sold the Ranger and they went to the Isuzu dealer and bought a 1993 Isuzu pickup.
Home from the dealership, Scott and his dad cranked down the torsion bars in the front and mono-leafed the rear with 3-inch blocks. Years later and many cars and trucks in between, Scott came across a fully built Isuzu P'up that he always wanted. He had the support of his wife, Jessica; she said, "Go get it before it's gone."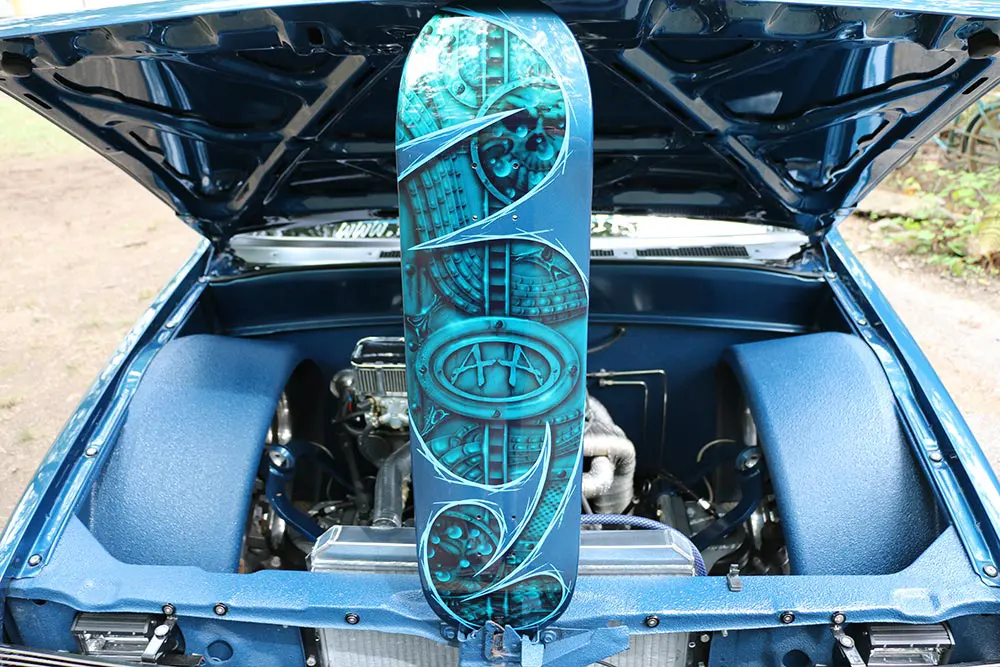 DOWN, BOY!
Since Scott is a dog breeder, it was only fitting for him to call his truck "P'up Money," a great little play on the Isuzu P'up and his occupation. Scott had to add his own touches to make it even better.
Ashley and Daniel Callahan, the truck's original builders, fabricated a custom ¾ frame built from 2×3 square and round tubing. Everything on the frame was smoothed and painted to match the truck. On the front suspension, they used Michigan Metal Works control arms with Slam Specialties SS6 'bags. Ashley and Daniel narrowed the rearend 3 inches and used a 4-link with Slam Specialties SS6 'bags. They went all out by converting everything over to right-hand drive. The couple then performed a stock floor body-drop, laying the rockers flat on the ground. The rollers consists of 20×8.5 Raceline Commanders with 245/35/R20 Toyo Tires.
In the engine bay, the stock 2:3-liter motor was upgraded with wrapped Pacesetter headers and Flowmaster exhaust. Ashley and Daniel also added sheetmetal details, all Rhino-lined to match.
ROBO-DOG
On the outside, everything was shaved and smoothed. A full phantom grille with Toyota front bumper was installed, as well as flush-mounted LED taillights. Originally, Ashley and Daniel had painted the Isuzu PPG Electric Blue. Then Joseph Carpentier bought the truck and decided to change things up, adding a biomechanical theme to the back of the Isuzu.
Joseph then sold it to Scott, who wanted to take it to the next level. With the help of Feltham Fabrication and Forbidden Customs, the biomechanical graphics were added to the hood and onto the dash and top of the doors inside. Yep, Scott definitely took his truck to the next level.
Ashley and Daniel made sure the interior was as detailed as the rest of the truck. To start, they added a Toyota T-100 60/40 bench seat wrapped with two-tone light-gray vinyl with dark-gray inserts. They also added Dakota Digital gauges with an Ididit steering column with a Billet Specialties steering wheel. Custom door panels and kick panels were made to match.
Although this was already an incredible interior, Scott put his own touches on it by having Feltham Fabrication strip the dash and paint the truck's inside with biomechanical paint, continuing the theme on top of the doors. Lastly, a Pioneer head unit with 5 ½-inch components and a 200-watt Pioneer amplifier were added to control the music.
BEST IN SHOW
Scott took a fully built custom truck and made the sort of changes that make you say, "WOW." Be sure to check out Scott's truck at shows all over the Southeast along with his club, Acrophobia. Scott would like to thank Jessica Harms for making his dreams become reality, and Phil Martin, Justin Steed, and Jason Feltham for always being willing to lend a hand with the rebuild.
Owner
Scott Harms
1988 Isuzu P'up
Iva, South Carolina
Acrophobia
CHASSIS
Engine: 2.3L, Pacesetter headers, Flowmaster exhaust with Coffin muffler, motor painted to match. Sheetmetal details
Front Suspension: Michigan Metal Works control arms, Slam Specialties SS6 'bags
Rear Suspension: Slam Specialties SS6 'bags, two Viair 480 compressors, ¾ frame built from 2×3 square and round tubing, 4-link, Toxic Shocks
BODY & PAINT
Exterior stock floor body-dropped to the rockers
PPG Electric Blue
Sierra Silver
Nissan Charcoal
HOK Orion Silver
Biomechanical HOK Kandy Teal airbrush
Shaved body
Color-matched frame
INTERIOR
Toyota T100 60/40 split bench seat
Two-tone light-gray vinyl with dark-gray inserts
Dakota Digital gauges
Custom door and kick panels
Custom-painted dash and top of doors in biomechanical theme
Ididit steering column with Billet Specialties steering wheel
Pioneer head unit
5 ½-inch Pioneer components
200w Pioneer amplifier
WHEELS & TIRES
Wheels: 20×8.5 Raceline Commander
Tires: 245/35/R20 Toyo