A Toyota With a Latte Lift
CHRIS TRYON, LIKE MOST OF US, GREW UP WITH A STRONG INTEREST IN PRETTY MUCH ANYTHING ON WHEELS. Starting with a '90 Honda Accord sport compact as his fi rst ride (which he still owns 19 years later), he has also owned everything from a 'bagged Nissan Hardbody mini to a Honda Grom mini motorcycle in the many years since, so it only made sense that he would eventually set his sights on something a bit larger.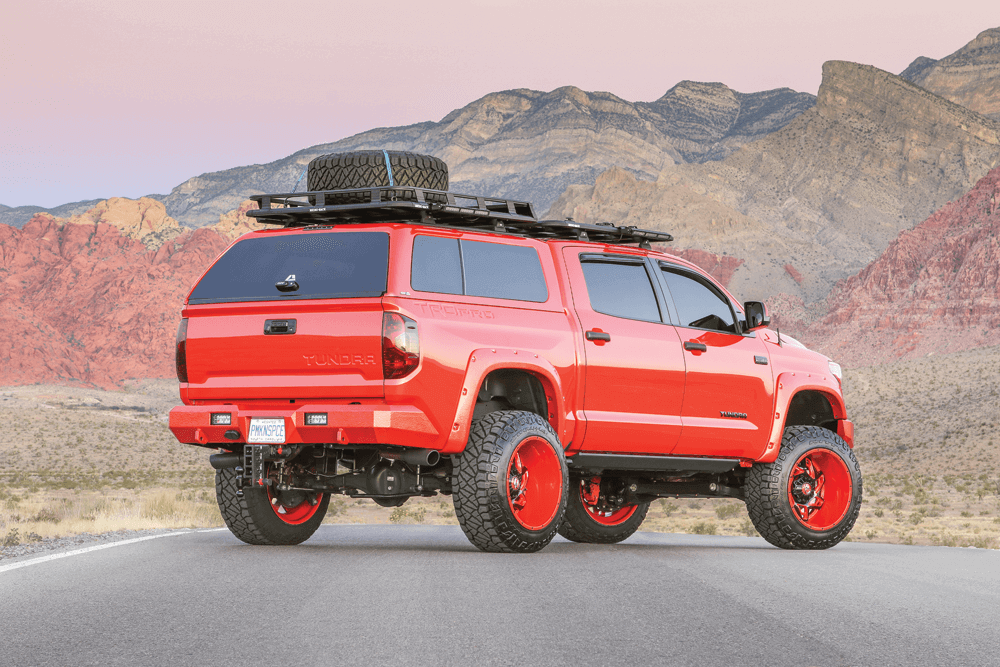 As is often the case, Chris found himself in need of a tow rig that would also be comfortable enough to be used as a daily, so he plopped down a decent chunk of change on a new '15 Toyota Tundra in Inferno Orange. He honestly had no plans to do anything to it beyond occasionally checking the tire pressure and some scheduled oil changes, but we all know how that works out for most of us. Before long, Chris was buying an accessory here and there, and things really snowballed. Heck, all it usually takes for us is something as simple as an air freshener and its game over.
Making things more interesting is the fact that Chris is in Xtreme Lowz, a club that prides itself on lowered rides (or is it "ridez"?). So how is it that a dude in Xtreme Lowz ends up with a lifted truck? Well, we guess variety is the spice of life, and in Chris' specific case, it's the pumpkin spice of life. In fact, he dubbed his truck Pumpkin Spice Tundra, and after realizing that there's no way he'd be leaving the truck stock, he teamed up with buddy Brandon Burrell to create one of the flashiest Toyota full-sizes to date.
Plans were hatched, and it was quickly decided that Chris and Brandon would orchestrate a complete show build in the hope of attracting enough attention to showcase the truck at SEMA. With Brandon's prior SEMA builds providing the proper credentials, they were able to bring some key sponsors onboard to help achieve their goal in record time.
Most of the build would not have been possible without a couple of Brandon's go-to shops, namely Rimz One and Ultimate Audio; each put in tons of work to create a truly one-of-a-kind Tundra. Rimz One installed a hefty 7-inch BDS coil-over suspension lift, which also features an Ekstrom Design steering kit and rear shackles.
Color-matched 22×14-inch Dropstars wheels with 37-inch Nitto Ridge Grapplers give the truck a tough and stylish look, while tow capacity was greatly increased with the addition of an Air Lift Company helper 'bag setup over the rear axle. Even the brakes were upgraded front and back with NEO Motorsports big brake kits, which help slow the truck down much quicker when needed. With an AirAid air intake, Hypertech Interceptor programmer and stainless Gibson exhaust adding a few ponies, we're guessing that's quite often.
Believe it or not, the interior is just about as custom as the exterior, which we hear is Ultimate Audio's specialty. And part of that interior now includes the bed, thanks to an A.R.E. Z series bed cap, which houses a BedRug, UnderCover SwingCases and even some custom wakeboard speaker towers with Memphis Audio speakers. In the cab lies custom leather from Roadwire Leather Interiors (installed by Classic Soft Trim), a custom leather center console and a ton more work from Ultimate Audio's bag of tricks.
A Kenwood navigation head unit was slipped into the dash, with supporting audio components from Memphis Audio adding plenty of quality volume to Chris' drive. But even with all of the aftermarket gear, he's still able to use his factory steering wheel controls thanks to the Memphis Audio OEM integration unit.
Once the bulk of the build was complete and cinched up, Chris and Brandon worked on the final details before packing up, loading Brandon's girlfriend's show car onto a trailer behind the Tundra, and making the 2,300-mile journey out to Las Vegas for the 2017 SEMA Show, where it represented all of the companies that helped make the build possible and got quite a bit of attention. Not bad for a lowered truck guy. ST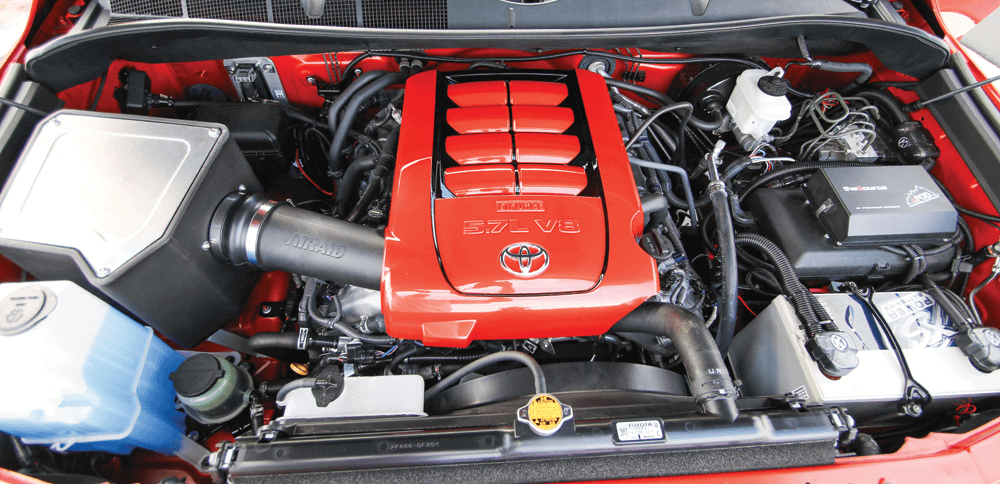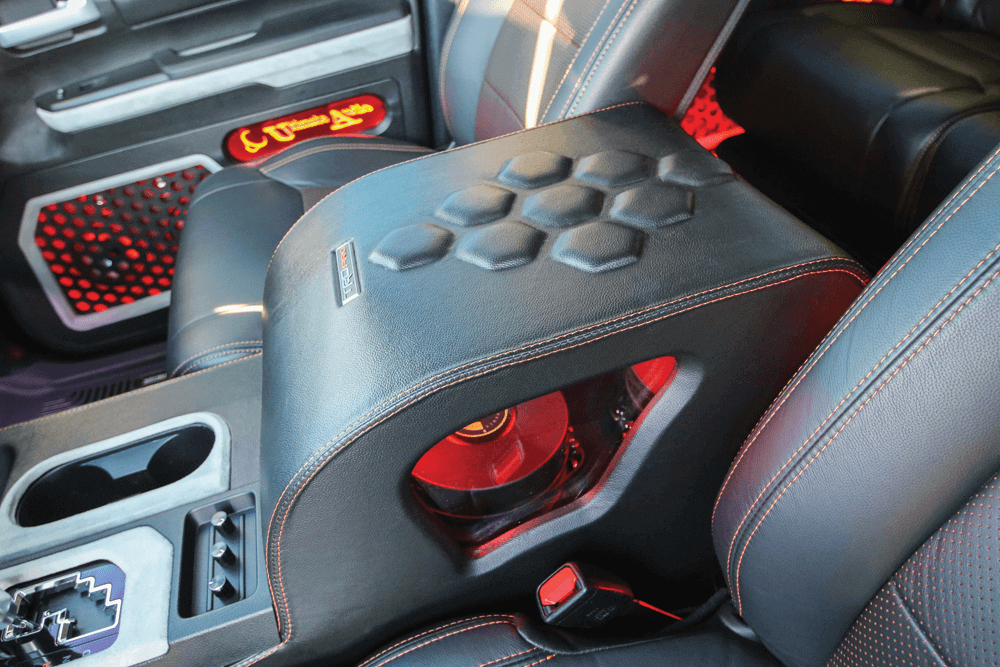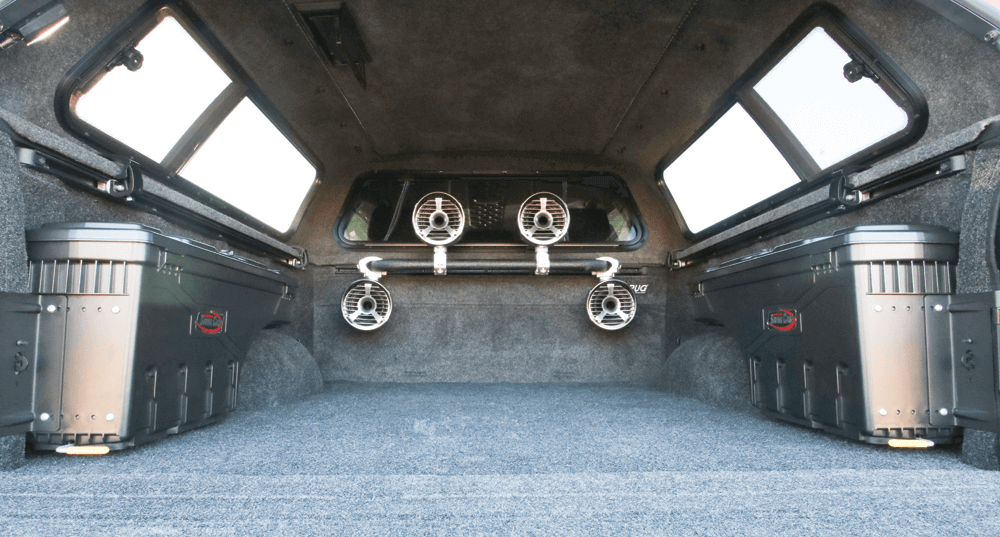 TRUCK SPECES
OWNER
Chris Tryon 2015
Toyota Tundra Asheville, NC
Xtreme Lowz
ENGINE
AirAid air intake kit
Hypertech Interceptor programmer
Hypertech speedometer calibration unit
Engine cover color-matched by Rimz One
sPOD installed under hood to control aftermarket accessories
Gibson stainless exhaust with 4-inch black ceramic-coated tips
CHASSIS & SUSPENSION
Work performed by Rimz One
7-inch BDS suspension lift
Fox Racing remote reservoir shocks
Ekstrom Design steering kit
Ekstrom Design rear shackles
Air Lift rear helper 'bag kit
Hellwig rear sway bar
NEO Motorsports front and rear big brakes
Transfer Flow 46-gallon direct replacement fuel tank
VIAIR onboard air setup
WHEELS & TIRES
22×14 Dropstars 652BM wheels, colormatched by Rimz One
37×12.50R22 Nitto Ridge Grappler tires
BODY & PAINT
Custom grille by DB Customz
Fusion bumpers with Off-Road LED Bars lighting
LED cubes to replace factory fog lights
Stock lights customized by Plain An Simple with Klearz Manufacturing lenses
Projector lamps with Plain An Simple logo
Diode Dynamics LED bulbs and LED light bars
Bushwacker pocket-style fender flares
Color-matched Rhino Liner on fender flares and bumpers by Rhino Linings of WNC
A.R.E. Z series truck cap
Rhino-Rack roof and cap racks
AMP Research PowerStep running boards
AVS Ventshades
GEN-Y drop hitch with Boltlock locks
INTERIOR & STEREO
Work performed by Ultimate Audio and Classic Soft Trim
Seats upholstered with RoadWire Leather Interiors leather
Headliner and dash parts covered with RoadWire leather and suede
Custom-painted interior components
Center console split and widened to house two 10-inch Memphis audio subwoofers
Custom amp rack under rear seat for four Memphis Audio amplifiers
Memphis Audio mids and tweeters
Kenwood DNX893S head unit
Memphis Audio OEM audio control integration unit
Wakeboard speaker towers mounted in bed
A.R.E. SwingCases mounted in bed
BedRug bedliner
HornBlasters train horn setup
Three XS Power batteries