There's something to be said for an athlete, after what seems to be a lifetime of hard work and dedication, commits him or herself to yet another glorious victory. It's the attributes of sacrifice, dedication and resolution that separate the truly committed and successful from the scores willing to try something casually once or twice.
It's no great leap to compare enthusiasts devoted to the custom truck realm to those hardcore athletes; the two passions definitely share a similar level of focus. Nathan "Stewart" McGregor (aka Peabody) is one of the elite few highly motivated truck enthusiasts, and he's rediscovered time and time again what it means to tether one's heart to the industry.
"A constant hunger lingers within him, driving him to continue creating, sharing and showing his trucks."
Stewart's nearly quarter century in the truck scene has been one colored with diverse projects, highs and lows, extreme loss and major wins. The rides that he's previously owned and built include a Nissan Hardbody, a body-dropped Chevy Astro van, Chevy short-wheelbase dually and a Toyota Tacoma, which was also bodied. Some might suggest that after length of time burnout would set in, but this hasn't been the case for Stewart. A constant hunger lingers within him, driving him to continue creating, sharing and showing his trucks. His second family, club Negative Camber, has helped feed the flames of his passion throughout the years.
When this now-stunning '12 Chevy Silverado came on the market, Stewart was more than interested. Nevertheless, his efforts were thwarted when, as he put it, "fate wielded its evil hand," and the Silverado was sold before he could strike a deal. Fortunately, the truck's second owner knew there must be a better home for the truck, one that allowed its owner to drive her as often as they pleased, so just a little more than a year after the initial sale, the truck was back on the market. Stewart didn't hesitate, and he and his buddy, Jeff Phiffer, set off to purchase the truck and drive it 1,800 miles back home. Once the truck was in Stewart's hands, LST inspiration led to SEMA goals, driving him to act quickly. His first step was to strip it down to the frame and refresh the entire drivevline.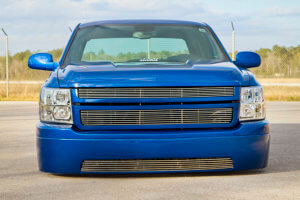 Next up, he perfected the rolling chassis and air suspension, including the addition of upgraded 3/8-inch stainless steel hard lines throughout. With help from John Adkins and Eric Saliba, 16-inch Wildwood disc brakes were installed on the build now known as Project Overdrawn. Suspension work was completed by Phat Phabrikations using a combination of custom spindles, a wishbone 3-link, 2,600-pound airbags and an Air Lift Performance management system. The new setup allows Overdrawn to really lay it all out on the pavement to tuck the all-new staggered 26×9.5 and 26×10 Billet Specialties wheels. The high heels are complemented with 295/30/26R and 305/30/26R Durun tires.
Truck Specs:
Nathan "Stewart" McGregor
2007 Chevy Silverado 1500
Collierville, TN
Negative Camber
Engine
5.3L steel-block Chevy truck motor
Dirty Dingo LS brackets
LS2 intake manifold with custom air tubing
Complete wiring tucked
LS2 custom engine cover
Hedman shorty polished headers
Magnaflow mufflers
Suspension
Custom spindles
Wilwood 16-inch disc brakes
2,600-pound front airbags
Triple convoluted rear airbags
Complete Air Lift Performance management
Rear wishbone 3-link
Performed by Phat Phabrikations
Wheels & Tires
26×9.5 and 26×10 Billet Specialties BLVD 85
295/30/26R and 305/30/26R Durun tires
Body & Paint
Completely shaved, debadged, smoothed, bead-rolled body
House of Kolor and Sikkens custom Blue Pearl mixed with Tangelo Orange performed    by Jeff Phifer of JustAtThaHouse
Fully customized front bumper
Headlight reflectors removed and taillights painted candy red
Full custom sheet metal and bead-rolled bed
2013 Silverado HD front end
Carriage Works billet grilles
Interior
Italian Black Mamba leather with black suede inserts
Black Porsche carpet with blue stitching
Black Mamba embossed and pinstriped suede headliner
MB Quart 600.4 amps, highs and mids
MB Quart 2000.4 amps for subs
Four 12-inch MB Quart MS1-304 subs
Apple iPad head unit
Custom door panels for speakers
Custom dash fitting for iPad
Custom center console
Two Optima Red Top batteries
Performed by Todd Jubert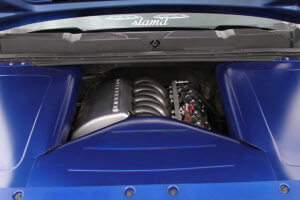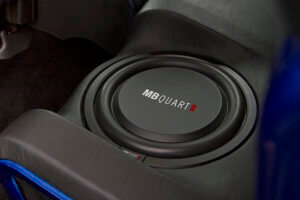 To change up the overall look, Jeff Phiffer of JustAtTheHouse prepped the body, painted the cab and frame and completed extensive body modifications. The specialty paint produced by Sikkens and House of Kolor is a combination custom Blue Pearl and Tangelo Orange. The truck body was meticulously cleaned and smoothed by shaving the antenna, third brake light, gas door, door handles, tailgate handle and bed rails. All emblems and the headlight reflectors were removed, and the taillights were painted candy red. A heavily modified bumper finished off the custom work on the front fascia. The gas filler was relocated beneath the bed behind the tailgate, and the bed floor received its own special custom treatment. All Chevy Silverado HD components, including the hood vents, were removed, shaved, smoothed or bead-rolled to complete the fully custom body appearance.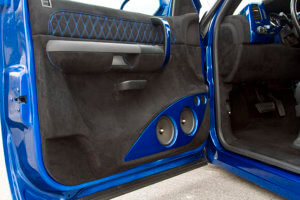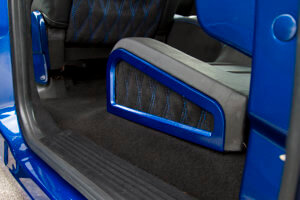 Project Overdrawn is propelled by a 5.3L Chevy truck motor employing Dirty Dingo LS3 front accessories brackets, a custom LS2 engine cover and an ultra-clean wire tuck performed by Stewart. The 5.3 inhales through an LS2 intake manifold combined with custom air intake tubing and exhales through polished Hedman shorties and Magnaflow mufflers. Todd Jubert was flown in specifically to complete the interior upgrades and installations for Overdrawn's SEMA debut. He covered the whole of the interior with Italian Black Mamba leather with suede inserts. Black Porsche carpet with blue stitching rests throughout the interior, along with the embossed and pinstriped black suede headliner.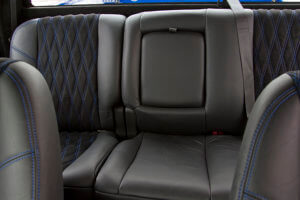 With help from good buddy David Adams, Stewart upgraded the audio system. MB Quart amps are used all around, paired with four 12-inch MB Quart MS1-304 subs and MB mids and highs. The system is controlled and navigated via Apple iPad. Custom door panels for the speakers, a custom dash fitting for the iPad and a custom center console completed the finish work in the interior.
"Overdrawn is more than just a truck, it's a promise that the faithful will always find trucks rewarding. It's stories like this that inspire other builders to keep at it."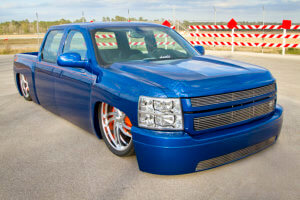 The finishing touches to Overdrawn were literally being applied just minutes before the late-night, 26-hour road trip to SEMA began. All IIT's stories like this that inspire other builders to keep at it. n all, the tale of Overdrawn and Stewart is a story of extreme dedication. It's the story of a man who refused to lose sight of his goals or reduce the heat fueling his passion. Overdrawn is more than just a truck, it's a promise that the faithful will always find trucks rewarding. It's stories like this that inspire other builders to keep at it. We know we definitely haven't seen the last of Stewart in the pages of Street Trucks. ST
Special thanks from owner: "I want to give a huge thanks to Jeff Phiffer, John Adkins, Todd Jubert, Eric Saliba, Zach Bishop, Tom Price, David Adams and Jake McKiddie for all the late-night hours and hard work; also my family, kids and parents for their support; and a very special shout-out to my son Bryson McGregor, he's only 15 and itching to get into building trucks."
Editor's Note: A version of this article first appeared in the July 2016 print issue of Street Trucks.