According to the old saying, death and taxes are the only things you can really count on. Although that might generally be true, there are some positive—highly likely— things to look forward to as well. Owning one's dream vehicle is a good example, but now more than ever, getting it requires pulling more strings.
The ability to transform any given make/model into a truly one-off custom version takes way more effort than just walking into a dealer's showroom and pointing at the prettiest vehicle on the lot. For anyone whose heart is set on an old, rusted pickup, there's quite a bit of dirty work involved in transforming it into a running, driving, customized vehicle. The only sure thing you can expect from such a scenario, however, is that a fair amount of cash and hours will be spent resurrecting a dead or dying old truck. The odds favoring the owner/builder solely rest on his or her shoulders alone. Where there's an unwavering will, there's certainly a way.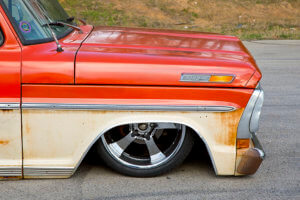 Lindsay Escoyne and her dad, Jason, are just the type of people who know how to stack the chips in their favor. Back in 2011, Jason purchased the '71 Ford F-100 seen here from a Mr. Luke Pontiff Sr., who just happened to be the truck's second owner. Lindsay reports that Mr. Pontiff knew the truck's history inside and out, much more than would be expected from someone who wasn't the original owner. "We aren't too sure exactly what year Mr. Pontiff had purchased the truck, but he had used it as his basic mode of daily transportation. At some point in time, he spelled 'Pontiff' in mailbox lettering stickers underneath the window on the driver door. To this day, his name is still there. The truck has since taken on his name. It's a way that I want to continue honoring him since he passed away not long after my dad bought the truck from him." Lindsay and her dad are obviously sentimental folks who strongly believe in preserving legacy and tradition. It's this shared trait that kept the project on track during the 16 months they spent rehabbing Mr. Pontiff's old truck.
The goal was to first whip the truck into reliable working order. "Looking cool" wasn't the main objective here. Obviously, Lindsay was after a lower, updated stance, but she also wanted to be able to drive it daily just like Mr. Pontiff had done years before her. "My dad had every intention of doing just what we were doing to the truck when he bought it five years ago. Aside from the suspension and chassis work and the access panel in the bed, a good majority of the truck is still original. This is just the way I wanted it to look. There's just too much natural character that is too important to erase."
In an effort to preserve the truck's natural patina, the entire exterior of the truck was sprayed with a semi-gloss clearcoat. They could've left the truck to continue to age naturally, but encapsulating the finish under clear was a way of capturing a snapshot of the condition Mr. Pontiff last saw it in.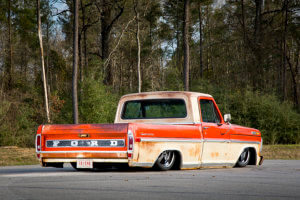 Aside from Jason almost losing the tip of his finger while mocking up the access panel in the bed floor, the year-and-four-month build process flowed relatively smoothly. "The whole thing with my dad's accident set us back maybe three weeks or so, but other than that we didn't hit many other obstacles," Lindsay recollects. Jason set up the entire air ride system and raised the floor pan and bed to accommodate the adjustable suspension travel. As far as a reliable power plant, they had their friend Scotty Thibodeaux rebuild a 1992 Thunderbird 5.0L V-8. The truck's exterior is original for the most part, and the interior has only been treated to an LMC Truck bench seat cover, steering wheel and replacement 1969 door panels. Modifications were done with the utmost moderation. "When we were done with the truck, I drove it over to Mr. Pontiff's family, so they could see what my dad and I had done with it. They were initially shocked to see the truck as low as it was, but they loved the fact that it still looked familiar to them. And they were pleasantly surprised to see their family name still spelled out in mailbox letters on the driver door." Lindsay says.
With the old Ford back on the road with an extended lease on life, Lindsay can honestly say that the truck will be staying like this for the foreseeable future. "I plan to fully restore the truck to its original condition, but that's not going to be something that will happen all too soon. I love the response it is getting now," she says. If it weren't for her dad, Lindsay admits that she wouldn't be able to say that she now knows her way around every inch of the truck and that she can recite every part that was used for the build and what was done to make something work. If it weren't for Mr. Pontiff selling the truck to her old man, that experience wouldn't have been possible, or at least not in the same way. For that, she has an unfathomable sense of pride and appreciation for these two important figures in her life.
Truck Specs:
Owner
Lindsay Escoyne
1971 Ford F-100
Breaux Bridges, LA
Engine
Performed by Scotty Thibodeaux/Premier Powder Coating
1992 Ford Thunderbird 5.0L eight-cylinder
Ford C6 transmission
Trick Flow chrome-moly pushrods
Power Master 140-amp alternator
Flex-a-lite Low Boy electric fan
Supreme Hot Rods motor mounts
Edelbrock intake manifold, air cleaner and 600-cfm carburetor
Flowmaster muffler, 2 1/2 –inch exhaust
Optima battery
Suspension & Chassis
Performed by Jason Escoyne
Stock 1965 C-10 control arms modified with RideTech Mustang II ball joint rings
Mustang II spindles
Front and rear Firestone 2600 'bags
KYB Excel 6 shocks
Wheels & Tires
20-inch Raceline Maxim chrome wheels
275/30ZR20 Accelera tires
Body & Paint
Original color with natural patina clear coated in semi-gloss by Matthew Lawson
Floor pans raised 2 inches
Bed floor raised 13 inches
Bed access panel utilizes hood hinges from a 1972 Nova and a 1966 C-10 hood latch
Stock front and rear bumper, grille, door handles, tail and head lights
Interior & Stereo
LMC Truck bench seat cover
LMC Truck steering wheel
Billet aluminum door handles powder-coated satin black by Premier Powder Coating
1969 F-100 door panels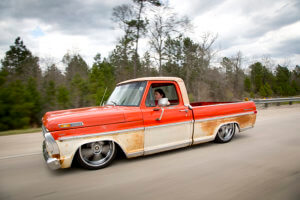 Keeping the build so closely tethered to what was truly important to her is what made the outcome of the project such an overwhelming success for Lindsay. Not only was she able to pay her respects to the truck's heritage, she was still able to get the exact vehicle she had wanted since the beginning stages of the build. There's no better recipe for a positive experience than that, and with this being her first custom vehicle, Lindsay will no doubt continue to explore the world of automotive customization whether it's with Pontiff or another vehicle altogether. ST
Special Thanks From The Owner: "Thank you to my dad, Jason Escoyne, for putting in countless hours over the last 16 months to complete the truck. To my mom Leslie for allowing my dad and I to relentlessly work on the truck and never giving up on our vision. Thanks to Scotty Thibodeaux for the immeasurable amount of knowledge that you've shared with us. Thanks to my Uncle Guy for also being as determined as my dad and I to get the truck back on the road."
Editor's Note: A version of this article first appeared in the September 2016 print issue of Street Trucks.