Ain't No Half Steppin'
Jason Lowery's Step mixed up step side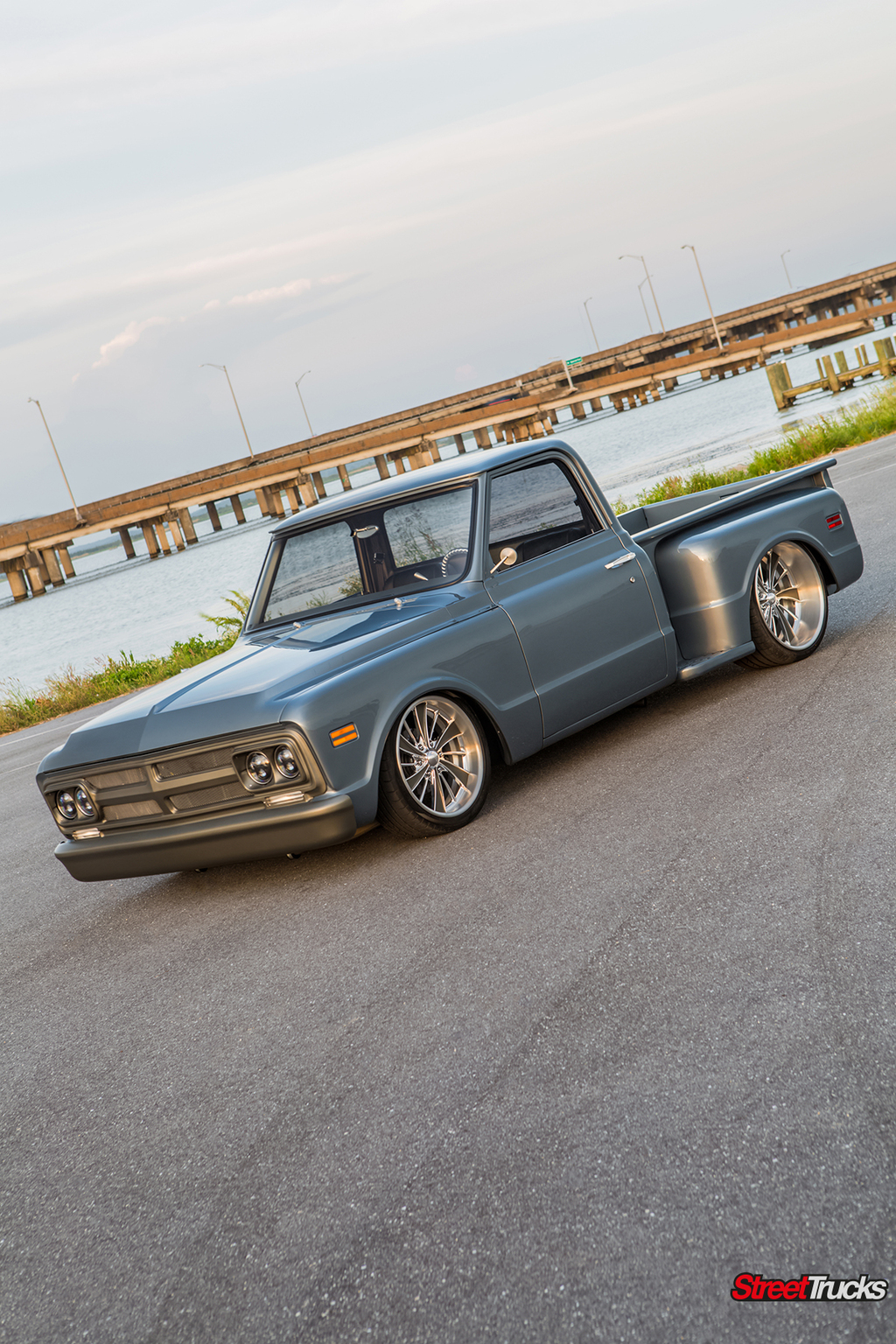 Everyone is different when it comes to starting a new build. Some people buy the vehicle after months or even years of research, then slowly and meticulously order the parts they want for it over time. Other people dive in head first, ordering pallets of parts for the truck before it can even drive somewhere. However, when it came to Mississippi resident Jason Lowery; regardless of the HOW, he knew he was going all in and cutting no corners to do it. Though as time went on, many parts of the build were completed, then re-done, then possibly even changed again after that; Lowery was pushing himself to make sure the build was every bit of what he had envisioned for it.

Feeling lucky off from the beginning, Jason came across exactly what he wanted; a  great starting point with a 1972 Chevrolet cab. With 1972 being his birth year, it seemed like it was immediately meant to be. Wasting no time, Lowery and his friend Jeff Simpson of J Rodz began to prep the cab for paint. Putting in work on the rockers, cab corners, and even the custom metalwork started coming together. Well on his way to seeing his vision become reality and cab in hand, the truck began to come together bit by bit after that. After locating a full stock frame from a different '72, Jason and Jeff got to work on a one of a kind chassis.


Although the frame started as a stock 1972 truck frame, very little of that platform stayed that way. As ideas became reality, it was obvious it was being built for not only a life closer to the ground, but a smoother riding more powerful truck than the seventies had ever seen. After the long list of parts were installed on the newly modified frame, the Airlift 2600 bags were installed. Allowing the '72 new opportunities at ALL heights, it was time for its' new heart, the power plant of this GM. A Chevrolet 5.3L V8 327 was dropped into place after some custom firewall work to fit correctly. By using a 4L80E transmission, a custom driveshaft, and a 3:73 posi rear end Lowery made sure he could USE the power this truck now had to offer. Putting the cherry on top, they decided both the frame and the motor should be painted grey to match the overall scheme of the truck.


As the rest of the truck came together, the body rolled out of paint; (including that sneaky GMC front end addition to match the bumpers) and the puzzle began taking real shape. Much like a puzzle, many pieces were tried in different ways, in different places, only to be changed or replaced along the way. After many decision changes and swap-outs Jason began to refer to his project as Back Steppin'. It seemed like they were always stepping back and redo parts of the vehicle they were not fully happy with so it seemed appropriate and it stuck. This is the most thorough way we can describe all the work bodywork put into this truck without adding three additional pages of text. Seriously… they did that much work and that many little touches. After settling on the wheels they felt fit the trucks personality best and installing a GORGEOUS hidden hardware wooden bed-floor, the truck rolled through interior before it made its first completed appearance in the world, dropping jaws everywhere.
Jason wanted to take a second and give a special thanks to his wife Tiffany Lowery, his son Caleb, and his father George for being patient with him while he got Back Steppin' built. Also, a huge thank you to Nate Mittlesdorf, Bryan Brooks, Chase Cooper, and every other friend who played a part in completing this build on any level. Last but not least endless thank yous to Jeff Simpson for the countless hours of hard work he put in being a master of his craft on this truck. Catch him across the Nation at shows this season and make sure you look at the details in person. 
TECH SPECS:
Truck Specs: 1972 Chevrolet C10 / partial 1968 GMC
Truck Name: Back Steppin'
Owner: Jason Lowery
Hometown: Biloxi, Mississippi
Club: C10 Club Mississippi
How long did it take to build: 2 years
Reason for building: "I always liked step-side trucks, especially 67-72 Chevy-GMC trucks, 1972 for the year I was born, 68 GMC front end, I fell in love with."
Chassis:
Stock 1972 frame
Modern vintage systems wiring harness
Custom brake, fuel, and power steering lines by Jason Lofton
RestoMod A/C
Customized 2005 Silverado 4×4 Aluminum driveshaft made by Stan's Drivetrain
Rear 3:73 posi
Wilwood master cylinder
DEG exhaust cut outs
2" early classic spindles
2" rear lowering blocks
Early classic rear pan hard bar
Shop: Jeff Simpson @ Jrod's and Dead End Garage
Front Suspension:
Wilwood Disc front brakes
Airlift 2600 air bags
KYB front shocks
Custom front shock brackets
Belltech front sway bar
Rear Suspension:
Wilwood Disc rear brakes
Airlift 2600 air bags
KYB rear shocks
Custom rear shock brackets

Shop:
Jeff Simpson @ Jrod's and Dead End Garage
Exhaust:
Speed Engineering stainless headers
Custom 2.5" exhaust by Robert King
Exit drop down before rear axle

Engine-
2006 Chevrolet 5.3L V8 327
CPP LS engine mount
Dirty Dingo LS parts
LS Simple brackets
LS Champion radiator w/ Dual fans
LSI intake manifold
LS simple A/C & alternator brackets
Custom LS2 engine covers
Spectrum intake
Painted wool grey to match frame
Battery moved to driver rear
Tuned by Clay Osburn
Shop:  Nate Mittlesdorf & Jeff Simspon at J Rodz

Transmission-
2006 GM 4L80E
Modified a stock transmission cross member to fit
Painted wool grey to match frame
B&M transmission cooler
Dead End Garage brackets under core support

Wheels:
Hot Rod by Boyd Chinook
Custom brushed hoop
Custom painted wool gray center inserts
Front: 20×8.5"  tires: Atturo AZ850
Rear: 22×12"   tires: Atturo AZ850
Body:
Smoothed front and rear bumpers
Painted front bumper and GMC grille
Custom grille inserts with matching cowl custom insert
Hidden hood latch
Shaved under hood holes
Custom radiator cover
Shaved facotry inner fenders
Shaved firewall with no gutter
Blower motor deleted
Shaved cowl to match defrost vents from top view
Brothers one piece side glass
Shaved back cab wall
Soky Classics smoothed bumpers
Shaved inner fenders
Custom rear tubs for rear tires
4 LED Oracle lights in the grille
Roll pan by Mod Shop w/ long LED tail lights to match side markers
GSI exterior door handles
Flip down license plate / air port access
Precision weather stripping
Tinted glass
Truck Bed- New Box w/ shaved end caps on both ends from Mar-K
3" mini tubs from J Rodz
Smoothed tail gate from Mar-K
Fully custom stained and cleared bedwood w/ hidden bolts trim from Mar-K
Eddie Motorsports side hinges
Shop:  Jeff Simpson from J Rodz. as well as help from Souless Innovations design, Brian Brooks and other friends.

Paint:
Overcast Metallic- Chroma Premier from a 2017 GMC Denali
Dupont Base coat Clear
Wool grey frame
Shop: Jeff Simpson at J Rodz in Perkinston, Mississippi
Interior:
Black leather bench bucket style seat
Auto meter gauges
Restomod dual rotating AC Vents, controls, ignition, and charging port
Hotrod by Boyd Chinook steering wheel
Billet Specialties pedals and inner door handles
Custom middle section w/ slider that contains mult. Compartments, holds air tank gauge and bluetooth controller
Complete custom dash w/ glovebox lid containing gauges
Under side of truck / cab was color match bed lined
Shop: Terry at Golf Coast Upholstery
Stereo:
JBL stereo
Bluetooth amp
6×9 JBL speakers in custom cab corner boxes