What is an OBS? (Old Body Style or Original Body Style)
OBS refers to Chevy C/K trucks that were manufactured by General Motors between the years 1988 and 1998. Marketed under the Chevrolet and GMC brands, the C/K series included a wide range of vehicles including a truck and two SUV models. While most commonly associated with pickup trucks, the model line also included medium-duty and heavy-duty trucks. The "C" denoted a two-wheel drive; "K" denoted four-wheel drive.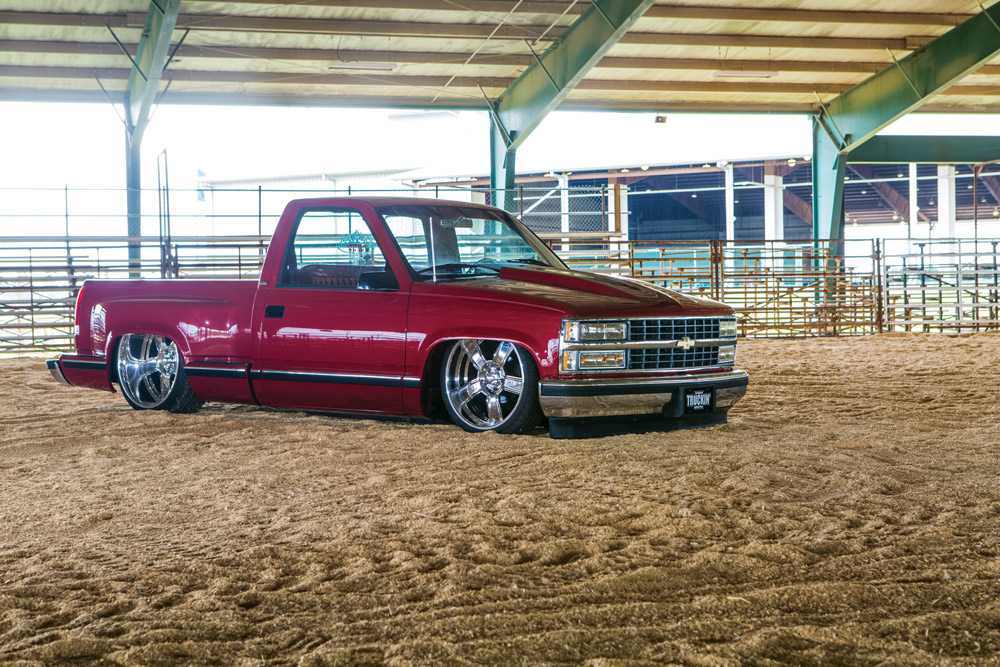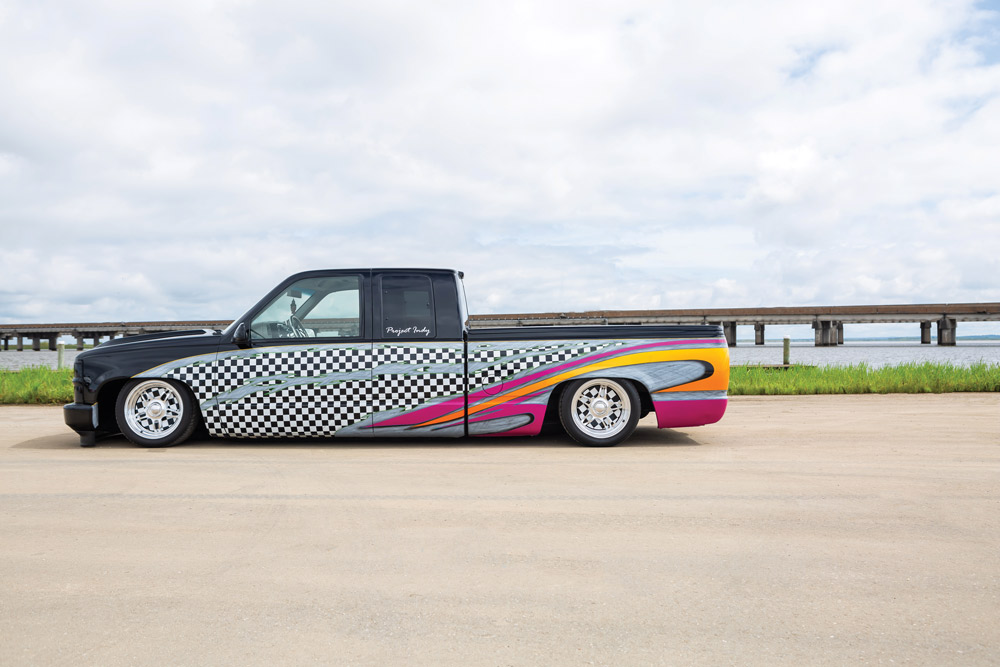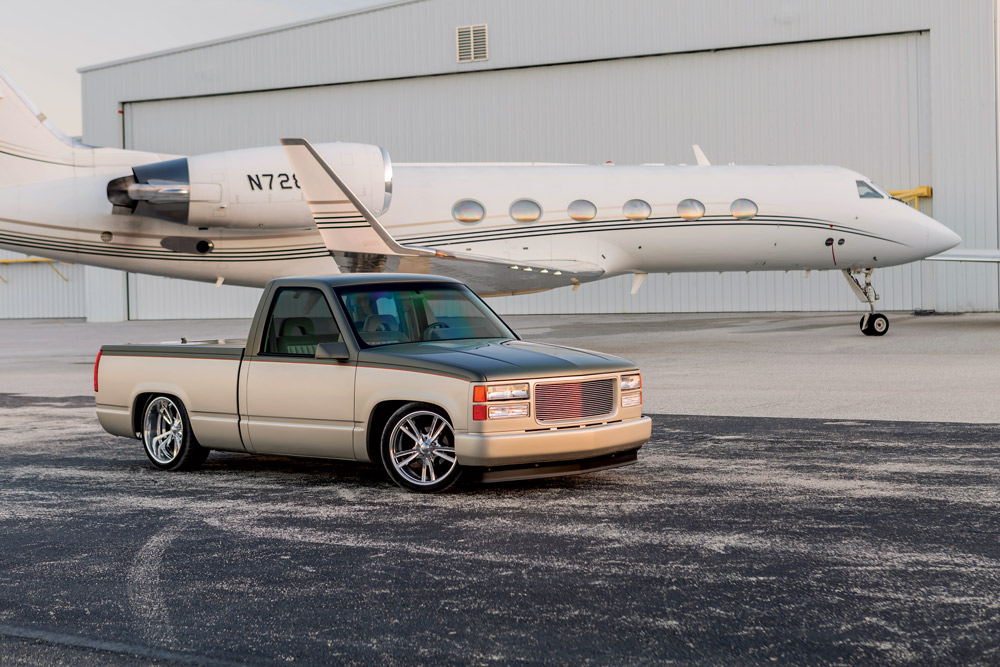 General Motors released eight different versions of the C/K line for 1988: Fleetside Single Cab, Fleetside Extended Cab, Fleetside Crew Cab and Stepside Single Cab models, each in either 2WD or 4WD drivelines. Three trim levels were available for these trucks, including Cheyenne, Scottsdale and Silverado.
Represented Model Years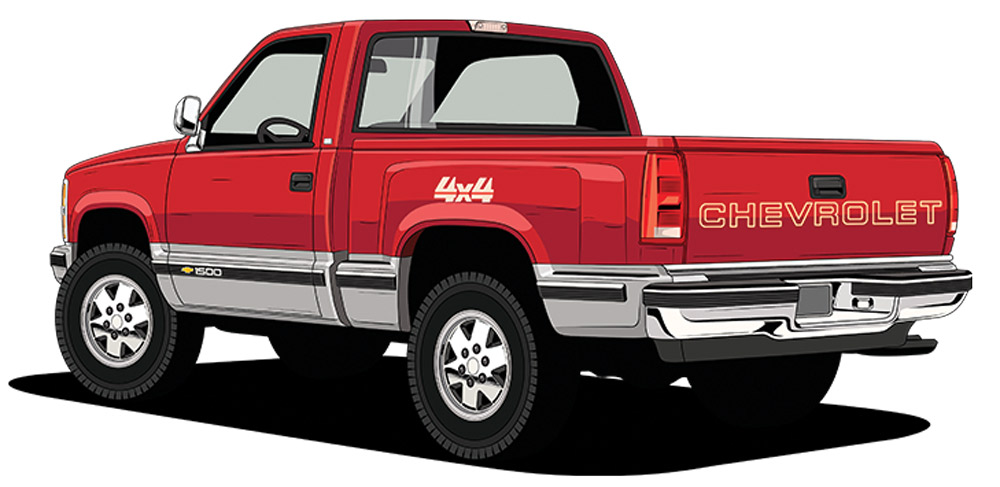 GMT400/480 '88–'00 Chevrolet C/K – GMC Sierra
GMT410 '92–'99 Chevrolet Suburban
GMT415 '92–'94 Chevrolet Full-Size Blazer
GMT420  '95–'00 Chevrolet Tahoe
GMT425 '92–'99 GMC Suburban
GMT430 '92–'00 GMC Yukon
Notable Moments in the C/K Timeline
In 1989, a Sport Equipment Package was available on either C/K 1500 Fleetside shortbed single cab model. The package featured a black grille with red outlined bow-tie emblem, black moldings outlined in red, body color front and rear bumpers, black mirrors and "SPORT" identification decals on the box and on the tailgate. There were no suspension or engine upgrades provided with any of the sport packages as this was an appearance only option.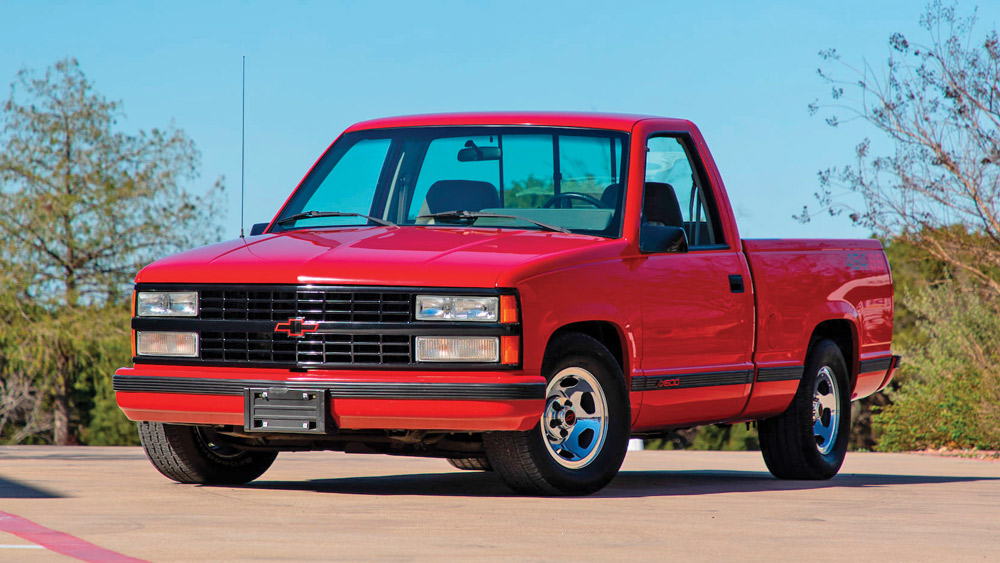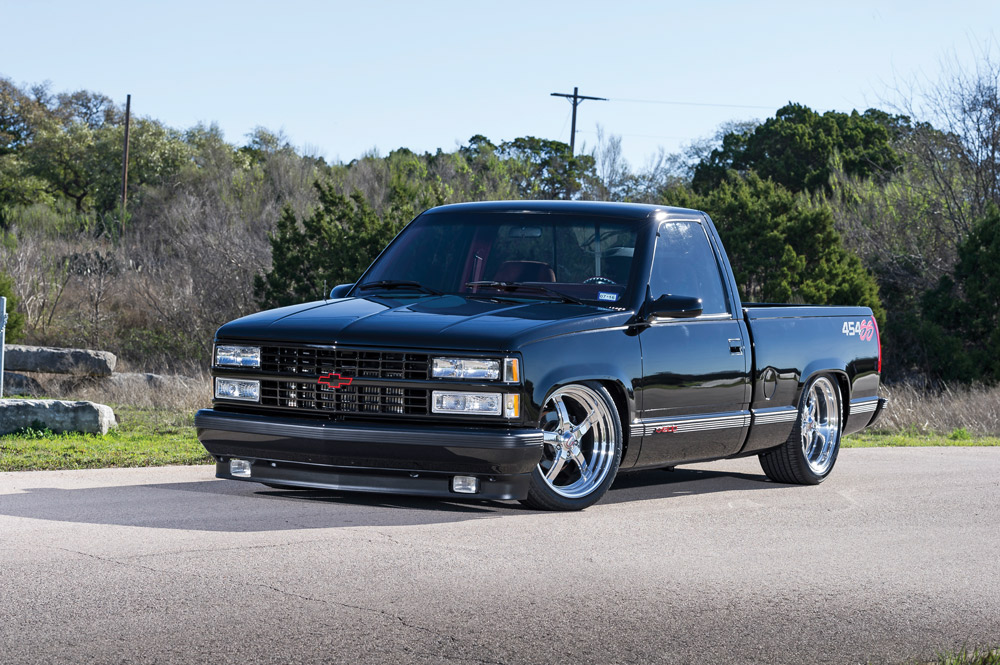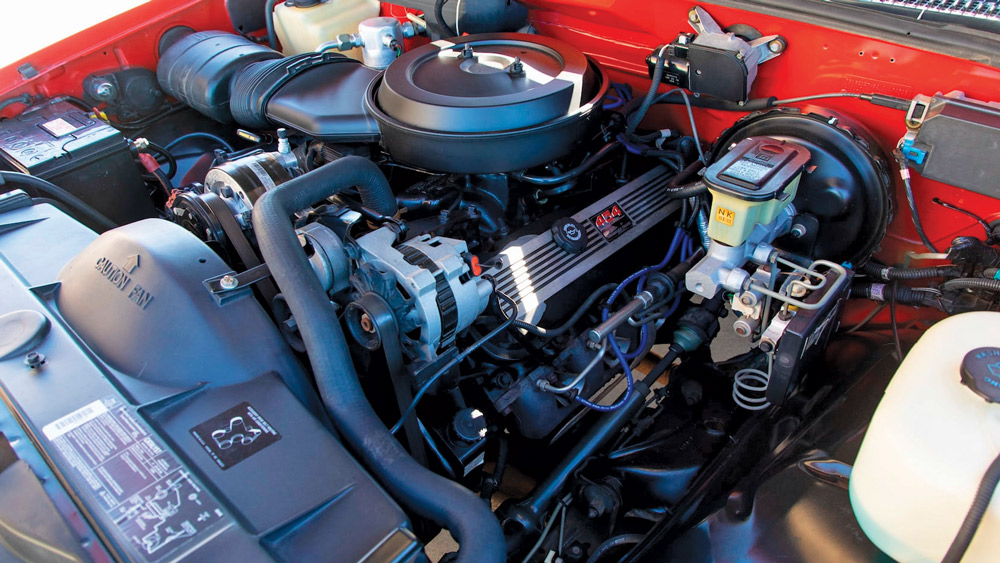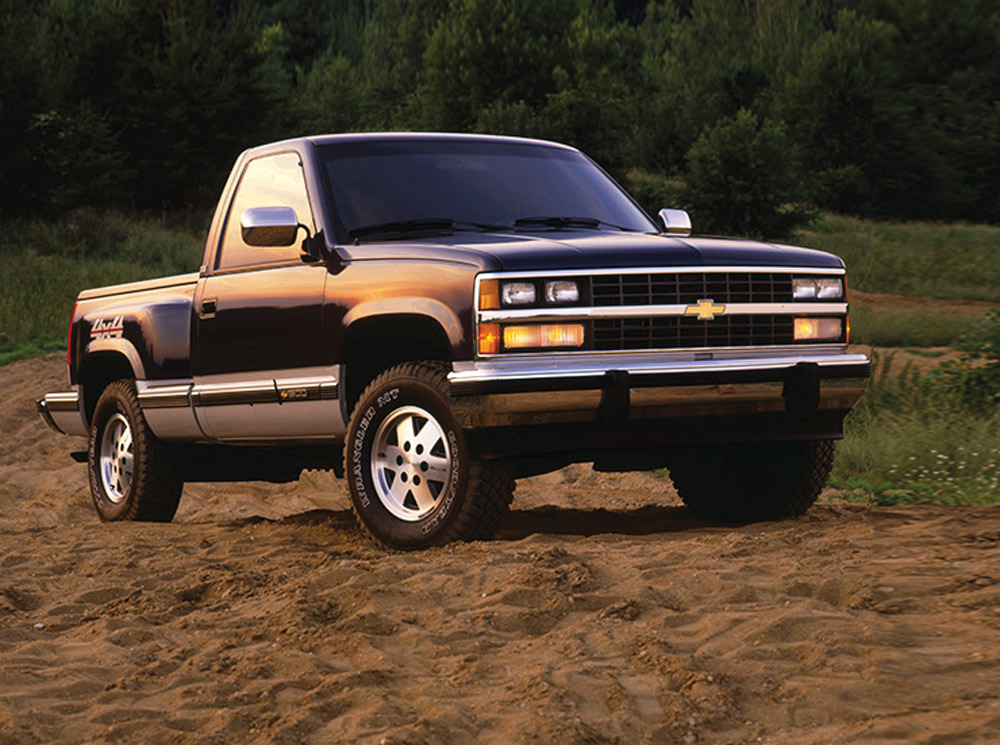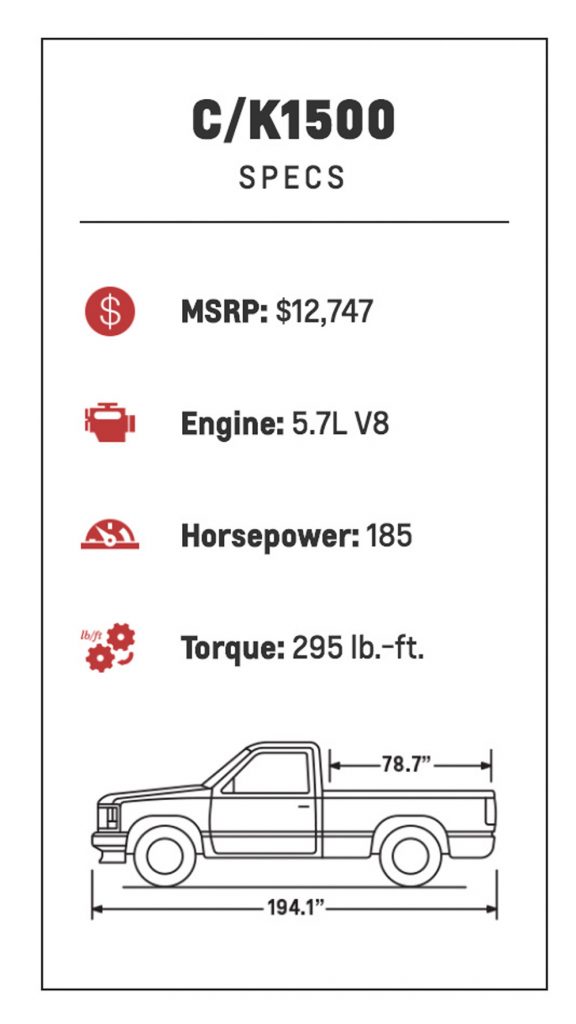 Throttle body (TBI) fuel injection was used on '88-'95 gas engines.
Central point injection (CPI) was used on the '96-'00 4.3L V-6, 5.0L V-8 and 5.7L V-8.
The Work Truck (W/T) was introduced in 1988, which featured a single cab longbed with Cheyenne trim and a new grille with black bumpers. 
In 1990, Chevrolet introduced a high-performance variant of the GMT400 under the Super Sport emblem called the 454 SS. It was available only as a 2WD half-ton regular cab short box in Onyx Black with a garnet red interior. Unique exterior features included a front air dam with fog lights, special rims, decals displaying "454 SS" on the bed sides, red trim emblems, and black painted grille, bumpers and mirrors. 
The MSRP of the 1990 model was $18,295. A total of 16,953 units were sold over the four years the 454 SS was in production; 13,748 units were sold in 1990 alone. 
  The 454 SS was powered by a 454ci (7.4L) V-8 producing 230hp. A Turbo Hydra-Matic 400, 3-speed automatic transmission and 3.73 rear axle ratio added to the truck's performance. The axle itself is unique, being a 14-bolt semi-floating unit that uses standard Chevrolet 5 on 5-inch wheels—the only factory-produced 14-bolt axle with such a wheel bolt pattern.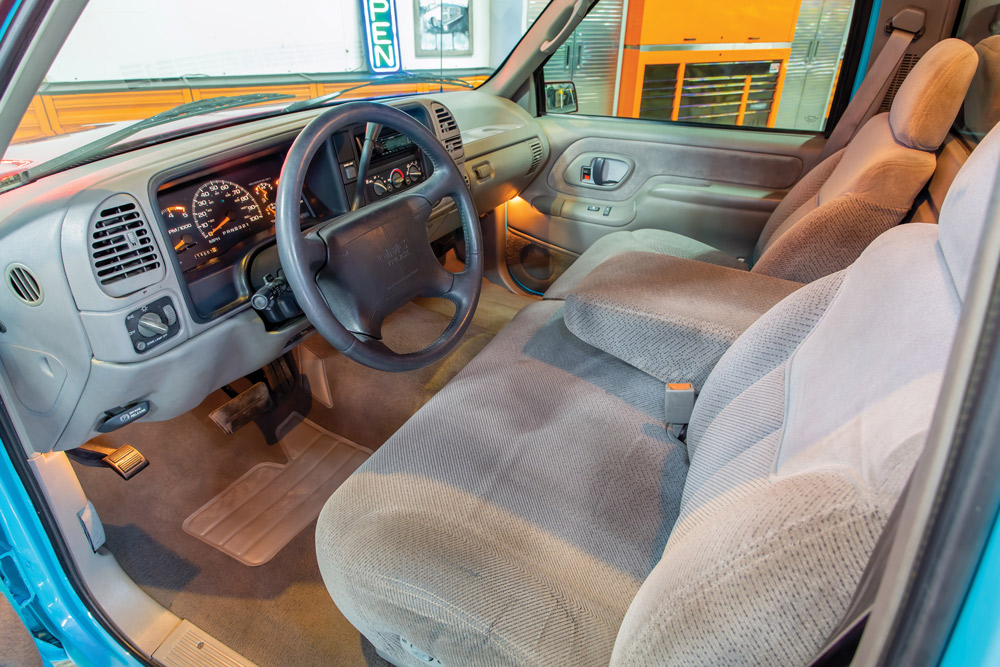 In 1991, the 4L80-E automatic transmission was added for three-quarter and one-ton trucks.
In 1991, California introduced a standard called OBD-I in order to curb vehicle emissions. All cars had to be equipped with a system that could detect engine issues and report trouble codes. Unlike the later OBD-II standard, however, OBD-I wasn't standardized across manufacturers.
This means that an OBD-I scan tool will often work for only one make of car. In addition, the codes themselves aren't standardized, so a Ford with the same engine issue as a Toyota might give a totally different trouble code.
In 1993 General Motors re-introduced the Sport branded trucks along with the 454 SS. The 454 SS was discontinued after the 1994 model year.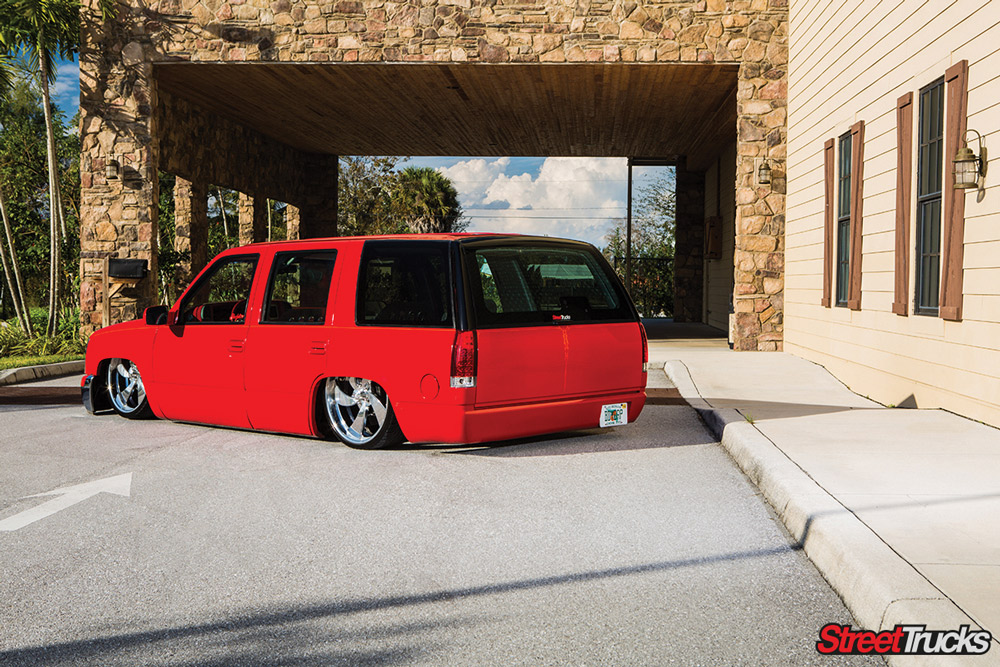 In 1993, the 700-R4/4L60 transmission was revised with electronic controls, becoming the 4L60-E.
  The 1994 models received a new front fascia, federally mandated center high-mount stop lamp, many new exterior colors including a new two-tone option on the rocker panels, and new tire and wheel combinations.
  All 1995 models received a new interior that included a new steering wheel with the 1500s containing a driver's-side airbag, a new dashboard containing a more centrally mounted radio, dial-operated HVAC system, and an improved gauge cluster. New front door panels and new seats were also included.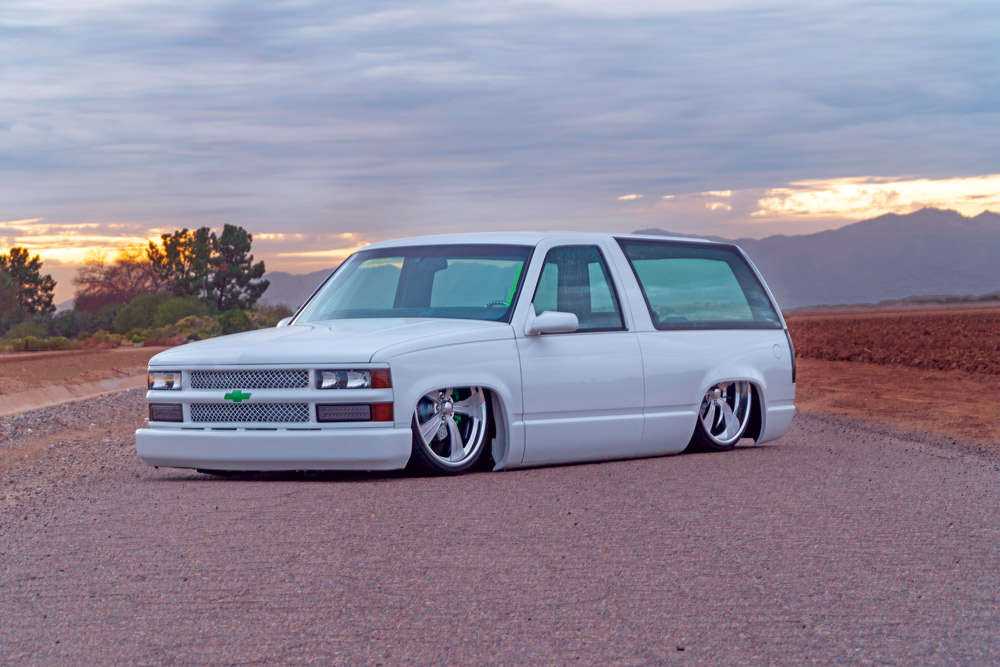 In 1996, OBD-II became a nationwide standard and it has been used ever since. Unlike OBD-I, OBD-II equipped cars all support the same type of scanner. The trouble codes themselves have also been standardized across all manufacturers. 
  For 1996, a passenger-side-mounted third door became optional on extended cab models.
  C/K 1500 models received a passenger-side airbag for 1997 to comply with new federal regulations for light trucks.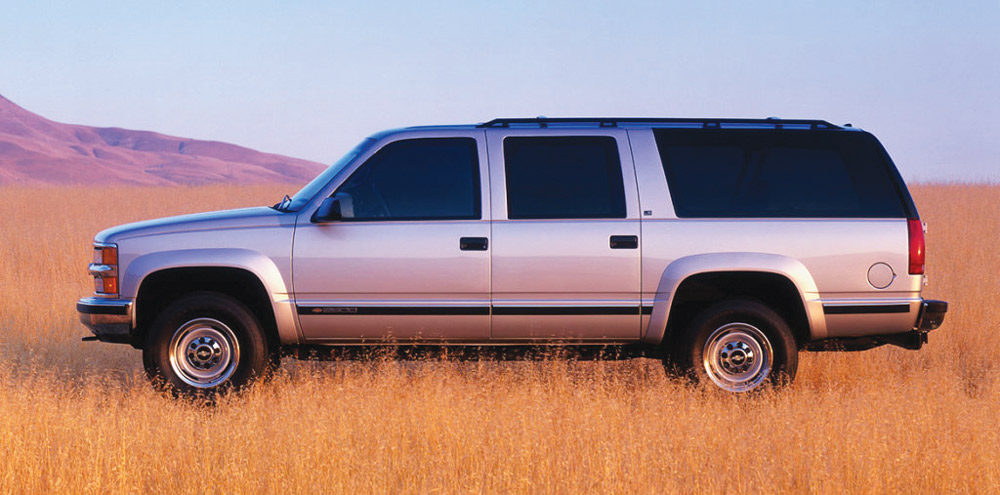 1997 was to be the last year the C/K Silverado would display "CHEVROLET" on the tailgate.
  In 1999, the Chevrolet Silverado became the divisional replacement for the C/K.
Chevrolet Tahoe
The Chevrolet Tahoe is a full-size SUV from General Motors. Chevrolet and GMC sold two different-sized SUVs under their Blazer/Jimmy model names through the early 1990s. This situation changed when GMC rebadged the full-size Jimmy as the Yukon in 1991. All were two-door models through 1994.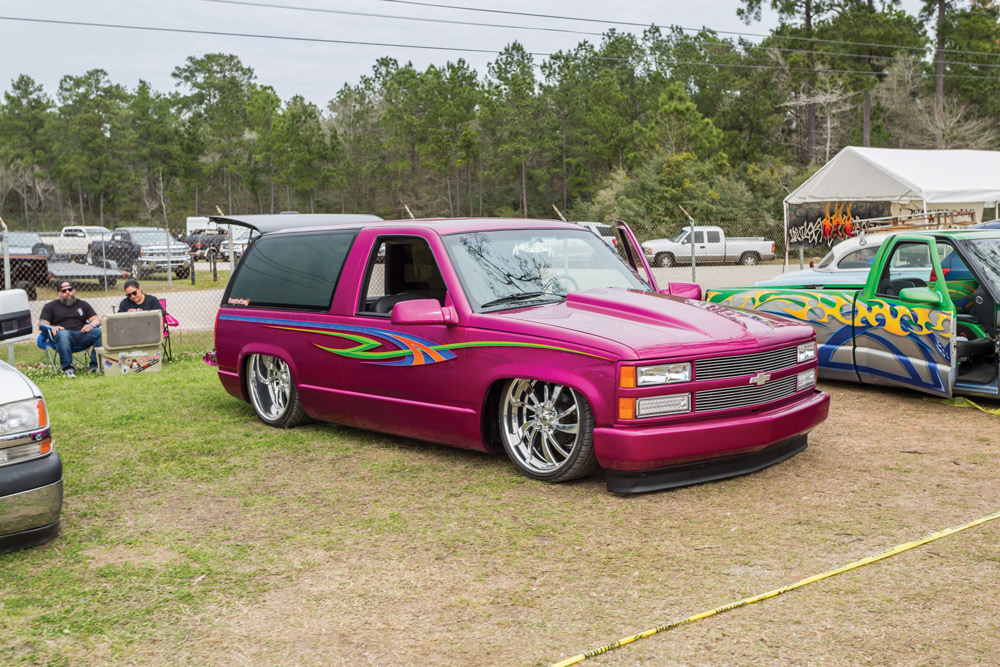 The Chevrolet K5 Blazer name was discontinued after the 1994 model year, and the Chevrolet Tahoe was introduced in 1995 with the addition of an all-new four-door version.
The Tahoe has regularly been the bestselling full-size SUV in the United States, frequently outselling its competition by 2 to 1.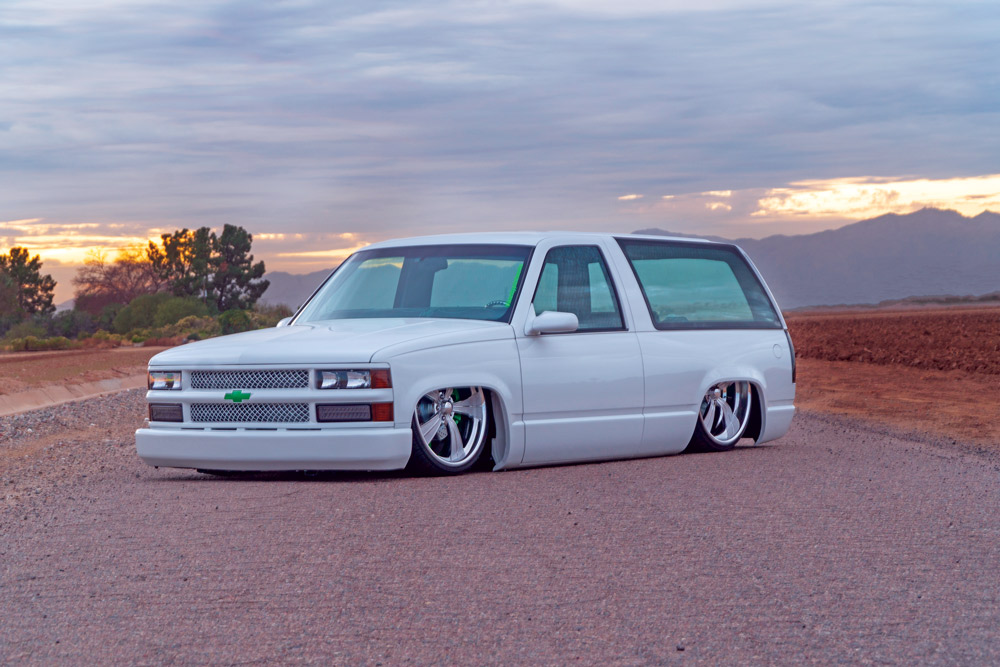 Both two-door and four-door models were produced in rear- and four-wheel drive. The two-door weighs roughly 4,500 pounds while the four-door weighs approximately 5,500 pounds. The two-door has a 6-inch shorter wheelbase than the four-door.
The standard engine was Chevrolet's 5.7L (350ci) small-block V-8, while a turbocharged 6.5L (395ci) Detroit Diesel V-8 was available beginning in 1994.
Chevrolet Suburban
The GMT400-based Suburbans were introduced in December 1991 for the 1992 model year even though the similar pickup truck models had switched to the newer platforms in the 1988. Both 2WD and 4WD models, designated "C" and "K", were offered, as well as half ton and three-quarter ton versions.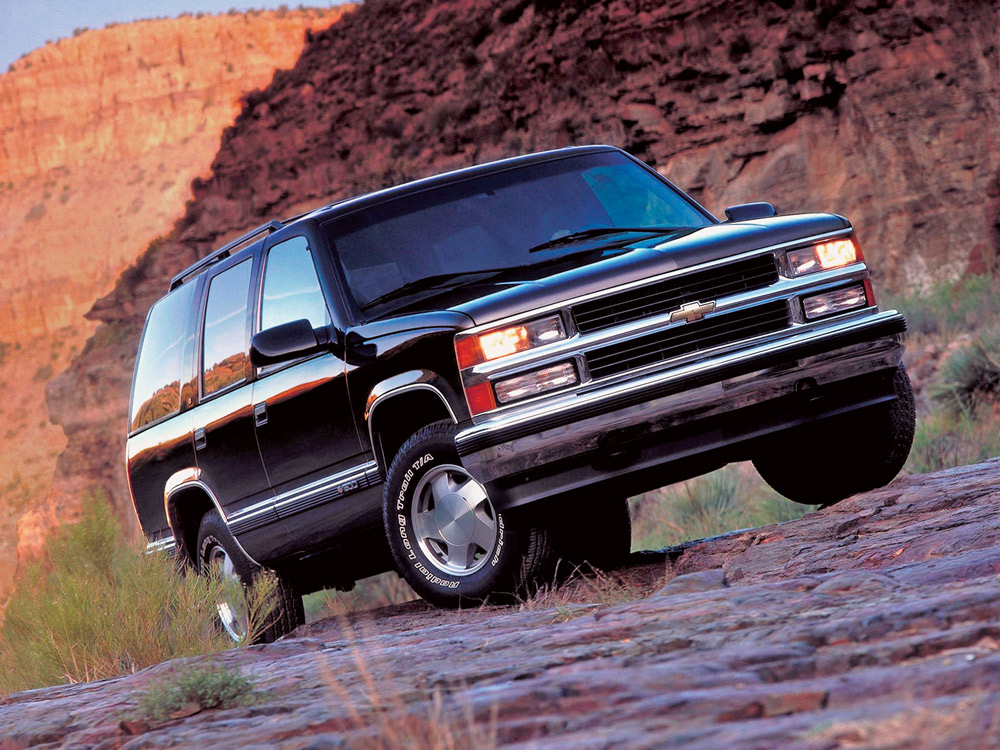 The GMT400 series introduced independent front suspension. The 2WD models used coil springs and 4WD models used torsion bars in the front suspension. All models used a live axle and leaf springs in the rear.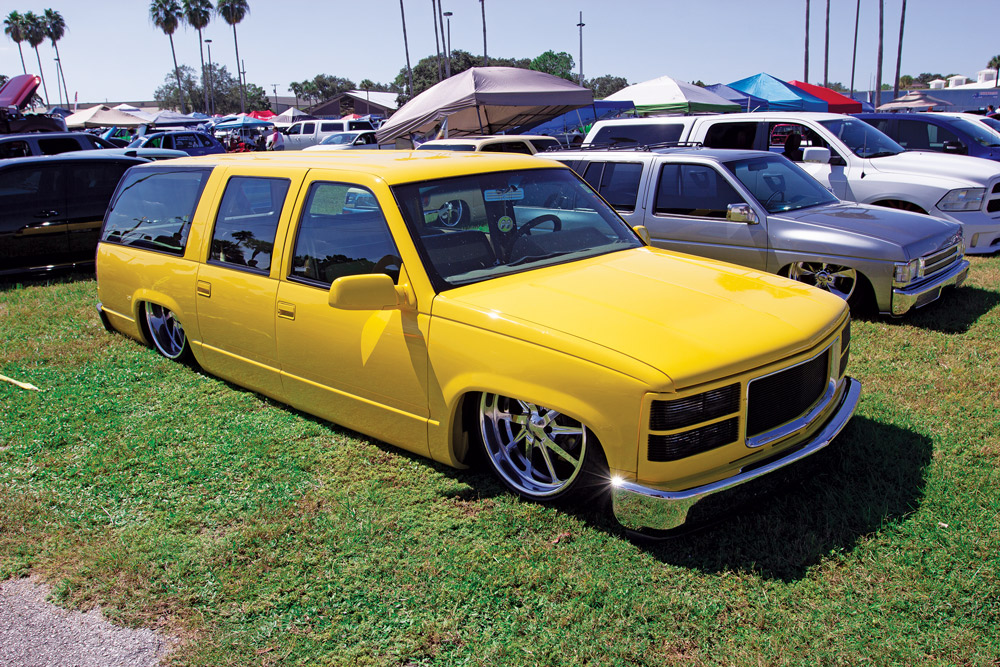 For a 1995 Suburban, 0–60 mph times were around 9.3 seconds at best. The top speed of a 1995 Suburban was governed on the engine for economy and a maximum of 98 mph could be obtained with a fuel economy of 13 mpg.