Living the Life and Printing the Passion
HAVING THE ABILITY TO SAY YOU'VE BEEN DOING SOMETHING FOR 100 YEARS STRAIGHT IS IMPRESSIVE ENOUGH, BUT WHEN IT'S BEEN 100 YEARS OF DOING SOMETHING LIKE "BUILDING SOME OF AMERICA'S TOUGHEST AND MOST RELIABLE TOOLS FOR TRANSPORTATION TO DATE," IT'S GOT A LITTLE MORE KICK TO IT. That's exactly what all the hardworking men and women in the Chevrolet family get to say on a daily basis. Who wouldn't take pride in that?
StreetTrucks magazine is equally as honored to celebrate a huge milestone this year as we hit 20 years in print. Sure, we are 80 years away from our centennial celebration, but with all your continued support for both StreetTrucks and Chevy trucks, it's only a matter of time.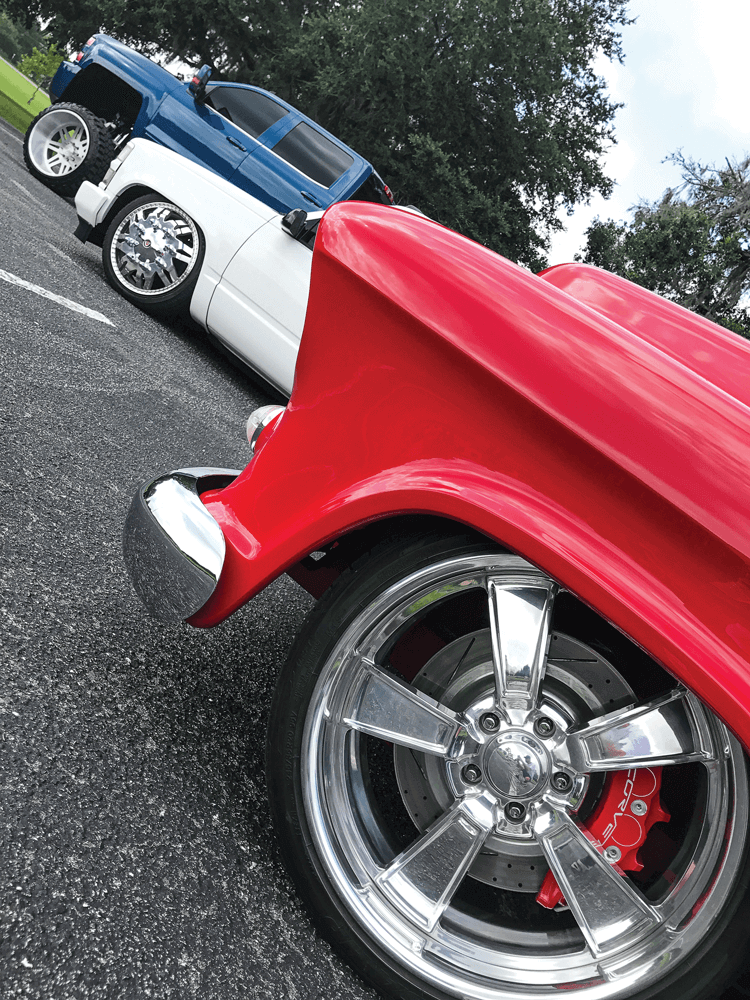 In this issue we turn our focus directly towards Chevy trucks and their evolution up to this point. Along with a detailed history lesson in the fine art of producing big, tough trucks with a flawless factory finish, we feature six separate Chevys that all have been extremely customized with their own unique style. These trucks span the century but were introduced many years apart. Designers, engineers and consumer demands have always been the driving force behind the overall look of these iconic trucks, which can explain the dramatic differences between models. We all felt these six trucks were great examples of Chevrolet's history, so photographers were sent, writers were assigned and the cleaning products came out in full force. The overall goal was to bring our readers a really fun issue that's just an informative to read as it is entertaining to look at, and I think our team nailed it. It took a lot of work and a lot of research but when you have the best crew in the industry, things tend to flow a little smoother.
This issue's feature trucks aren't the only thing we made Chevy specific. All other sections of this book pick up the bowtie theme, including our new products section, our recent event coverage of the 2018 Southeastern all Chevy/GMC Truck Nationals, and even our step-by-step tech articles are based around both daily driven and custom restomod Chevys. As you can, tell we have a strong love for this brand as I'm sure any gearhead does. Whether you currently drive a Chevy or any other amazing factory truck, you have to respect the impact the bowtie has had on our industry.
I have personally owned many Chevy trucks including my very first vehicle, which was originally my neighbors old daily work horse that he used for roofing work. Just a little worn out '89 Chevy S10 that I bought for only $1,500 when I was just 16 years old, but I treated it like it came off the showroom floor. Sure, we had some up and downs in our multi-year relationship, but that little truck got me through some of the wildest nights of my life, right up until I smashed it into the back of a damn Hyundai … whoops.
Flip through the pages, read the stories and take in the pictures that our unbelievably talented photographers manage to capture. As you read this issue, we will be finalizing our 20-year special edition, so keep your eye out for that as well as the next C10 Builders Guide that hits stands soon. Our social media channels have been exploding recently so don't miss the action, and our website is being updated almost daily with a fresh new content. As always send us your questions and comments via email or private message and we will get back to each and every one of you as soon as we can. See you guys out there!