Keeping the Family Tradition Alive
Keeping traditions alive is important. From maintaining the family business to choosing the same truck our dad or granddad owned, staying true to our heritage is a way of connecting with those we love. Isaias Garcia feels this way, and following in his father's footsteps is his way of connecting with his nearest and dearest.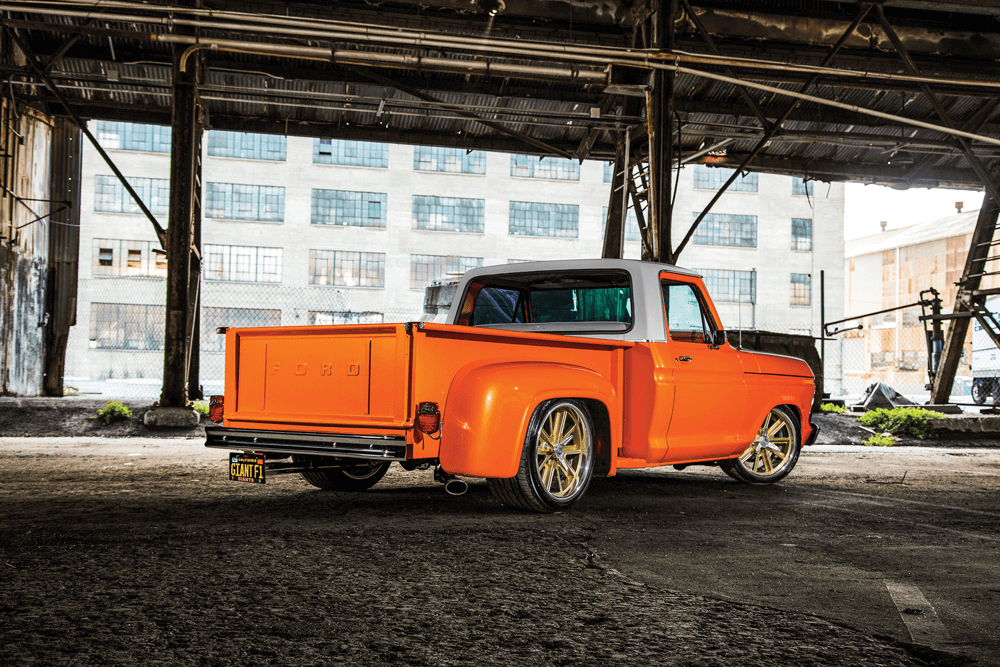 Most of us look up to our parents and strive to be like them. For the Garcia family, that means Ford cars and trucks. Isaias's father, Ike, drove a '69 F-250 for the family's San Francisco-based electrical contracting business, and it's been a prominent vehicle in their stable for many years. Isaias's cousin, Aaron Magdangal, owned a '78 F-100, and in addition to his work truck, Ike also drove a '62 Ford Falcon sedan delivery that he and Isaias enjoyed working on when Isaias was growing up.
Ike's F-250 has been used and abused, but he loves the truck and has outfitted it with a utility bed to keep it in service longer. For a while, Ike had his eyes on a flare-side '77 F-100 that one of his customers owned. It was well maintained and in decent shape, which made it the perfect candidate for a build. The truck had the original 302-ci V-8 and 3.03 manual transmission complete with a three-on-the-tree column shifter. The truck was solid, but the owner was getting older and finding it increasingly difficult to drive. Ike made the owner an offer, which was accepted, and then turned around and gifted the truck to Isaias.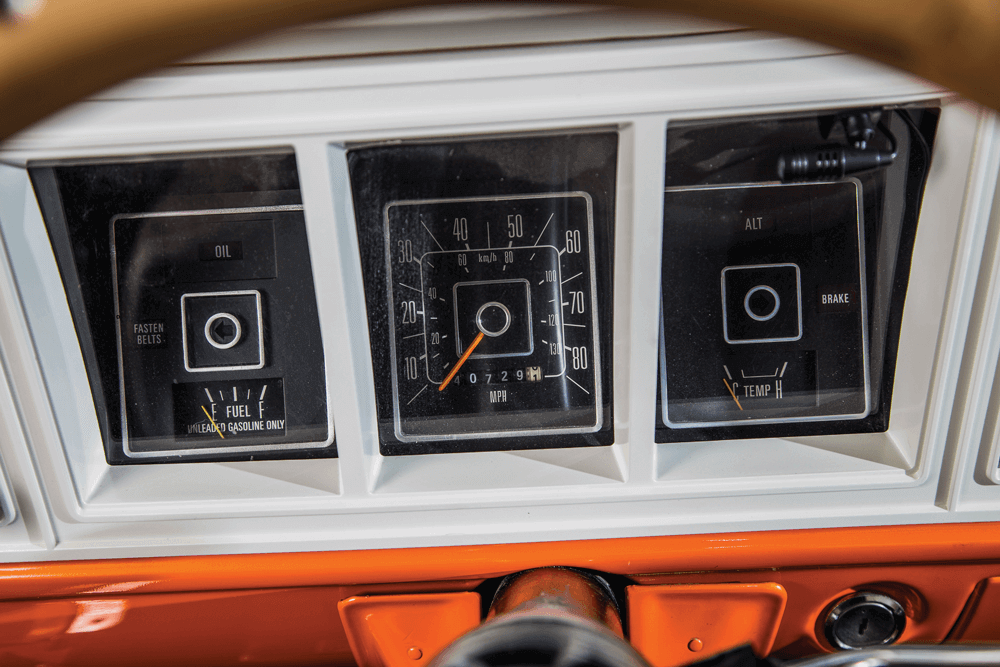 Isaias was so stoked to get the F-100 that he drove it daily for years. When something needed upgrading, he and his father worked on it together. He enjoyed the truck as it was, but his plan was always to rebuild it. Isaias knew that if he wanted to see his plan through, he had to go all in, so he made the leap and fully invested in his beloved F-100. He got started searching for a shop and chose Rolling Motors to tackle the rebuild. The business specializes in collision work, but the shop crew was eager to test their skills on this truck.
Picking the right shop can be troublesome. It might seem as though your truck is being held hostage, and the work might not turn out as well as you expected. Isaias's build went smoothly in the beginning, but there was a hiccup when Rolling Motors relocated once its lease was up. During the move, the crew made an effort to ensure the F-100 was handled. At the new location in Burlingame, California, Rolling Motors' name was changed to Golden State Collision Center and work on the truck continued. No harm, no foul.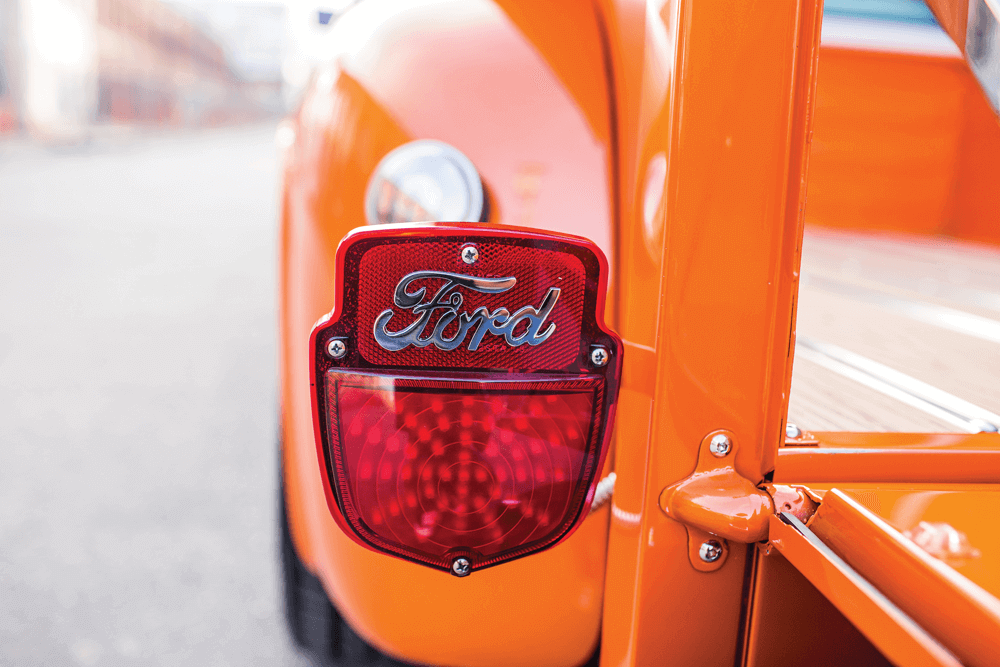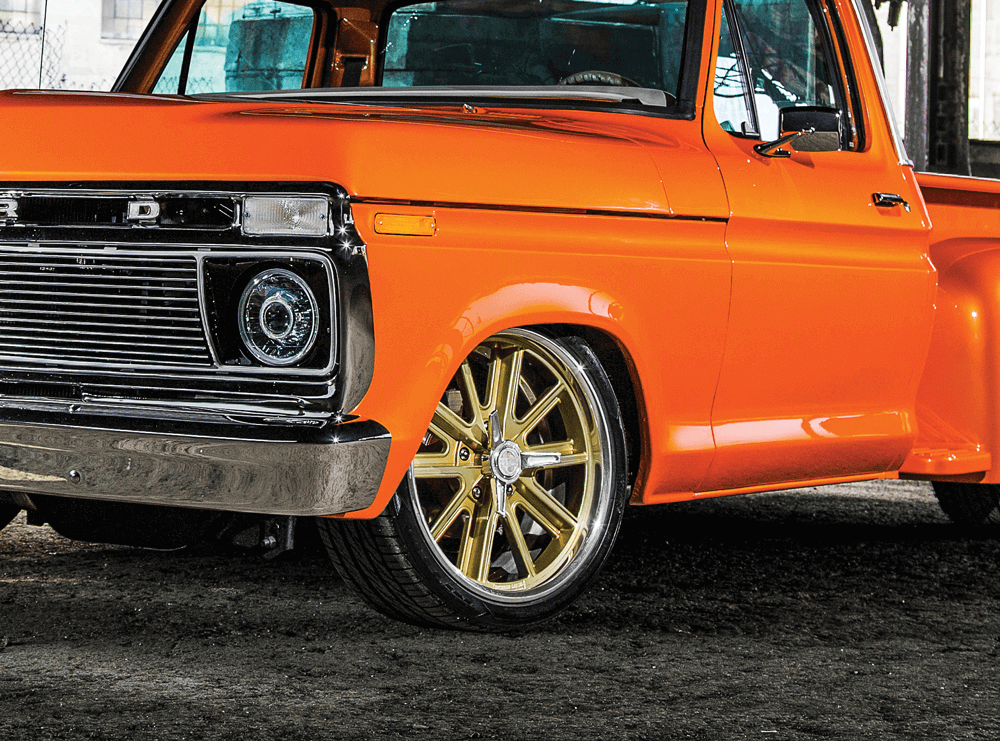 The truck was torn down to its bare chassis, and a set of airbags and DJM Suspension Dream Beams were added up front. The original engine was cleaned up and enhanced. The original steel body was straightened and painted Oh So Orange Pearl with a Lexus Pearl White top. Afterwards, an order was placed with LMC Truck for exterior and interior replacement goodies like bumpers and a wood bed floor. On the inside, a replacement upholstery kit was customized and installed by Sealand Upholstery.
Frame-up builds like this take time. Currently, Isaias is considering whether or not to upgrade the drive train. Now that the F-100 is running well and looking right, Isaias is more pleased than ever to keep this Ford in the family.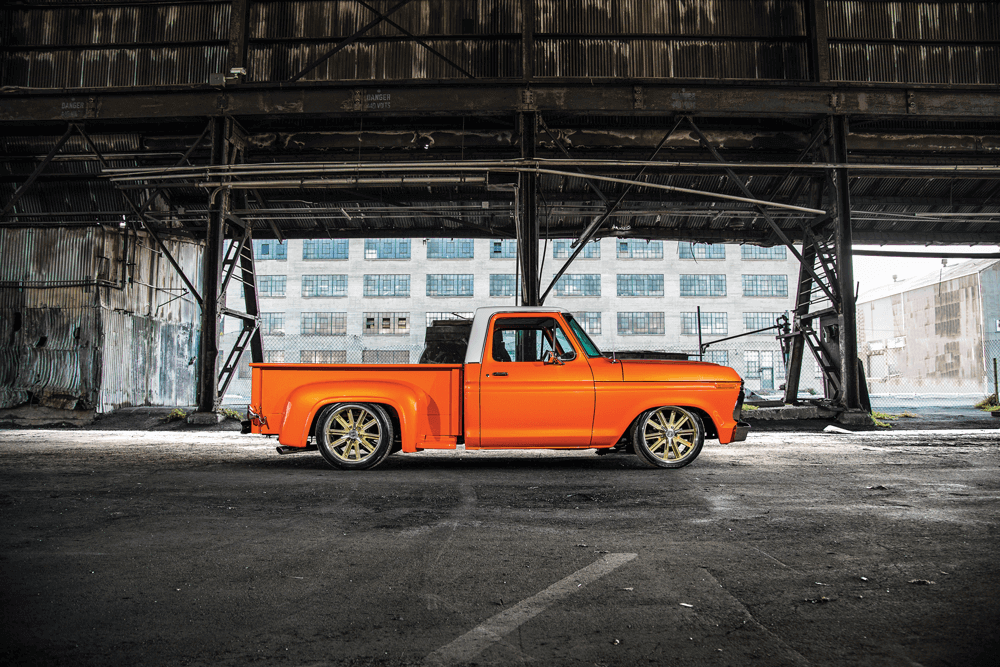 Owner
Isaias Garcia
1977 Ford F-100 Flare-Side

San Francisco, CA

Timeless Car Club
Engine
302-ci V-8 painted Ford Blue
Edelbrock single quad intake manifold
Edelbrock 600 Performer S series 4 BBL
MSD distributor
Ford Racing valve covers and air filter
Stainless steel headers
Custom, mandrel-bent true dual exhaust
Flowmaster 40 Delta Flow mufflers
Stainless steel braided lines
3.03 three-speed manual transmission
8.5-inch rearend
 Chassis & Suspension
Shop: Uptown Automotive
DJM Suspension Dream Beams
Monoleaf rear springs
Custom front and rear airbag mounts
Firestone airbags
C-notched rear frame
Ridetech RidePro Digital air management system
Wheels & Tires
20×9 and 20×12 Vintage Wheels VN407S
255/35ZR20 & 315/35ZR20 Nitto Motivo ZR
Body & Paint
Shop: Golden State Collision Center, Burlingame, CA
LMC Truck bumpers
LMC Truck grille
LMC Truck door handles
LMC Truck white oak bed floor with teak finish
Dapper HID projector headlights with halo
Mid Fifty 1956 F-100 LED taillights
Mid Fifty hidden side thumb tailgate latches/chain delete
PPG Oh So Orange Pearl and Lexus Pearl White paint
Interior & Stereo 
Shop: Sealand Upholstery of San Francisco, Golden State Collision Center, Burlingame, CA and Audio House, Napa, CA
LMC Truck carpet
Dash painted to match body
Original steering column with three-on-the-tree shifter
Stock seat with modified 1A Upholstery kit
Grant GT steering wheel
JVC multimedia head unit
Infinity 5.75-inch door speakers
700-watt three-channel amp
JL Audio 12-inch subwoofer behind seat
Optima Blue Top battery
Special Thanks From the Owner: "My dad, Ike Garcia, for the inspiration; Johnny and Diamante at Golden State Collision; Jag at Audio House; Gil Cuesta from Timeless Innovations; Sealand Upholstery; Dave at Uptown Automotive, Dito's Motors and LMC Truck."