A Fat-Fendered '55 Ford
ONE OF THE MOST APPEALING ASPECTS OF BUILDING CUSTOM RIDES ARE THE FRIENDSHIPS THAT DEVELOP DURING THE JOURNEY. Being a member of a car or truck club, in many instances, is like being in a family; a family with common interests who not only offer camaraderie but inspiration and motivation.
For Jeremy Parsons of Keller, Texas, that camaraderie began early in childhood. "I was into motorcycles as a kid. My mom hung out with the bike crowd. I was always around custom Harleys and choppers." he recollects. As a youngster, Jeremy fell in love with fat-fendered Fords while flipping through the pages of old hot rod magazines. However, it would be many years before he would finally realize his dream of owning one.
Before he actually ever owned his own hot rod, Jeremy could be found hanging out with his buddies from Loose Cannons CC, usually in the garage or at swap meets on the weekends. "My neighbor, Robert White, always had something in the garage, and it inspired me. I also learned that the scene was a tight-knit community, like the motorcycle community, and I wanted that feeling again." he recalls.
When it came time to choose a project, it was not a difficult decision. The memories of that old Ford he saw in the magazine never left his mind. "Always loved the lines. I can remember wanting it as far back as age 12. The front fenders are what I loved the most. They look like a set of thick, sexy thighs." Jeremy adds.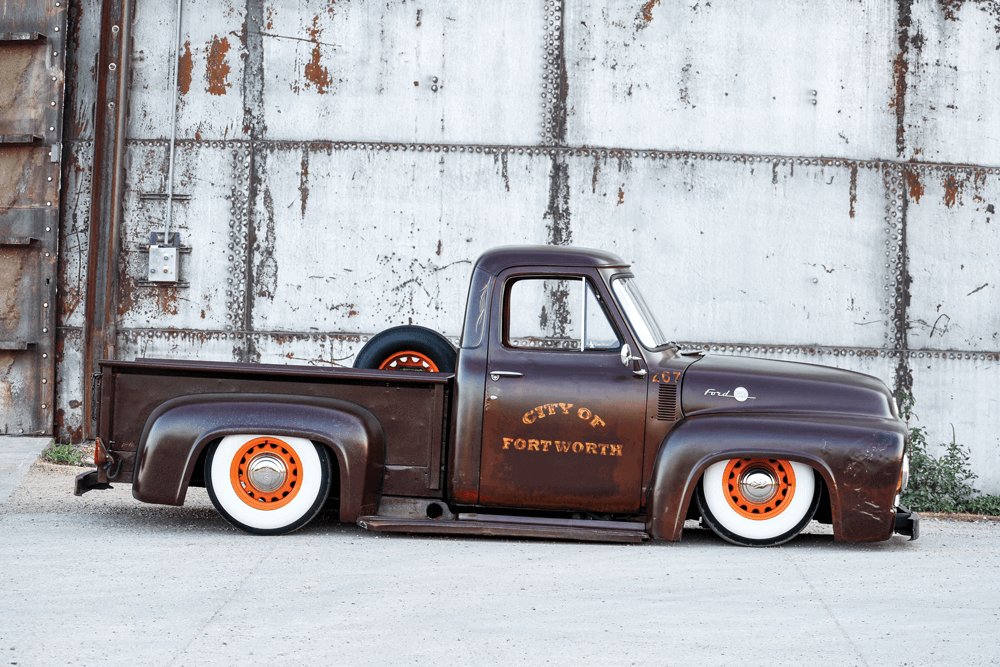 Jeremy's Ford initially began life as an F-250 that had been severely damaged in a rollover. The original frame was ditched and replaced with a short-bed version that Jeremy boxed himself. The body remains intentionally untouched. In fact, he welcomes the imperfections. "It's an old City of Fort Worth road construction truck. When I got it, it had approximately 200 pounds of concrete stuck in the fenders." he explained. The paint is original, and the number is the actual Fort Worth service number from when the truck was a road construction vehicle. He had the City of Fort Worth logo added to pay homage to his hometown.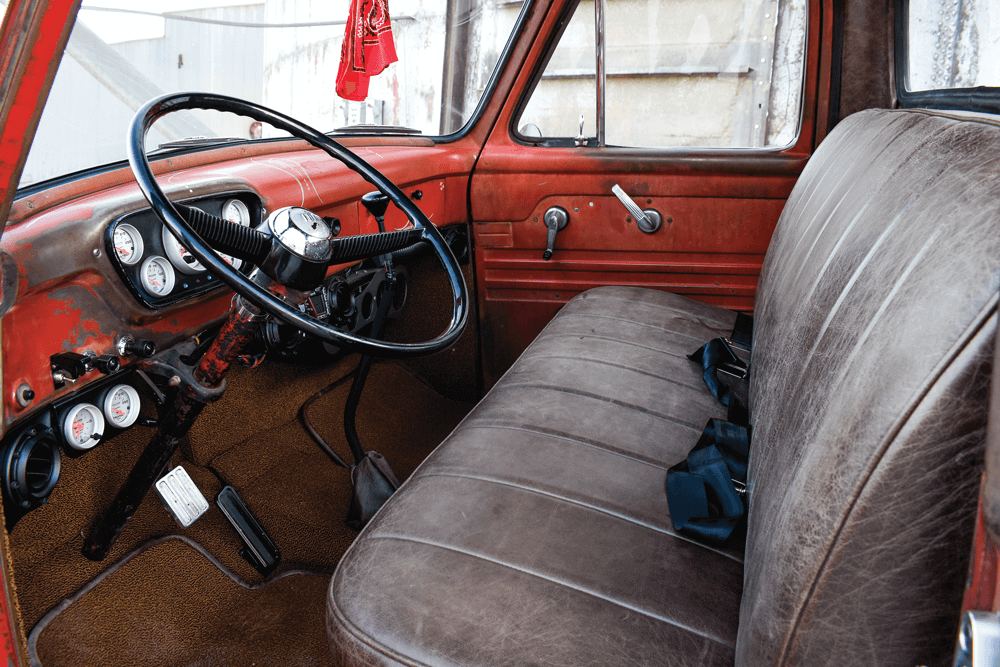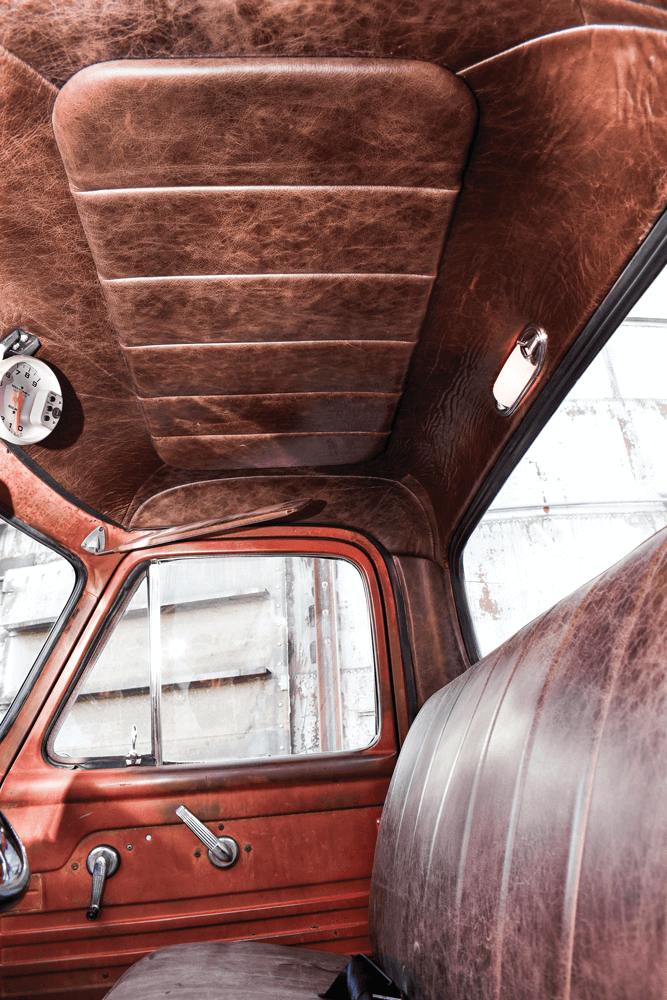 THE FACTORY BENCH SEAT WAS RESTORED BY CRAIG WILLITS USING DISTRESSED BROWN LEATHER WITH A STEERING WHEEL OUT OF A '50S FORD CAR.If there was one thing that Jeremy wanted out of his Ford, it was horsepower, and he was not going to settle on the factory motor to get it. "I didn't want the Y-block or whatever that was in it originally. Trying to get what I thought I wanted out of the motor was the biggest stress of the build."
Luckily for Jeremy, stress relief came in the form of a friend who was looking to upgrade his Ford Fairlane to a big-block and had a spare motor and transmission for sale. "I never really followed drag racing, but I knew that I wanted the truck to be quick." he explains. With 550 hp at the rear wheels, Jeremy has certainly accomplished that goal.
For Jeremy, completing the Ford is about much more than winning trophies at shows. "It's very therapeutic," he explains.
"I will sometimes jump in the truck and drive …" He also loves that his wife Julie is very supportive and even requests to take the truck out to dinner or the drive-in.
According to Jeremy, the biggest takeaway from building his Ford are the relationships that were forged during the process. When asked what he learned most from this experience Jeremy simply says, "Friendship and great people in the car community. Everyone is so willing to help just because of what you drive." Great friendships cannot get much easier than that.
Jeremy would like to dedicate this article to the memory of his friend, Robert White.